Matt Corr's European Diary – This was nearly the day when we won away…
5am Wednesday. It's that time again. Just about thawed out from Bodo in the Snow back in February and we're off to Warsaw in the…well, I'm not sure, really. Things are a bit manic at the moment as we get to the critical stage with a number of our current Celtic book projects, so I haven't had a minute to check out Warsaw, weather-wise or anything else.
The plan at bedtime Tuesday was to wear a smart Nakamura t-shirt and jeans but in the chilly hours of the morning I get flashbacks of Baltic Bodo and chicken out, so it's back to the successful 2022/23 matchday outfit of last year's Hoops and an Ange-style jumper over said Naka top. That's worked well for me so far this campaign, so if it ain't broken…
Workload and the imminent Chicago Marathon have meant a few compromises for me this time around. Normally, I like to spend some time in the cities we visit and enjoy a few beers as part of the build-up, but this is going to be very different. I'm going on the day charter…yes, I know I swore never again but that was the last time, and it was more a suggestion than any kind of Warsaw pact. Needs must. And there will be no beer, in fact I'm driving to the airport, so this will be interesting as well as a long day.
Check-in is a breeze and I'm upstairs waiting to board. Feels a bit quieter than normal but perhaps that's because I'm not at my usual Table 45 with my traditional roll and sausage and 6am pint of Guinness, enjoying the buzz a la Paul McStay. I'm outside looking in with the commuters, holidaymakers and non-Celtic folk. In fact, you would have forgotten there was a game on until the silence is broken by someone whistling Bella Ciao. That's more like it.
The Italian theme continues as it turns out we're on a charter flight from one of their airlines and the staff are all chatting away in their native lingo. Great stuff. I'll be able to try out my fabulous vocabulary on them, substituting beers for tea of course. Lovely cabin crew stewardess is most impressed when I do, and asks me if I speak the language, so I pull out my get out of jail cards, "a little" and "many years ago" and I receive the smile of approval…and extra sugar.
Flight passes without incident. As a solo traveller today, I'm seated next to a couple of young guys who chew the fat about life in general and even though I'm desperately trying not to eavesdrop, as a writer, people observation is a huge part of my game now and I find it interesting. And in any case, I'm not blessed with too many options, so I drift in and out of the conversation. Come across as a couple of decent, hard-working kids so good luck to them.
We land at Modlin Airport, which strikes me as similar to Prestwick in that it's clearly not the major one for the city and probably lies a bit further out. The buses are waiting for us as planned and so are a fairly large contingent of Polish police officers, geared up for a major battle by the looks of it. Not the last time we'll see that today. Not sure what they were expecting but I guess it wasn't a couple of hundred folk in Celtic colours minding their own business and getting on to a bus. Anyway, that's what they got and before we leave, heading south into the city, they've all shuffled away back into their vehicles after the easiest hour they'll have all year.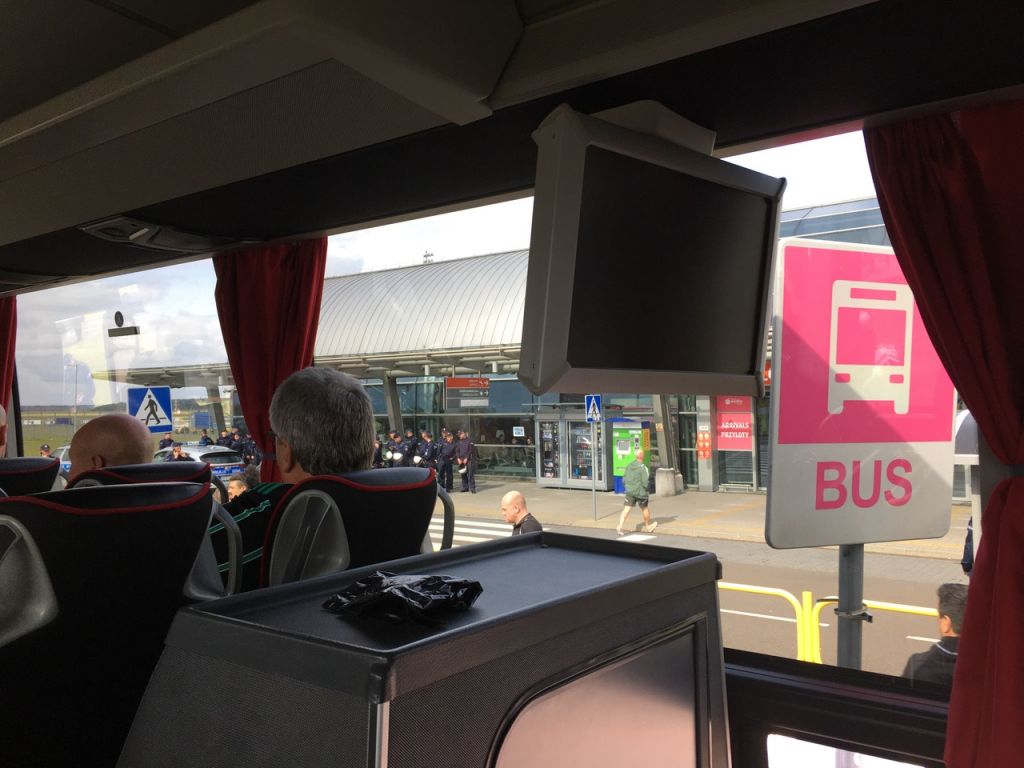 The bus drops us at the Multimedialny Park Fontann as planned after a strange moment, when the driver stops and opens the door and a few of us seize the opportunity to make a quick exit, only to be asked to get back on the bus again. We do and travel about 10 yards on the bus before he stops again, for real this time. No, me neither.
Anyway, first thing I see is the unmistakeable outline of Poland's National Stadium in the distance. As my long-suffering wife will testify, I'm a football stadium groupie and it's a key part of visits to…well anywhere really. I have an hour to kill before I meet up with an old pal who's arriving on a later flight so that's me sorted.
I'm walking along parallel with the Vistula river which flows diagonally north-west to south-east across the city and my first impressions of Warsaw are very positive, vibes of Salzburg from the architecture on my right. It's also boiling hot and the smart Naka shirt and jeans would have been the right call rather than the additional layers I'm wearing. So off they come as I remind myself yet again always to trust your initial instincts.
Walking down the Vistula Boulevard towards the stadium I pass a striking monument of two gents strolling in the same direction. Turns out these are huge figures in Polish history, Stefan Starzynski and Julian Kulski, President and Vice-President respectively of Warsaw through the German occupation of the city. It's well worth checking out their story, an example of heroic devotion to duty and people in the face of dreadful adversity, perhaps bookended by the 1939 Siege of Warsaw and the Uprising five years later. Indeed, Starzynski paid for that heroism with his life, shot by the Gestapo in Warsaw just before Christmas 1939.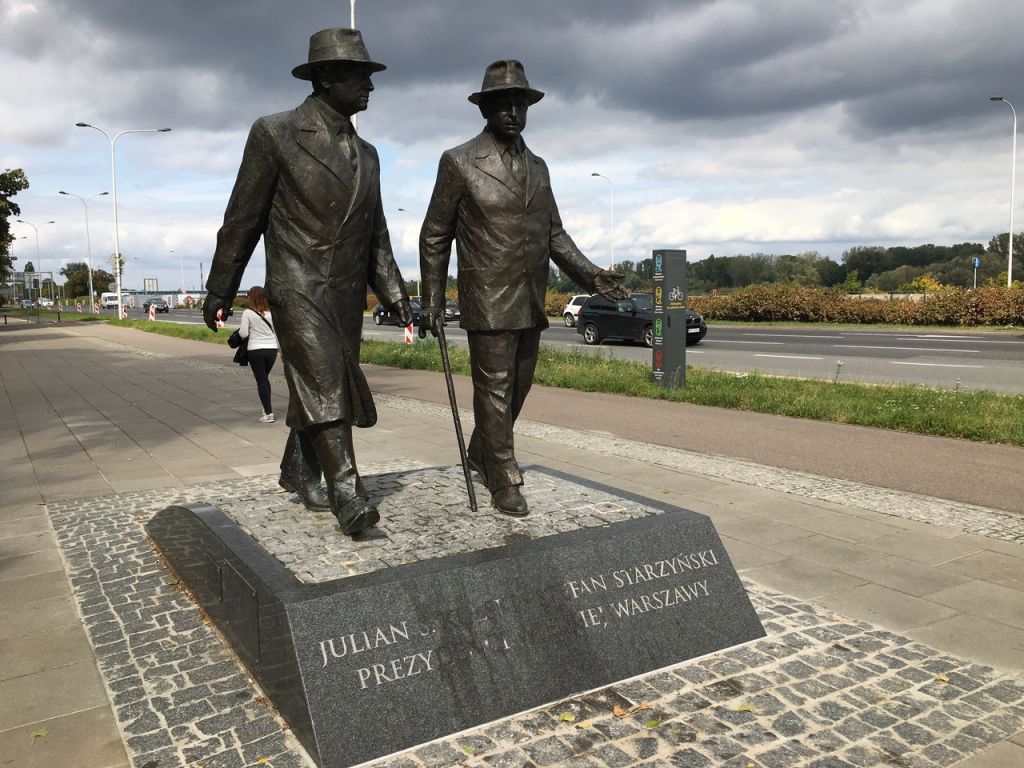 I've been writing about this period for my next book for several months now and it feels quite poignant to be walking in the footsteps of a generation of Poles who could not have imagined the horrors to follow.
Approaching the national stadium now and although it's across the river it is still quite a sight, its exterior clad in the national colours of red and white with the flag flying proudly overhead. This is the Stadion Narodowy, which was built for Euro 2012, a young Robert Lewandowski scoring for Poland as the co-hosts opened the tournament with a 1-1 draw with Greece in June of that year.
The stadium also hosted the semi-final of that competition between Germany and Italy, a Mario Balotelli double sending the Azzuri through to meet European and World Champions Spain in the Kiev final. Incidentally, the other semi-final between Portugal and Spain was played at the Donbass Arena, home of tonight's opponents Shakhtar Donetsk.
Lewandowski is one of the people of note born in or around Warsaw, pianist and composer Frederic Chopin is another as is one close to my heart, Marie Curie. I'll be running the Chicago Marathon in three weeks in aid of Marie Curie Foundation. Idea is to supplement the money raised from the sale of my Harry Hood biography Twice As Good, where £1 from each sale went directly to support the wonderful end-of-life care support provided by them.
We've already raised a four-figure sum thanks to the generosity of those who purchased a copy and of course you can still do that at celticstarbooks.com, official Celtic outlets or Amazon. We even throw in a Harry Hood t-shirt for good measure! I'll be launching a page soon to try and raise some additional funds so if you are in a position to help then watch this space.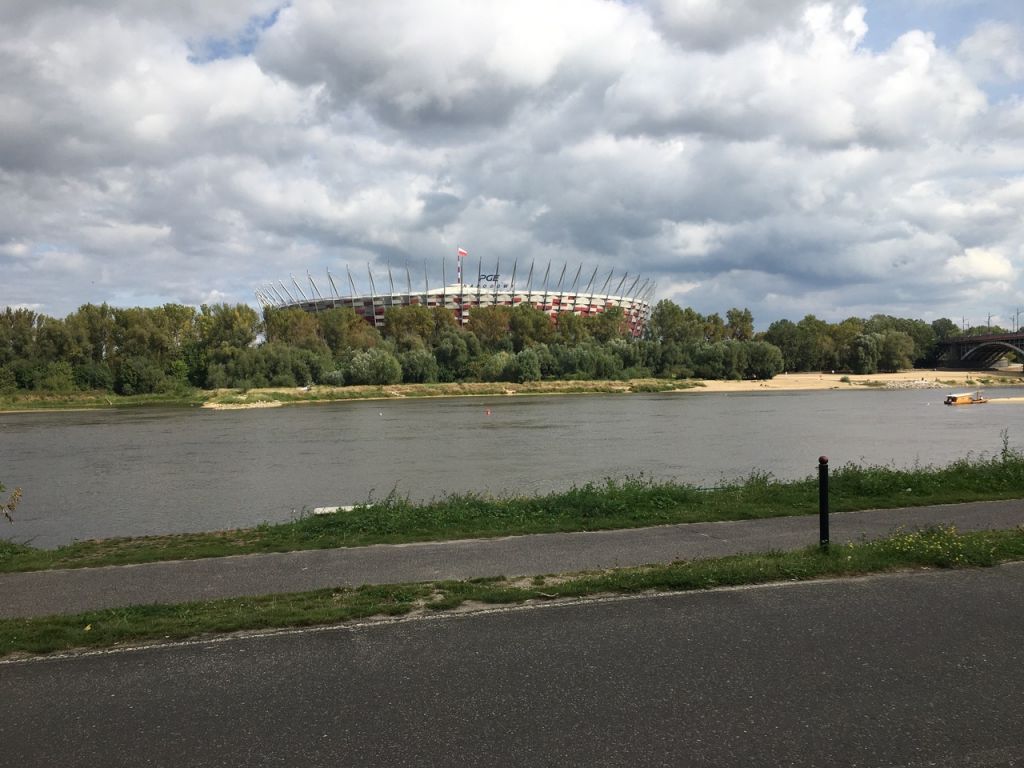 I get the call that Stephen has arrived at the airport and is making his way into town, so head back myself at that point, giving me the opportunity to see the impressive city outline and architecture.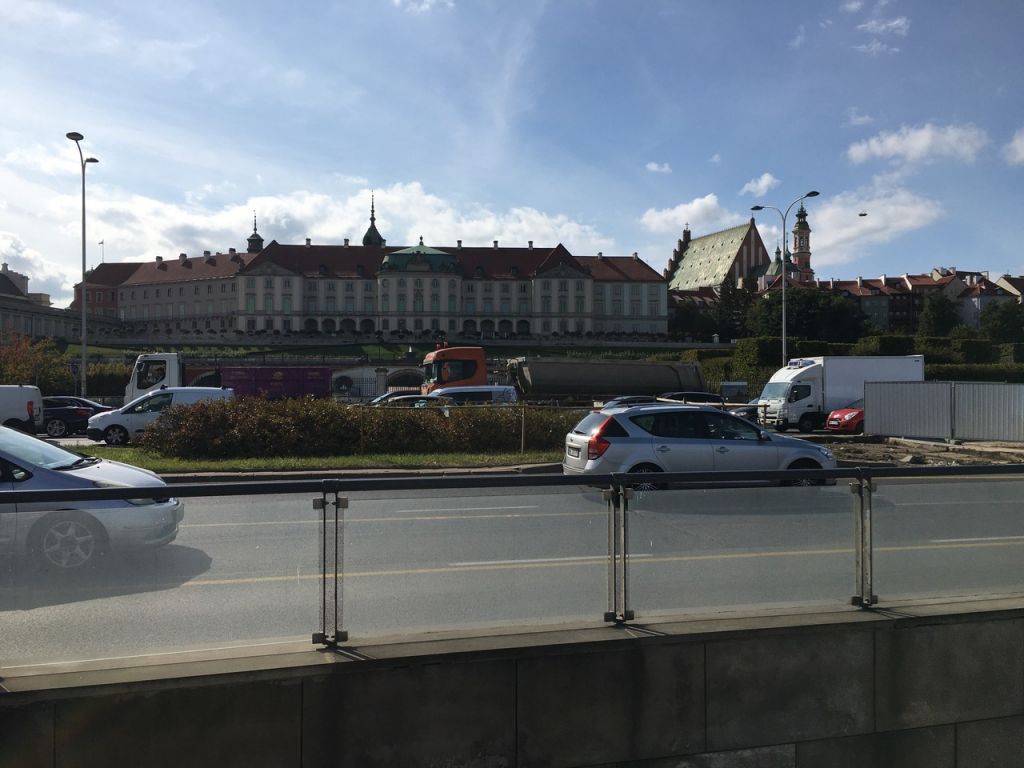 I bump into a couple of Celts from Airdrie, who kindly point me in the right direction for the old town centre. Its walls are fortified and there's a real sense of history here which transports you back a few centuries, reflected perfectly in the beautiful Barbikan.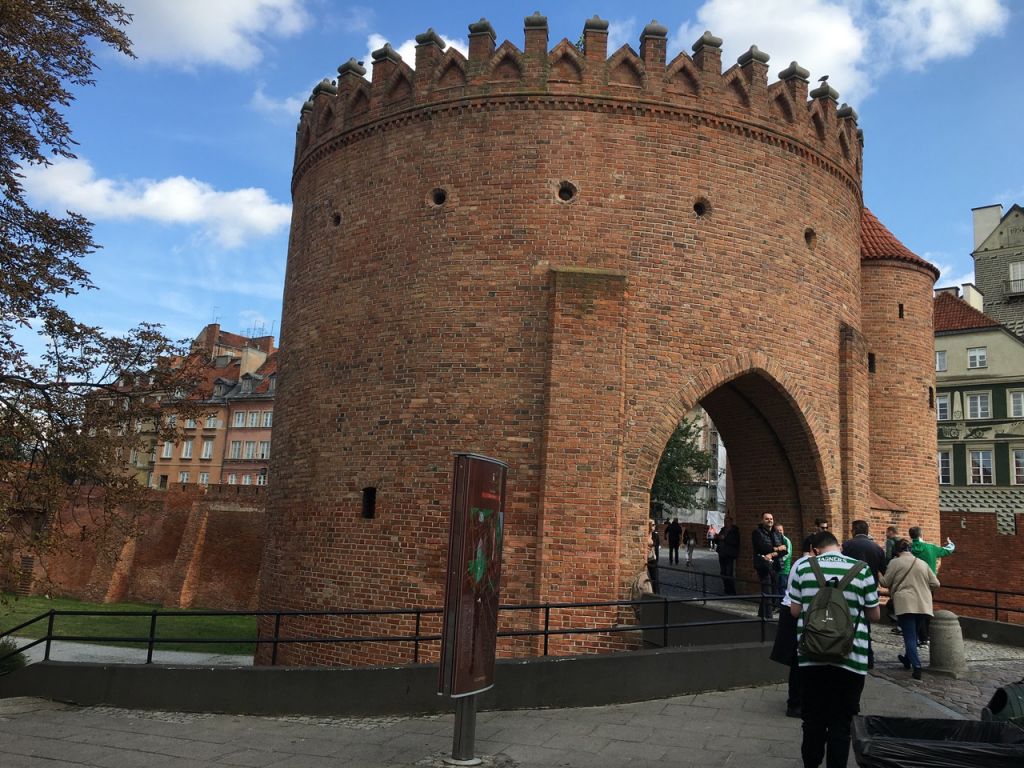 I decide this will make the perfect meeting spot but for the next hour Stephen and I are trying to deal with some of the trickiest address pronunciations in Celtic travelogue history as we home in on each other. Eventually, his phonetic and visual description ties in with a place in the map called Plac Zamkowy and we're on.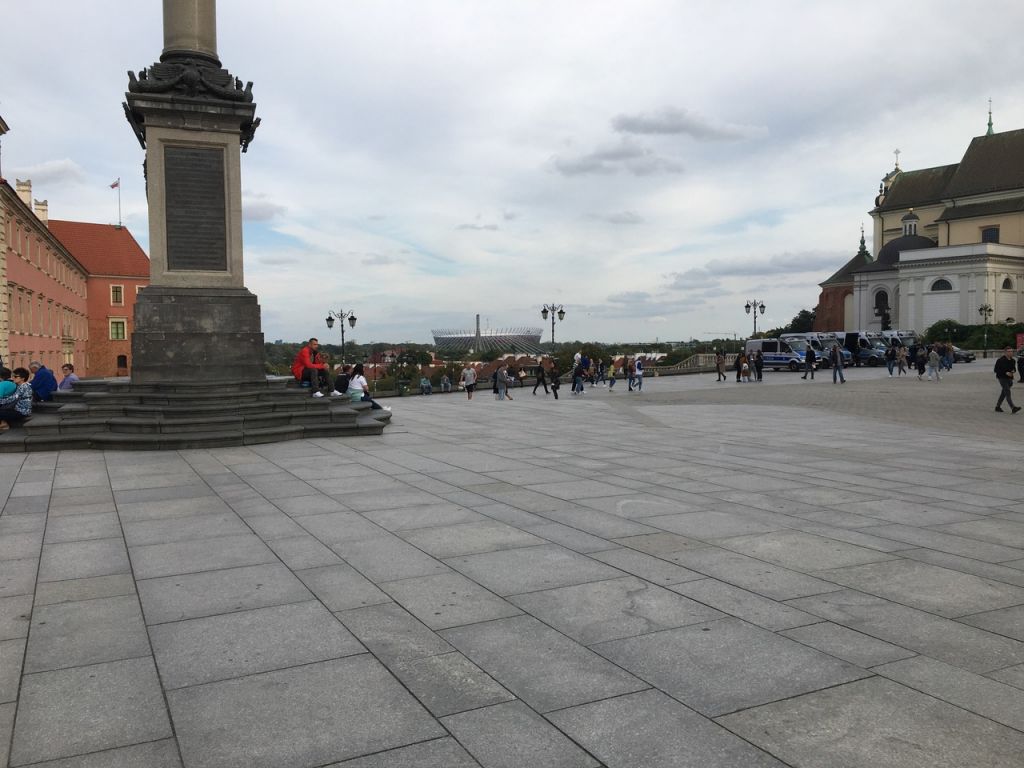 I'm about five minutes away so soon we meet up and decide to head into the Old Town Market Square for some food and a catch-up. We haven't done that since we first met purely by chance in St Gallen, where Celts were playing a friendly some three years ago now, albeit we did bump into each other briefly at the end of the match at Rugby Park recently.
There's a nice wee cameo when Boolavogue meets Boolavogue Part 3. I first met Smiddy from the band of that name in Bodo. We hit it off over a few beers and he and fellow band member Sean were kind enough to record a backing track for the promotion of our Harry Hood and Willie Fernie books.
It was then my pleasure to welcome him and his son on a stadium tour of Paradise. Celtic folk helping Celtic folk. Brilliant stuff. I'd actually been thinking of asking him to do something for our next books, but I'll hold fire on that meantime as he's enjoying a beer with another gent I know from our European adventures.
I think the only place I haven't bumped into Graeme is Glasgow. First spotted wearing lederhosen in a Salzburg bar – as you do – we've also crossed paths in downtown Leipzig, a pizza parlour in Trondheim and the Celtic Pub in Sarajevo just off the top of my head.  It's become a bit of a standing joke and highlights the brilliant camaraderie between the small group of supporters who follow the Tommy Burns philosophy of "they're there, and they're always there." Cracking guys both are Smiddy and Graeme. Stephen's a lovely guy also and it's an easy friendship which just kicks back in despite the time lapse without any effort. After the initial general family enquiries, the conversation is all about the Celtic and we're off.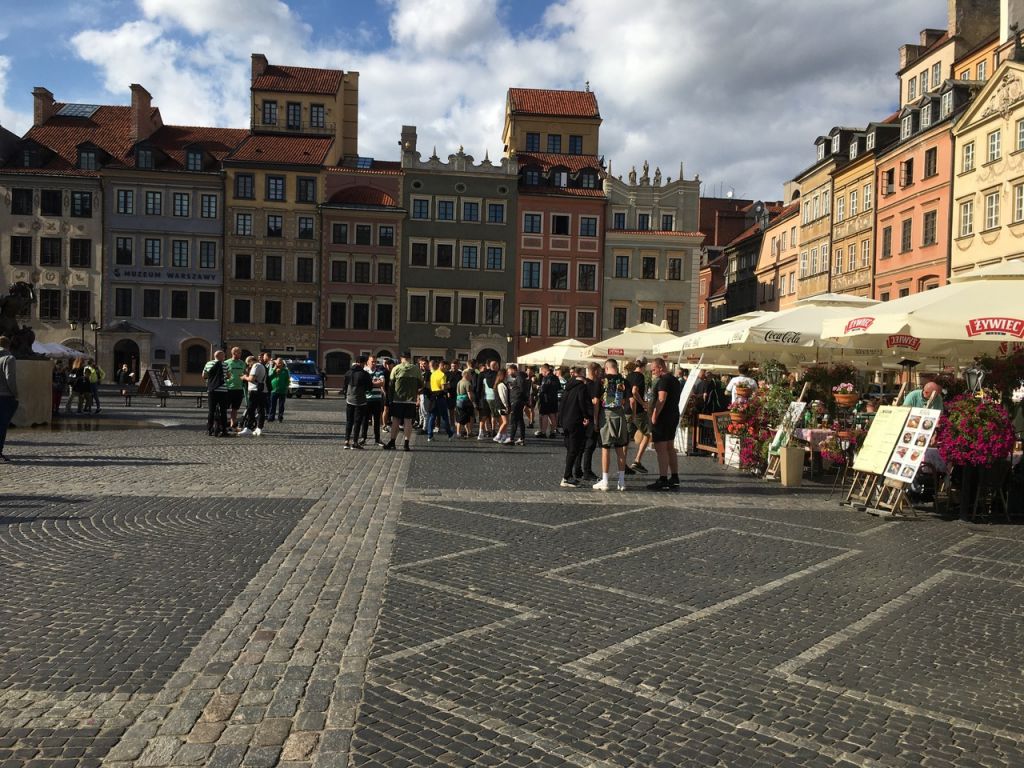 Whilst we're enjoying some Polish chicken and potatoes and I'm casting envious eyes at Stephen's ice-cold pint of Staropramen, there's another strange incident involving the police, who have been standing on the periphery of the square observing the group of Celtic supporters gathered in the square.
I've been fortunate enough to travel all over Europe with Celtic for more than four decades now and you have a sense when things are not quite right. That's not the case at all today, as the support are enjoying a few beers and a singsong with zero impact on the locals, and in over an hour there I saw just one person wearing Shakhtar colours, in fact it's got to be the quietest trip I can recall in that sense.
But for whatever reason, the police decide to move into the square and form a ring around the main bars where the fans are seated. It looks an intimidating act in itself, but fortunately there's no reaction whatsoever from the supporters, and before too long they are starting to make tracks for the game. That's our cue to head back for the buses at Multimedialny Park Fontann.
The fans are piling onto the coaches and there's no room at the inn, or so it seems. A Polish police officer approaches and appears to be telling me to get on, albeit the legendary wee guy whose job it is to squeeze passengers onto the Japanese bullet trains would do well to find space here. For reasons I will never understand, I hold up two fingers as if I'm booking a table at a restaurant and even more bizarrely, said policeman proceeds to take us onto the first coach, much to the amusement or dismay, I suspect, of the masses already crammed into that carriage. Anyway, we're now on and squeezed in between Celtic SLO John Paul and the bus driver and we're off, police escort et al.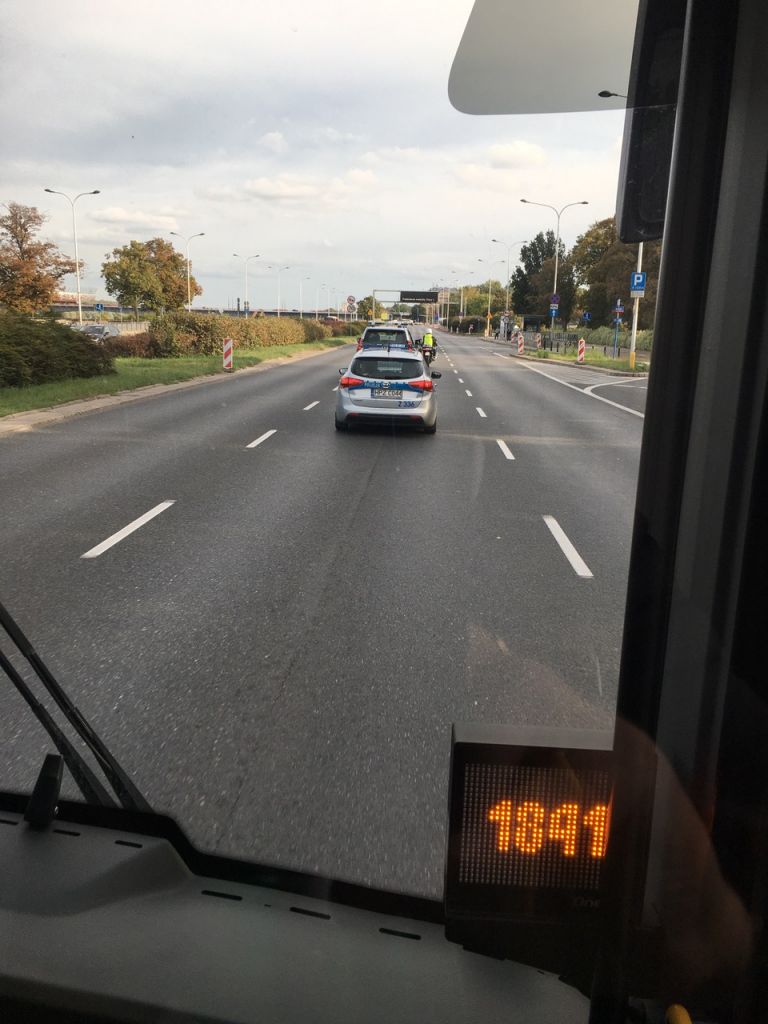 It's not too long before the familiar shape of Legia's Polish Army stadium appears on our right, and the bus turns into the designated dropping-off spot at the visitors' corner. Off we go and join the queue to enter, once again the entrance heavily fortified by a police presence.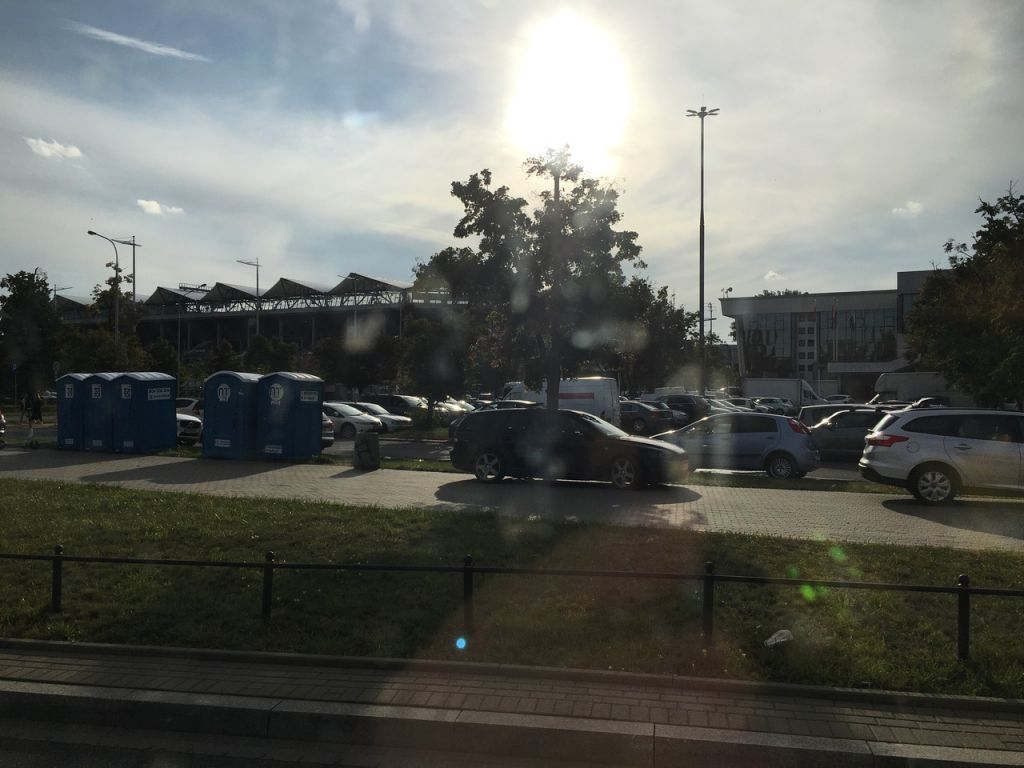 It's a painfully slow process to squeeze through the checkpoints, identification and ticket at the ready, but now we're finally in and I get my first look at the stadium. I have to say I'm impressed. It's smaller than it looks on television but a proper football ground, offering decent views of the action although our visitors' section is covered by those nets favoured on the continent but a bit off-putting for me in terms of watching the game.But it's a decent enough view, to be fair.
We're ridiculously early but that's better than a repeat of Leipzig and Bodo, where I ended up missing part of the game due to crushing outside. The only supporters in the ground are Celts and the Shakhtar players are doing a warm-up on the pitch.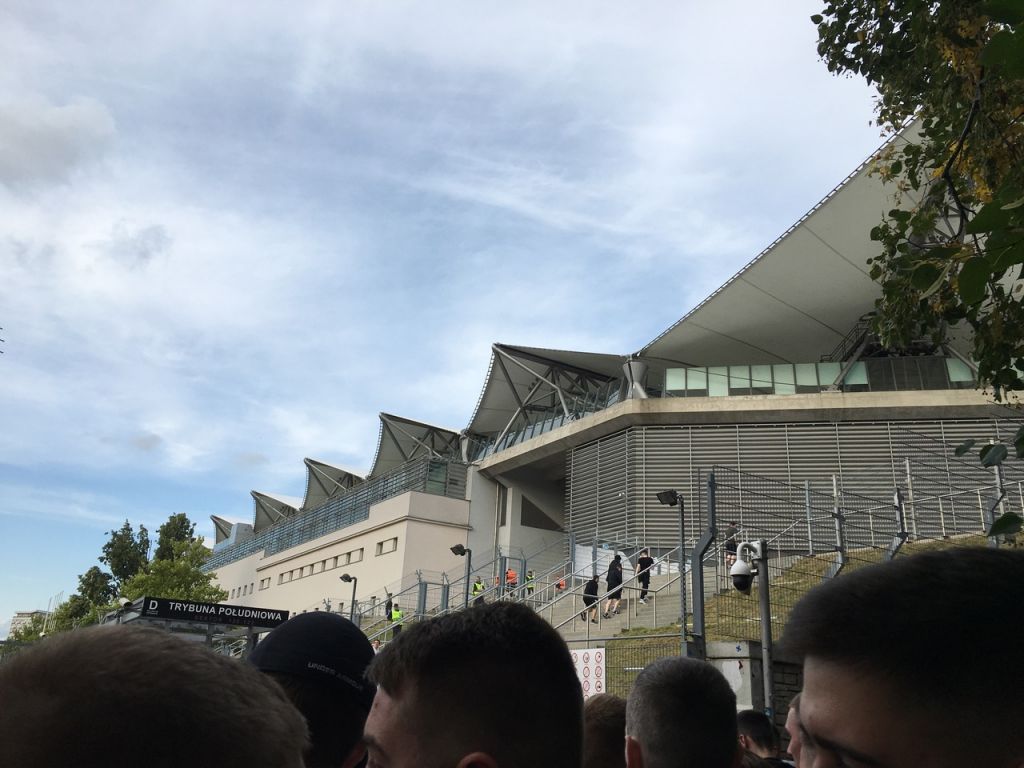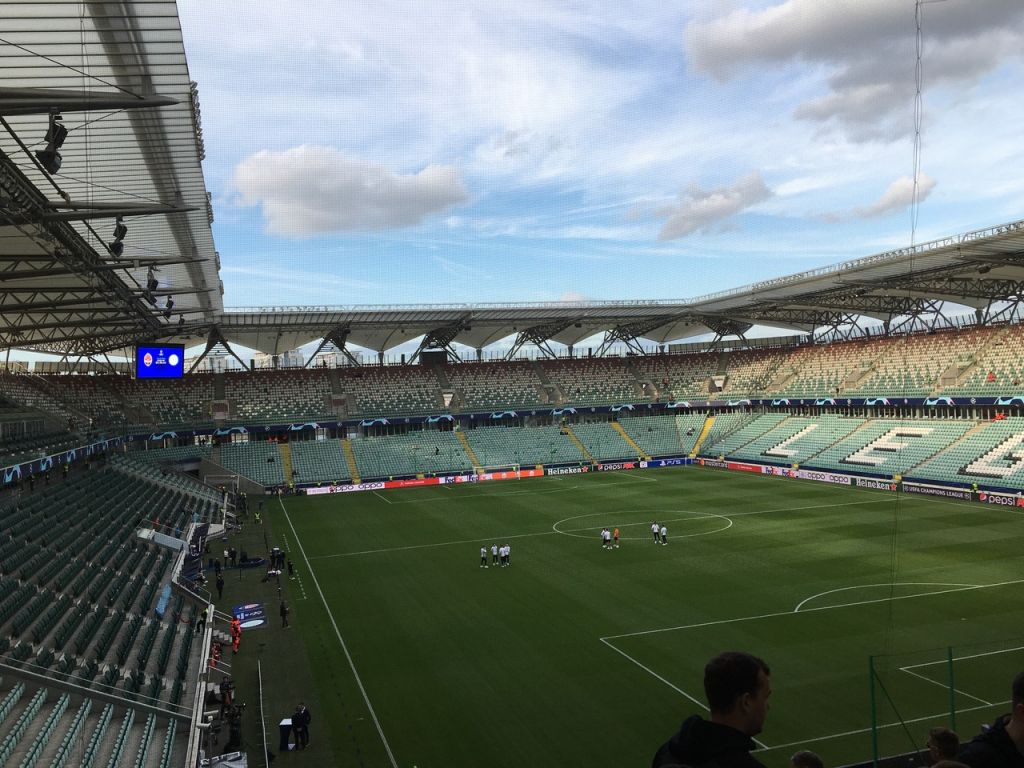 Time moves slowly at first then, all of a sudden it seems, it's Hail Hail the Celts are here. The Bhoys come out for their warm-up to a huge ovation and acknowledge the support. The other sections of the ground are filling up although it's still not clear to me if this is mainly locals or Shakhtar supporters, I'm suspecting the former.
And soon it's match time, the players walk out as the star-shaped ball is waved in the centre circle and the music which signifies that we are back with the European elite blares out over the sound system, the support around me raising the volume by several decibels. There's nothing quite like it.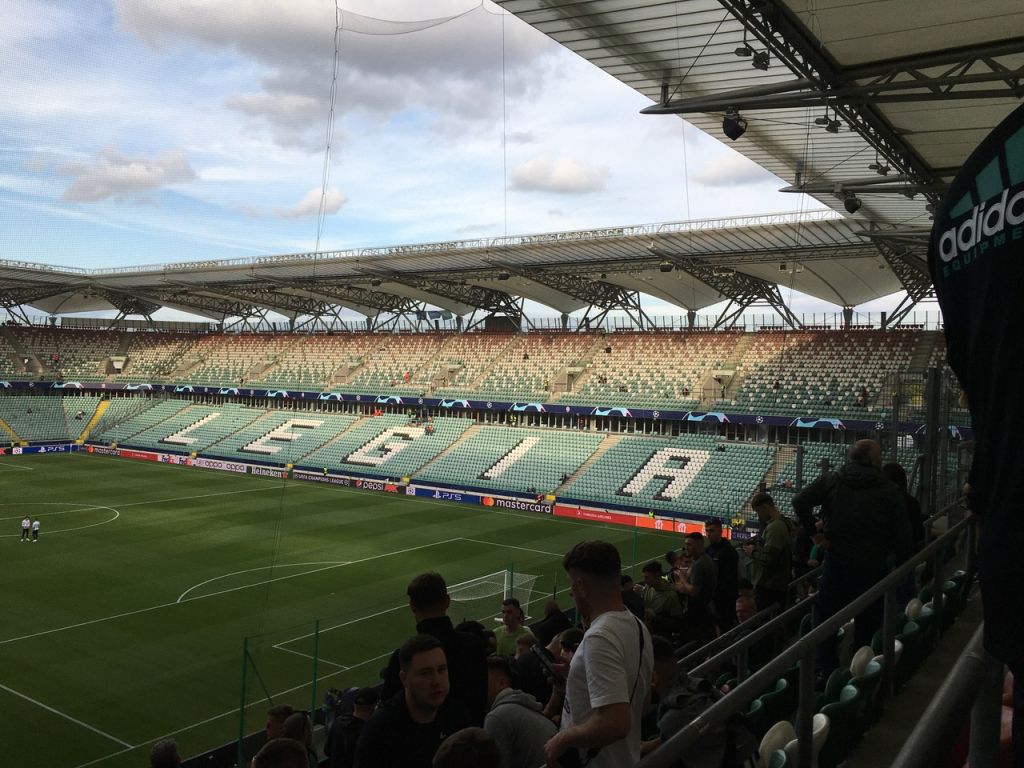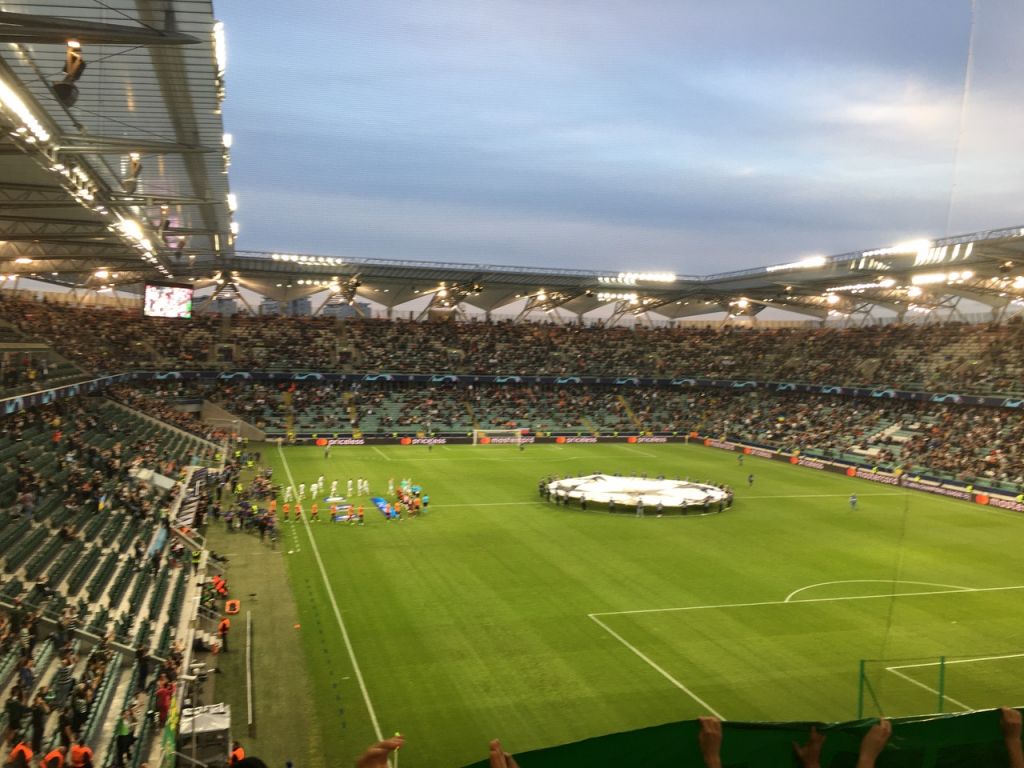 The match itself is a strange one. Celtic start as always on the front foot and Shakhtar are all over the place, even before Reo Hatate runs on to a perfect pass from surprise starter Saed Haksabanovic to give the Hoops the lead, several thousand voices willing Kyogo not to touch the ball as it rolls towards the line for fear of offside.
He doesn't and it's 1-0. The main scoreboard is updating us with stats which illustrate Celtic's early dominance, and we are playing with a swagger and confidence which fills me with hope and optimism, unusual qualities for a Champions League awayday for yours truly. Sure enough, that doesn't last long, there are a couple of Celtic challenges made a split-second too late and suddenly the ball is ripping through Joe Hart into the top corner for 1-1.
It's as if a switch has been flicked as from deafening silence the Ukrainians and Poles suddenly find their voices, and now we are in a game. There is a brief moment of panic as the ball is in our net again seconds later, but thankfully a flag goes up and the Shakhtar coaching staff who have run out as a pack onto the track have to sheepishly go back to the dugout. A small cluster of home supporters to my right have not yet noticed the flag, and they continue to dance and hug before the scoreboard is pointed out to them. That was too close for comfort.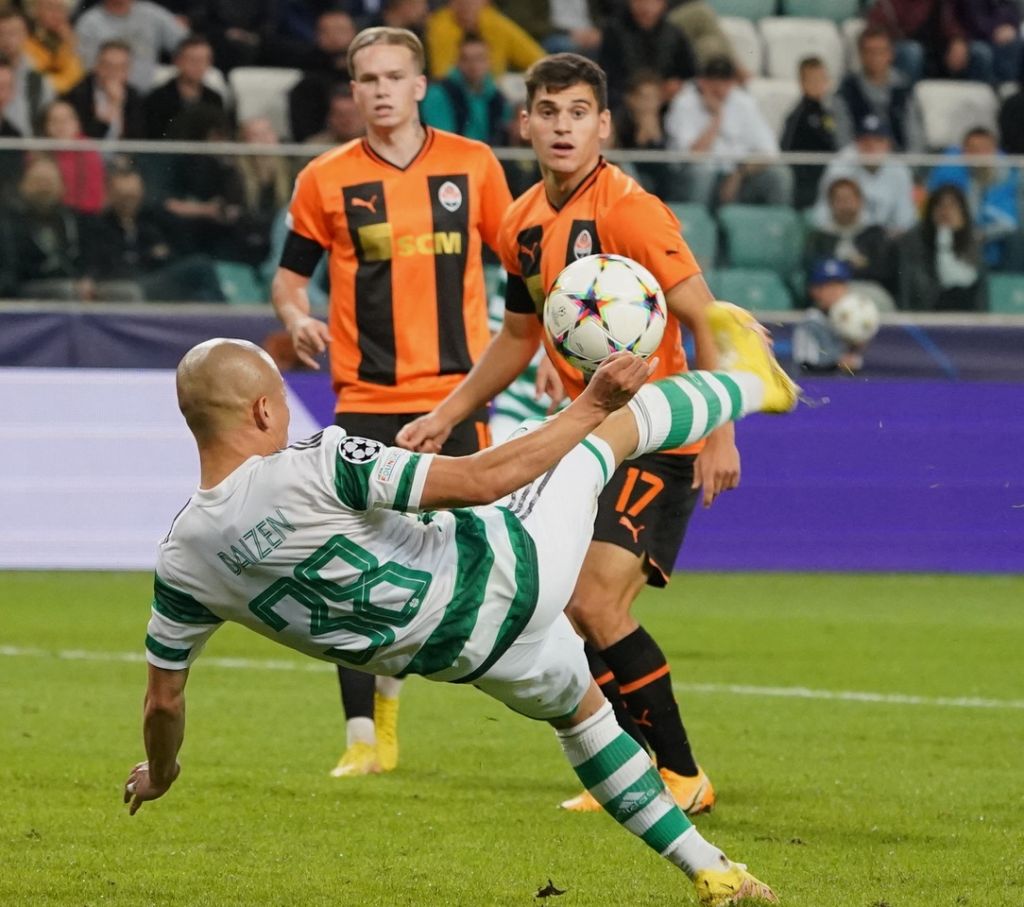 I've heard it said that half-time came at a bad time for Celtic, but not in my opinion. I'm keen to get in and regroup without further loss, with a view to getting that flow back in the second half. In fairness, we do that, and the only thing missing from a solid display after the break is a match-winning goal which would potentially have made all the difference in this three-team mini-group which many supporters suspect will develop over the coming weeks.
But there is some consolation that the final whistle blows without the defeat which has marred so many of my trips at this level, and we get the point I would have settled for at kick-off. Most around me seem to feel much the same, and the players are again given a great reception as they make their way to our corner to acknowledge the support. This was nearly the day when we won away, but not quite.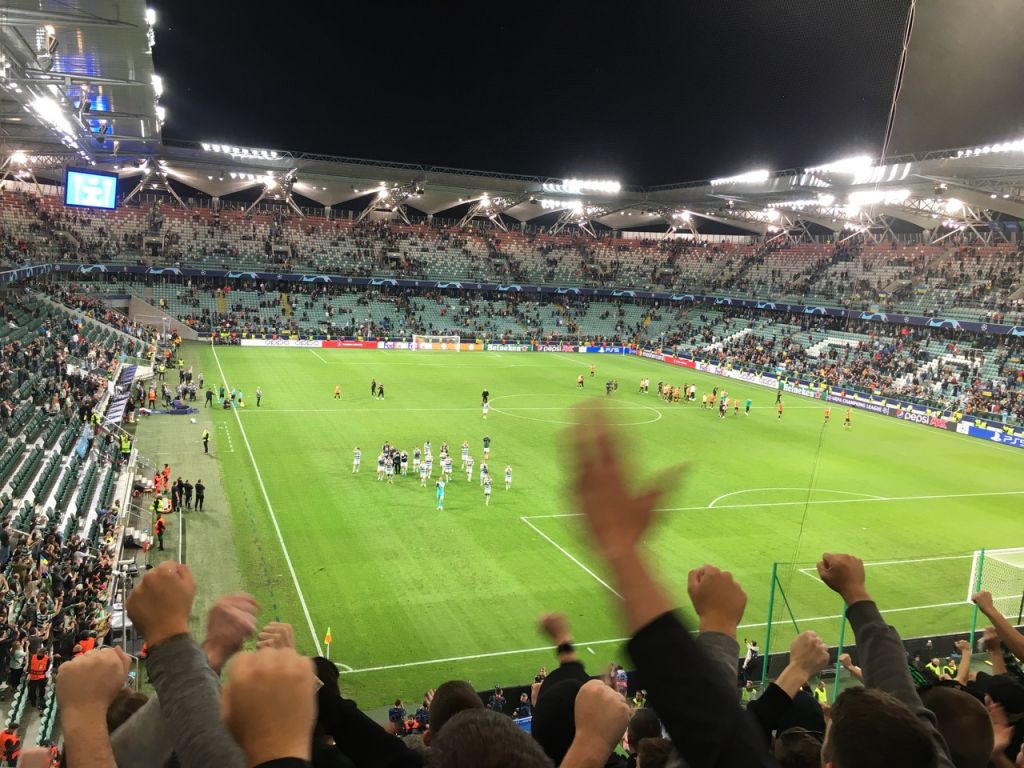 There is more drama as we make our way out of the stadium. Heading down the steps it's clear that the exit gates are still locked, and yet again a strong police presence awaits on the other side. It's not immediately clear who or what we're waiting for, although it looks like the home support are passing on the street towards our buses via a route which had been blocked off earlier on our arrival.
So fair enough, perhaps they're letting them clear the stadium footprint. But time passes on and that pedestrian flow has long since dried up and still we wait. It's been a long day, and we're all exhausted and just desperate to be on our way.
Patience is growing thin at the wait and lack of information, a situation not helped when a young officer is handed a megaphone and informs us that the buses should be here before too long. Difficult to understand why they were not in position before the end of the game but hey ho.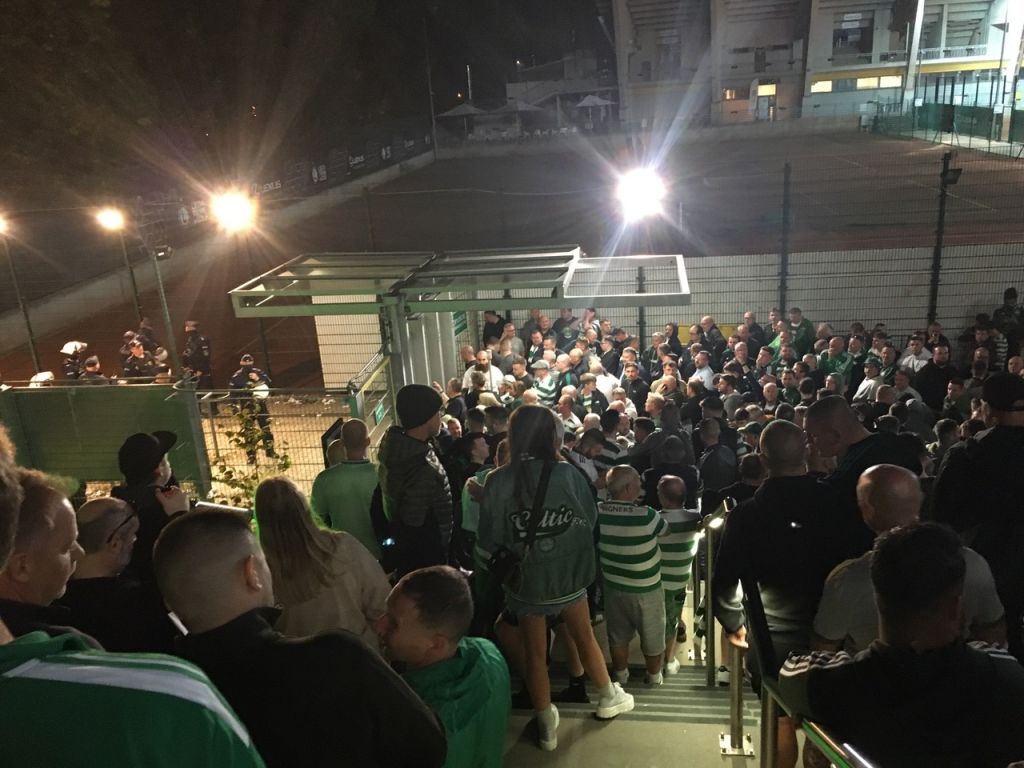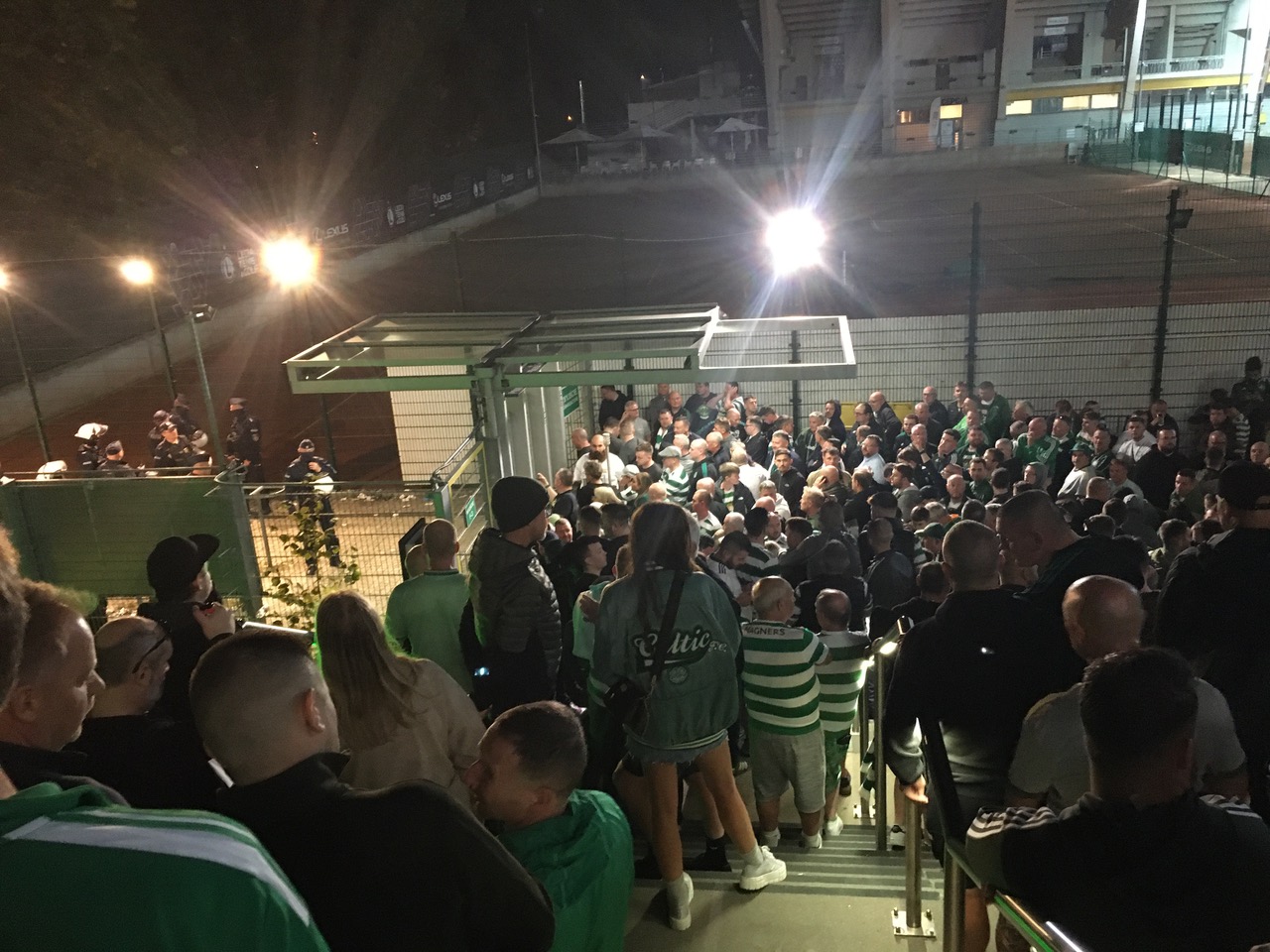 There is some light relief as the attention of the supporters stuck on the stairways is diverted to a tennis match being played on the adjacent Legia Club court to my right. The four locals involved have presumably never played to a live audience before, each shot in the rally anticipated then followed by a loud roar as those at ground level wonder what the hell is going on.
Eventually, they give up for the night and we are back to Gategate, someone finally putting us out of our misery with a giant bunch of keys, temporarily as it turns out. We're now outside in the pitch-dark street and yet again our passage is being blocked for no apparent reason. This is an accident waiting to happen and my mind goes back to a similar situation outside the Parc des Princes in 1995, when I'm desperately trying to look after my 70-year-old dad as we are hustled and jostled towards the stadium before the match.
Now I'm approaching that stage of life faster than I would like and seriously questioning the wisdom of putting myself in that situation. After what seems like an eternity, we finally force our way through the cordon and onto the waiting buses, Stephen and I saying our cheerios as we go our separate ways. Those on board are amongst the lucky ones, as we then spend the next half-hour or so looking through bus windows to a scene of organised chaos, police repeatedly forcing supporters back in the darkness as, presumably, they await supplementary transport back into the city. Fingers crossed everyone got safely to their destination eventually.
It's getting on towards midnight and we're finally boarding the plane back to Glasgow. Despite – or perhaps because of – the lack of alcohol, the best part of 20 hours on the go has taken its toll. I have a banging headache and my feet feel like they have already completed the Chicago Marathon. It's been a long, manic day and I'm looking forward to getting my head down for a sleep as I manage to find a window seat in an empty row of the aircraft.
I'll be fine as long as I don't get the one guy on the trip who suddenly finds his second wind and sees it as his duty and obligation to sing/shout at the top of his voice for the next two and a half hours, whilst waking me up to apologise for annoying me between songs/shouts.
Yes, you've guessed it!
Never again.
Hail Hail,
Matt Corr
Follow Matt on Twitter @Boola_vogue