THE SFA action against Tom Boyd has taken another, even more sinister twist, with the indiction now being that it will be Celtic that will be charged and the club could end up being fined up to £100,000 for the truthful and accurate comments made by the former Celtic Captain on Celtic TV on Saturday after the Rangers supporting referee John Beaton failed to award Celtic a stonewall penalty in extra time of the League Cup tie against Dunfermline at Celtic Park.
Boyd was co-commentating on the match for Celtic TV – the live broadcast was available to Celtic TV subscribers outside Britain and Ireland and we have covered what the current Celtic Ambassador said HERE and again HERE on The Celtic Star.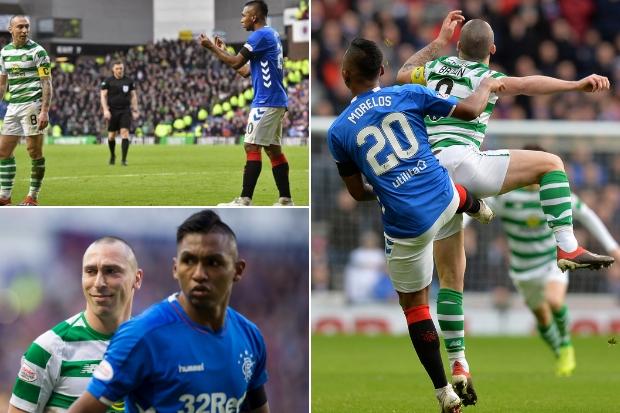 But just to be sure you're up to speed here is what Tom Boyd said on Celtic TV…
"That's an absolutely scandalous decision by John Beaton. We've seen that before on many occasions.
"It's unquestionably a penalty. It probably should have been a handball but that was a stonewall penalty kick.
"It's clear it's a penalty kick. In the light of day, he's putting his hand towards the ball, heading towards goal.
"What does John Beaton not know about the new rules? If he doesn't know that's a penalty he should not be in the middle of the park refereeing a football game.
"He'll probably be welcome down his pub tonight again."
Supporters yesterday ridiculed the SFA for apparently targeting Tom Boyd but it seems to be the case that it will NOT be the former captain who is charged but Celtic. What penalty could the SFA impose on Tom Boyd anyway, give him a three match ban from commentating on matches on Celtic TV? Ludicrous stuff like that was being laughed at on Twitter but if it is Celtic that is being charged then the implications and the consequences are much more serious.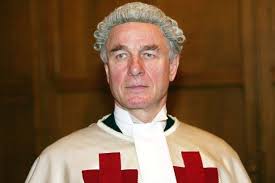 Rangers for industrial scale cheating over a decade and a half that left hundreds of millions of pounds owed to creditors and the club going into liquidation were investigated by the SFA via Lord Nimmo Smith. The Ibrox club through its undisclosed side letters had not properly registered players for more than a decade and they were fined just £250,000 by the SFA. This was of course eventually collected from the new club that was rushed into the Scottish game and awarded all the honours – but taking none of the debt – by the Scottish football authorities.
So it the price of doing all that is a £250,000 fine then it's incredible that the SFA are looking at hitting Celtic with up to £100,000 for what Tom Boyd said about Beaton.
Beaton opened himself up to remarks about the pub by going to a Rangers pub shortly after refereeing a Rangers v Celtic match at Ibrox which the team he supports won. Had Beaton not done that no-one would have ever spoken about the match referee drinking in a Rangers bar after a Rangers win against Celtic.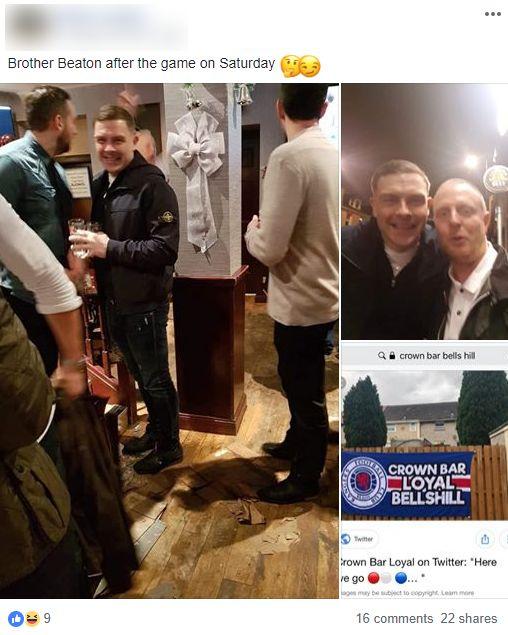 Imagine a Liverpool supporting referee drinking in a Liverpool supporters bar after refereeing a Liverpool win over Manchester Utd? You can't?
Celtic are likely to be charged under rule 38, article 29.2 of the SFA's Judicial Panel Protocol, where club media is prohibited from implying bias or incompetence on the part of a referee.
The case will not be fast-tracked, meaning this will drag on and but will give Celtic plenty of time to consult the QC who represented Scott Brown when the SFA tried to bring charges against The Celtic captain after the loss of Rangers discipline in their 2-1 defeat at Celtic Park at the end of March.
James Forrest on The Celtic Blog published an article last night talking about the importance of the various Celtic blogs in standing up for Celtic. We have been critical of the way our club is being run at the moment and both Peter Lawwell and Neil Lennon have come in for criticism on here, on The Celtic Blog, Video Celts, 90 Minute Cynics and elsewhere on the 'independent' Celtic fans media.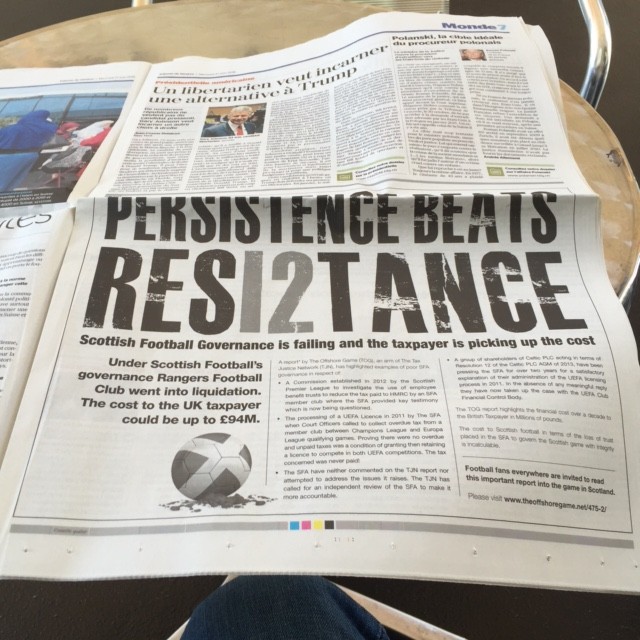 Yet this latest SFA charge illustrates just how important the blogs are to The Celtic family – and to Celtic – in standing up to those who would hard our club.
And incidentally Phil was 100% correct yesterday, Res 12 has NOT gone away. In fact it's going to be a big story this autumn and it will be all over the 'independent' Celtic fans media.
Tangled up in Blue; The Rise and Fall of Rangers FC tells the full story of the origin of the rivalry between Rangers/Celtic, and how it acquired a religious dimension, as well as the more recent tale of the Ibrox club's financial collapse. Details here https://t.co/s0YUdsKpHP

— Stephen O'Donnell (@StephenODauthor) July 14, 2019