Elvis Pressley sums it up. "A little less conversation, a little more action please".
As Celtic returned from the winter break to defeat Partick Thistle 2-1 at Firhill something happened that may well change the course of the season for Celtic. Neil Lennon decided either by necessity or by design to play two strikers supported by a midfield diamond.
Injuries and suspensions to the usual go to wide players, allied to the sales of Scotty Sinclair and Lewis Morgan played a part. For whatever reason opportunity fell into the lap of Leigh Griffiths and Celtic's most natural goal scorer took his chance. As Griffiths lined up alongside Odsonne Edouard in Celtic's frontline he must have been wondering if this was one of those moments upon which careers are made or lost.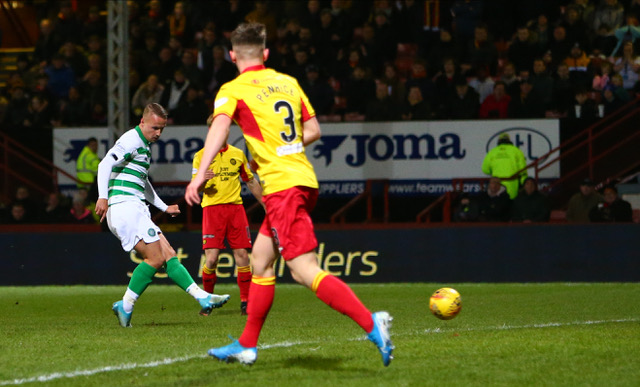 Twelve minutes in and Griffiths had pounced with a typical poachers finish to put Celtic 1-0 up the night and well on the way to progressing to the fifth round of the Scottish Cup.
His pre-planned celebration indicates there is still a belief in the man, something he perhaps believes hasn't been reciprocated elsewhere. With a run to the Celtic support both fingers were placed in the ears. I'm not listening or blocking out the noise appeared to be the message.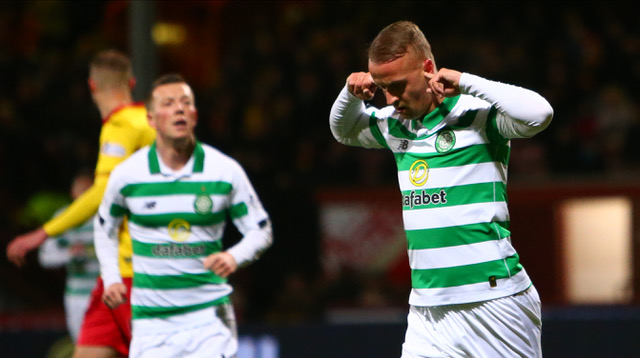 On the park the Hoops marksman had his say, off the pitch he had a good few words for the assembled press.
"It's been a long time coming. It's frustrating not playing," he said.
"Today I've shown I can still score goals and play well. I've just had to bide my time, keep working hard in training and when I get my chance I need to play well and score goals.
"My time at Celtic is far from finished, believe me. And hopefully this is just the start of a good run."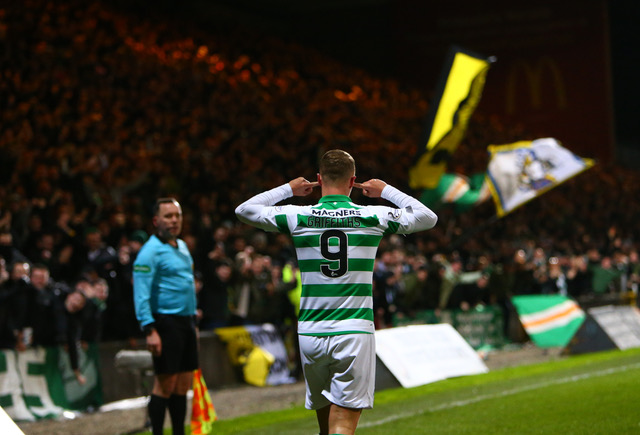 "Everybody wants to talk about me and Celtic bringing other strikers in, which means I'm finished at the club," he added.
"There's a lot of pundits and ex-pros who think my time at Celtic is finished. That's the only way I can shut them up, by scoring goals and playing well.
"I had to bite my tongue because I keep getting sent the same things on social media. It's not nice and I wish people would just let me get on get on with my game."
We've been here before however. The goal against Thistle was only Griffiths fourth of the season and his first since August. For a multitude of reasons since his self-imposed exile for mental health difficulties it has been difficult for Griffiths to stake his claim in the Celtic team.
Ahead of him is a supremely talented all round footballer in Odsonne Edouard but anyone would have difficulty in arguing with me that between the lines of the 18 yard box there is a better finisher at Celtic than Leigh Griffiths.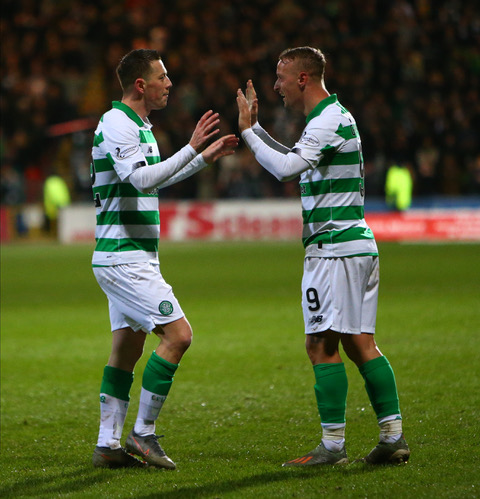 There is also Vakoun Bayo who Lennon appeared to favour over Griffiths earlier in the season and the new multi million pound signing in the shape of Patryck Klimala. Competition is strong, opportunities will be rare, and it will all be about how you perform when opportunity knocks.
Manager Neil Lennon appears to be backing his man.
"Leigh has been looking sharp and played well and scored a striker's goal," Lennon said. "He is a great player, a great scorer.
"He has had fitness issues and other issues. We don't score many goals like that and he does."
It all sounds good and it makes good copy but it's only a few short weeks since Leigh Griffiths was kicking his heels on the Celtic bench as Lewis Morgan, a converted winger was chosen to lead the forward line in the absence of Odsonne Edouard.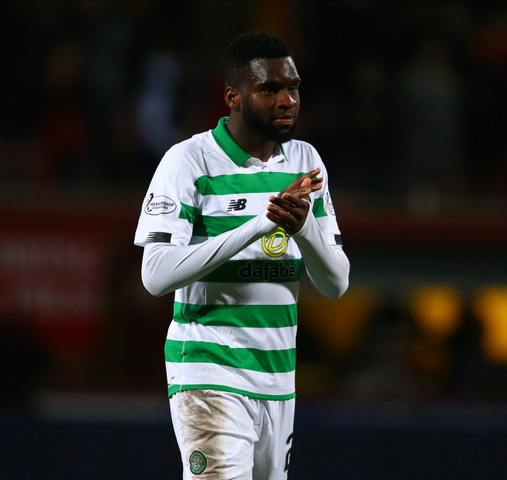 That decision was down to the manager and given he recognises Leigh Griffiths worth, it must have been something more than ability alone that led to the manager choosing Lewis Morgan over a striker as natural in front of goal than as Griffiths. This experiment included a Europa League tie against Rennes and the not insignificant matter of a League Cup Final against 'the' Rangers.
On the Celtic Noise fans forum alternative match analyst Sandman summed it up for me in a few short words during his match report from last night's Scottish Cup win.
Sandman wrote : "All about his attitude now; talk with yer feet, Sparky".
At his best Leigh Griffiths pushes Odsonne Edouard for a starting place for Celtic. In his pomp Griffiths is the first choice striker for the national team. Stevie Clarke is already considering Lawrence Shankland for that role. He's a good player but he hasn't got the experience that Leigh Griffiths brings to the party. He could be Scotland and Celtic's number 9. If he wants it the talent and ability is there.
A goal against Partick could be that start. If it is to be the case then Griffiths needs to talk with those scoring boots. The time for verbal feedback comes much later than a Scottish Cup tie against Partick Thistle. It comes when the first team hierarchy sees Leigh Griffiths as a genuine alternative to Odsonne Edouard.
To return to Elvis and his words of wisdom: "A little more bite and a little less bark. A little less fight and a little more spark"
Over to you Sparky.
Niall J
ALSO this evening from Niall J on The Celtic Star…
Transfer Window – Lennon targets two experienced players – Niall J…https://thecelticstar.com/transfer-window-lennon-targets-two-experienced-players-niall-j/
SUPPORT CELTIC, SUPPORT CELTIC POOLS
Help raise money for Celtic Youth Development by joining the £1 weekly lottery and you could win up to £25,000 – just click on any one of the photographs below to join.