TheRangers winger Ryan Kent told the media today that tomorrow's Glasgow Derby will be different because there will be no stadium!
"Obviously it will be different with no stadium," Kent said, as reported by their official twitter account, resulting in much hilarity as Celtic fans piled in to take the Colin Nish. Here's theRangers tweet…
Ryan Kent has arrived to speak to the media.

🎙️ RK: Obviously it will be different with no stadium. The fans make this fixture and why it is one of the biggest matches in the world. Regardless, I expect the intensity to be there tomorrow

— Rangers Football Club (@RangersFC) October 16, 2020
Ryan Kent turning up at celtic park tomorrow then …😂 https://t.co/tjEnIGB5q4 pic.twitter.com/myQPPHyKiZ

— Henke7bhoy (@chrisnbhoy) October 16, 2020
Ryan Kent fuelling the stereotype that footballers are thick. https://t.co/C0gNHZ6NwO

— Chairman Lmao ☭ (@BenTheTim) October 16, 2020
https://t.co/ywqTG9RODA pic.twitter.com/iRrJWJvOC4

— shay (@smcn1967) October 16, 2020
Here is what the Holy Ground looked like the last time there was no stadium there…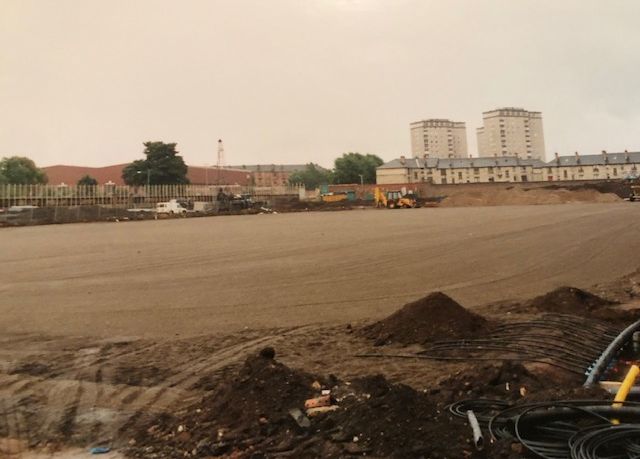 This comes from the personal collection of photographs taken by the then Stadium Director Tom Grant of the demolition of the old Celtic Park and the rebuilding of a new 60,000 seated stadium by Fergus McCann. Building this new Paradise set Rangers FC on its way to liquidation and this was followed by new Founding Father Charles Green creating a new club in the summer of 2012.  However they are still without a major honour and since working their way up from the old Third Division to the Premiership they have had to watch Celtic win every single honour going.
SO IT'S NO WONDER THAT THERE WAS  SOME WISHFUL THINKING  FROM KENT TODAY. CELTIC'S DOMINATION IS KILLING THEM ALL OVER AGAIN!
You can view all of these remarkable photos using the link below.