It is a curious fact that one of Celtic's best known and most loved Scottish Cup finals was one that ended in a draw! And yet which Celtic supporter, now of advancing years, was not told at first hand by his father, uncle, or grandfather the epic game of 11 April 1931?
It would happen at breakfast tables, tea tables, pauses in the toils of cultivating gardens and certainly on Saturday night and Hogmanay when possibly a little alcohol would fuel the memory and aid recollection of the deeds of derring-do of 1931.
There would be an encomium of Young, Loney and Hay from the early days, then possibly a diversion into Patsy Gallacher with, if circumstances allowed it, a demonstrations of how to do a somersault with a football between one's knees, and then, inevitably, the story of the ticking Hampden clock of 1931.
The team were 2-0 down, the Mount Florida end was awash with triumphant Motherwell fans holding up their letters of "Give us an M", Give Us an O… " and so on until "and what have we got?" "MOTHERWELL!" and then a huge cheer. Sadly, a few blue colours and Union Jacks were seen among them as well, as Motherwell's first ever Scottish Cup came closer and closer.
Manager John "Sailor" Hunter, so called because of his gait as if he were struggling to keep his balance on board ship, and himself a Scottish Cup winner with Dundee in 1910, was permitting himself a smile as his excellent team, particularly his left wing of Stevenson and Ferrier, were holding the ever determined but now increasingly desperate Celtic attacks.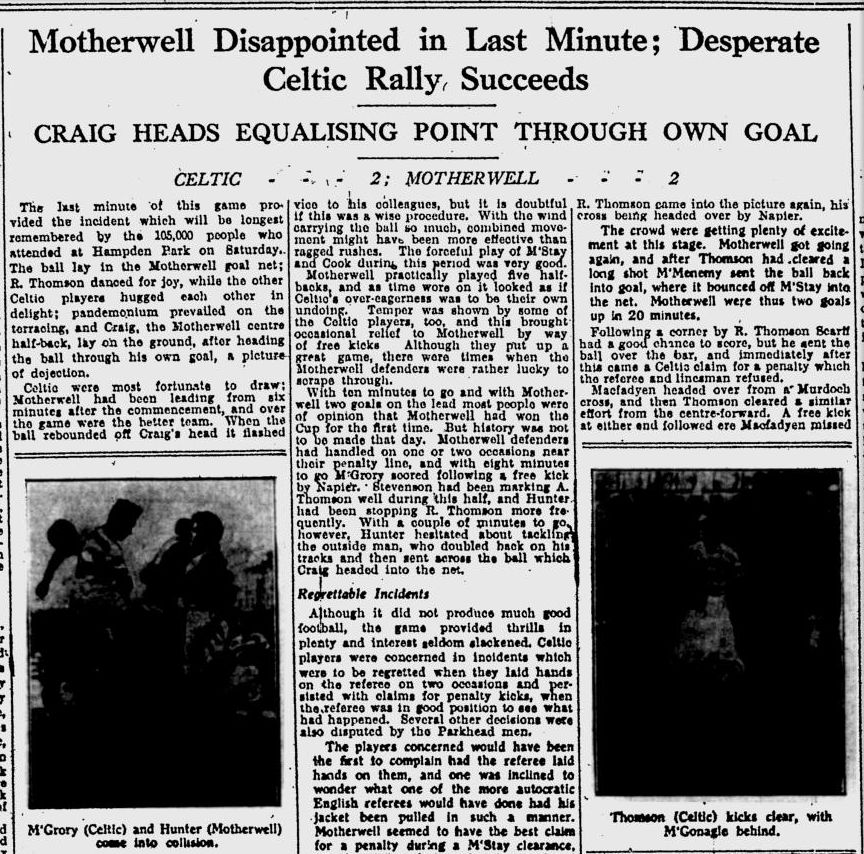 Even on this most tense of occasions, the six figure crowd had to permit themselves a smile when referee Peter Craigmyle of Aberdeen, ever the showman, refused Celtic a penalty (he was probably correct in his decision) and when Peter Scarff and Bertie Thomson advanced on him to discuss the matter, he ran round the back of the net and out the other side of the goal! It was funny, but there was little else to smile about for the Celtic fans at the packed Polmadie or King's Park end of the ground.
The terracing was silent and introverted, the banners pathetically drooping, the fans strangely silent. The two Motherwell goals had been fortunate ones, deflections in both cases past the luckless John Thomson, but that was of little comfort now. John was a lonely and in someways forlorn figure in the distant Mount Florida goal, as Celtic redoubled their efforts.
In the stand, Willie Maley could do little other than pray that somehow or other his "foragers", the "fetch and carry men", Peter Wilson and Alec Thomson might manage to get the ball to Jimmy McGrory. One could never rule anything out with McGrory around, but the ball was not getting to him, so well policed was he by centre half Alan Craig.
Jimmy Quinn and Jimmy McMenemy, heroes of many a Hampden Cup final in bygone days, sat in numb despair, McMenemy at least with the consolation that his son John, who was playing for Motherwell, would win another Cup winner's medal and bring the family tally to the scarcely believable nine – Jimmy in 1904, 1907, 1908, 1911, 1912, 1914 and 1921 (with Partick Thistle) and John in 1927, when he was a young player with Celtic and called in at virtually the last minute to play alongside Tommy McInally.
But the general air in the Celtic camp was one of gloom, particularly those who could see the Hampden clock with the minute hand now more or less pointing straight down to half past four to indicate that only ten minutes were left. "Well, well, well, the clock's ticking well!" said someone who clearly wanted it to speed up and the game to finish.
Were there claret and amber ribbons for the Scottish Cup? How would it look?
The weaker brethren among the green and white brigade were now beginning to head up the steps of the terracing, pausing now and again to look back wistfully on the sad scene unfolding beneath them. There was the odd curse, but the main mood was one of resigned acceptance of what seemed now inevitable.
The team had played well that season. They had won the Glasgow Cup and had made their best League challenge for a few years but had lost to Partick Thistle on a barely playable pitch, and had then drawn with Dundee and Hearts, and it now looked as if Rangers were going to win the League again. And the Scottish Cup, in 1931 the more important of the two trophies, looked as if it were going to Fir Park, Motherwell for the first time.
But then a ray of hope. A Charlie Napier free kick looped over the heads of the Motherwell defence and a McGrory toe-poke reduced the leeway, as Motherwell appealed unconvincingly for offside.
There was now more animation about the Celtic players and support, but the general feeling was that it was too late. McGrory was seen to charge back to the centre line pointing to the clock where the minute hand was now beginning its ascent and was indicating that eight minutes remained. The exodus from the terracing now stopped at least temporarily… but the odds were still against Celtic.
The minutes ticked away, and Celtic failed to find McGrory. The newspaper reporters were beginning to think about headlines "Well, it's Well!" or "Celts Well licked by Mother" and one Motherwell newspaper reporter jumped the gun and sent his report in just before the final whistle!
Celtic Directors beamed their reluctant congratulations to their Motherwell equivalents, as Maley shrugged his shoulders and looked at McMenemy and Quinn with the "we did our best" look.
He steeled himself to shake the hand of his friendly rival " the Sailor" as Mr Craigmyle ostentatiously looked at his watch and the Hampden clock now clearly saying full time.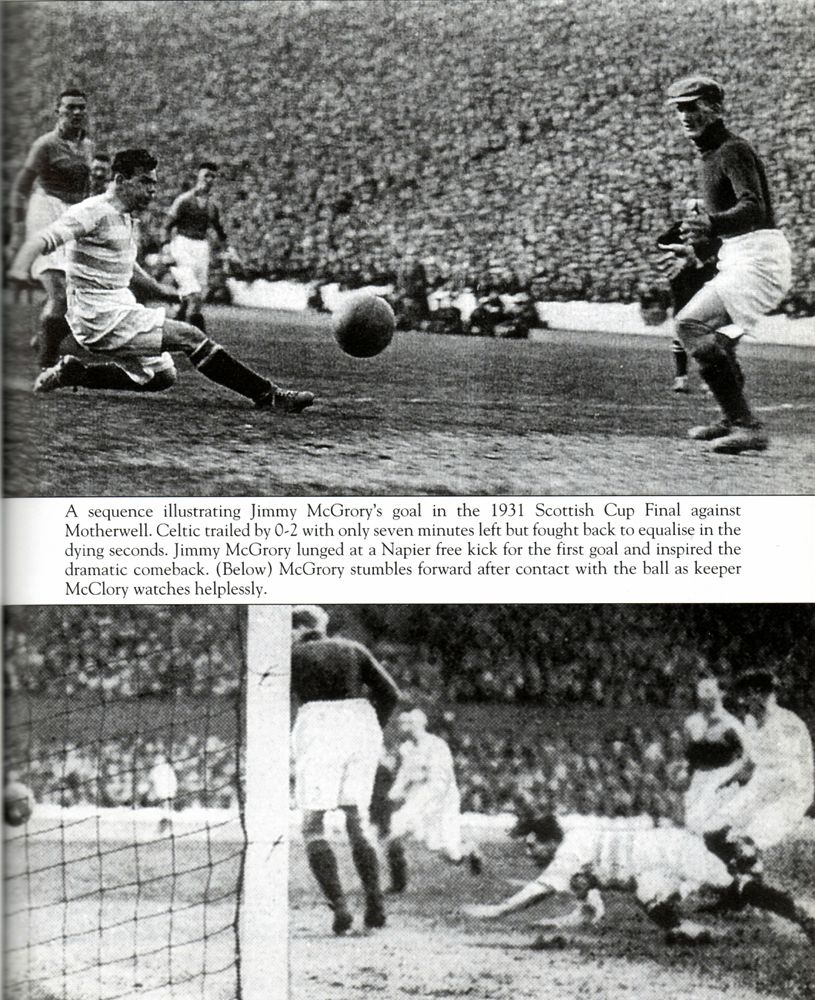 But Bertie Thomson had the ball on the right.
Maybe he wanted to have it in his possession so that he could keep it, and then sell it to a friend, but the stentorian cry of captain Jimmy McStay was heard "Get it ower, man!" Ah well, thought Bertie, you never know. It might just find McGrory. It didn't and centre half Alan Craig rose confidently to head clear. But maybe the ball held up a little in the capricious Hampden swirl, maybe Craig made his first and only misjudgement of the day but the ball hit the side of his head and diverted past his goalkeeper into the back of the net.
When momentous historical events happen, the historian often says that "there was a split second before anyone comprehended what had taken place". I was reliably informed that it was about one whole second before the Celtic part of the ground erupted, and a lot longer than that before those on the Mount Florida terracing were able to take in the painful event that they had just seen.
I believe it is called "in denial".
A clear picture remained in the head of one veteran supporter some 60 years after the event of Celtic players dancing with each other, Motherwell players prostrate on the ground in agony and the luckless Alan Craig being helped to his feet, not by his own team mates but by Jimmy McGrory and referee Peter Craigmyle as he beat the ground repeatedly with his fist in anguish.
It was one of sport's cruellest ever moments.The same veteran supporter saw Motherwell beat Dundee United in the Scottish Cup final of 1991, and was happy for the Steel men. "1931 must have ta'en a loat of gettin ower, ye ken!"
But for Celtic, it was a case of "Paradise Lost" and "Paradise Regained". The Scottish Cup was duly won for the 13th time on the Wednesday night, and the replay is another story.
David Potter
CELTIC:  J. Thomson; Cook and McGonagle; Wilson, McStay, and Geatons; R. Thomson, A. Thomson, McGrory, Scarff, and Napier.
Scorers: McGrory, Craig O.G.
MOTHERWELL: McClory; Johnman and Hunter; Wales, Craig, and Telfer; Murdoch, McMenemy, McFadyen, Stevenson, and Ferrier.
Scorers: Stevenson, McMenemy.
Referee: P. Craigmyle (Aberdeen). Attendance: 104,803