ANOTHER Seven Magnificently Random Celtic Stories from club Historian David Potter this morning…
1. TOMMY SINCLAIR – CELTIC'S RANGERS GOALIE
A case could be made out for arguing that Celtic best ever goalkeeper was not John Thomson, Charlie Shaw or Ronnie Simpson but Tommy Sinclair in that 88% of his games for Celtic were shut-outs and in the one game that he played that was not a shut-out, he won a medal! Not only that, but he was actually a Rangers player on loan at the time!
These remarkable events occurred at the start of the 1906/07 season when Celtic's goalkeeper Davie Adams cut his hand badly on a nail sticking out of a goalpost at Ibrox during a benefit match for a Rangers player.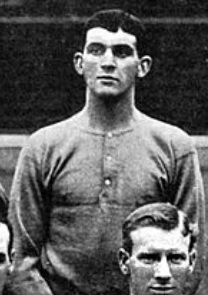 Rangers were upset about this and Manager William Wilton (being the nice man that he was) offered his friend Willie Maley the services of their reserve goalkeeper Tommy Sinclair until Adams' hand healed up. Sinclair was very happy about this for it gave him first team football and he was in any case a good friend of Alec Bennett and Jimmy McMenemy with whom he had played at Rutherglen Glencairn.
Tommy duly played the first nine games of the 1906/07 season. In truth he had little to do other than watch Jimmy Quinn score fourteen goals at the other end, for Celtic had a superb side winning their first six League games and reaching the Glasgow Cup Final without losing a goal, with Sinclair dealing superbly with whatever came his way.
But in the Glasgow Cup Final on 6 October 1906, although Celtic won, two goals were conceded to the chagrin of the likeable Tommy who was however much mollified by the award of a medal. That game was also the first game that season in which Jimmy Quinn had NOT scored for Celtic, so presumably the great Crojan was equally upset.
Davie Adams returned the following week, and Tommy was on his reluctant way back to Ibrox where he once again failed to get a first team place. Near the end of the season, he was transferred to Newcastle United for whom he played a few games in their triumphant capture of the English League Championship. Tommy could therefore feel that he contributed to the winning of the League Championship in both countries! And of course, he had a Glasgow Cup medal as well!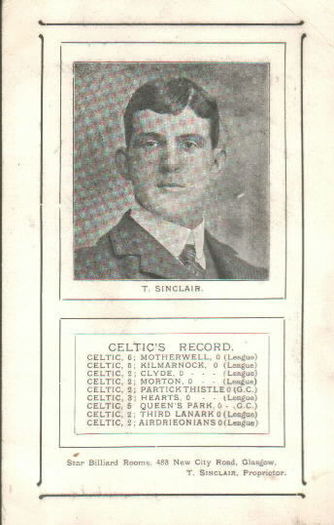 2. WINNING THE LEAGUE FOR RANGERS
Saturday 18 April 1959 saw Glasgow in a strange state of puzzlement. Rangers lost 1-2 to Aberdeen at Ibrox, and Celtic beat Hearts 2-1 at Parkhead. Such a combination of results would normally bring great joy for Celtic and dark despair for Rangers, but the problem here was that Celtic's victory gave Rangers the League Championship!
Both games followed remarkably parallel paths – Rangers and Hearts were both one up at half-time (Rangers would have won the Championship if these results had stayed unaltered) but then both Aberdeen and Celtic scored twice each, Celtic's goals coming from a deft flick by Bertie Auld and then a diving header from Eric Smith.
This meant that although Rangers lost to Aberdeen and were duly booed off the park (deservedly so, according to the Press) they had won the League thanks to Celtic. Rangers and Celtic fans alike did not know whether to laugh or to cry!
3. TEN MEN WON THE LEAGUE
Celtic have won the Scottish League on many occasions often with a degree of excitement, but never surely in more dramatic circumstances than those of Monday 21 May 1979 at a packed Parkhead. This game had originally been scheduled for the New Year but had fallen victim like so many games that bad winter to the weather.
It was Celtic's last game of the season, and they had to win it, otherwise the title would be likely to go to Ibrox. Rangers were 1-0 up at half-time and then early in the second half Johnny Doyle was sent off by referee Eddie Pringle for foolishly aiming a kick at a Rangers player lying on the ground. Oh dear!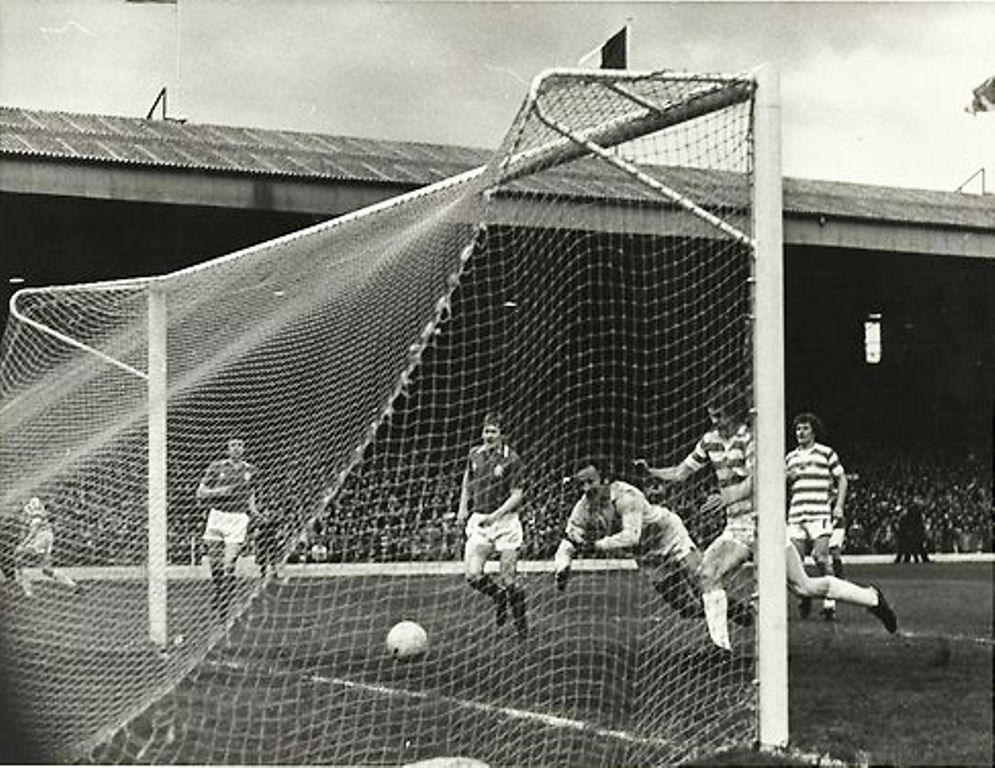 A victory seemed so unlikely but Celtic's ten roared into action galvanised by Roy Aitken. Aitken himself scored in a goalmouth scramble, then George McCluskey put Celtic 2-1 up – only for Rangers to equalize. But this Celtic team did not know how to lose, and within the last ten minutes persuaded Rangers' Colin Jackson to score an own goal. With time running out, Murdo MacLeod decided to try for goal from an impossible angle and distance, reckoning that the ball would at least go into the Celtic End and use up valuable seconds. But he scored! And Parkhead erupted as it had never done so before.