The dreadful weather conditions in Scotland in early 1979 decimated the football card, to the extent that Celtic would play only two competitive games by the end of February, both Scottish Cup ties. Having not played there for forty years, Celtic made a third visit to Links Park in six months, where they disposed of Montrose, thanks to a second-half hat-trick from George McCluskey.
Next up were the giant-killers of Berwick Rangers, facing up to Celtic for the first time ever competitively and losing by three goals at Celtic Park on a damp night, thanks largely to an inspirational performance from Danny McGrain.
This set up a mouth-watering quarter-final tie at Pittodrie, against Ferguson's Dons. Celtic dominated the game, however, not for the first or last time, future Hoops manager, Gordon Strachan, made the telling contribution, on this occasion twice heading netbound 'Shuggy' Edvaldsson headers off the line. Harper equalised within a minute of Johnny Doyle's opener and the tie headed for a midweek replay.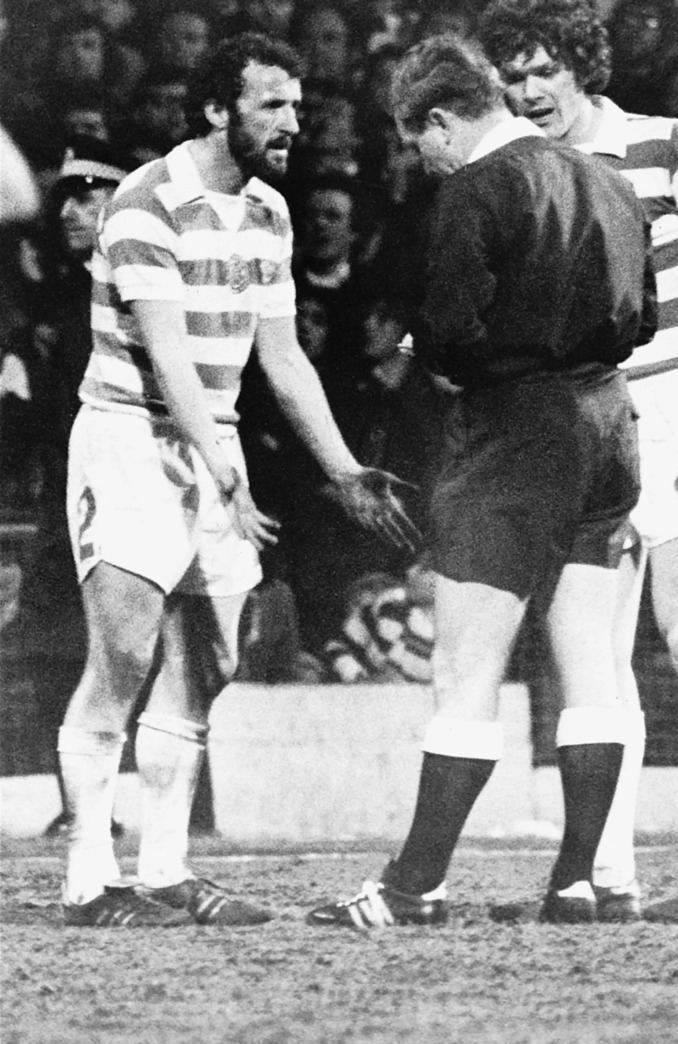 There was a disastrous start for Celtic, in front of nearly 40,000 fans on the Wednesday night, as two blunders from Peter Latchford, in the opening twelve minutes, gave Aberdeen a lead they would not relinquish.
Despite a second-half goal from the veteran Lennox, Celtic's cup run was over, and the night would end badly, as a late effort from the same player was disallowed, sparking a rain of bottles and cans from the Jungle. When the dust settled, the reality sank in that for the first time since 1962, there would be No Hoops at Hampden for either of the major cup finals.
That replay had been the third game in ten days between the sides. Incredibly, not until 3 March, had Celtic managed to play a League game in this year, a single Conn goal being enough for the two points. Only our second League win since September, this would ultimately prove to be a pivotal day in the title race.
The bearded warrior McGrain made his first Premier appearance since October 1977, inspiring hope amongst the faithful that the tide was slowly turning towards Celtic.
The next League game, against Motherwell on Paddy's Day, saw Jock's last signing, Irishman Pat Bonner, make his Celtic debut, as Latchford paid the price for one error too many. A Lennox double secured the points and a hat-trick of March home wins was completed against Morton, where Roy Baines, sold by Celtic earlier that month, made a quickfire return to Parkhead, this time between the Greenock posts, only to be beaten by a 30-yard Provan free-kick and a Burns goal, scored direct from a corner.
Having failed to sign Willie Pettigrew from Motherwell, Billy turned to an old colleague to bolster his strike force for the run-in, signing Vic Davidson from Blackpool, on the eve of a fixture at Easter Road. Like most of the fans behind the goal that day, I had no idea who he was, when he ran onto the pitch for his second debut, in the pre-mobile/social media days of 1979.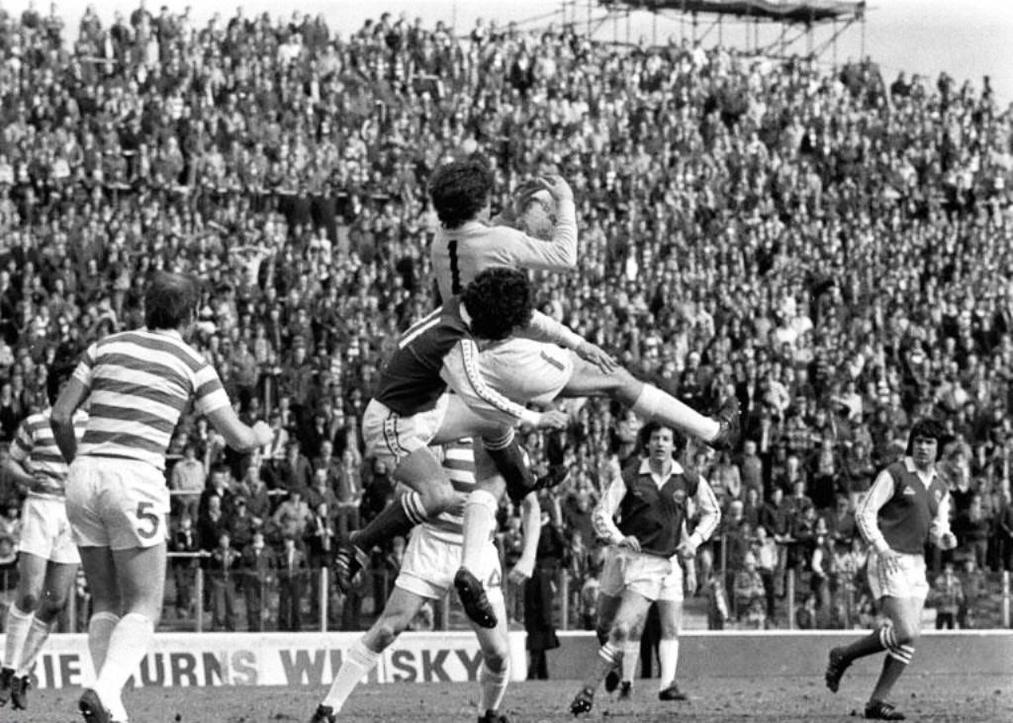 I would experience a similar problem many years later in Berne, when a shaven-headed Gerry Creaney took the field against Young Boys. Another comical opening for Celtic and the restored Latchford saw us two goals down within 15 minutes and, despite a late penalty from Ronnie Glavin, playing his last game for Celtic, the month ended like so many had before, in defeat.
The League table made grim reading, with Celtic seventh in a league of ten, five points behind second-placed Rangers, who had played two games more, and a further five behind leaders Dundee United, albeit an incredible six fixtures behind them. There would be much to do in April and May to provide the support with some success in this craziest of seasons.
April began with another hard-earned victory at Fir Park, in the rearranged Ne'erday fixture, where a rare Danny goal lit up another man-of-the-match performance from the comeback captain. A late Bobby Lennox penalty proved decisive in this midweek seven-goal thriller, with a comfortable home victory over Thistle on the Saturday then lifting Celts to fourth in the table.
Celtic headed to Tannadice the following Wednesday, for a critical match with League leaders United, where despite going ahead through a Vic Davidson header, the points stayed in Dundee thanks to a late Dodds winner. Ten points behind with ten games to play, it was a sombre journey home. However, things would take a turn for the better on the Saturday, at a packed Love Street, where a fabulous strike from George McCluskey settled the issue there, as news filtered through that relegated Motherwell had beaten Rangers, enabling Celtic to nudge ahead of them into second place on goal difference.
The feel-good factor continued in midweek at Tynecastle, with a three-goal victory, which kept the Celts in contention and plunged Hearts towards the drop zone, the final goal one of the finest scored for his beloved Celtic by substitute Tommy Burns, a great man very much in our thoughts at this time.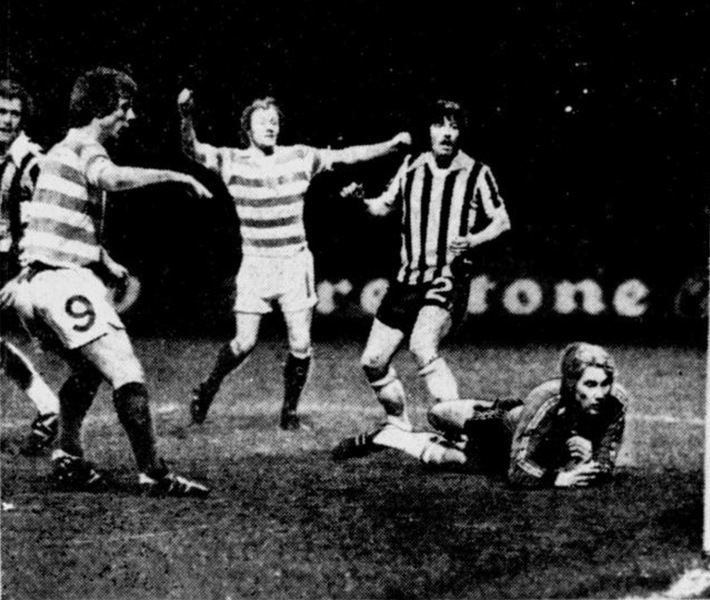 A difficult run of away fixtures continued at Pittodrie, against fourth-placed Aberdeen, with an Andy Lynch penalty cancelling out Strachan's opener to earn a hard-fought draw, thus allowing Rangers to sneak back into second spot in the table, in the tightest flag race in years. Events took another huge twist on the Wednesday night. With fifteen minutes to play, Celtic trailed to a Frank McGarvey strike at Parkhead.
However, late goals from Shuggy and the Bear secured a vital two points against St Mirren, as Rangers lost at Pittodrie. It was now 'Game On' and momentum shifted to Celtic, as United headed to Glasgow for a top two showdown. The recent Tannadice proceedings were reversed, as Celtic overcame another Dodds counter to win 2-1, thanks to a Doyle header and another spot-kick from Lynch, in front of a near-40,000 crowd.
United were still five points ahead, although, crucially, Celts had five games in hand. Rangers were one point behind us, having played the same number of games but with a home derby to come. Aberdeen and Hibernian were tied two points further back, however, both were running out of games and their title challenge would now fizzle out.
A midweek home victory over Hibs set up a critical away test with Rangers, the following Saturday, in a game postponed from March and again played at Hampden, with Ibrox still out of commission. Celtic paid the price for a poor performance, a scrambled goal from midfielder Alex MacDonald being enough to win the match, allowing Rangers to move one point ahead. With four games to play, one of them crucially against Rangers at Celtic Park, the position was crystal clear, maximum points would be required to lift the title.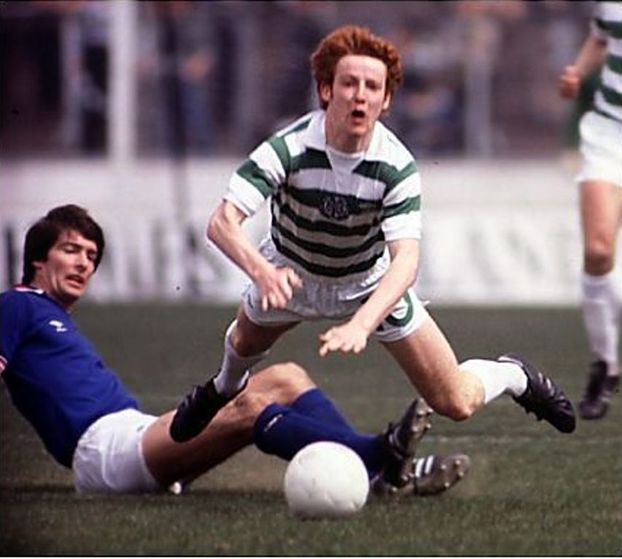 The final run-in would start at Firhill, on a Bank Holiday afternoon, with a game deferred from January. And it would start badly, with a Somner goal in the opening minutes. Striker Tom McAdam played the first of what would be many games in central defence, as emergency cover for the previously ever-present Edvaldsson, who had been injured at Hampden.
Another Davie Provan strike at Firhill provided an equaliser and set up an all-out assault on Rough's goal for a winner, which finally came in the last quarter from George McCluskey, emerging as a key player for Celtic, in this season of seasons. Three from three now required.
George was again to the fore in Celtic's next match. This bizarre season continued for me in the unlikely setting of the main stand at Ibrox on the Friday night, as St Mirren chose to play their home game in Glasgow, whilst work on their new terracing commenced. I would stand on that terrace twelve months hence, to watch another dramatic title climax play out.
In the meantime, the fans who said goodbye to the old Broomloan End, scene of so many Celtic parties and not a few heartbreaks over the years, witnessed two late headers from McCluskey and Lennox, to win a tense match and move the Hoops to the summit for the first time, on goal difference from United who had completed their programme, as Rangers prepared for a Cup Final meeting with Hibernian the following day. Two wins for an unlikely title for Celtic.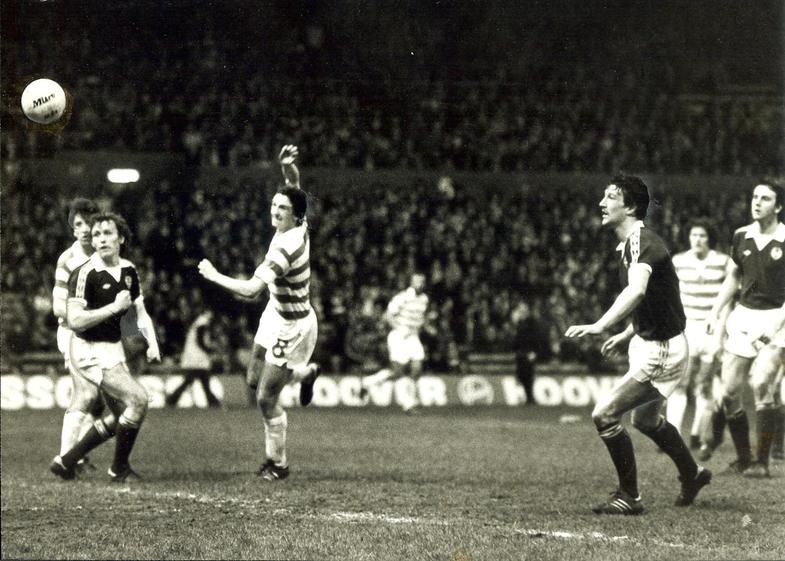 For those of us at Celtic Park for the penultimate game of the season, against Hearts on the Monday night, it was another nervous ninety minutes. A Mike Conroy header, Celtic's 100th goal in all competitions that season, proved decisive and sent the Hoops three points clear of our Glasgow rivals.
Thoughts now turned to our final match of 1978/79, Rangers at home on the following Monday. Two Hampden stalemates with Hibernian meant that their final two League matches, against Thistle and Hibs, would now take place after the Parkhead clash. A win or draw would leave the title in their hands, only a Celtic win would be enough for us.
The tension was crackling in the old ground, as the week's talking stopped and play began. On a bright May night, Old foe MacDonald came back to haunt Celtic again with an early strike and we trailed at the interval. Things went from bad to worse early in the second-half, as a grounded MacDonald felt the wrath of Johnny Doyle and suddenly we were ten. But not just any ten, as led by Roy Aitken, in his finest of many fine hours, Celtic attacked the Ibrox side at will and took the lead, following goals from Feed the Bear himself and George McCluskey.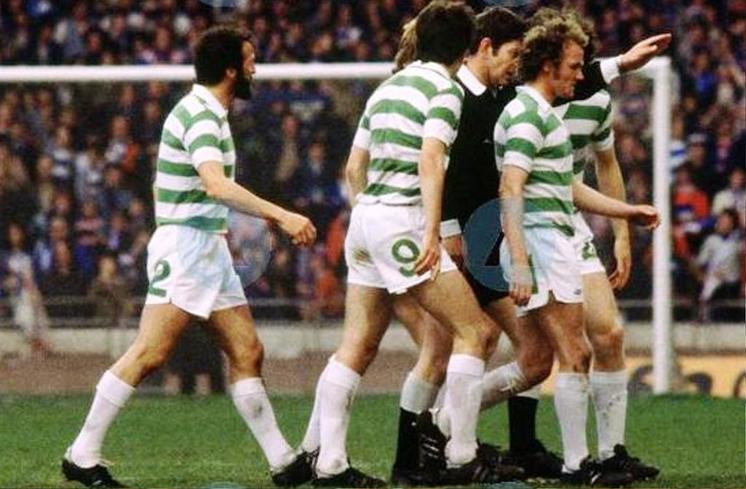 There was a final act of defiance from Greig's Rangers, just two minutes later, as they rallied to protect their dream of back-to-back domestic trebles. My heart sank into the seat below, as Bobby Russell's shot following a corner, arrowed through our defence to crash against the Janefield post and bounce over the line.
However, there is often a magic about Celtic and this particular night was not to end in tears for those of a Hoops persuasion. Inspired by a blood-curdling Jungle roar, the sheer willpower of Aitken and McCluskey drove them down the Celtic right, forcing a fatal mistake from Jackson and providing a precious lead with just five minutes remaining. With those five minutes feeling like fifty, Roy again brought the ball out of defence and found Murdo MacLeod on the left side of the box.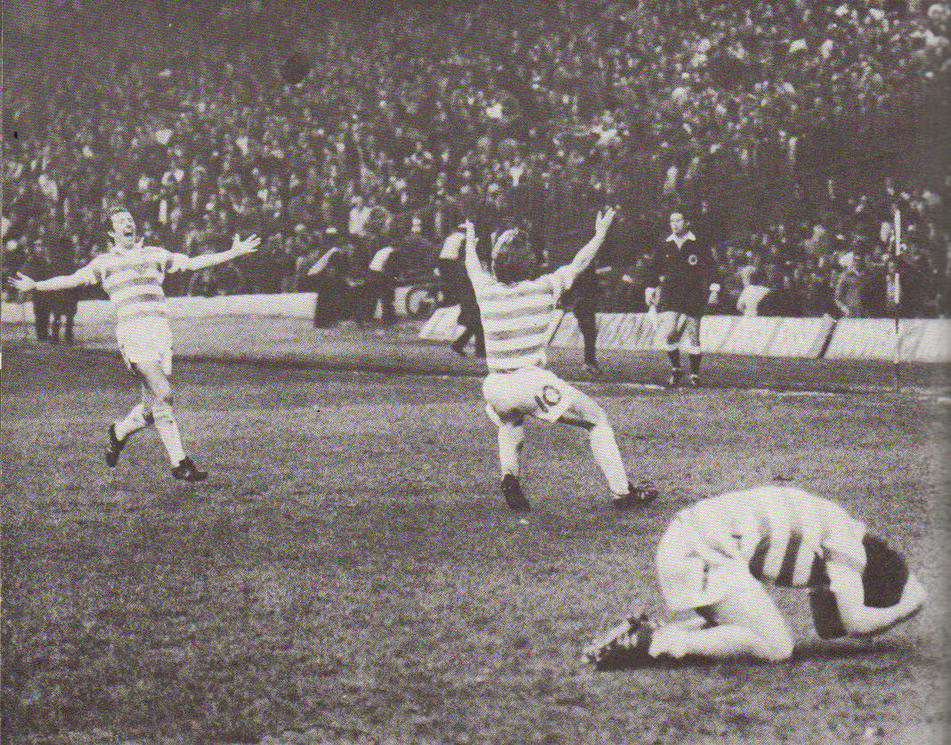 As 50,000 fans screamed in unison for him to hit it anywhere, he came up with a better option, as his shot flew past McCloy into the top corner and the title was ours, amidst incredible scenes of joy. Some time later, thanks to the fact that Dad 'worked' in the stand on matchdays, providing hospital broadcast and Golden Goal services with his colleague Jim Divers, I had the privilege of standing in the Director's box, as the stocking-soled Celts did their lap of honour in front of a delirious support.
I recall ex-Celt, Pat McCluskey, standing next to me and simply repeating the word 'Wonderful', then shaking his head. A veteran of Hampden triumphs and European Cup semi-finals, he may have thought that he had seen it all, however this night was something else. In the foyer downstairs, sat an expressionless Alex Ferguson, the manager of Aberdeen. He would not know at this point, that his team would be the successors to Celtic, as champions of Scotland. But that would be another day.
For now, the night belonged to Billy McNeill and his team of young Lions, who had persevered through this strangest and tightest of seasons to reclaim the title in the most dramatic of circumstances.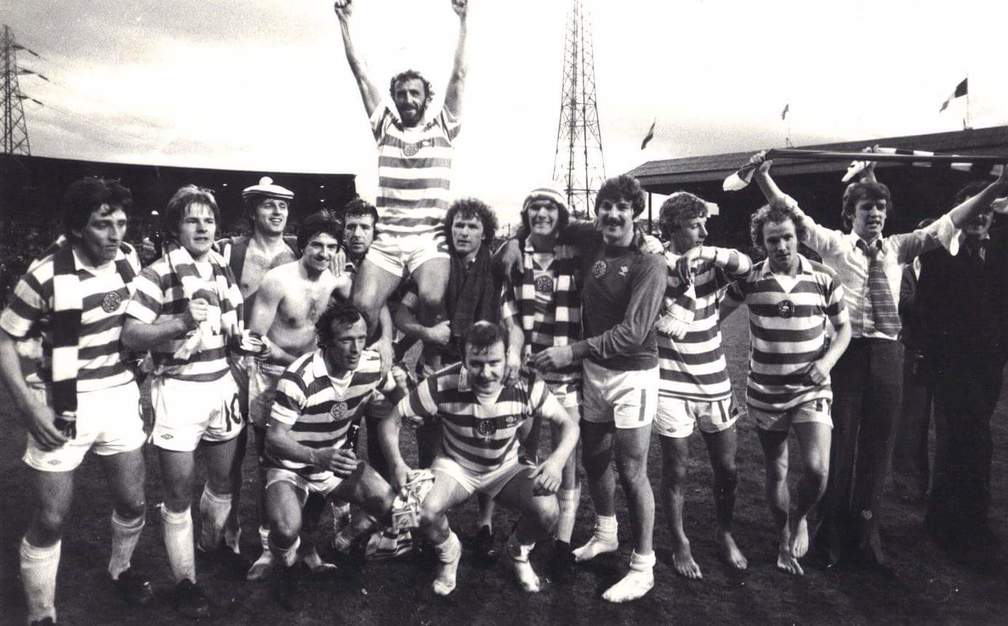 The legend of Ten Men Won The League had been born.
Hail Hail,
Matt Corr