MIKAEL LUSTIG gave an interview to Swedish media after playing in the defeat to Spain last night. His comments have been reported this afternoon in the Scottish press but we're indebted to Celtic's Norwegian blogger Christian (@aHellofaBeating) from @90minutecynic who has provided a more accurate translation.
Mikael Lustig then posted this video on his Instagram account which effectively shows his love for the club and his best bits wearing the Hoops including that goal at Ibrox, wearing the Policeman's hat in the 5-0 win over them at Celtic Park, the diving header that won the league this season at Pittodrie and setting up Odsonne Edouard for the winner in the Scottish Cup Final to complete the Treble Treble.
 

View this post on Instagram

 
Smashing video, that one and it shows just have tremendous Lustig has been for Celtic since arriving on a free transfer from Rosenborg in January 2012.
"Lustig quotes circulating is from an interview done in Swedish paper @Aftonbladet last night – few things that is lost if you just google translate so wee thread below with my translation" Christian W
wrote.
Lustig qoutes circulating is from an interview done in Swedish paper @Aftonbladet last night – few things that is lost if you just google translate so wee thread below with my translation ????????https://t.co/Rg7wdxmqqm

— Christian W (@aHellofaBeating) June 11, 2019
Lustig: The last weeks have been tough. Not on the pitch but outside it. I'm extremely proud of how I've handled it. Those closest to me, the players and coaches know what's happened.
Journalist question: Are you disappointed in club?
Lustig answer: To me, the club is the fans, the players who do the work and the coaches around us. I only have good things to say about them.
Q: You're disappointed in the club management?
A: No comment.
Q: You're not staying at Celtic?
Lustig answer: You can never say never. I love this club and I never thought I'd feel such a love for a club. So I'll never close that door.
Q: But then the club leadership has to be replaced?
A: Absolutely not. I'm only saying that it could have handled in a different way: what has happened and what was said.
Q: Would you consider staying abroad?
A: Absolutely.
Q: It's not just about Europe today…(there's) US, Middle East and Australia?
A: You have to remember I'm a right-back, that's not as sexy in those countries! I've got an incredible amount left to give within European football.
Q: When will you have clarity (about the Celtic situation)?
Lustig answer: No idea. I'm hoping tomorrow (today – interview done yesterday), but it could take some time.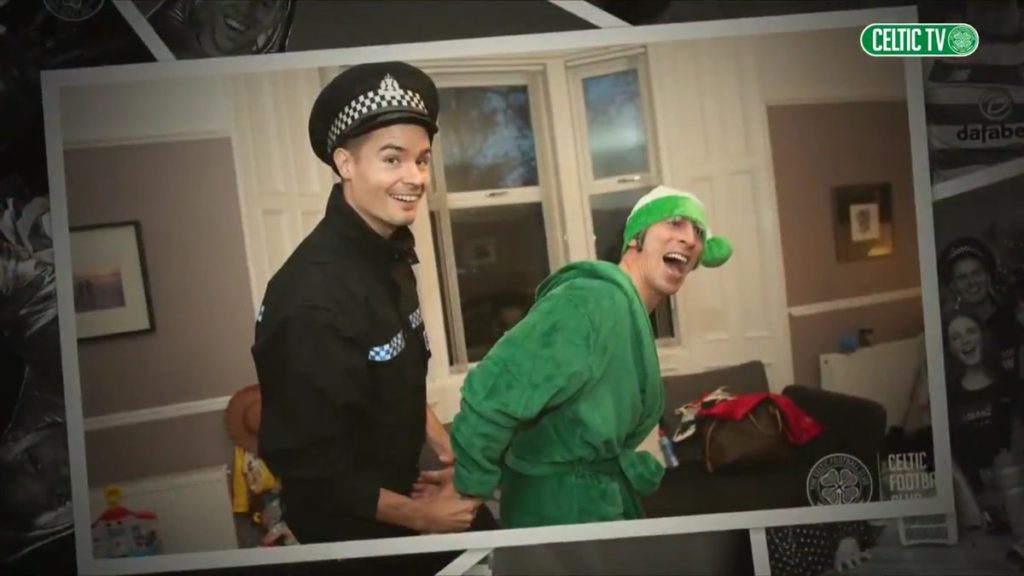 What else do we know? Well Lustig's contract was mentioned in that notorious leaked document from 2 April and that indicated that Celtic were NOT going to take up their one year option on his existing contract – as is the club's right.
We also know that since getting the job permanently on 25 May, Neil Lennon has spoken about his desire to keep Lustig at the club. Along with Player of the Year James Forrest and skipper Scott Brown, the big Swede is one of the three players who have been here for the 8 in a row title wins.
A new two year deal would see him have the chance to reach the Ten.
Maybe what has happened is something like this. Let's assume for argument's sake that Lustig is currently earning £20k a week at Celtic.
If Celtic take up the option he'll be due the same amount of money next season as last year.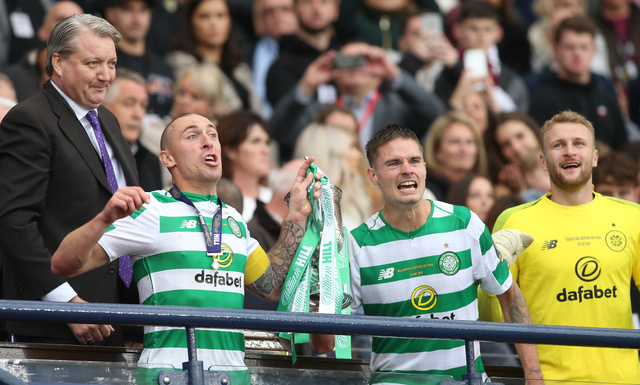 However if Celtic don't take up the option ion his existing contract (as is their right) but instead offer him an entirely separate, new contract proposal – let's say a two year deal based on a salary of £10k a week, then the two sides could be stalled and a final bit of negotiation would be needed.
Celtic's CEO Peter Lawwell will be mindful that he will need to keep the big wages for the new first pick right back that the club have been trying to sign – the £8million bid in January for Timothy Cassagne from Atalanta is proof that the intent is there.
And if Lustig is going to be a squad player rather than a first pick his wages should reflect this.
Lustig would be thinking that he'd be playing for two years for the money he'd been used to earning in a year.
Both parties would have their own thoughts on how much Malmo or AIK Stockholm would be prepared to pay Lustig, while he has not ruled out staying abroad (from Sweden) and could be sitting on higher offers than Celtic are prepared to pay him.
Celtic's needs might come into focus shortly as the European qualifiers are only a few weeks away now and with the transfer window just opened today, the success or otherwise in player recruitment will become apparent.
Earlier today we published the first of two posts which provides an insight on what Scott Bain thinks about his teammates, this from the Scottish Cup Final match programme. See HERE for what he had to say about Mikael Lustig.
Hopefully a compromise can be found to allow Lustig to stay at Celtic – because that is what he wants and that is also what Neil Lennon wants. If it's not to be then hopefully he'll be invited back so he can be thanked properly and can be given a huge send-off from the support.