Celtic FC Women 2 Glasgow City 2 
This was always going to be a big one. If last weekend's game against Aberdeen was an early season settler, playing as they did against a newly promoted side to kick off the league campaign, this afternoon's game against Glasgow City was the game to sharpen the senses and one where Celtic had to ensure they were capable of taking care of title business. In a game as good an advert as you'd get for top flight Scottish football Celtic were given a footballing lesson in the first half before serving up one of their own in the second.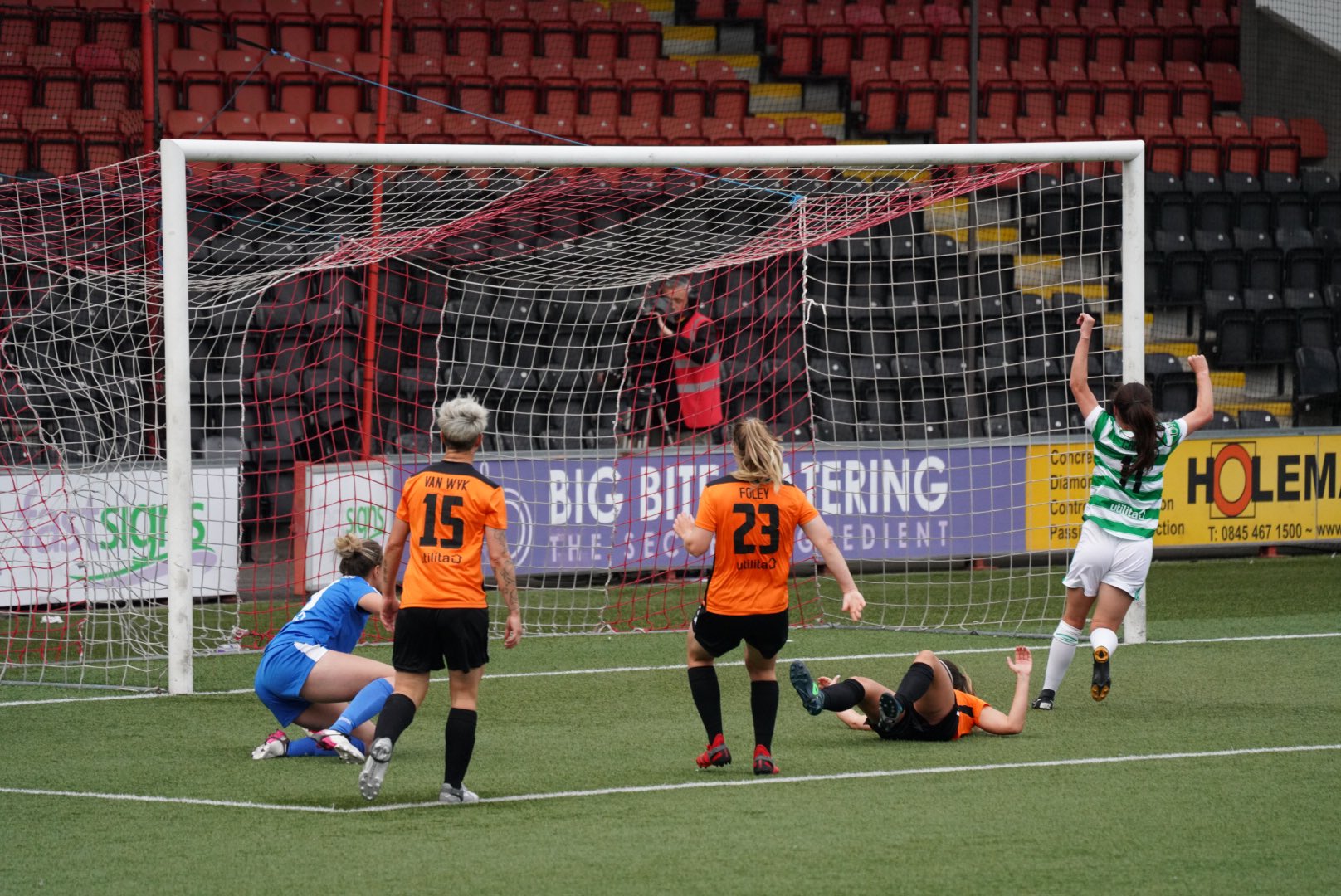 Fran Alonso looked from the personnel chosen as if, as expected, he'd dispensed with his three at the back experiment from the Balmoral stadium, reverted to a four at the back and also brought back the tenacity and leadership of Jodie Bartle and Chloe Warrington to the full back roles alongside the experience of Chloe Logan between the sticks having entrusted Rachel Johnstone the previous weekend.
Captain Kelly Clark it looked would then take on the holding midfield role vacated by Lisa Robertson and be tasked with protecting the likes of Sarah Teegarden (now Harkes), Izzy Atkinson, Tegan Bowie in midfield, as only two of Alonso's seven new signings, Charlie Wellings and Clarissa Larisey made the starting eleven.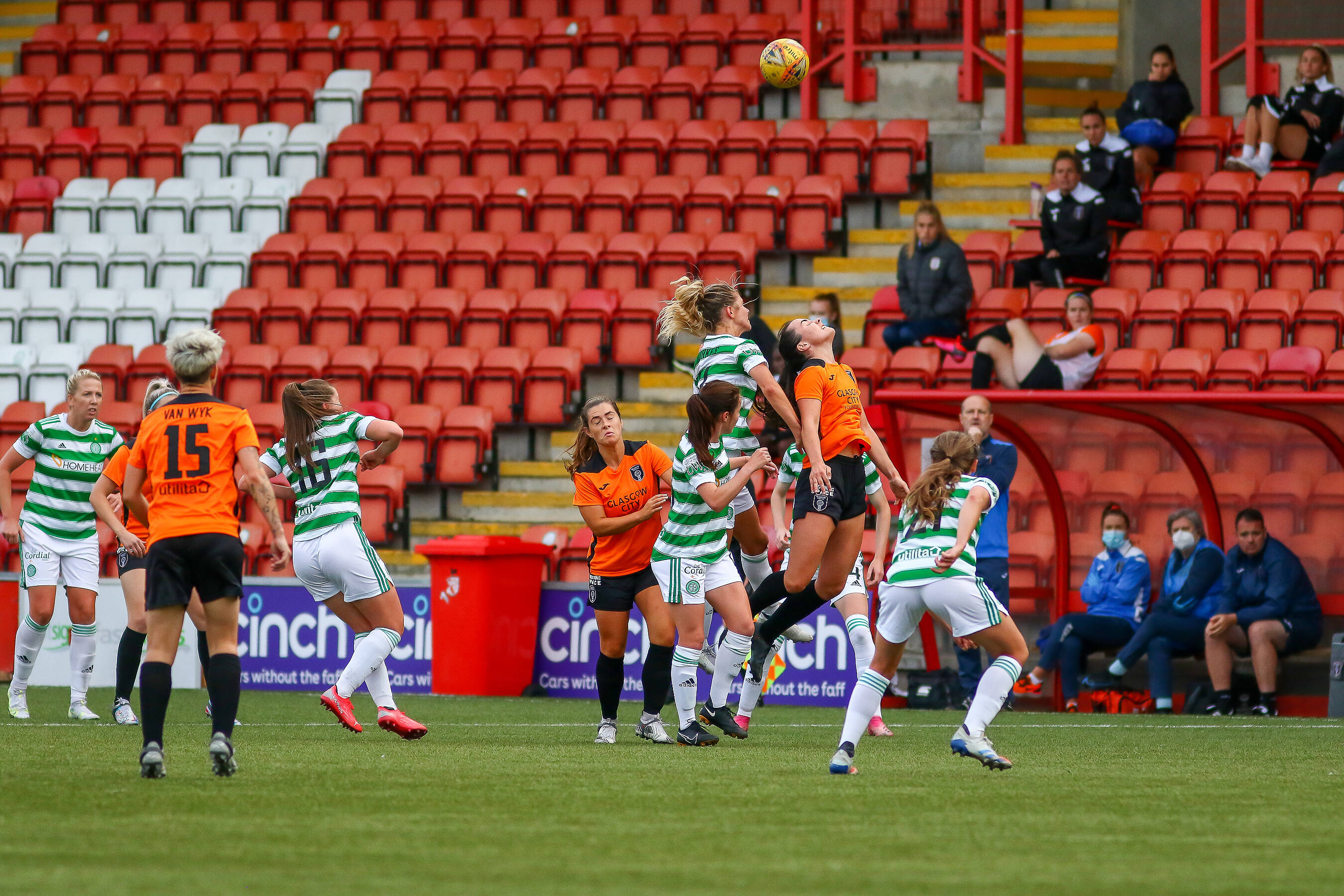 Instead, Chloe Warrington moved to the right in a wing back role, Tegan Bowie played the opposite wing back, Chole Craig the left of a back three, Jodie Bartle through the middle and Caitlin Hayes on the right. Kelly Clark and Teegarden played central toles, while Clarissa Larisey operated on the right of Charlie Wellings through the middle and Izzy Atkinson on the other side.  It was a confusing series of tactical decisions and formation from Alonso and the players themselves looked just as perplexed as everyone watching on.
If Celtic were to lay down a marker as genuine title contenders they had to shake off any lingering feelings of inadequacy when it came to a Glasgow City side who had pipped the Hoops to the title last season and held a 14-in-a-row psychological edge over every team in the league, yet City themselves knew they were perhaps a Celtic penalty conversion away from losing their domestic stranglehold. Perhaps then the edge wasn't quite as evident now as it had been when the sides met on previous occasions. As such there was little between these teams and both sides knew it.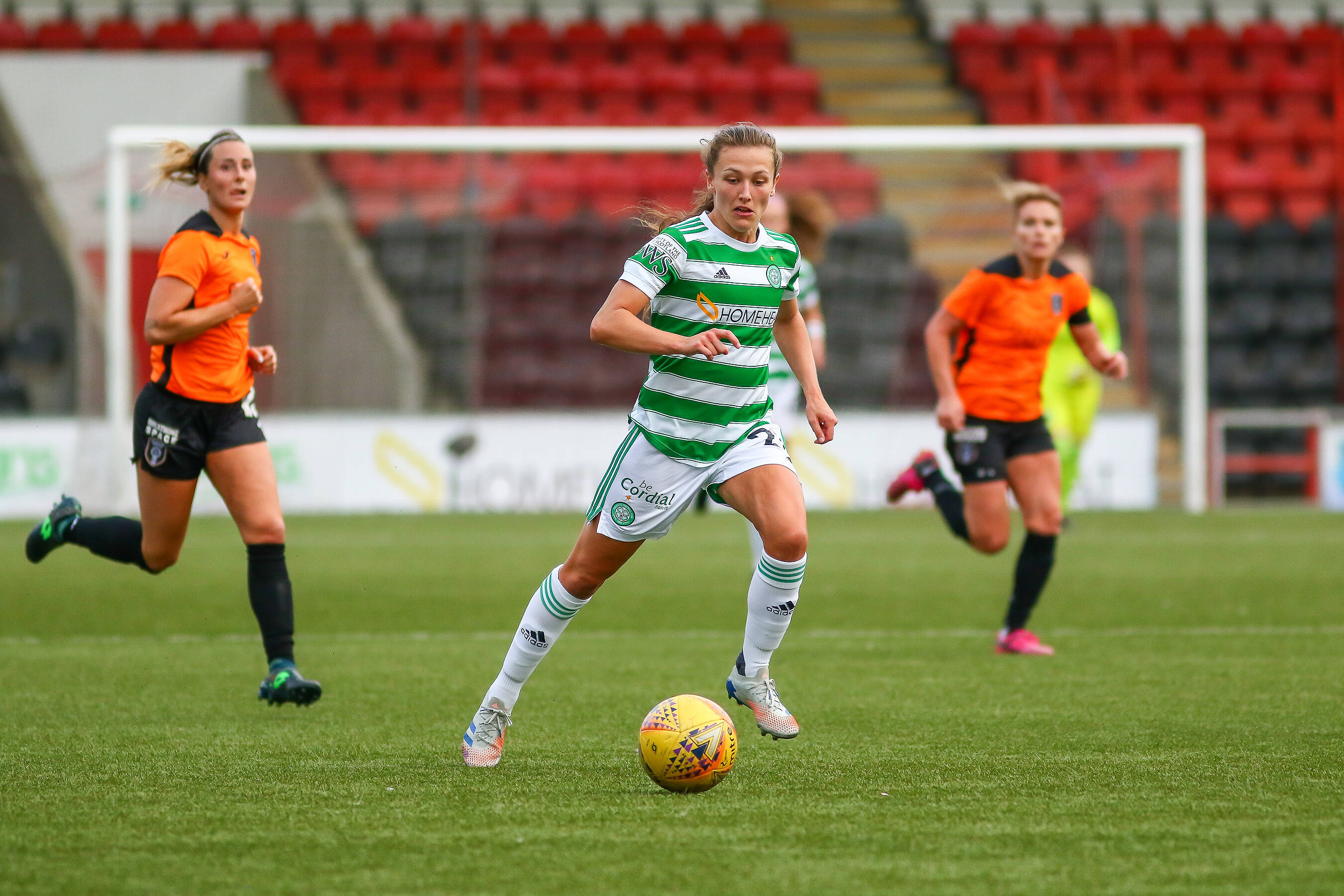 Therefore, the formation and square pegs in round holes approach from Fran Alonso in an opening half where Celtic ultimately saw themselves two goals down were almost entirely self-inflicted. Alonso has been lauded for his tactical decision making in recent times, today his message seemed lost on his players in the opening 45 minutes. Five changes from last weekend's game were perhaps a lot to make, coupling that with such a tactical approach simply saw Celtic looking unnecessarily disjointed.
Deagh sàbhaladh!

First real chance of the game falls to City and Chloe Logan makes a great save! pic.twitter.com/AYW67DkCDt

— BBC ALBA (@bbcalba) September 12, 2021
Glasgow City and Celtic both it seemed set out to wait for mistakes from the opposition and from there pounce. The problem was City were willing to force errors, Celtic simply waited for them to arise.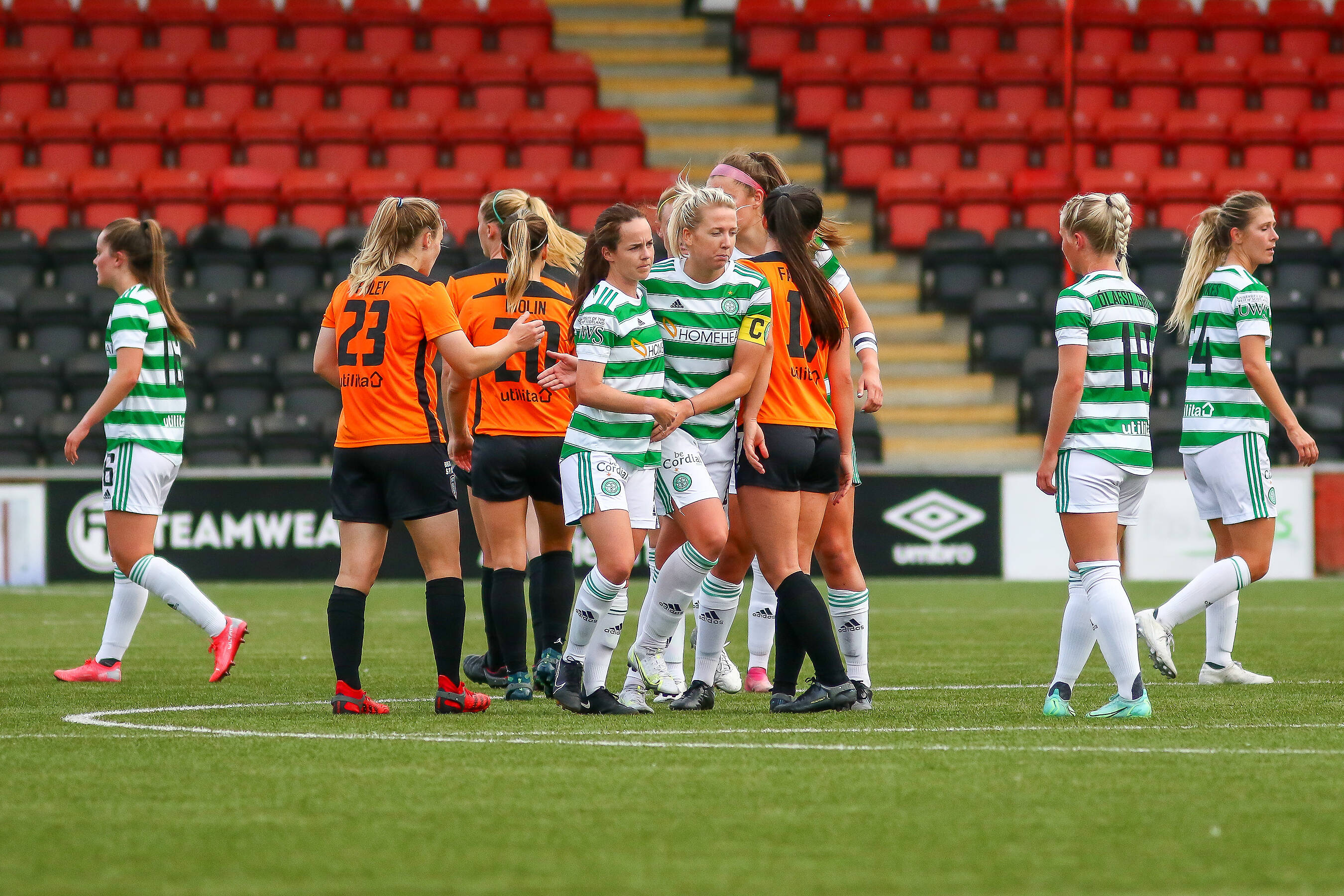 The warning signs were there early as after three minutes City's Davidson drew a clear chance from a Celtic defence all drawn to the front post from a diagonal free kick. Davidson was wasteful but the warning signs were evident. Bar a Hayes header from an Atkinson corner kick Celtic offered nothing as an attacking force. Instead, if it wasn't for a top class save from Logan diving superbly to her left Celtic could have been behind again, but still there was no impetus as Celtic looked willing to be a training ground routine for their city rivals.
TADHAL DO @GlasgowCityFC ! ⚽️

Glasgow City are ahead after this strike from @clareshine01 ⚽️ pic.twitter.com/907mNIpWf5

— BBC ALBA (@bbcalba) September 12, 2021
With half an hour gone the inevitable happened and City went a goal up as City's Shine from a short corner found she only had to drop the shoulder to evade Wellings challenge before finding herself one on one with Logan who she beat easily, far too easily in fact, at her near post. Yet the lack of defensive cover from a team operating in effect with four centre backs was perplexing.
PEANAS?? 😱

Should Glasgow City have had a penalty?? 😱 pic.twitter.com/8WFmdPNtEy

— BBC ALBA (@bbcalba) September 12, 2021
City then had a fair claim for a penalty a minute later, before City's Davidson did put her team two up as the ball was won without a challenge in midfield, fed down the left side of Celtic's defence, again without a glove being laid, and as the ball was delivered Davidson had time to tun and shoot as Bartle the nearest defender looked leaden footed in comparison and Logan had no chance with the resultant chance.
⚽️TADHAL DO @GlasgowCityFC ! ⚽️

⚽️ @LDavidsonxx doubles City's lead! ⚽️ pic.twitter.com/2au5vxISiL

— BBC ALBA (@bbcalba) September 12, 2021
This had long been a game looking for tactical change and Alonso looked to be doing just that as new signing Shen Mengyu was stripped and approached the touchline, only to be sat back down as Alonso looked as indecisive during the game as to how to impact the opposition as he had been with his early decision making.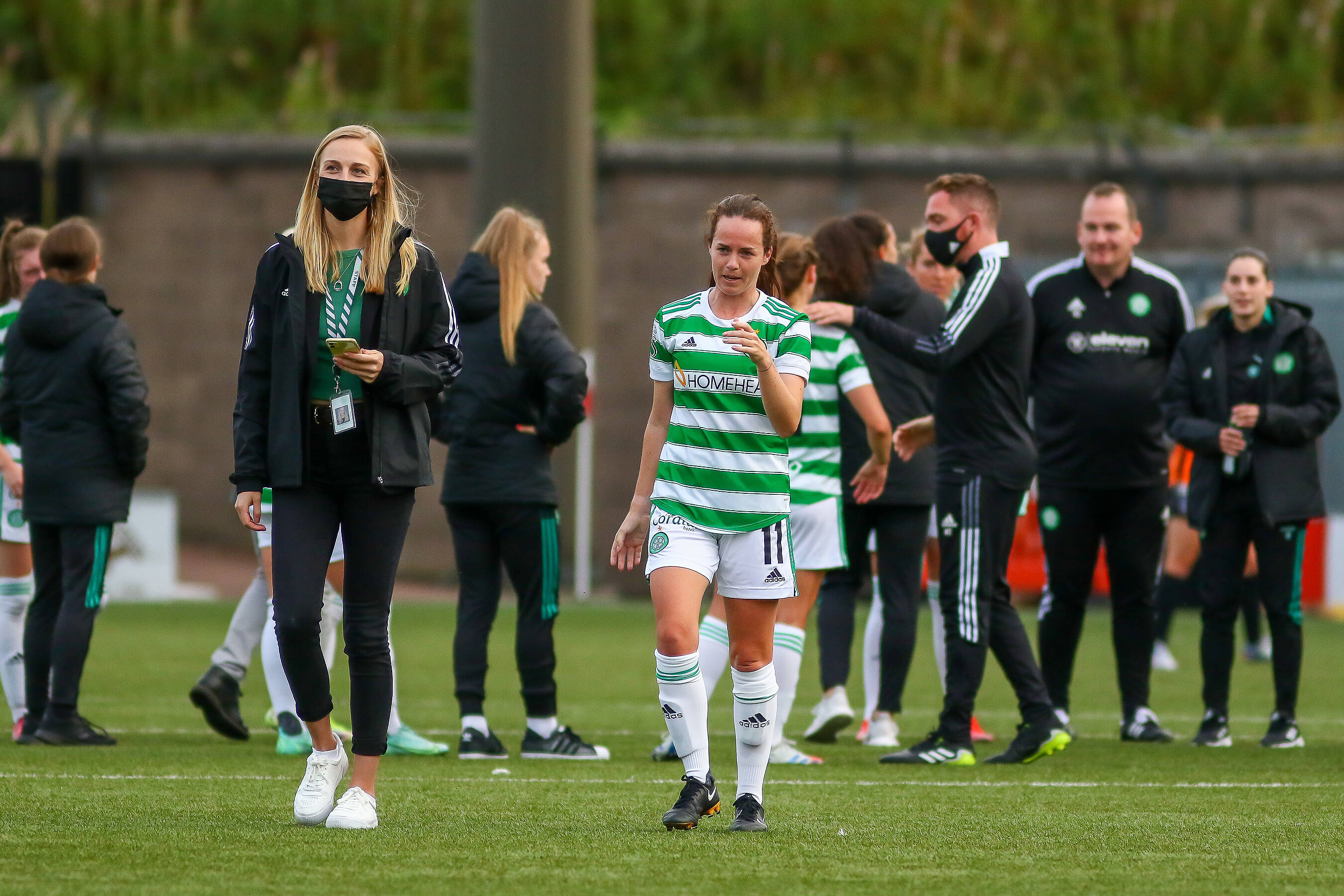 Celtic then went in two goals down at the break and hoping Fran Alonso had an alternative to the first half horror show served up. And Alonso did react. Olivia Chance and Mengyu did make their way on to the pitch, but not only that it seemed Celtic had received the proverbial rocket up the backside during the break. Gone was the passiveness and in its place an intention as City had in the first half to try and force the issue rather than wait for it happen.
TADHAL DO @CelticFCWomen ! ⚽️

Start of the 2nd half and @LivvyChance gets a goal back for Celtic! ⚽️ pic.twitter.com/RGQnTgtvIB

— BBC ALBA (@bbcalba) September 12, 2021
Within eight minutes Celtic puled a goal back as both subs made an immediate impact. Chance played a superb through pass to find Mengyu driving in on goal. The Chinese international hesitated and looked to have lost the chance but showed excellent composure to recycle the ball and cut the ball back for Chance who finished superbly.
⚽️ TADHAL DO @CelticFCWomen !!⚽️

⚽️ Another goal from @LivvyChance gets Celtic level!! ⚽️ pic.twitter.com/jUsJjbDyym

— BBC ALBA (@bbcalba) September 12, 2021
Four minutes later and City's Shine headed wide from a superb Davidson delivery and they were left to rue that chance as Tegan Bowie's industry down the left found Mengyu again who delivered a delicate cut back as Chance again scored to level the game, as both subs dragged Celtic to parity, something entirely deserved for their second half renaissance.
From there both sides settled down to an old-fashioned territorial battle. City's Shine perhaps had the best chance with a wasted back post finish that Chloe Logan had no real difficulty in collecting before a Chinchilla curved effort, having sent Hayes to the pie stall, curled past the post and still this game hung in the balance. Mengyu was soon sent through on goal but was caught on her heels and lacked the belief to test Alexander in the City goal.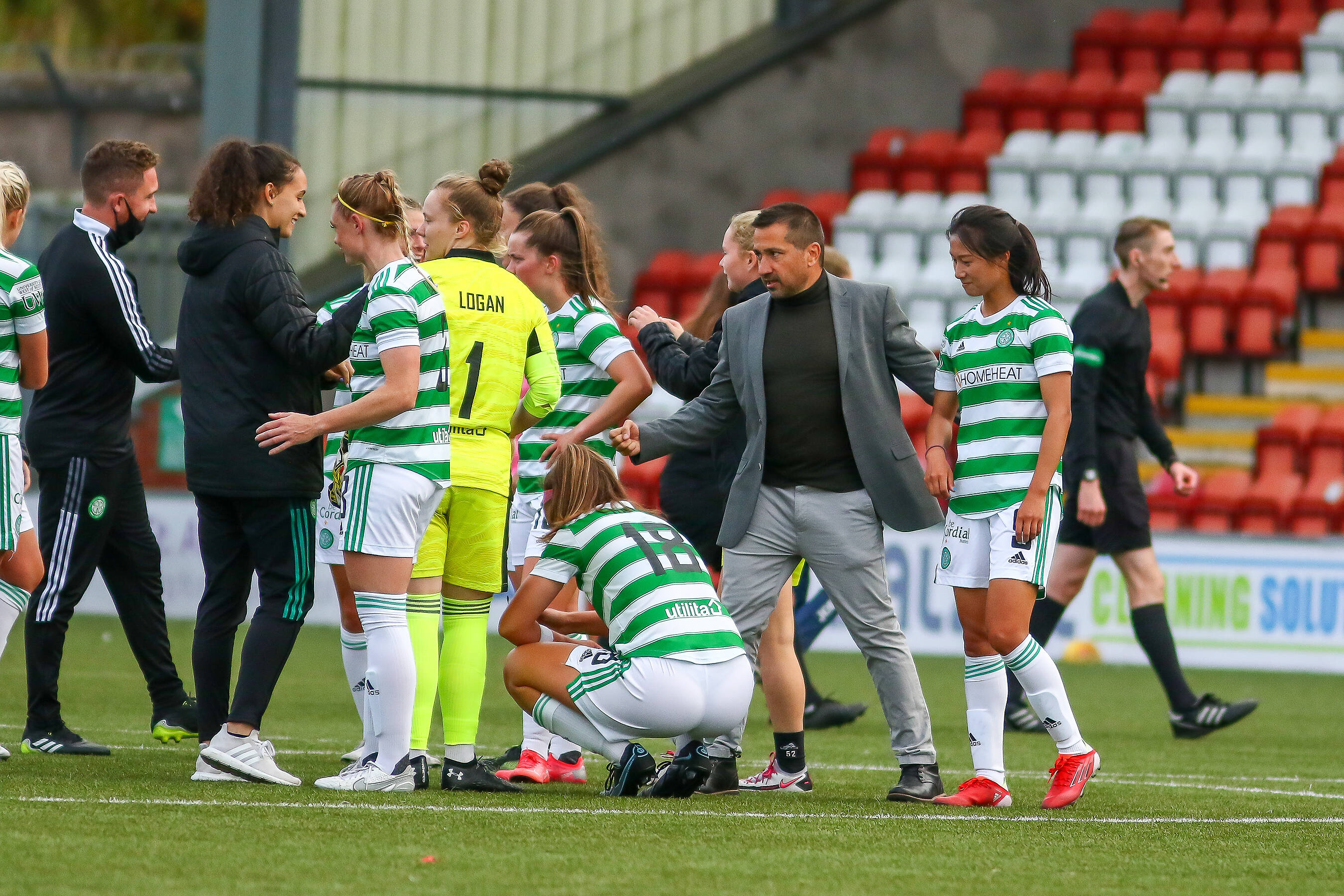 In the end this game was a tale of one city and a story of two halves. City dominated the first, and took advantage of a passive Celtic performance overburdened by too many changes and a tactical message lost in translation and full of self-indulgence, and Celtic blitzed the second as a half-time dressing down and key personnel changes made a huge impact on Celtic not only dragging themselves back into the game but ultimately being unlucky not to win it.
Celtic proved themselves as title challengers this afternoon, in a game where they almost looked out their depth in the opening 45 minutes.
Fran Alonso however will rue his tinkerman approach that, with the benefit of hindsight, was perhaps far too excessive in both numbers and tactical changes.
Football after all is a simple enough game often only complicated by unnecessary complications. If Alonso is wise in his post-match comments, he'll hold his hands up to such self-indulgence and thank his players for pulling him out of the mire.
LÀN-ÙINE / FULL TIME@CelticFCWomen 2⃣@GlasgowCityFC 2⃣ pic.twitter.com/aSe2GuYeG3

— BBC ALBA (@bbcalba) September 12, 2021
In the end sometimes football comes down to Chance. It certainly did as Celtic's new signing and clear player of the match came off the bench to save Fran Alonso's blushes. It may be a while before Olivia is left watching from the sidelines and longer before Alonso makes so many perplexing changes prior to a game of such magnitude.
Glasgow City were there for the taking today, it's down to the manager that wasn't realised until the team were two down at the break. Let's hope this is a game where a point was gained rather than two lost when the bigger picture forms. Strangely that may be best left to Chance for future games.
Niall J
Big thanks to the great crowd who came along this evening, can't wait to have you all back against Hibs on the 26th! #twelfthman 📢🙏 pic.twitter.com/UnCzg3yppR

— Celtic FC Women (@CelticFCWomen) September 12, 2021