His comments may well have been tongue in cheek, but on the back of the pious, clearly choreographed and unctuous platitudes coming from the Celtic boardroom, alongside like-minded acolytes in the mainstream media and even ex-players, Scott Brown's mention of a statue adorning the Celtic way in tribute to Peter Lawwell was a step too far.
George Balanchine would have stood back and applauded the symmetry of Friday's praise for our outgoing CEO, and probably have equally admired the nimble footwork to avoid the elephant(s) in the room. However, holding your wheesht is proving rather difficult for me.
I don't mind the odd false platitude when it comes to being polite, however the frustration at the revisionism being spouted in some quarters is simply too much to bear.
Of course, I'm more than aware that it's nice to be nice, and I too was told if you can't say anything nice say nothing at all, and that at times such as weddings, christening, births and marriages any beefs are politely put to one side. Does that include retirals? I'm not sure, perhaps it does.
It's just at work when someone calls time on their career and I don't like how they represented the organisation, have made that clear, and then the collection comes round with the invite to drinks at the social club, I tend to give it a miss.
However, if I'm home and browsing the net, Peter from accounts doesn't get the same media coverage, airbrushing his career history. As such, although perhaps I should give this retirement party a miss also, the truth is I can't, and as such for the next short while please excuse my absent manners.
I am very aware it would be altogether heathier and constructive to simply move forward now, welcome the new man and consign the past to history but there's plenty time for that.
It would be remiss not to point out that Peter Lawwell wasn't always a man I disliked, indeed when he inherited a financial mess from the Martin O'Neill years, he did a fine job in getting the finances of the club back on an even keel. Within five years of his appointment our borrowings stood at 10% of what he'd inherited. Incredible.
Celtic also have a fine training facility at Lennoxtown and that was achieved on his watch. It was something Tommy Burns coveted and Peter Lawwell facilitated that.
In Celtic Park we have a stadium to be proud of and the development around the ground including the statues to our football greats and the Celtic Way is very impressive. Peter Lawwell deserves credit for that, as he does for introducing a safe standing area within Celtic Park, something that has added a great deal to the atmosphere and a welcome return of the colour and culture of the club.
He has also been CEO during the most successful domestic period of my time supporting Celtic at least -13 league titles, nine Scottish Cups and seven League Cups alongside a Quadruple Treble and within that the incredible Invincible season.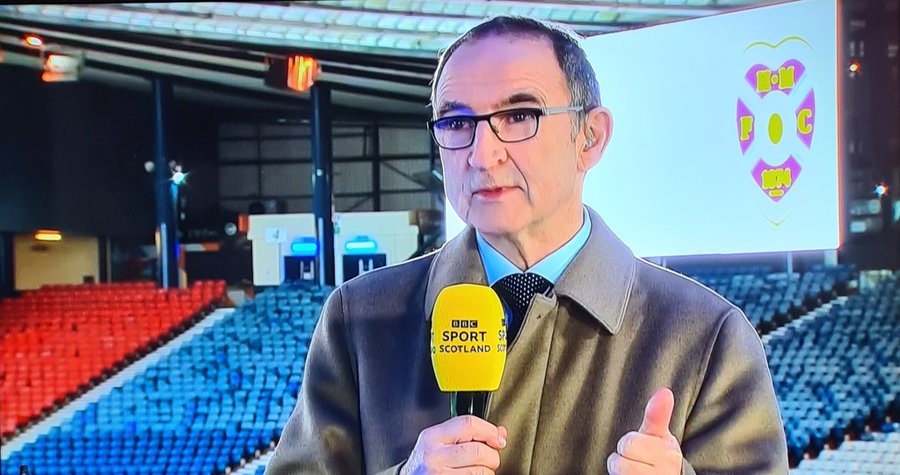 From a commercial and sponsorship aspect he has also overseen a period of investment in the club culminating in the recent adidas sponsorship deal. I've heard it said some deals were safe and not ambitious enough but from a layman looking in there was always someone to replace an outgoing sponsor, and they always seemed to be an improvement financially on the previous deal.
And you know what, had Peter Lawwell been able to stick to what he did best and had he avoided developing into the micromanagement approach to everything, particularly the football side of Celtic, I could be sitting here with a very different impression of his 17 years as Celtic's CEO, but sadly that is not the case.
For some the ends justifies the means when it comes to success, but for me the nature of far too many negatives, particularly since the liquidation of our rivals outweighs the positives.
Let's take Resolution 12. He asked for a smoking gun and once he got it – rather unexpectedly I guess – he didn't simply lock it in a drawer alongside the five-way agreement, he sent those who sourced and delivered his evidence on a dead-end trail akin to several years of searching for an igloo in the amazon.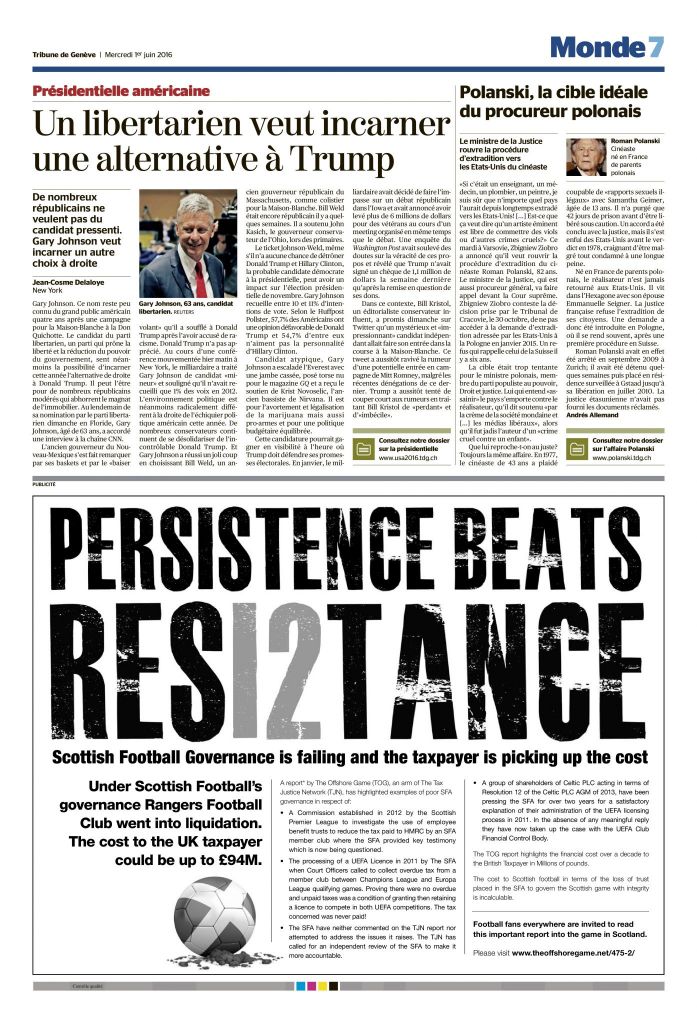 Then there was the Five Way Agreement, and his denial of knowledge of it, where even the denial would infer culpability, never mind any direct knowledge or involvement in its construction.
And from all of that there was the unwillingness to challenge illegal player registrations that cost Celtic and other Scottish clubs, or call for the title stripping that should have accompanied liquidation for our rivals.
From there we had the complicity in the continuity myth and as such the beginning of Old Firm II, the Lord Nimmo Smith commission, the unwillingness from a position of strength to ensure our dominance and lobby for financial fair play in Scottish football and ultimately back of the bus approach to how the governing bodies, referees and media treated Celtic.
It all smacked of a Celtic rolling over and letting our belly be tickled. Where was the backbone to stand up for the club, defend our support and call out an agenda driven media?
It wasn't there because it seemed to me it was all worth it for the Old Firm brand to return. Well, I've never been a fan of turning the other cheek, it doesn't work, you need to defend yourself in this world otherwise people sense weakness and push their luck. You don't even have to win to make people think twice you simply have to fight back, and too often under Peter Lawwell's watch Celtic bent over.
Perhaps familiarity bred contempt when it came to Celtic's CEO, however what it appeared to me was Peter Lawwell became punch drunk on power, exerted control on every facet and in some areas, he may well have been good enough to get away with that, unfortunately what he truly coveted was to be a football man and he simply lacked the nous for it, but he couldn't give it up and it soon unravelled.
Celtic's domestic success is there for all to see indeed there are 13 league titles secured since he came to the club. You could be churlish and point out that from 2012 until last season there was little in the way of a credible challenge to Celtic, and that during that time Celtic got over the line far less comfortably than need have been the case, but you can't choose your competition you can only beat it. Unfortunately, now we do have a challenge, the foundations haven't been there.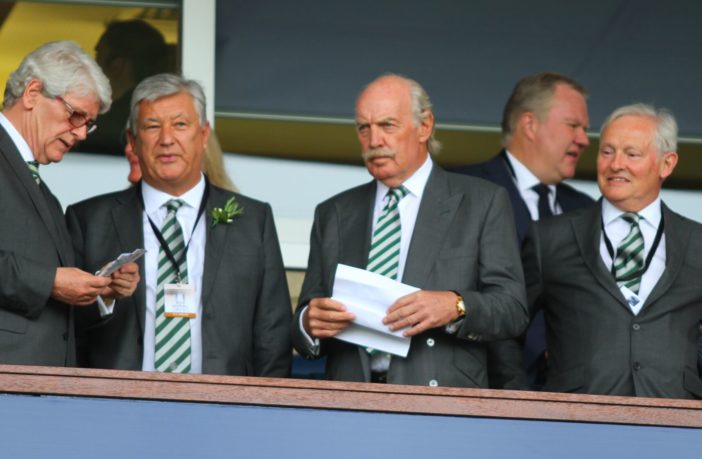 There were two points I thought Peter Lawwell's jacket was on a shoogly peg due to events on the field of play and both came down to Peter Lawwell's inability or unwillingness to choose a manager who may overshadow himself. In 2010 when Tony Mowbray finally imploded with a 4-0 reverse to St Mirren in Paisley, and again in 2016 when the Ronny Deila experiment saw Celtic succumb to Mark Warburton's rag tag young 'Rangers' side in the Cup semi-final at Hampden.
Peter Lawwell was responsible for the appointment of both those managers, men not up to the job but the types unlikely to challenge Peter. And when the embarrassment of the Cup Semi-final knockout saw Dermot Desmond intervene and appoint Brendan Rodgers, a man with an ego to match his new boss, and when Rodgers eventually tired Celtic's ambition not matching his own, Celtic and Lawwell appointed a Celtic legend in Neil Lennon and history has shown Lennon again as a man who will not challenge his boss, just the way Peter Lawwell prefers it.
Peter Lawwell wanted control of the football department and a coach to do his bidding, he has that in Lennon and never had it in Rodgers, so he was undermined.
Yet despite this hunger to be considered a 'football man' he is far from adept at strategising in that sphere. One of the reasons this season has fallen apart is that the footballing structure has been built on sand. There is little planning for transfer windows and it impacted year after year in Celtic's most vital games of the season- Champions league qualification.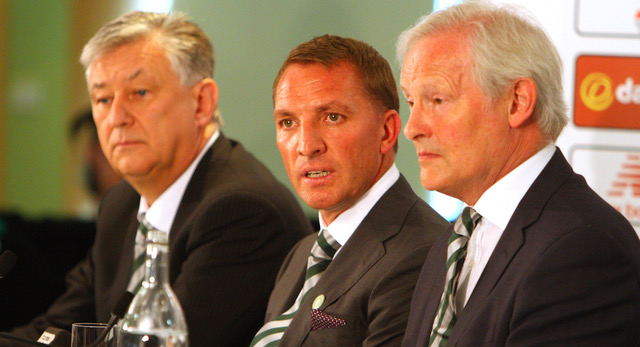 Since our rival's disintegration and a free run at qualification Celtic gave qualified for the group stages only twice, both under Brendan Rodgers. Every year players were sold before replacements were identified and far too often the qualifiers were expected to be negotiated with gaps in the team or players who were strangers to each other by the time the action began.
As such the low hanging fruit of Champions League millions were lost year after year. That doesn't smack of a good football strategy and it even questions the chief executive's accountancy capabilities when such manageable funds have been squandered. In the last seven years we have passed up the opportunity of the financial equivalent to the sale of five Kieran Tierneys. To not change tack at any point moves from the caution of an accountant to near sabotage.
Celtic have had domestic success of course but for Celtic that should never be enough, we are a club of great European History and it is that environment we should be benchmarking ourselves. Too many in recent days have conveniently overlooked that in assessing the success of the outgoing Chief Executive it is something that simply cannot be ignored.
As too has his lack of communication. Lawwell had a trusted few in the media and even a couple on Celtic blogs, places where he could drop a story or test the water but the communication with the support is outdated and out of touch, culminating this year in PR disasters aplenty.
The truth of the matter is Peter Lawwell has historically been good for Celtic unfortunately the window of opportunity for growing the club as a European player was missed as we preferred to sit tight and wait for the return of a rival and the safety of a rivalry that although profitable is so short-sighted.
Celtic had a chance to gain a march on old foes, instead we facilitated their return and we squandered ambition for the safety net of a two-tribe footballing culture. History will show that Peter Lawwell oversaw that missed opportunity and that he should have left his post and moved aside for someone with a European vision in 2012. Instead, he stayed, held out a hand and pulled a rival back to its feet, one who is now overtaking us only eight years since they ceased to be.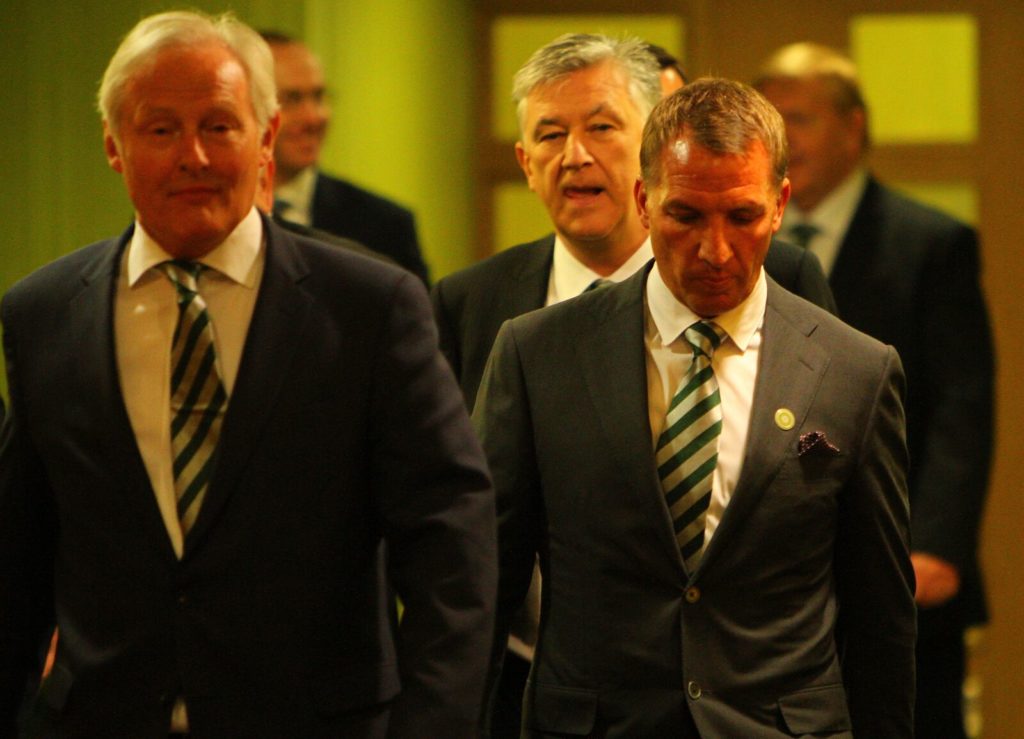 When we look back at Peter Lawwell's time at Celtic we see a man who played an important role in getting the club on an even keel and attracted commercial success, but we also see a man who treated the fans with some amount of disrespect, refused far too often to defend our corner, had no plan, nor it would appear appetite, for European progression, and one than ably assisted a rival to ensure a long stale status quo was maintained.
For me, Peter Lawwell overstayed his welcome at Celtic by some eight on nine years and although that does not delete his worth to Celtic earlier in his reign, it shouldn't be ignored entirely to allow a revisionist approach as he announces his retirement. And I'm sorry Scott Brown, there certainly is nothing to suggest from our CEO's time holding the purse strings to warrant the erection of a statue on the Celtic Way. For me he's hung round long enough.
Niall J