RYAN CHRISTIE has posted an exciting update ahead of his likely Celtic return tonight. The midfielder was a big miss at the weekend after he was forced to miss the game after being identified by NHS Track and Trace while on Scotland duty.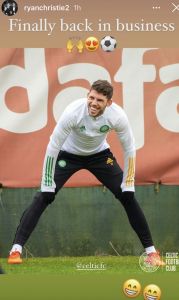 Bizarrely, Kieran Tierney who was in the same room as Armstrong and Christie was cleared to play for Arsenal against Man City whilst the 25-year-old attacking midfielder was forced to stay home.
Now, Christie will be looking forward to Celtic's game against AC Milan tonight and he can show the manager and his teammates how important he is to the team with a stellar performance.