They beat us to it! East Fife on 15 August 1903 (119 years ago yesterday) before their first ever game against Hearts reserves.
This photo has been recently colourised by Jim Corstorphine, photographer and historian of East Fife. They would wear this strip for a few years until moving on to their black and gold which became their regular strip after World War One. Whether it was because the great Maley team had so popularised the green and white horizontal stripes and they were losing the support of the local blue-nose population, I don't know.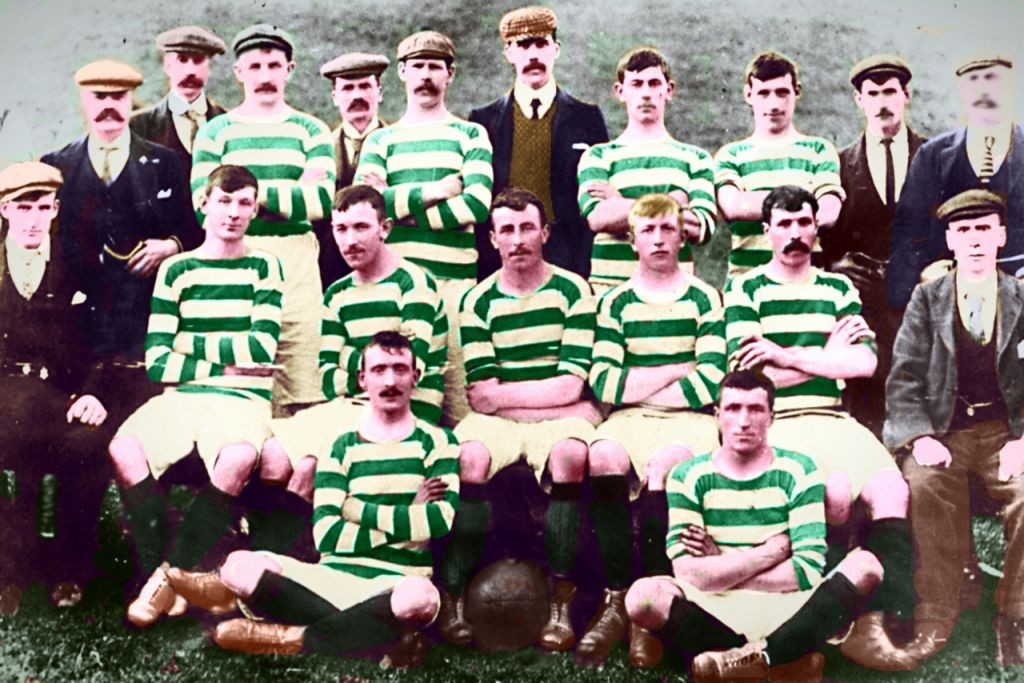 They were probably not the actual first to wear the Hoops – because Hibs apparently did so in the 1870s for a spell, and I have also read a few unconfirmed stories that Dundee Hibs did so as well on a few occasions between their formation in 1909 and the Great War.
A few weeks ago I asked about one of the more obscure pieces of Celtic history – did East Fife beat Celtic to it? We now appear to have our answer.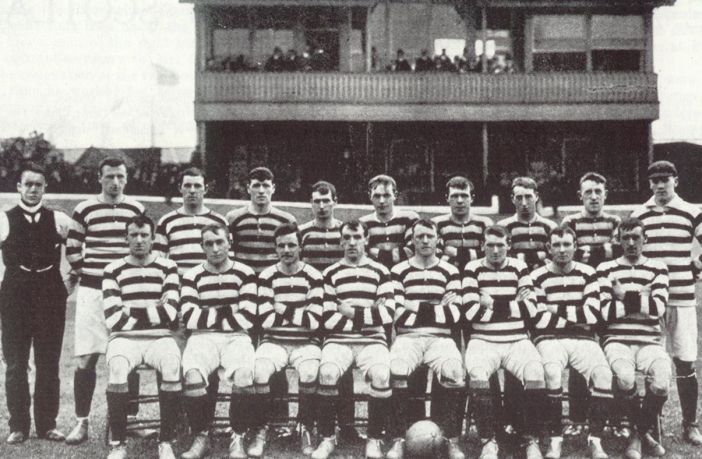 Conventional wisdom tells us that on 15 August 1903, three significant things happened in Scottish football.
One was that Aberdeen FC (as we now know them, the original "Aberdeen" having amalgamated with Victoria and Orion) played their first game, another was that a new club in Fife called East Fife (or East of Fife, as some called them) wearing green and white hoops, played their first game against Hearts Reserves (a 2-2 draw) and the third was that Celtic played their first game in green and white horizontal stripes, as distinct from vertical ones.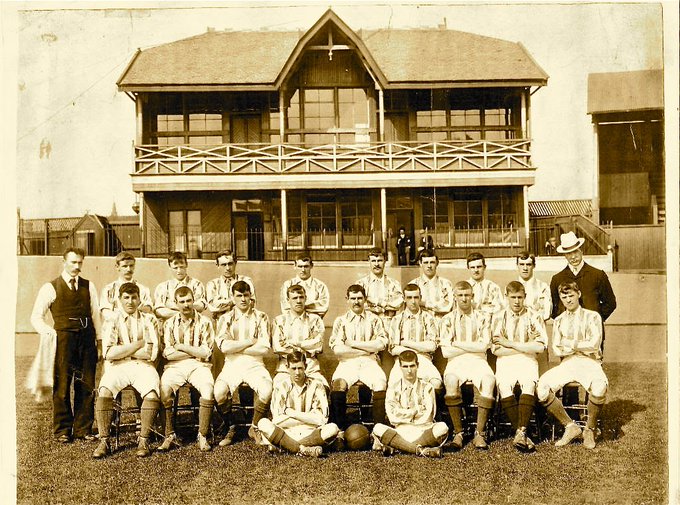 Clearly a lot of significant things happened that day – or did they? No doubt about East Fife or Aberdeen – these things definitely happened, but The Scottish Referee, a highly respected Glasgow journal makes no mention in its edition of Monday 17 August about Celtic having changed their strip.
There is a detailed account of Celtic's victory over Partick Thistle, a mention of Aberdeen drawing 1-1 with Stenhousemuir at Pittodrie in the Northern League, but no mention of East Fife. But then again, why would a Glasgow national newspaper be interested in a distant corner of Fife? The Courier however tells us that East Fife earned £20 in their first game in spite of competition from the Largo Flower Show. All over Scotland there was a great deal of rain that day.
It is The Scottish Referee of 31 August in its report of the game v Third Lanark on 29 August which states quite categorically:
"The Celts appeared in new jerseys on Saturday – horizontal stripes of green and white instead of vertical. For some time the change rather tickled (sic) one, but latterly the alteration was appreciated".
There seems to be no doubt from that account that Celtic changed from vertical to horizontal on Saturday 29 August rather than Saturday 15 August 1903 as previously supposed. The change did not do Celtic any immediate good, for they lost 3-1 to Third Lanark. Third Lanark (with ex-Celtic Johnny Campbell, ex-Sunderland Hugh "Lalty" Wilson and a Manager with the unlikely name of Frank Heaven) actually went on to win the Scottish League that year and Celtic (in green and white horizontal stripes) won the Scottish Cup.
It is easy to see how the misconception arose. One presumes that someone in Celtic circles must have said "we changed at the start of the 1903 season" (Willie Maley himself often has a faulty memory in his recollections) and someone else took that to mean, literally, the first game of the season.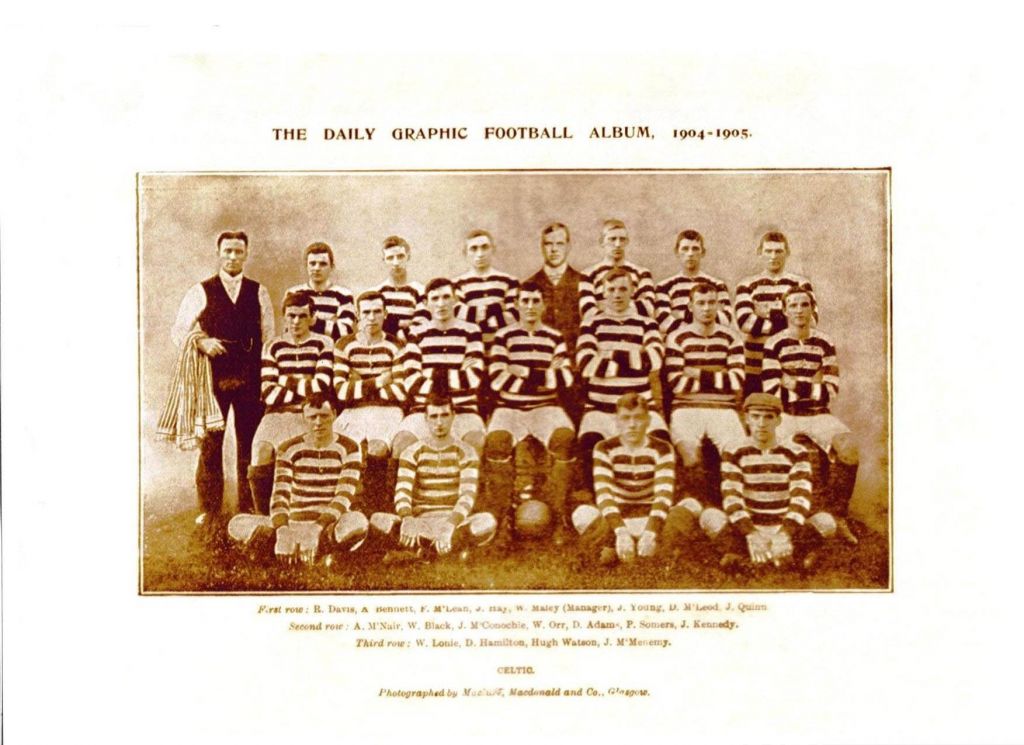 Reports of that first game against Partick Thistle on 15 August do talk about Celtic looking "youthy" (sic) and "of a youthful appearance" but no direct reference to new strips. That seems to have happened on 29 August 1903, according to the evidence.
So is it too fanciful to suggest that a Celtic sympathiser living in Fife saw the new East Fife team, and suggested to Mr Maley that horizontal stripes looked good? Possibly that did not happen, but it certainly seems that East Fife, (if indeed they did wear the green and white horizontal hoops on that historic day) by a fortnight beat Celtic to it.
They were the first to wear the hoops!
David Potter
David Potter's new book, Willie Fernie – Putting on the Style is featured in the new edition of the Celtic View which is out now and available from the Celtic Stores. You can also pick up the Willie Fernie book there too or order direct from Celtic Star Books, link below…