THE buzz word of summer 1961 was "arrived". The Kelly Kids (the name given to the youth policy) had now developed and would soon take over. The Scottish Cup Final defeat to Dunfermline in April had been agonising and indeed difficult for supporters (including your writer who nearly 60 years later still finds it hard to take!) to accept, but, we were told, it was now only a matter of time before Celtic were in among the honours.
There were clearly some good, if not excellent, players. Billy McNeill had certainly "arrived" as a first class centre half, commanding in the air, strong on the ground, a good positional sense and an ability to radiate confidence to the rest of the defence. And alongside him was Pat Crerand, an excellent passer of the ball, a first rate reader of the game and a man who exuded confidence.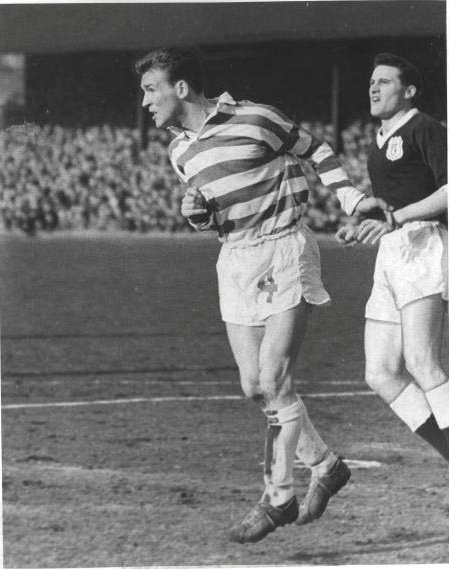 Up front was John Hughes, prone to bad days but capable of some great football and some great goals, the speedy Steve Chalmers and a man with a great football brain called John Divers. He was the son of the Empire Exhibition John Divers, (and therefore the great nephew of the late Patsy Gallacher) and seemed to have it all going for him, apart, crucially, from speed.
Two problems would stay with Celtic throughout the season, both interconnected and neither ever resolved. One was a lack of what might nowadays be called "game management skills" or more simply tactical nous. Games that should have been won were allowed to lapse into draws, and frequently "lesser" clubs (no disrespect intended) such as Falkirk, Stirling Albion, Airdrie and Raith Rovers were allowed to win games through Celtic's tactical ineptitude as evidenced by having too many players in the wrong area of the park at the wrong time, and a fatal inability to convert pressure into goals at times when Celtic were on top. There was loads of talent, but little tactical awareness, little clear thinking and certainly little consistency in team selection.
The other problem in 1961/62 (and this one did effect the players) was the support. They were mercurial. Some days they were enthusiastic and upbeat, singing the new "Celtic Song" which had appeared in October with gusto and were a great credit to the club. Other times they were depressed and committed the cardinal sin of Celtic supporters, namely turning on their own players who were, after all, just young lads still learning their trade. Some frustration was perhaps understandable, but it merely compounded the problem.
And there was worse than that. On at least four occasions this season – at Perth when we exited the League Cup in August, at Falkirk after a defeat in September, at Dundee after a creditable performance but narrow defeat in November and at Ibrox in the Scottish Cup semi final – the support turned really nasty.
This could not really be entirely explained away by "frustration at poor performances". It was sheer thuggery and hooliganism, and all anyone seemed to be able to do was to wring their hands and say "Isn't that terrible?".
Two images abide. One was of a family of St Johnstone supporters, mother, father and two children hiding in a shop doorway to let a gang of green and white thugs go by (and that was after I myself had had to dodge a few bottles on the terracing) and the other was the sight of three Celtic players pleading with the terracing at Falkirk to stop throwing bottles and themselves having to get out of the way of a few missiles!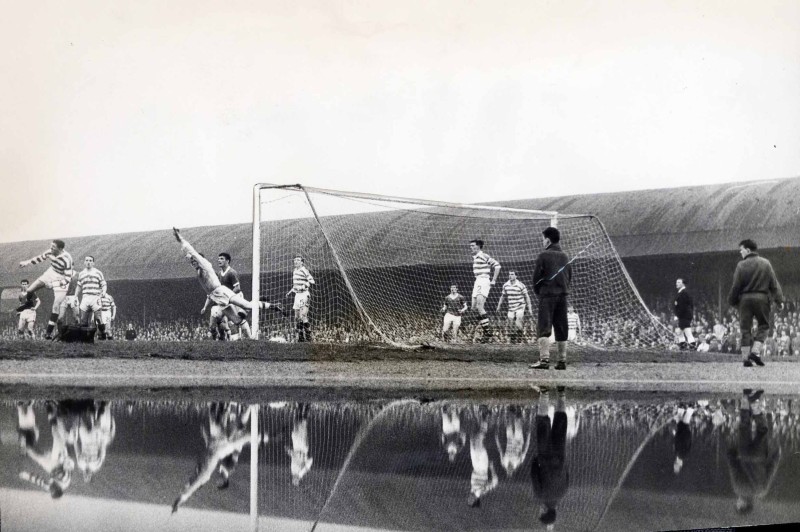 And yet there were times when Celtic were very good indeed. A 7-1 defeat of St Mirren one Wednesday night in November, a 5-1 defeat of Partick Thistle in December followed by a fine win over Hibs at Celtic Park a week later, and then a couple of days before Christmas a classy 4-0 won over Raith Rovers in Kirkcaldy with the words of "Sure it's a Grand Old Team to Play For" resounding all round the ground.
The team of the moment, however, were Dundee under Bob Shankly's management. Dens Park teemed with classy players – Ian Ure, Alan Gilzean, Gordon Smith and many more. We have mentioned their win over Celtic at Dens Park in early November. A draw would have been a fairer result that day, but no-one could have said that about the following week when they went to Ibrox on a foggy day and whipped Rangers 5-1!
The League race was an open one. Celtic's "moment" came in midwinter when they were on the crest of a wave, scoring goals, playing with enthusiasm and panache, but sadly for Celtic, the weather turned nasty, a few games were postponed including the New Year game at Celtic Park, and by the time that the enforced winter break went away, the team had lost its momentum with draws in games that should have been won, and the lack of tactical awareness of how to win football matches once again apparent.
An example of the good and the bad came on a remarkable day at Tannadice Park in mid January. Shortly after half-time 5-1 up and attracting rave notices, particularly John Hughes. But then, foot off the pedal, Dundee United scored three times and we ended up screaming for the final whistle. "Kick it, ye ****" shouted a veteran supporter (to the horror of his teenage son) when the defence tried to play the ball out of the penalty area by passing instead of the punt up the field. Not a clue about "game management skills"! It was the sort of thing "that taks years aff her life" said the same veteran supporter.
We finished third in the League. Two honourable draws with Rangers, and a home win against Dundee to balance the November defeat. This sounds like League winning form, but the inconsistency against the smaller teams let us down, a 0-1 defeat to Airdrie in mid-March eventually killing us off. The League season now fizzled out with Raith Rovers saving themselves from relegation at a deserted Parkhead as these crackling transistor radios and the Celtic public address system kept telling us that Rangers were winning the Scottish Cup against St Mirren at Hampden. By no means a great day! But Dundee won the League – and deservedly so.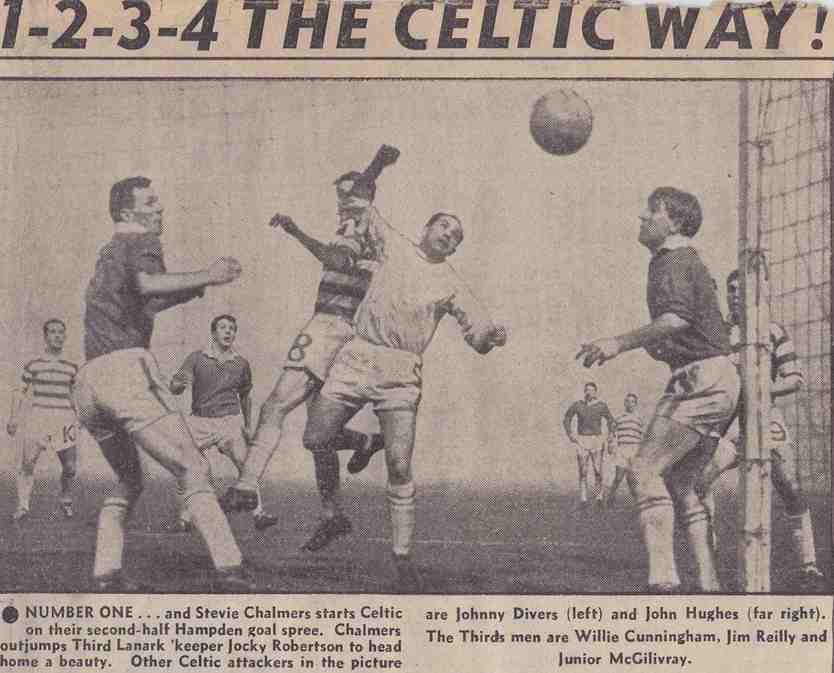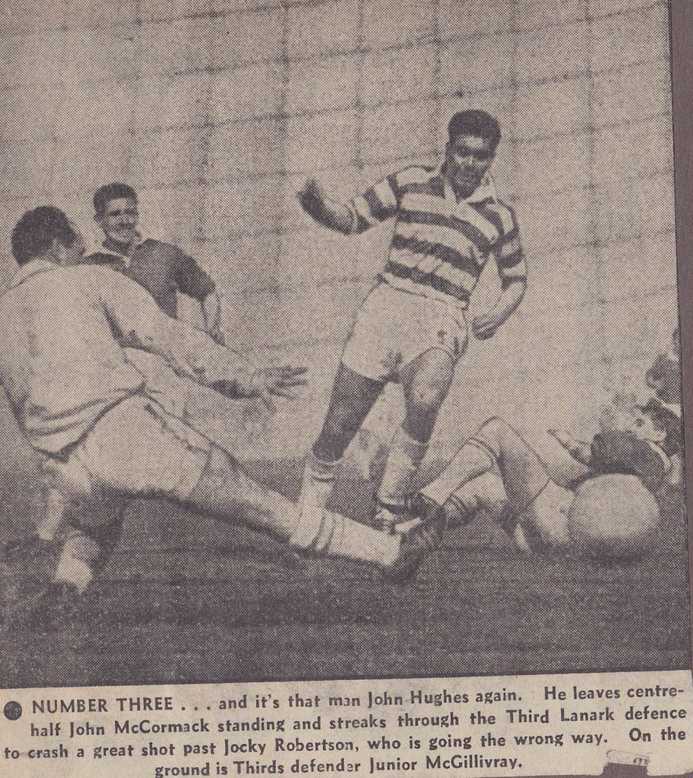 It was the Scottish Cup that we saw Celtic's spectacular piece of suicide. Good wins over Morton, Hearts (an absolute epic 4-3 win) and Third Lanark (in a replay after being 1-3 down in the first game) saw us drawn in the Scottish Cup semi-final against St Mirren. We had already beaten St Mirren 7-1 earlier in the season and on the Monday night before the semi, we travelled to Paisley and basically ripped them apart to the tune of 5-0. So no problem on Saturday, you would not have thought.
But it was what was known in the trade as an "ambush", and Celtic fell for it! The self-destruction button was pressed when captain Dunky MacKay won the toss and opted to play against the wind! The wind was substantial at Ibrox that day and it seemed to be a mistake, but it hardly justified the howls of protest from his own players, who were seen to shout and argue with him before the game started! Not the best prelude, and by half-time St Mirren were 3-0 up, with no resemblance to Monday night whatsoever.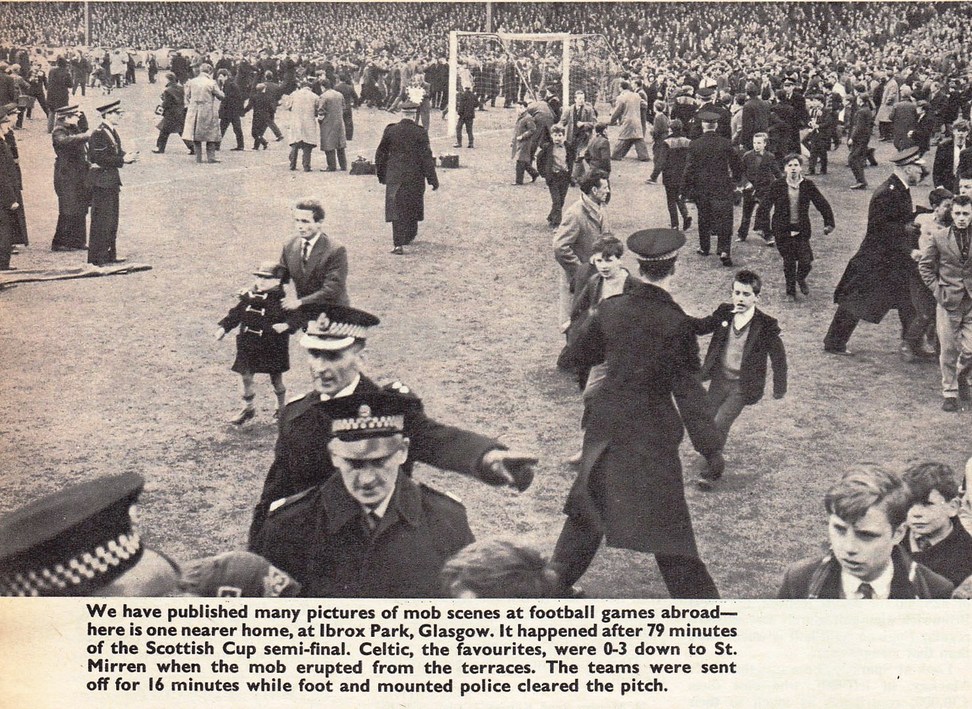 This was more than our fans could stand, and late in the game the pitch was invaded in a misguided and criminal attempt to get the game stopped and a replay ordered. The players were removed for about 15 minutes, and when they came back, Celtic actually scored. It mattered not, for the Celtic Directors had already conceded the tie. It was one of Celtic's saddest ever days.
Yet there were some good things in that season. When they were good, they were very, very good…but were simply naive too often. We did won the Glasgow Cup on a rainy night on a waterlogged Celtic Park one Friday in May by getting the better of Third Lanark, and on 14 April as Scotland beat England 2-0 at Hampden, the world saw the quality of McNeill and Crerand in a great performance, but summer 1962 was once again spent by supporters waiting yet again for the "arrival" of Celtic, and a brighter future.
David Potter