WE have already told you what Brendan Rodgers thought of the performance of two of Celtic's top performers on the night on Thursday. Both Moussa Dembele and Eboule Kouassi could have easily been awarded our Man of the Match for their superb performance against Zenit. You can read Brendan's thoughts on both of their performances HERE as we listed Dembele in bronze position, Kouassi in silver as we adopt a wee Winter Olympic theme all of our own!
So the question with the easiest answer is who gets the gold?
Here's What Brendan had to say about Callum McGregor, our golden Celtic Star!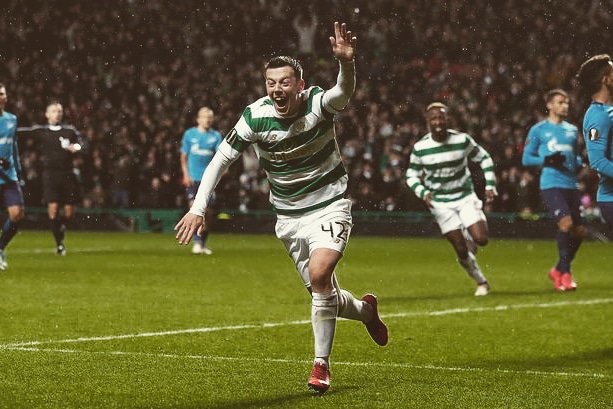 Brendan on Callum McGregor
"His goal reminds me of a goal Frank Lampard scored at Stamford Bridge against Bayern Munich in the Champions League in 2005.
"The ball came over and he had to swivel on his left-hand side to finish it from a really difficult angle. That was like Callum's goal because he had to go up and swivel on his right foot and then finish.
"Callum was absolutely outstanding on Thursday. He can play in a number of positions and he plays them all to a very high level. We played him off the front to support, but also in the midfield so we had four v three.
"He finds space very, very well and he is a goal threat. I remember looking at the team before I came in and Callum was a young player who scored big goals in big games.
"Sometimes it might not have been enough to go through or to qualify, but he has always had the ability to score big goals and he has shown that throughout my time here as well. He is an outstanding young player.
"What is important is the squad. We have really talented players, but we have a lot of games to play. We need a big squad because you can't play in every single game.
"Callum has played in a lot of big games. I took him out the team for a wee bit because he was playing a lot because of the injuries to the players who are similar to him, Tom Rogic and Stuart Armstrong and these guys.
"Callum wasn't getting a rest and so we took him out to get him fit and fresh, so we could slowly introduce him again.
"On Thursday, he was absolutely brilliant."
The Celtic Star Rating…CalMac was our man of the match and that was not only agreed upon by the team who write for this site – including the likes of Paul John Dykes, Kevin Graham and David Potter – but also by our own Celtic Star blogger, former dentist Jim Craig.
He has come in for stick in recent weeks as the team struggled for form and others in his position have been out injured. He got the nod the other night ahead of Scotty Sinclair – Brendan explained why he made that call HERE on The Celtic Star this morning.
And we didn't let us down. His goal against Bayern was a cracker, the one the other night – a WINNER – was even better. 9.5/10.