ON FRIDAY we asked you to vote for your favourite three gaols of the 25 that Celtic have scored against this Rangers since Brendan Rodgers became Celtic manager.
Yo Ho Ho, Off We Go… pic.twitter.com/d45ztTM1X5
— Li'l Ze (@LilZe8) April 27, 2018
Unsurprisingly the goal that is our favourite from the 25 was the winner at Ibrox on Beautiful Sunday by Odsonne Edouard.
 Loading ...
Brendan Rodgers has gone on record in the last few weeks stating that he regards the striker – on loan from PSG – as one of the most talented youngsters that he has ever worked with and revealing that Celtic will work towards getting a permanent deal sorted.
Of course much will depend on whether Edouard wants to remain in Glasgow and his French countryman Olivier Ntcham, who scored the most recent goal against today's visitors to Celtic Park, has urged Edouard to make the move to Celtic a permanent one.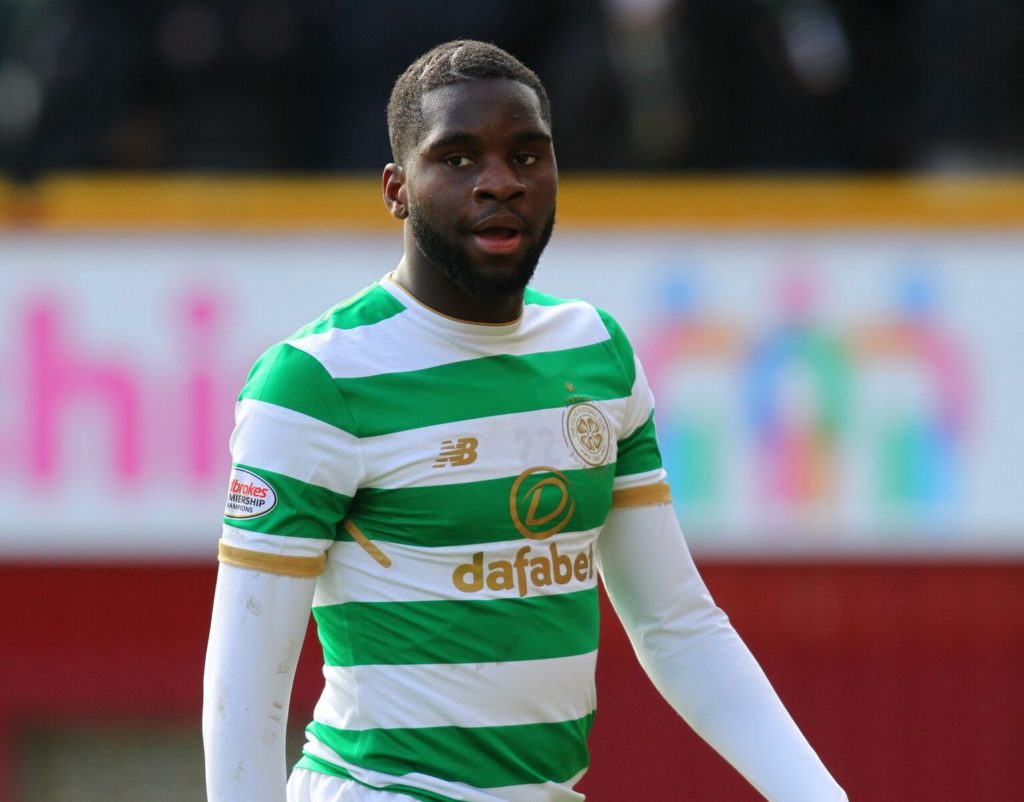 "The more Osdonne plays the more he improves. He is happy here. I won't try to persuade him because he is his own man. But he knows how I feel," Ntcham said.
"It helps a lot to have fellow French players. I had two at Genoa as well. Even on the pitch, when you don't understand something they can help you. Kolo has helped us a lot because he can explain that things could be better if you try it another way.
"Selectors in France know we are developing because they come over to see some games."
Ntcham, having got off the mark against Rangers in the 4-0 skelping at Hampden in the Scottish Cup is looking forward to more of the same today as the Celtic players aim to get the job done at the second time of asking.
Before talking about the disappointment of defeat at Easter Road last week – which set up today's title winning opportunity, Ntcham reflected on that penalty at Hampden a fortnight ago.
"I was really happy – it was my first goal against Rangers and you never forget that.
"It was my turn. Moussa had the first penalty and then it was me. Moussa's penalty was very confident but he told me he would do that before he stepped up.
"For the fans it is more emotional to see a goal against Rangers because it is not just about football it is about something else.
"This is a game we need to win and we want to win the titles. It will be nice to do it at home.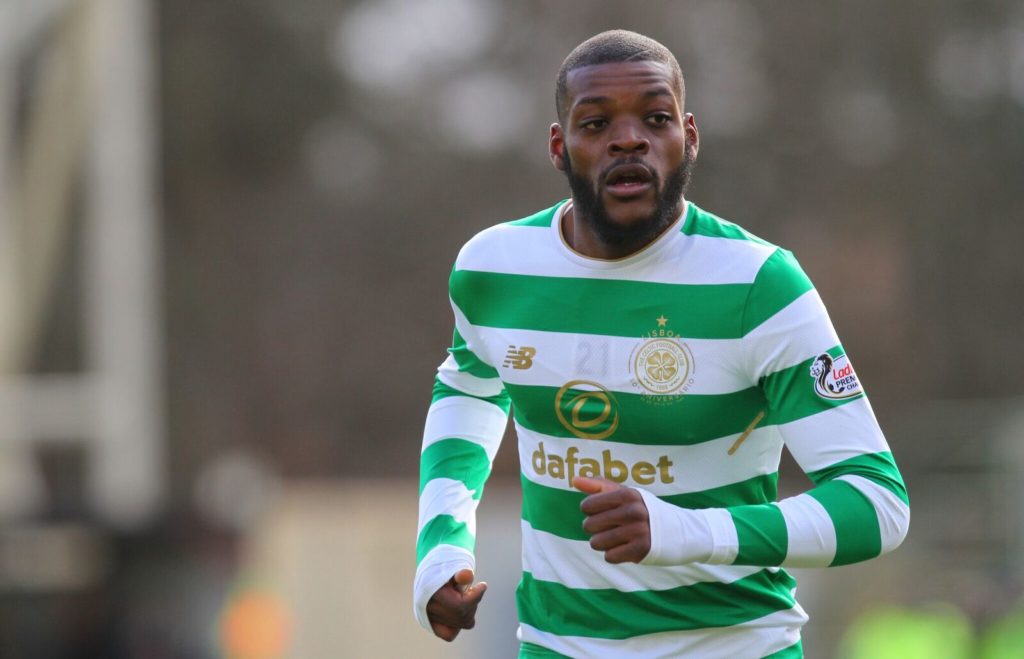 "We were a bit disappointed last week. It was a tough game and winning would have been great for the club and the players.
"I got a knock on my foot in the first half but I'm okay now I think. I watched the second half from the dugout.
Ntcham, despite the Scottish weather, is enjoying life at Celtic.
"I am settled because I've had loan after loan and I feel better now. Scotland suits me. I don't like the weather but I live in Bothwell and it's quite quiet so I like that.
"The first year at Celtic has been quite good. I feel stronger now. When you play you get that rhythm. When you get more games it's normal to feel more powerful and also more intelligent.
"I'm happy to be here and every game I'm feeling my progression."
And on today, Ntcham can't wait to get out there and get the title won, especially as it is at home, although not sure he has quite grasped the expectations among the away support yet.
"Yes, there's extra motivation playing against Rangers and everybody knows it is a great game in the season. Every match is different so I can't say if it is going to be difficult or easy.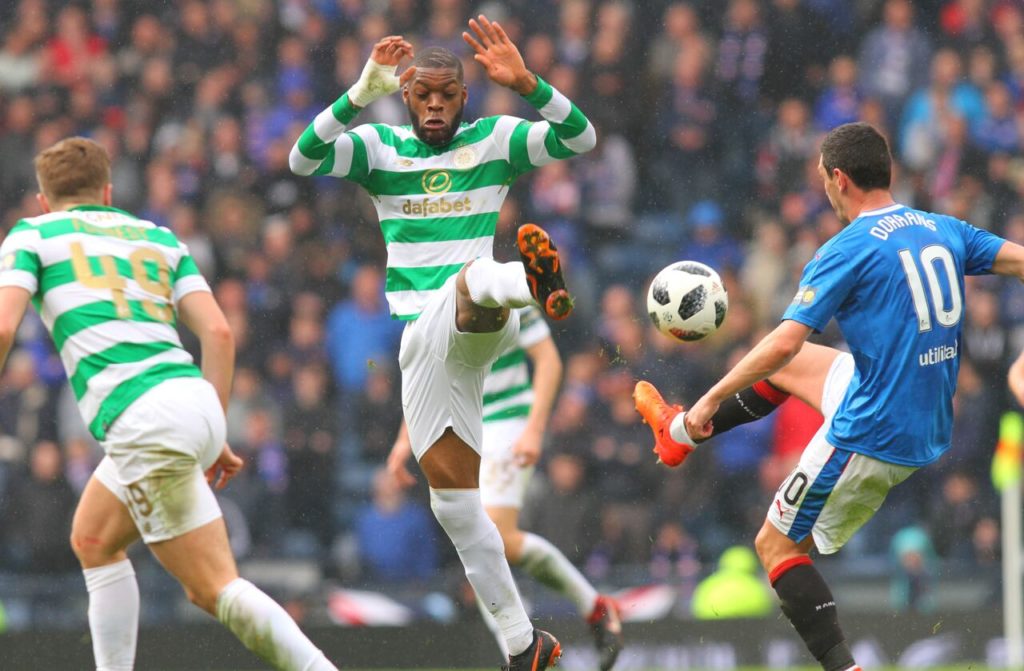 "When you play at home you have more confidence. I think it is going to be easier for us but really I don't know. The last time at Celtic Park it was a draw. When you play at home then it is different.
"Because you have the 12th man, the supporters are all behind you and push you to go forward and try to score every time you have the ball. When you play away it is a little bit different. The fans don't expect that so much."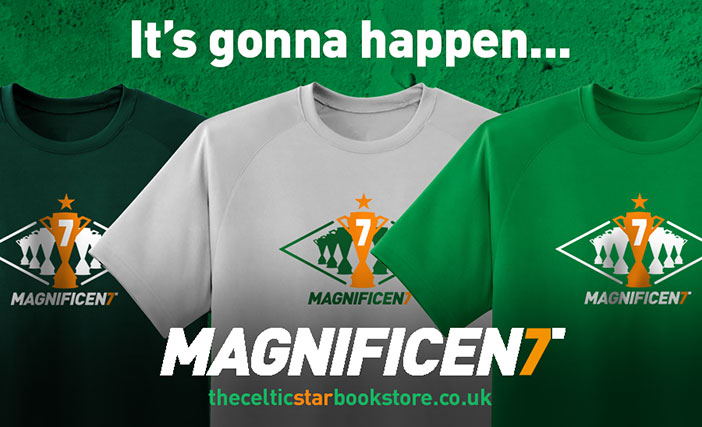 HAVE YOU GOT YOUR MAGNIFICEN7 T-SHIRT YET?
We have sold out on the dark green option in all sizes and have sold out of the green and grey colour option in small and medium but we have green and also grey Magnificen7 shirts available in Large, XL and XXL, while stocks last.
Order now at thecelticstarbookstore.co.uk