Celtic fans loved Ange Postecoglou and his team. There was a real connection between the manager, his players and the supporters. The passion the boss showed, the way he spoke and the exciting football the team played made sure of that. However, it is not something unique or something that cannot be rediscovered with a new manager.
Many fans spoke of the connection with Postecoglou's team as being unlike any other, but I think that was just being caught up in the euphoria of the present moment. There were many great relationships with previous managers, which were later sullied.
When Brendan Rodgers arrived there was something like 13,000 fans packed into the stadium to welcome him to the club. He took Celtic back into the Champions League, won an Invincible Treble and smashed theRangers 5-1 twice. Brendan quoted Tommy Burns – his former colleague – and played the role of Irish Celtic superfan. In addition to this, the safe standing area was opened, the team scored 106 league goals, Tierney was a star player, who was also a boyhood fan of the club, and there was a full stadium display to mark the 50th anniversary of Lisbon. That Rodgers later left us in the lurch mid-season means that many forget the whole feel good factor that surrounded Celtic in 2016/17. But it was there.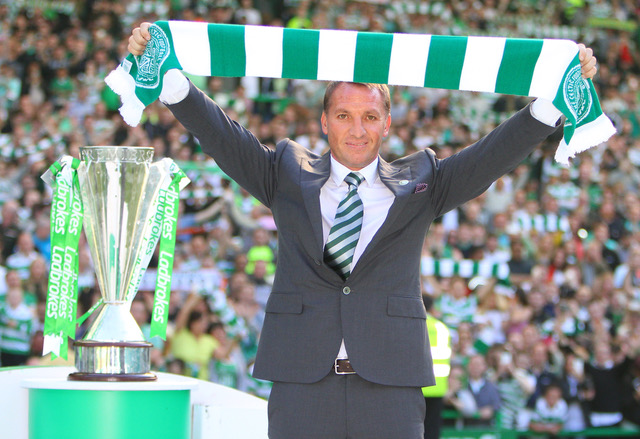 In 2010/11 Celtic Park roared in reaction to Neil Lennon proclaiming "This isn't the end, this is just the beginning." Those words came after the Celtic team broke from tradition by walking out to Something Inside So Strong, in a season when referees were proven to lie about decisions against us, the shame game took place and our manager was sent bombs. Meanwhile, bullets were also sent to our Irish players. Competing against some horrific officiating, sectarian hatred and still almost winning the league after a massive rebuild all had an incredible unifying effect. That season produced the best atmospheres among our support for many years, culminating in a full stadium huddle despite the disappointment.
And finally, we cannot pretend that the connection with the current team is anything more special than that with Martin O'Neill's Celtic. The Hoops reached their first European final for 33 years under the Irishman's guidance and had other Celtic fans in the team such as Neil Lennon. Meanwhile, there was a certain player named Henrik Larsson who achieved hero worship, the like of which had not been seen since Kenny Dalglish's departure. It is also worth remembering that Celtic had been dominated by Rangers for a long time, and O'Neill turned things around with the 6-2 game and domestic treble, before going onto win three titles. That was a phenomenal Celtic side with a lot of passion and much more loyalty than we see in the game today.