OLIVIER NTCHAM is happy again and will start for Celtic against his fellow countrymen tonight at Celtic Park.
Au revoir – Pusillanimous Ntcham Wants Away was the headline on The Celtic Star back in July when Ntcham's mind was in a very different place and he was angling for a move away from the Scottish Champions.
It's fair to say that the departure of Moussa Dembele last summer had a bigger impact on Ntcham than on any of the other players. Even the younger Frenchman, Odsonne Edouard seemed to take it in his stride, although he would have been aware that the transfer would give him more of an opportunity – and how well he has taken it.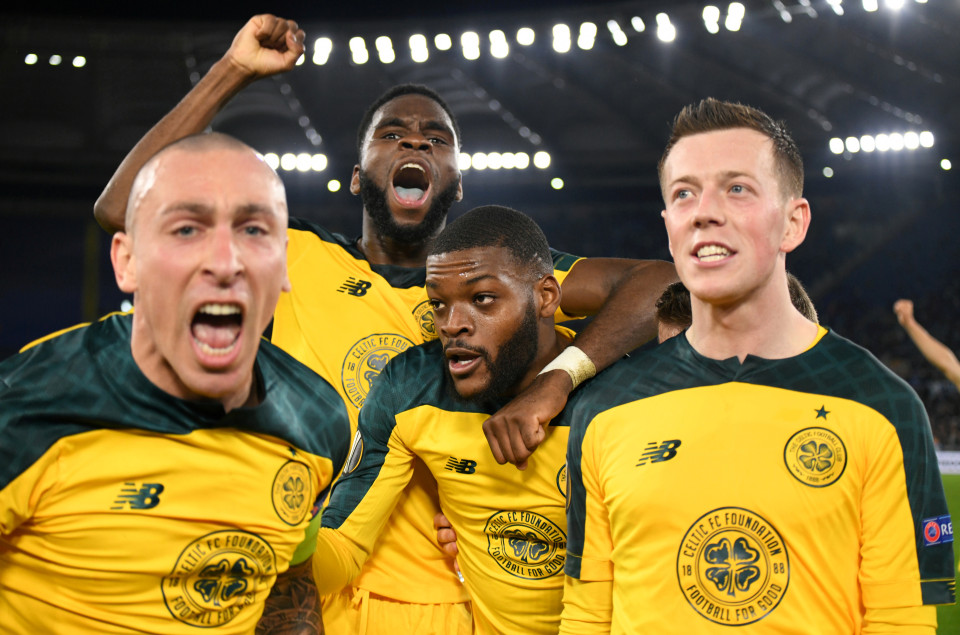 But for Ntcham it was a matter of regret and his form throughout the season remained patchy, not helped by injury problems.
By the summer he was back in France and hoping to get a move to Marseille or perhaps Porto rather than remain on the fringes of the Celtic starting eleven.
Neil Lennon had words with the moody Frenchman when he returned to Scotland and the two seem to have put that behind them. By the time Olivier Ntcham scored one of the most memorable goals in Celtic's history in Rome earlier this month, his attitude had already improved significantly. And he was rewarded with the glory. Suddenly it dawned – this is how it feels to play for Celtic! Olivier Ntcham, pusillanimous no more.
Neil Lennon let slip at yesterday's Media Conference that he told Ntcham at the weekend that he'd be on the bench for the game against Livingston but would start against Rennes.
"I saw a difference in Olivier, even before Rome. We had a chat about his comments earlier in the season — whether they were misconstrued, there may have been some truth in them.
"But he has really settled down now, and he is training very well," Lenny stated as reported by Evening Times.
"He's been brilliant in the games he has played. He's been unfortunate not to play more often, that's just down to the quality of the rest.
"He is happy to be a part of it. The goal in Rome may just have changed his outlook.
🗣️ Ntcham on his celebration against Lazio: "I slipped when I tried the flip so that's why I was on my hands. Odsonne said to me afterwards I nearly broke my neck. I was too engaged in celebrating with everyone to stop and do it again."

French Eddy looking out for his pal 😂🇫🇷 pic.twitter.com/tFPF4xiOFq

— celtic jaime 🍀 (official account) (@jaimelawson08) November 23, 2019
"He is some player, really high calibre in his manipulation of the ball. We are seeing more consistency from him now when previously he was more up and down.
"Certainly, on the ball he has fantastic technique and he works hard at that. Going the other way, defensively, he is improving that aspect as well.
"Olivier and Odsonne Edouard have a really good understanding on the pitch, and they are quite close away from it.
Ntcham scored against Lazio pic.twitter.com/LngInTkWRy

— Ntchams Goal Everyday (@ntchams) November 26, 2019
"They are two very creative, penetrating players. I think they like playing in the same team. The way Olivier is seeing things now, he might feel: 'Why shouldn't I stay here?' Things are going well now. We've beaten Lazio away and he played a huge part in that.
"Maybe that makes him think the grass isn't always greener, and he can fulfil a lot of things at Celtic for whatever length of time he's here."
Here is Neil Lennon's Media Conference ahead of tonight's Europa League match against Rennes.