Patsy Gallacher was born in Milford Poor House, County Donegal in 1891. He spent his early years in Ramelton before his parents decided to join the Irish Diaspora to Scotland possibly sometime round about the turn of the century and the family ended up in Clydebank.
A small, undernourished looking youth, he could nevertheless play football, and came to the attention of Willie Maley, signing in 1911 and making his debut against St Mirren in December 1911. He won a Scottish Cup medal in his first season in April 1912 but he was not an immediate success as the team struggled, particularly in the barren season of 1912/13.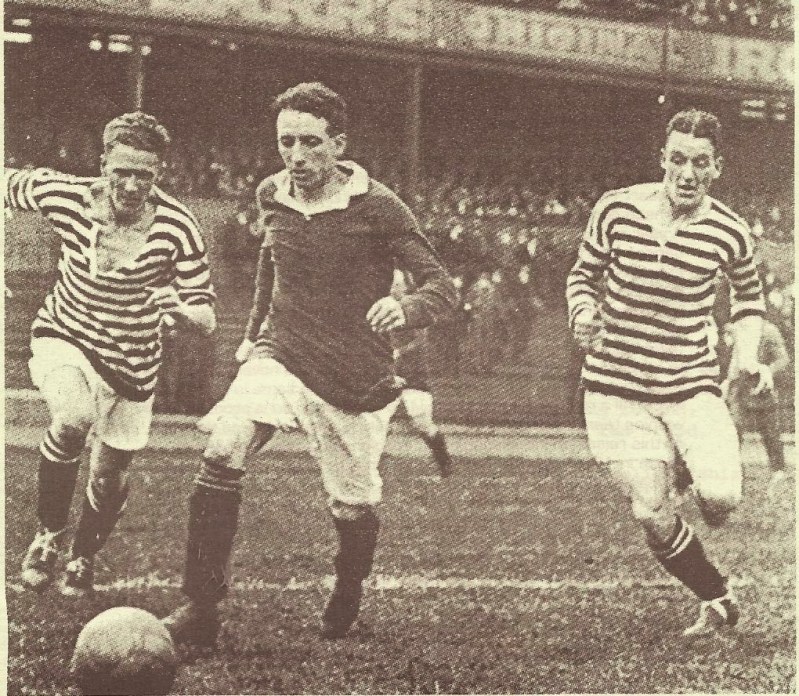 It was not until 1913/14 that a mighty Celtic team emerged. The defence was strong, but the forward line was now powered by the two diminutive wizards – young Patsy Gallacher and the veteran Jimmy McMenemy. A team with these two on song was irresistible and the record in 1914 proved it.
But war came in 1914, and Patsy was much diminished. It was not that he played any worse, but simply because the demands of war prevented that side from becoming what it could have been. But Patsy was "the most talked about man in the trenches". He himself worked in the shipyards on munitions works, being fined for "bad timekeeping" in 1916 and thus being suspended from football as well! Under war regulations, they could do that!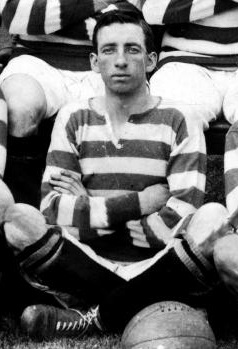 The war ended, and people soon saw that what everyone said about Patsy Gallacher was true.
He was a genius, a wizard, a man who could make a football do almost anything. He scored a goal from kick off once at Easter Road, running through the defence with no-one able to stop him. His most famous year was 1925 (his last full year for Celtic before injuries caught up with him) and 1925 is of course immortalised by his master minding of the 5-0 defeat of Rangers in the Scottish Cup semi-final and the famous goal against Dundee in the final.
He subsequently played for Falkirk, then became proprietor of the International Bar of Clydebank. He was lucky to escape death in the Clydebank blitz of 1941, and died of cancer in 1953, but not before Jock Stein and Jimmy McGrory had brought the Coronation Cup to let him see it.
He played 432 games for Celtic, scored 186 goals, won a League medal in 1914, 1915, 1916, 1917, 1919, 1922, and a Scottish Cup medal in 1912, 1914, 1923, 1925. He played 11 times for Ireland, and those who saw him say with surprising unanimity that he was the greatest of them all.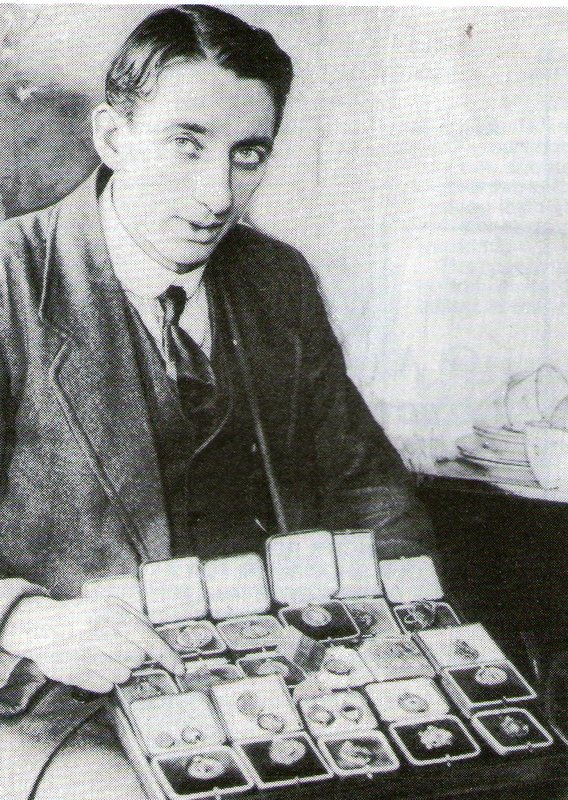 "Puskas, Maradona, Messi? Ye never saw Patsy Gallacher!"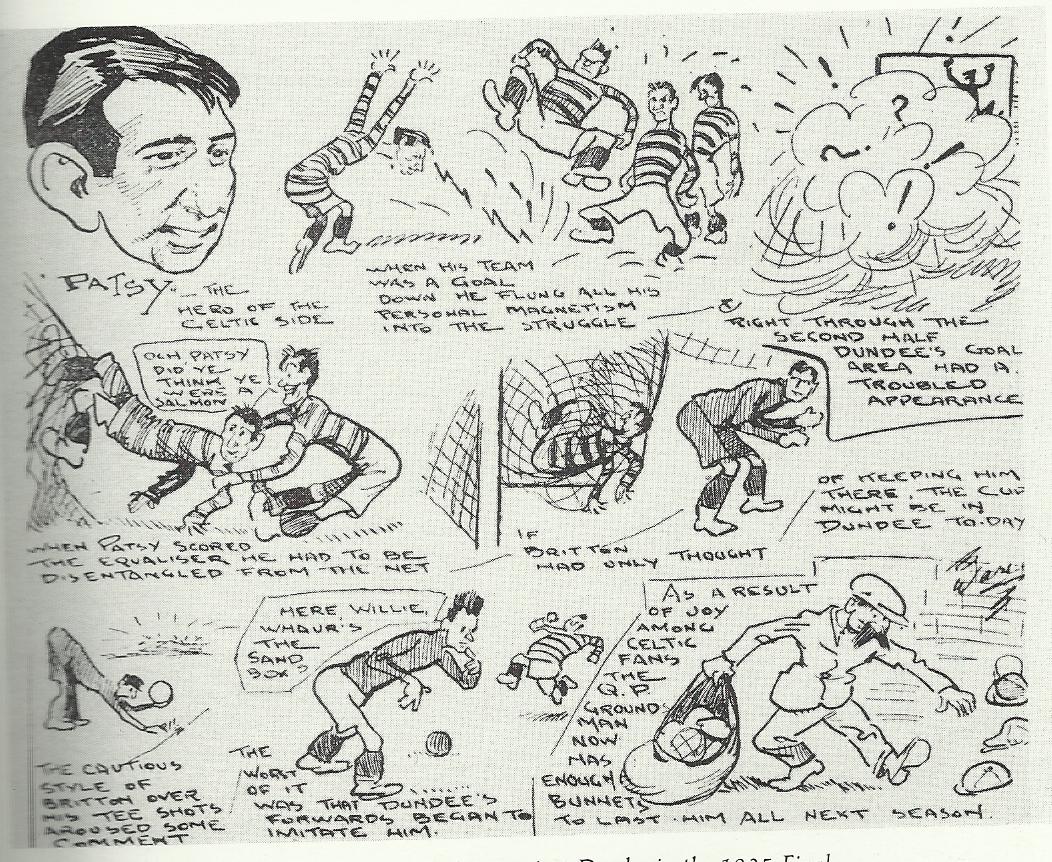 * Less than six months after his debut, Patsy had won a Scottish Cup medal, scoring in the 1912 final against Clyde, and by 1914 he was the inspirational mainstay of the great team which won the Scottish League and Cup double
* The Great War meant that Patsy had to get a job in John Brown's Shipyard where he was once fined and suspended from playing for Celtic for "bad-timekeeping", but this did not stop playing phenomenal football and becoming "the most talked about man in the trenches".
* He is best remembered for the famous goal that he scored (he somersaulted into the net with the ball wedged between his legs) in the Scottish Cup final against Dundee in 1925, and the goal that he scored against Hibs at Easter Road in September 1921 when he ran all the way from the centre after Hibs had scored, to score without any other player touching the ball.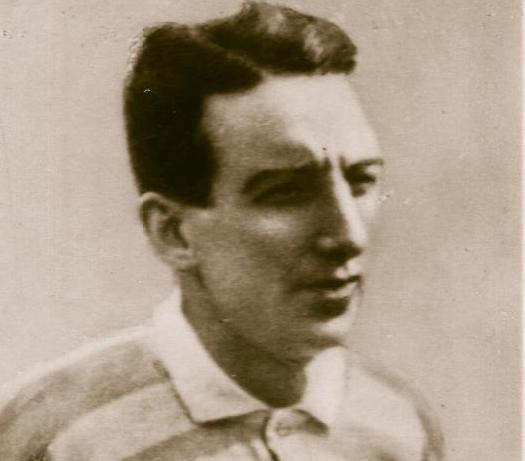 * He played eleven times for Ireland, including once for the Irish Free State.
* His son Willie played for Celtic and his other son Tommy played for Dundee, and his grandson Kevin played for a number of clubs and earned caps for Scotland.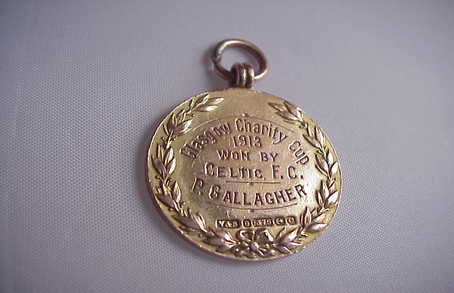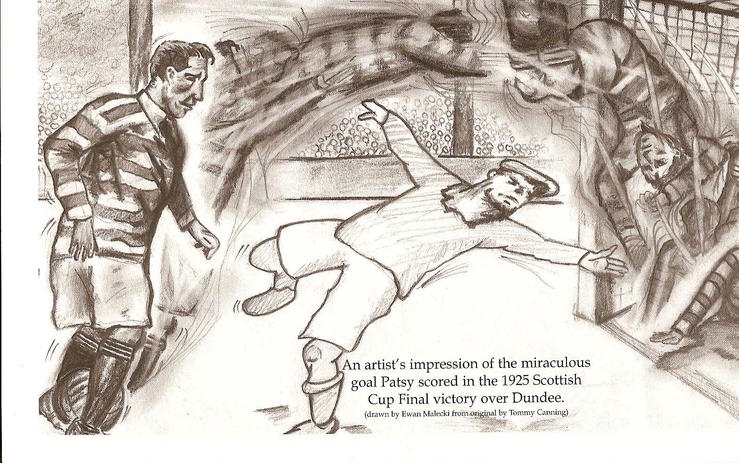 The Patsy Gallagher Cup Final
Celtic defeated Dundee 2-1 then lifted the Scottish Cup for the 11th time on this day in 1925.
This became known as The Patsy Gallagher Cup Final with the Celtic legend producing a sublime performance, scoring a goal doing a somersault with the ball. And in typical Celtic style the winning goal was scored by Jimmy McGrory in the last minute.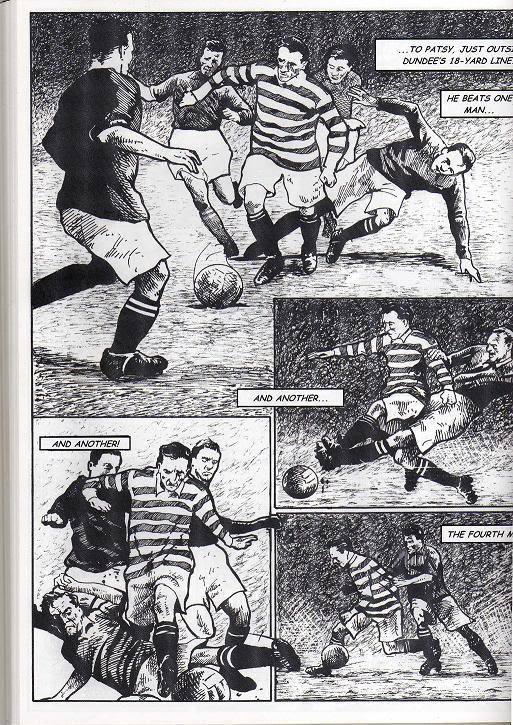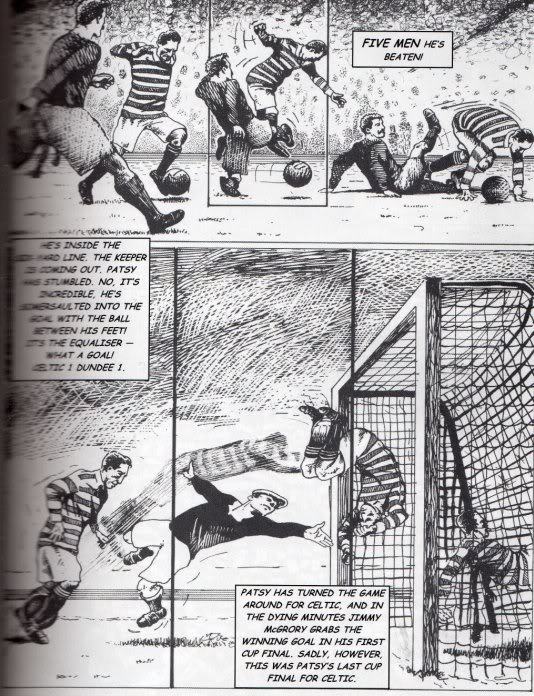 The Scotsman take on the game, as recorded on Celtic Wiki was as follows: 'Though it was a last-minute score that gave the Celtic their victory in the Scottish Cup final with Dundee at Hampden Paik, Glasgow, it was well-merited success, for all through the second half, when they were struggling to wipe out the goal lead recorded against them in the first half, the Celtic revealed the will-to-win spirit, and once they did get on level terms they never eased up.
It looked for long as if the Dundee defence would hold out but a brilliantly headed goal by McGrory upset escalations and dashed the Dundee hopes of a replay, and so the cup went to Parkhead once more."
The Celtic team that day was Shevlin; W. M'Stay and Hilley; Wilsonn. J. M'Stay, and M'Farlane; Connelly, Gallagher, M'Grory, Thomson, and M'Lean.
Goals scorers were Gallagher, McGrory and the attendance was 75,137.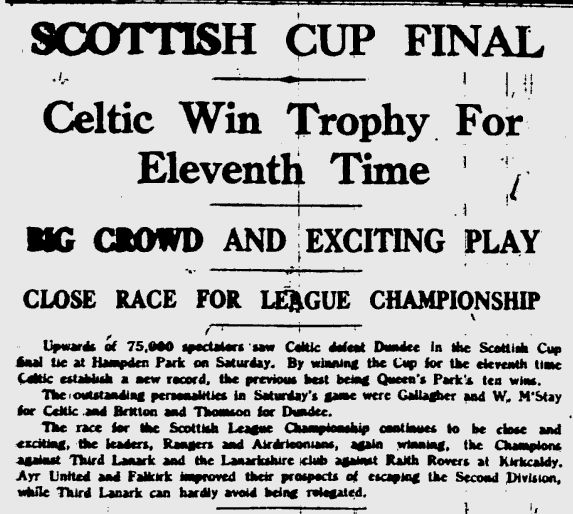 The Wearing O' The Green" – how Patsy Gallacher helped Celtic win the league at Somerset Park…
IT was the Holiday Weekend of April 1919 and Celtic mopped up four points with Patsy Gallacher scoring a hat-trick against Falkirk and a couple against Airdrie.
But Rangers also won their game on the Holiday Monday, and Celtic's next game was the following Monday, the Edinburgh Holiday for their visit to Tynecastle.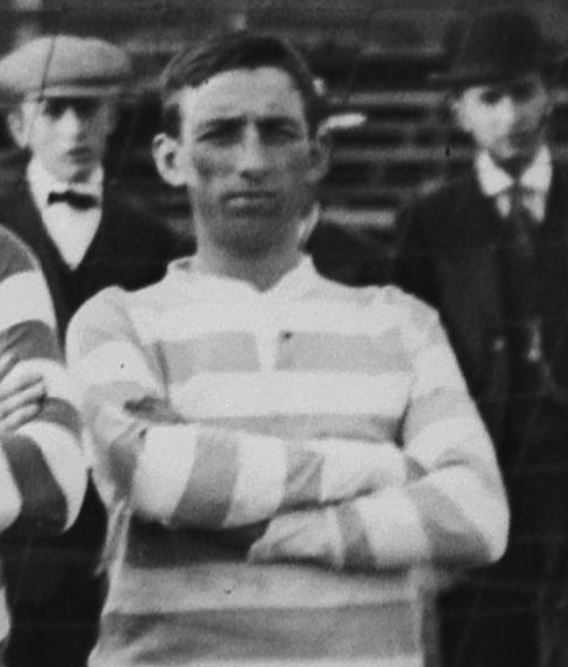 There had been overnight snow (on 28 April!) and it was still bitterly cold, but 15,000 were there to see a tight game where Celtic, having been in total command, were glad to hear the final whistle. They had scored twice through Jimmy McColl and once through Andy McAtee, but then near the end Andy Wilson who would become a legend for Scotland in a few years' time scored twice for Hearts, and Celtic were indebted to Shaw, McNair and Dodds for holding out at the end.
This meant that Celtic were now one point ahead of Rangers, and both teams had only one game left on 10 May.
This was exceptionally late for 1919, but it was an exceptional season with Victory Internationals hastily arranged the previous Saturday.
Celtic travelled to Ayr United while Rangers were at Clyde. Celtic only needed to beat Ayr for the Championship. The weather was pleasant and 10,000 were at Somerset Park with the trains from Glasgow all full.
They saw a nervy display by Celtic for the first half hour but then good work from Patsy Gallacher found the unmarked Andy McAtee who shot home from the edge of the penalty box.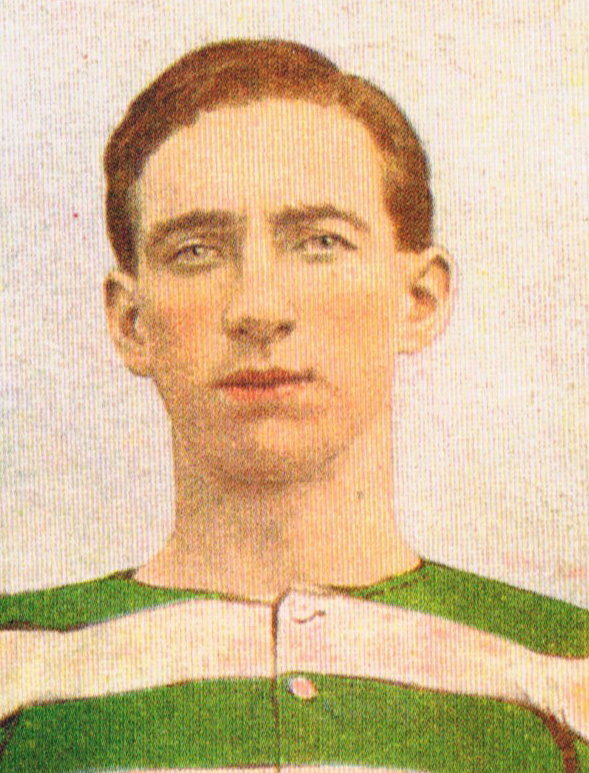 The second half was long and painful with news coming through the public address system than Rangers were beating Clyde, but eventually with 10 minutes to go Adam McLean, now playing at centre forward because McColl was injured, took up a pass from McAtee and scored.
The delight of the fans was tangible and obvious with Ayr Station that night seeing great scenes with "The Wearing O' The Green" mingling incongruously with "Pack Up Your Troubles" and "It's a Long Way To Tipperary".
There had been no trouble that day, but the Ayr police were not sorry to see the trains depart, for Ireland was a tense place in 1919, and Celtic fans were aware of it all.
They did now however have something to cheer about, as more and more soldiers came home to renew their acquaintance with Patsy Gallacher, Jimmy McMenemy, Eck McNair and Andy McAtee.
David Potter