Willie Maley was in a quandary. In front of him was his centre-forward Alec Bennett, more or less in tears and very upset. Alec was being pestered by family and friends because he played for Celtic, and they all wanted him to play for Rangers. Indeed Rangers had made an offer to him for next season. Bennett, normally a very level headed young man, was not coping with this. His particular fear was that, as centre forward, he would get loads of chances to score in the coming Scottish Cup final. If he scored, his family would not be pleased; if he fluffed them, he would be accused of all sorts of things by the Celtic fans.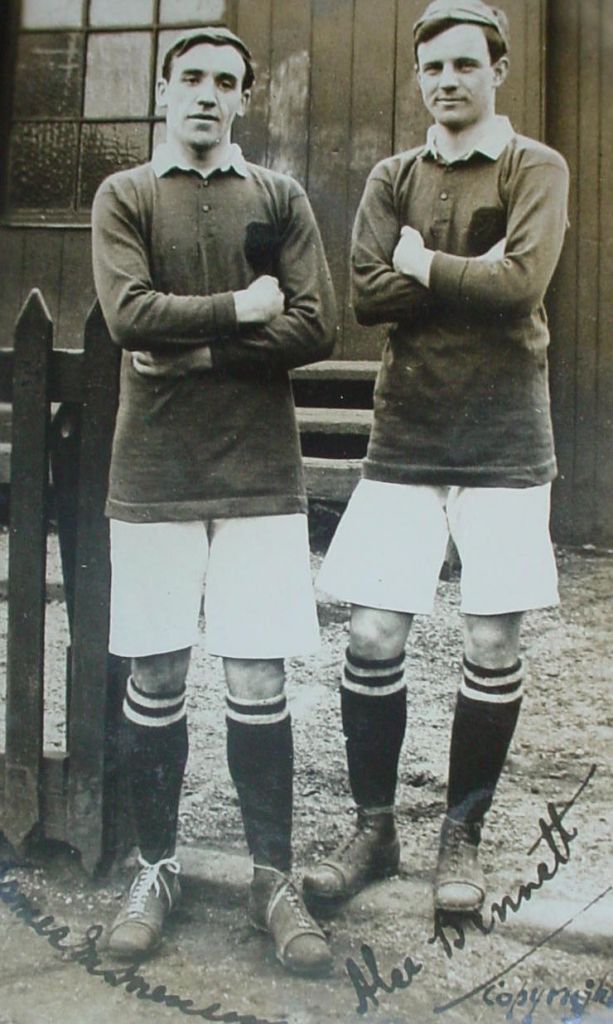 Maley decided reluctantly that Bennett was in no fit emotional condition to play, and that the centre forward position would go to the sometimes erratic but nevertheless determined character called Jimmy Quinn.
Quinn, the miner boy from Croy had once before scored a hat-trick for Celtic against Rangers, two years ago in that funny Coronation Cup tournament played in midsummer and now ridiculed by some. It would be nice, mused Maley, if he could do the same again, and this time in a real competition.
Maley had been quite happy with the improvement in the team this year. There could be no doubt that Third Lanark deserved the Scottish League and the Glasgow Cup this year, but it was rewarding to beat them in the Scottish Cup semi-final. The Celtic team was still young, but there were undeniably some fine tricky players – McMenemy and Somers for example were great inside men, and that half back line of Young, Loney and Hay could take a grip of games. But what he liked about them was their enthusiasm, and their ability to play together. He felt they had a great future ahead of them.
But this year's Cup final was against Rangers. Possibly Rangers' moment had passed. Their four League titles in a row from 1899 – 1902 had been impressive, and they had won the Scottish Cup last year, but this year they had not been so good. But they were still Rangers, a team with a massive support and a good manager in William Wilton, a close friend of Maley. It looked like an even contest for this year's Scottish Cup at New Hampden Park.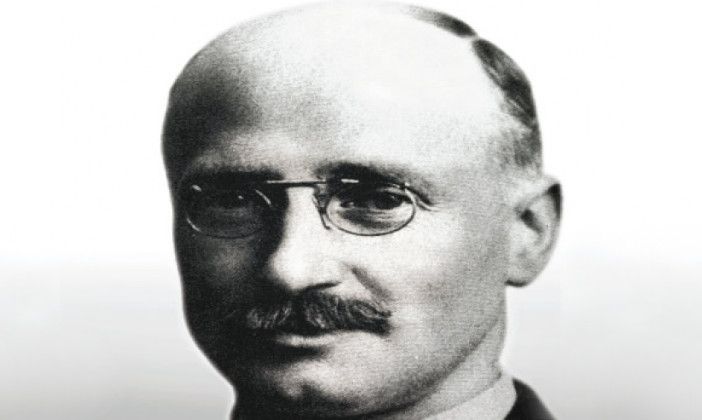 Celtic had had the honour of opening the stadium this year at the end of October. It was massive, and although it was not yet totally ready (the eastern end in particular still needed some work) it was already bigger than Celtic Park and there were intentions to make it able to contain a mind-boggling 100,000 spectators.
As it happened, 65,000 turned up to see this Scottish Cup final, and that was considered to be a huge crowd – nothing like a world record, currently held by the Crystal Palace in London, but still a massive amount of people, and quite clearly a record for a Scottish domestic game that was not an International. Both sets of supporters were there in good voice, but mingling happily together with loads of banter. The hatred between Celtic and Rangers supporters had not yet developed, although the seeds had been planted.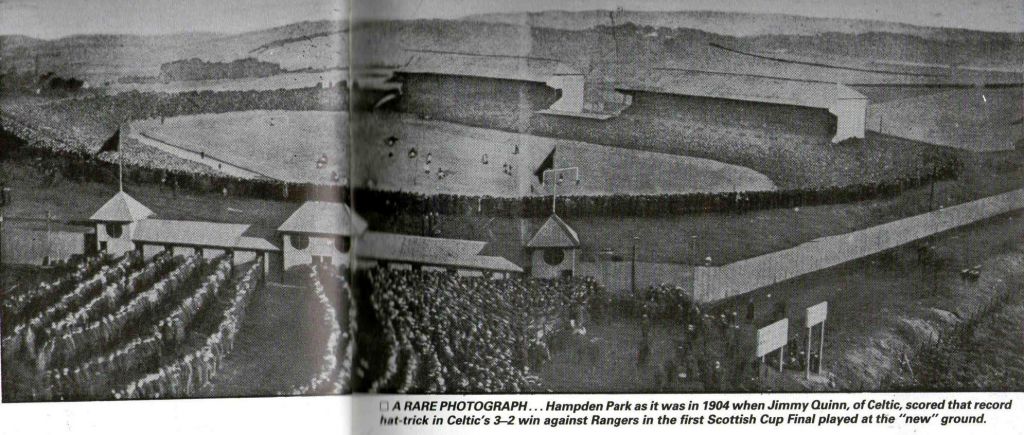 The weather was fine, and the crowd would see a memorable and indeed famous contest. Celtic lost the toss and thus Quinn started the game for Celtic playing towards the western terrace against the slight, almost negligible breeze. Celtic had a bright first ten minutes with Peter Somers in particular looking good, but then things began to go wrong.
Rangers scored. The hero was Alex "Cutty" Smith who ran down the left wing and crossed for the head of Finlay Speedie who was visibly vexed with himself as he headed straight into the hands of goalkeeper Davie Adams. It was Adams' first touch of the ball, but riddled with nerves, he dropped the ball and the ball squirmed over the line into the net. Rangers were one-up.
This was bad enough, but a few minutes after this it was two. A corner from Alex Smith missed everyone except Finlay Speedie, curiously unmarked, and he scored again with many Celtic supporters feeling once again that Davie Adams could have done better. The final had thus started disastrously and Rangers were feeling good about themselves. They had won the Cup last year after two replays against Hearts. Maybe they were going to do the job at the first attempt this time.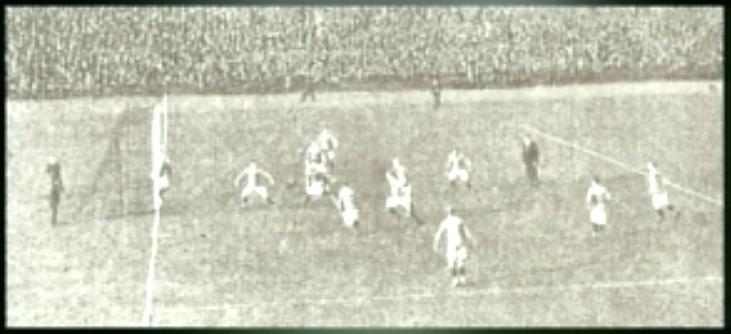 But this was the day of the mighty Quinn. His first goal brought Celtic back into the game, and it was a goal which according to the writer of The Dundee Courier was worth "any football enthusiast travelling any amount of miles to see". It involved three players running together in a parallel line to get a long ball which had gone over the heads of everyone – Stark and Nick Smith of Rangers and Quinn of Celtic. It was like a sprint but it was Quinn who got there first to edge the ball past goalkeeper Watson.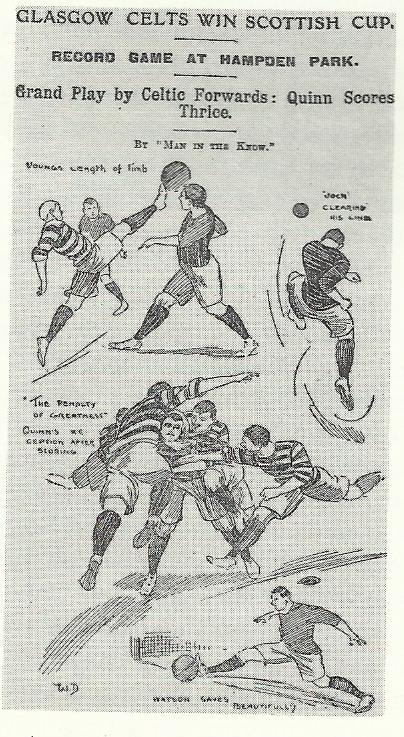 Now the wearers of the green and white rosettes, who had been silent for a while, became more animated. Their team was still behind but now back in the game. There was still a long time to go. And then just before half-time, Celtic were back on level terms.
This time part of the credit goes to right winger Bobby Muir, a Kilmarnock boy who had joined Celtic from Bristol Rovers at the same time as his fellow townsman Sunny Jim Young last year.  Muir had been good enough this season, but not outstanding.
Today however he did enough to earn a place in Celtic immortality when he picked up a ball just inside the Rangers half on the far side of the pitch from the Stand and charged towards the corner flag, beating Drummond and Robertson on the way. He then crossed perfectly and Jimmy Quinn was there to hammer the ball past Watson.
Half-time came soon after that, and Celtic trotted off quite satisfied. They had convinced themselves that they were a faster, fitter and generally a better team than Rangers were, and their supporters shared that opinion.
Rangers for their part felt robbed. They had been ahead but had thrown their lead away. The interval was a long one to allow men with white sheets to collect coins thrown at them for the relatives of those who had been injured in the collapse of a stand at the Perthshire v Forfarshire cricket match last summer. No-one had been killed, but several were so badly injured that they could not work again – and that in these evil pre-Welfare State days could mean the Poor House for relatives!
The game resumed and the huge crowd enjoyed some fine play by both sides, although it was now clear that Celtic were playing the better football. Muir had a good chance but was bundled off the ball by Drummond, and the same player used his hand to stop a Quinn drive getting past him. These offences would have been dealt with a great deal more harshly a hundred years later, but this was 1904.
About 15 minutes from time came the winner. Willie Orr won a ball from Nick Smith, and passed to James Hay. Hay lofted the ball forward to Quinn, who flicked the ball past Stark and charged in on goal. Converging on him were the two Rangers full backs, Smith and Drummond, but Jimmy kept his nerve even when goalkeeper Watson came out of his goal as well. Just as the two full backs were about to collide with him, he released the ball, having the maturity not to blast the ball, but to lob it gently over the advancing Watson, and into the net!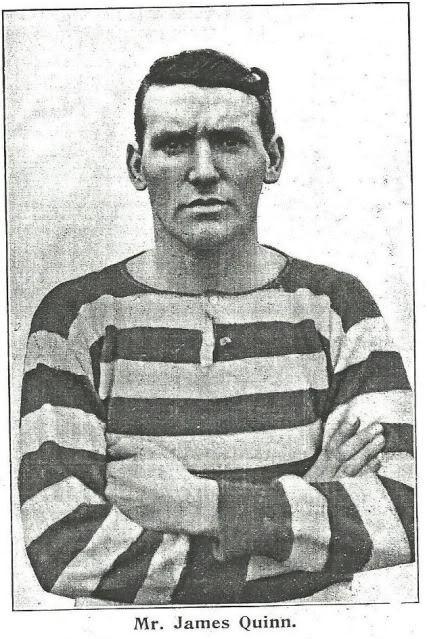 This was football at its best, and Jimmy Quinn became the hero of all Celtic fans that day – a status which he held until his death in 1945, and well beyond. Celtic had now won the Scottish Cup for the fourth time, and once again the Celtic heartlands of the Gorbals, the Garngad, Holytown, Leith in Edinburgh and Lochee in Dundee celebrated all night.
And that was not to mention Jimmy Quinn's own Croy! Jimmy, painfully shy, may well have found this embarrassing, but he would also have permitted himself a small smile. He was certainly the hero of the hour.
The significance of this game would be long lasting. It was the springboard for Celtic's six League titles in a row and in that respect was not dissimilar to McNeill's goal against Dunfermline in the Scottish Cup final of 1965. It is also worth considering the long term effect it had on Rangers.
They would not again win the Scottish League until 1911, nor the Scottish Cup until 1928. Their inferiority complex was just about to begin.
But the main significance was in Jimmy Quinn himself. The hero of Celtic, and the hero of Scotland on any occasions as well, Jimmy was now commonly referred to in newspaper reports as "Jimmie", "Jamie" "Jeemie", "Jamie the Silent" or the "bhoy from Croy", and everyone knew who he was.
People would get off the train at Croy and wait there for the next one just on the off chance of seeing him, and there was the well documented story of two youngsters who stole a couple of pebbles from his garden – and boasted about it!
For Celtic, he was the replacement for Sandy McMahon, and the second in the line of personality goal scorers that the Celtic support always craved and still does. Everyone in Scotland knew who Jimmy Quinn was. And yet, to everyone's surprise, he was "just an ordinary man".
David Potter
Scottish Cup Final, New Hampden Park Saturday 16 April 1904

Celtic: Adams, McLeod and Orr; Young, Loney and Hay; Muir, McMenemy, Quinn, Somers and Hamilton

Rangers: Watson, N Smith and Drummond; Henderson, Stark and Robertson; Walker, Speedie, Mackie, Donnachie and A Smith

Referee: Mr Robertson, Queen's Park
Coming soon from David Potter on Celtic Star Books…