The attendance of 54,252 was not the least important of the topics of conversation about the 1977 Scottish Cup final. By any standards the turnout was poor, and it contrasted starkly with the Scottish Cup final of 1973, only four years ago, between the same teams when the attendance was more than double that.
There were several reasons for this. One was that it was simply an awful day, another was that Rangers attendances had dipped alarmingly during this season (Celtic's had too, but not so much) , yet another was that football attendances in 1977 were generally poor and rapidly diminishing, but the main reason was that the game was, controversially, live on terrestrial television.
Only two Scottish Cup Finals had previously been on television – Celtic v Clyde in 1955 and Falkirk v Kilmarnock on 1957. Since then it had been a closed book. Even on occasions when a six figure crowd had pledged to turn up by buying tickets, the SFA said "No". The reasons were specious and seemed to owe a lot to the Calvinistic desire to prevent people from being happy – a very Scottish quirk – and there was the additional humiliation that they would not let us watch the English Cup final either, even though the rest of the UK enjoyed that privilege.
But in 1977 things had changed. The Scottish Cup was sponsored, the sponsors insisted on live TV coverage of the final and money talked very loudly indeed, drowning out those who had talked about "principles" and "integrity". BBC and Archie Macpherson were there, and so were we all, even those of us who didn't go to Hampden on that awful day.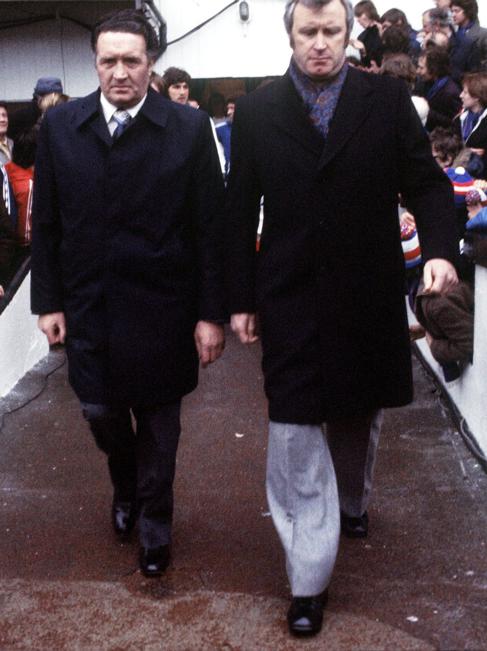 Hampden in 1977 was (and would remain for another two decades) a disgrace. Inadequate catering, insanitary toilets, no cover at the Celtic End, puddles of rain water where you queued up for the rusty turnstiles – were all good reasons why many of us decided that there was no place like home on 7 May (I was there -Ed!)
Celtic were the clear favourites. They had won the League a few weeks back, and it looked now as if another good team was being built up after an indifferent 1975 and an awful 1976. Jock Stein had had a year off after a nasty road accident, but had now returned, his acumen and sheer football knowledge being observed in the players that he bought. Joe Craig came from Partick Thistle, Pat Stanton, apparently "finished " and out of favour at Hibs, came to Celtic Park to play the best football of his life and then, spectacularly, Alfie Conn came from Tottenham Hotspur.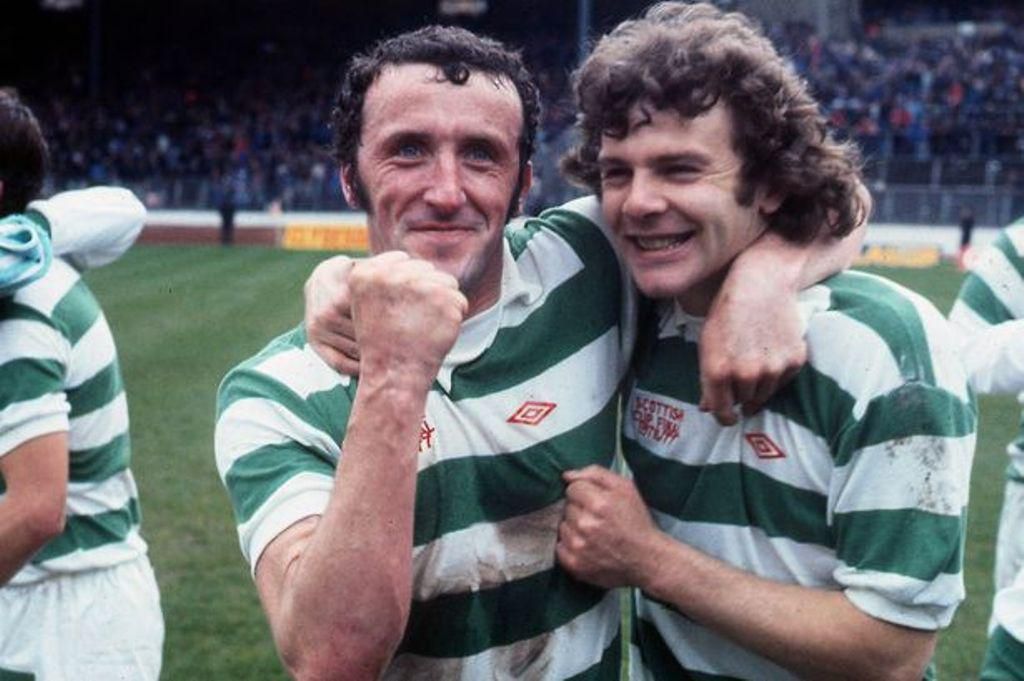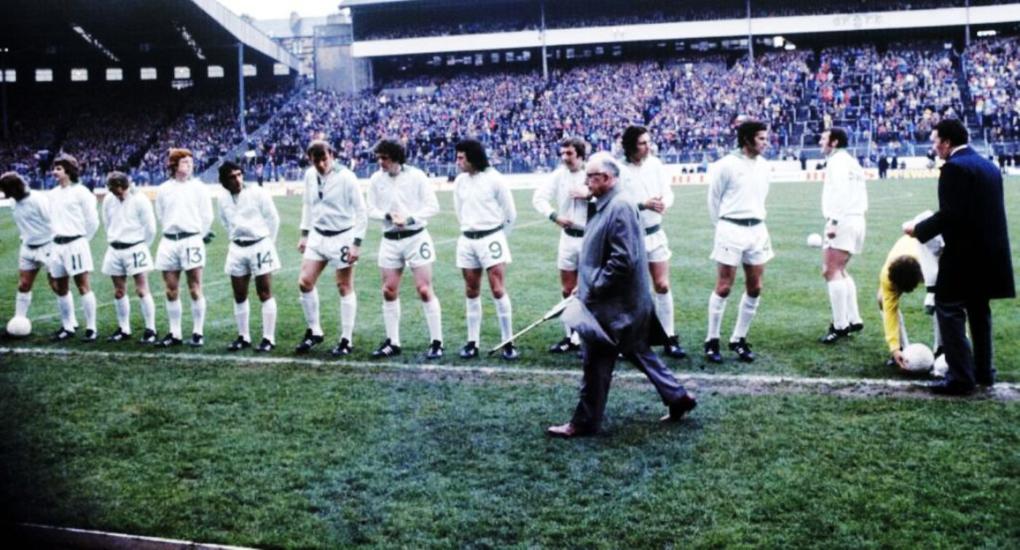 The problem about Alfie was that he had once played for Rangers. But was that a problem? Not really. Jock had consulted Danny McGrain and Kenny Dalglish and the three of them thought that there would be no problem with Alfie at Celtic Park. And neither there was. On his first game at Parkhead he was given a hero's reception and the crowd sang  something quite similar to "He used to be a One but he's all right now, Alfie, Alfie Conn!"
Rangers, on the other hand, were in a mess. It is not often that albatrosses hang round the necks of dinosaurs, but the mixed metaphor is appropriate here. The team played badly, and after a friendly game in England in which their fans rioted (not for the first time or indeed the last), they suddenly announced that they would now sign Roman Catholics. They had been under pressure on this issue from informed opinion for some time. But it was an empty, meaningless declaration, for they didn't immediately go out and buy a player of that persuasion. But oh, how it upset their supporters! They stayed away.
Celtic had reached the final by beating Airdrie, Ayr United, Queen of the South and Dundee in an undistinguished passage, and were without Ronnie Glavin who had injured himself when playing for Scotland – to the intense anger of Jock Stein. Stein also decided to play Edvaldsson in the forward line instead of the young Tommy Burns, while Johnny Doyle was also rested in favour of the talented but inconsistent Paul Wilson.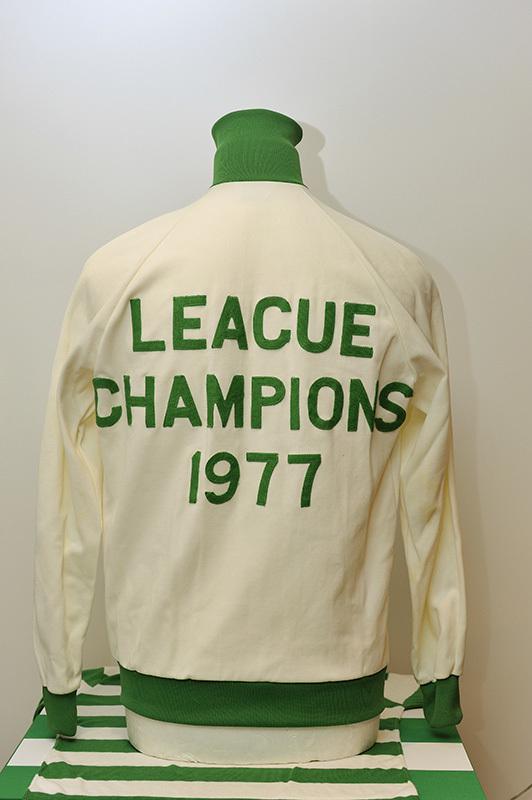 Stein made sure that the tracksuit jackets worn by the players in the warm up had "League Champions" on them, and several times in his pre-match interview mentioned "League Champions" as well. He knew how to win the propaganda battle, being charming to the Press and public as distinct from the brusque and boorish Jock Wallace who did not come across on television as well as Stein did.
The morning newspapers tended to go for a Celtic victory on the grounds that Celtic had more flair players than Rangers did. McGrain and Dalglish were the ones mentioned, and it was also felt that the double centre half pairing of Roddie McDonald and Pat Stanton, with a little help from the young Roy Aitken, might be enough to contain whatever Rangers could throw at them.
The weather remained wet, cold and unpleasant, and the atmosphere with empty spaces on the huge terracing was a million miles away from what one would have expected in a Scottish Cup Final. Celtic started playing towards the Rangers supporters, but the first phase of the games showed little for commentator Archie McPherson to get excited about, hard though he tried. Defences were clearly on top. One or two tackles were possibly a little more enthusiastic than what would have hoped for, but referee Bob Valentine wisely allowed a little for the wet ground and the general tension of the occasion.
It was in the 20th minute when it all happened. A corner kick from Conn found McDonald whose attempt was only partially cleared by goalkeeper Stewart Kennedy. The ball came to Johannes Edvaldsson whose shot was stopped on the line by Derek Johnstone. Ah, but how? Well, if you support Rangers, it was his knee, and if you are a lover of the green and white, it was his hand. TV coverage remains inconclusive some 40 and more years later, but Mr Valentine thought it was a penalty, and he was the only one that mattered. His decision earned him the nickname "Bob Vatican" from the boys in blue!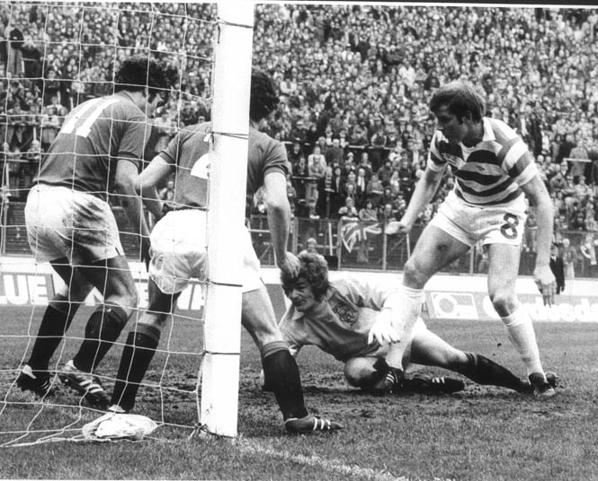 Celtic now had a problem. The regular penalty taker, Ronnie Glavin, was out of the side, so would it be captain Dalglish? No, Andy Lynch stepped up to the mark. A few weeks ago, the luckless Andy had managed to score two own goals in a game against Motherwell, but today he calmly faced the baying Rangers supporters, and fired the ball home to the keeper's left.
Celtic were thus in the lead. A long time to go, but Celtic now only had to retain the ball, and the Cup would be theirs for the 25th time. Tackles were fierce and hard, flair and silky football were distinctly absent, but half time was reached with Celtic still 1-0 ahead.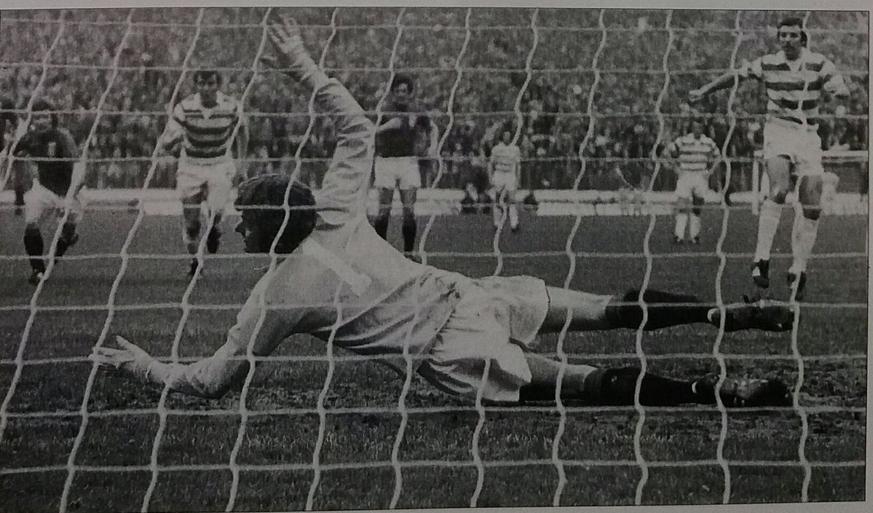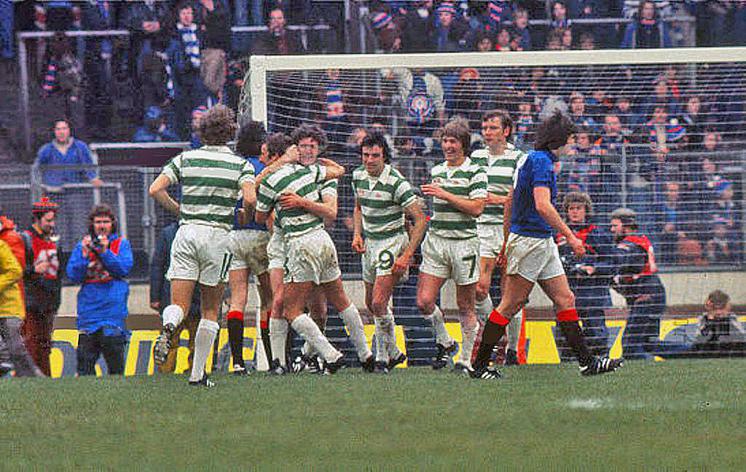 The lack of good football was equally marked in the second half. It soon became apparent that, although no football game was over until the referee's whistle, Rangers simply lacked the ability to force a win. Any goal that came would have to be through a mistake in the Celtic defence or a lucky break, and that did not look like happening with Pat Stanton in charge of the defence. Edvaldsson totally nullified the potential aerial threat of Derek Johnstone, and Celtic's midfield won far more battles than it lost.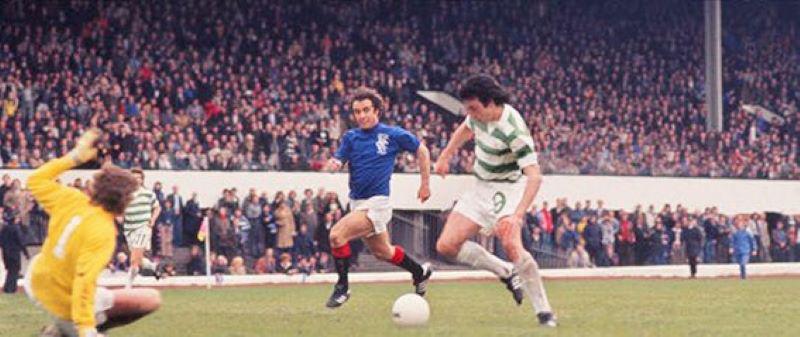 Indeed it was Celtic who had the better chances, two that really should have been put away. One was when Joe Craig was clean through and put the ball past the post, and other was then Paul Wilson miskicked with the goal at his mercy. Against that, the only time when Celtic hearts missed a beat was right at the death when Rangers young substitute Chris Robertson hit the junction of the bar and the post.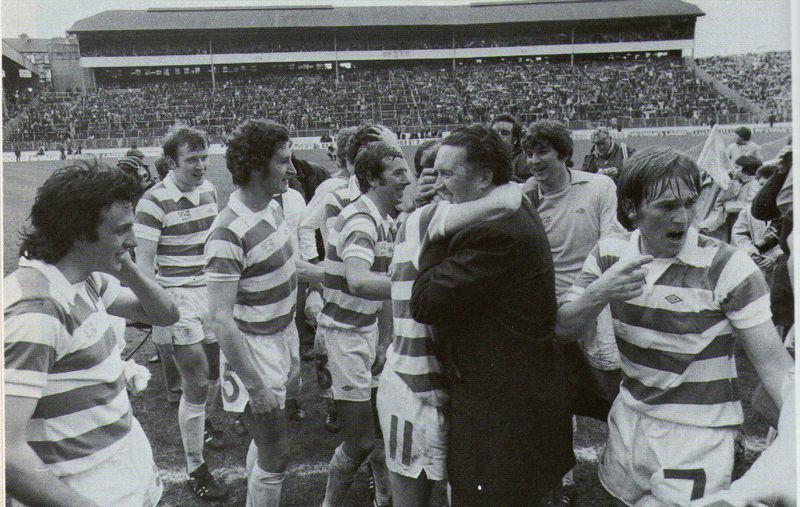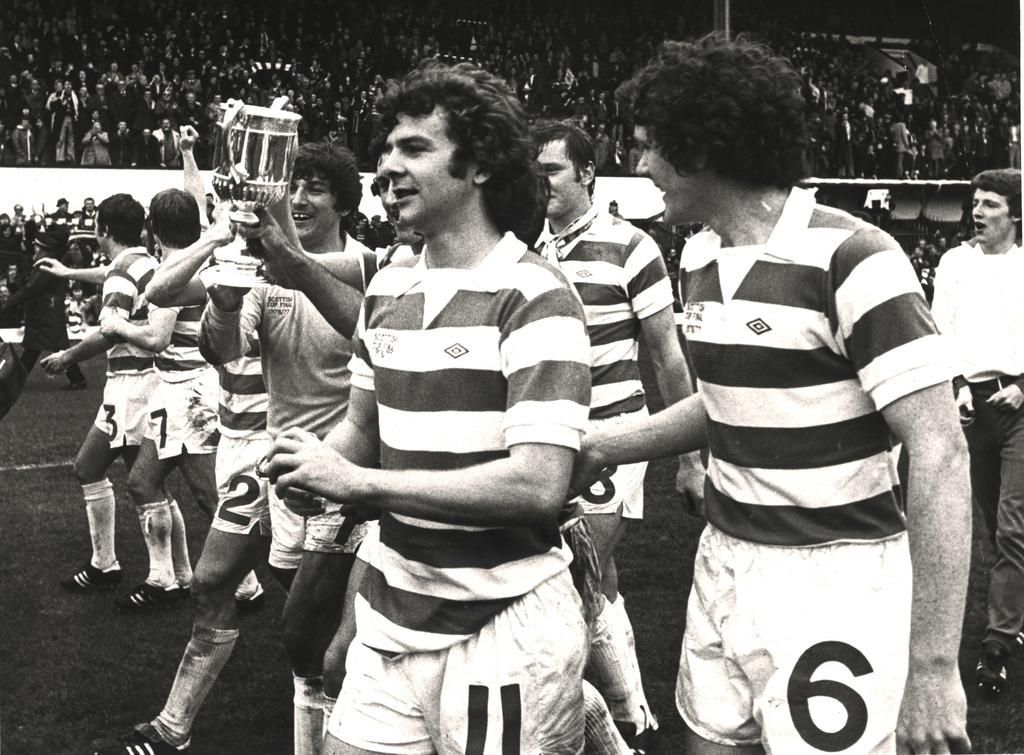 The final whistle saw great delight on the wet East Terracing and in Celtic households. There was no trouble inside the ground (as there would be three years later in 1980) but there was quite a great deal of disorder in the streets around the ground with 137 arrests made. 1977 was a bad year for football hooliganism but a good one for Jock Stein and his revived Celtic.
And yet, the seeds of destruction were already sown. No-one could have imagined as Kenny Dalglish received the Scottish Cup (he actually lost his medal which had fallen into an umbrella as he was showing some disabled supporters the Scottish Cup) that he was already contemplating departure, something that would destroy Celtic's 1977/78 season more or less before it started and lead indirectly to the downfall of Jock Stein who couldn't cope with it all.
But that was next year. For the moment, there was the Scottish League and the Scottish Cup to savour. Celtic had now won the trophy 25 times. It was by no means one of their more spectacular Cup finals, but it was to be enjoyed nevertheless. Celtic and Rangers had now crossed swords in ten Cup finals. Celtic had won in 1899, 1904, 1969, 1971 and now 1977, whereas Rangers had been successful in 1893, 1928, 1963, 1966 and 1973. 1977 brought a very satisfying Double to Celtic supporters.
David Potter
*Photos courtesy of the wonderful Celtic Wiki.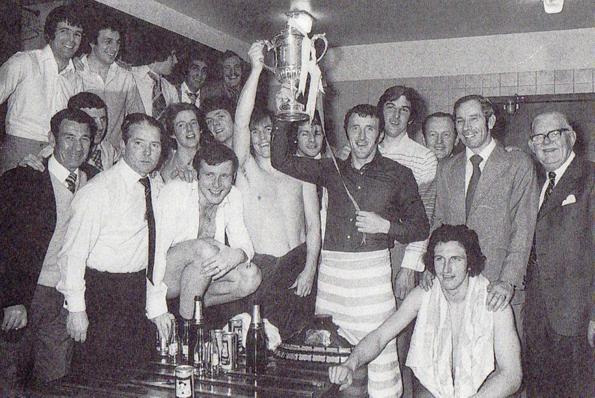 Scottish Cup Final – Hampden Park, 7 May 1977

Celtic: Latchford, McGrain, Lynch, Stanton, McDonald, Aitken, Dalglish, Edvaldsson, Craig, Conn, Wilson

Rangers: Kennedy, Jardine, Greig, Forsyth, Jackson, Watson (Robertson), McLean, Hamilton, Parlane, MacDonald Johnstone

Referee: Mr R Valentine, Dundee

Attendance: 54,252

Coming soon from David Potter on Celtic Star Books – Alec McNair -Celtic's Icicle