Scottish Cup quarter-final, Celtic Park  – 21 February 1970…Putting Them Out of The Scottish Cup

– "Players summoned to SFA, Police headquarters and Glasgow Corporation to be told that their behaviour was a disgrace," David Potter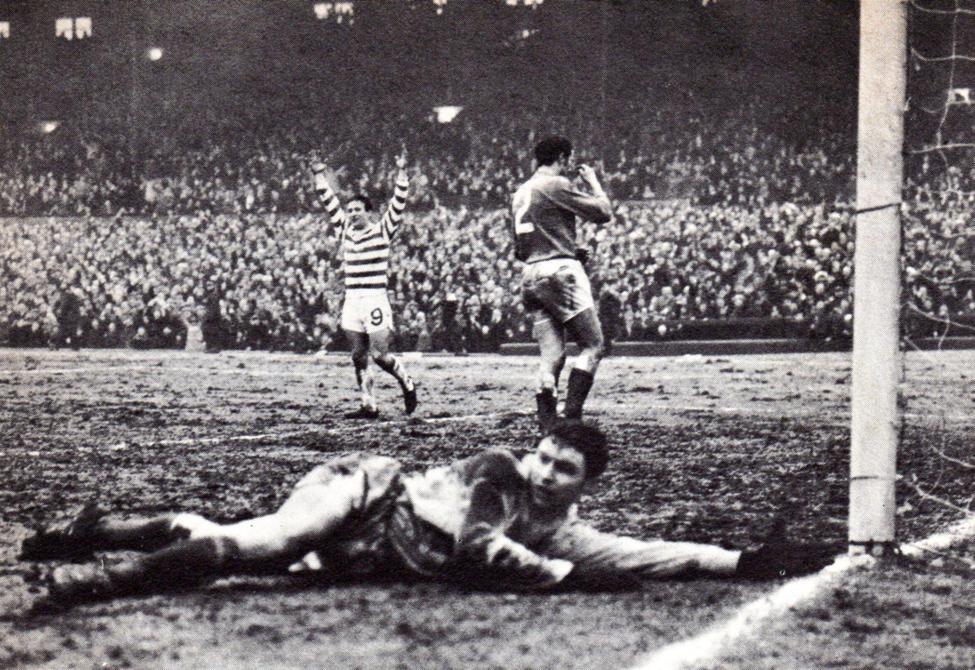 1970 was the year that Celtic might have repeated 1967. Still going strong in Europe and about to play Fiorentina in the quarter final of the European Cup, Celtic were also comfortably placed at the top of the Scottish League, had already won the Scottish League Cup, and today was the day which would tell us which of the Old Firm would remain in the Scottish Cup. Celtic had already defeated Dunfermline Athletic and Dundee United in this competition, while Rangers made rather too much of their, admittedly spectacular, defeat of Forfar Athletic.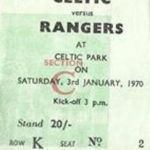 Rangers were not having things anything like as well as Celtic were, and late in 1969 in the wake of a European exit, they had sacked David White and appointed Ibrox legend Willie Waddell as Manager. Waddell had been a highly successful Manager of Kilmarnock, but in recent years had been writing for the Scottish Daily Express, a position which he had used to attack and undermine his predecessor David White in a particularly unsubtle way. But now he had the job he had always craved, and results began to improve, although the Old Firm game at Parkhead on 3 January had proved little – a dull, cagey 0-0 draw on a frosty pitch – and possibly one of the least interesting Old Firm games of them all.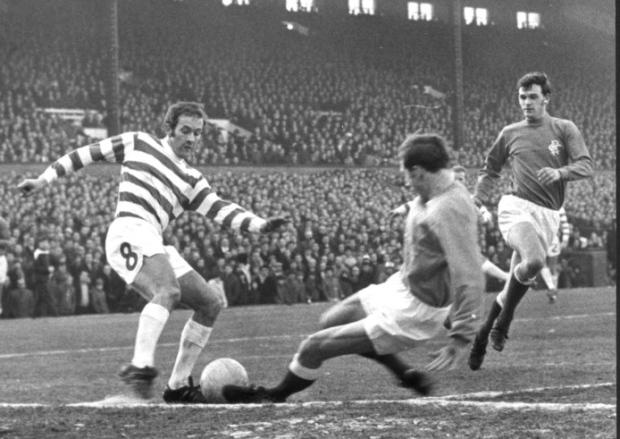 Frost and snow looked as if they might prove a problem in this Scottish Cup tie as well, for the weather was hard in the week leading up to this game, obliging Celtic to move to the Ayrshire coast at Seamill Hydro for their training. But then on the Friday, the weather broke as a westerly airstream brought rain, and loads of it. The result was that the pitch changed overnight from an ice rink to a quagmire, but it was perfectly playable. It was indeed a typical Glasgow derby, played in traditional Glasgow weather.
The build-up tended to focus on Rangers and asked the question whether, with Waddell now at the helm, Rangers could win back some sort of supremacy from Celtic. Jock Stein, on the other hand, was deliberately low key about this game, trying to imply that the really important game on the horizon was the forthcoming clash with Fiorentina in the European Cup rather than Rangers in the Scottish Cup. That was for public consumption. What he said and did with his players in private at Seamill Hydro was a different matter altogether. The fans themselves were in any case more interested in beating Rangers than anyone else.
Alcohol was normally allowed at football matches in 1970, but for Old Firm games including this one, it was now banned. So too were banners and flags. Neither of these two bans were totally successful however, for there was evidence of both in the 70,000 crowd which packed Parkhead. Sean Connery (James Bond) called himself a Celtic supporter in those days (he would change his mind in later years) and he was seen in the stand along with his wife Diane Cilento, but he was not the main focus of attention today. He did try hard to become so, but even James Bond had to yield to a Celtic v Rangers game!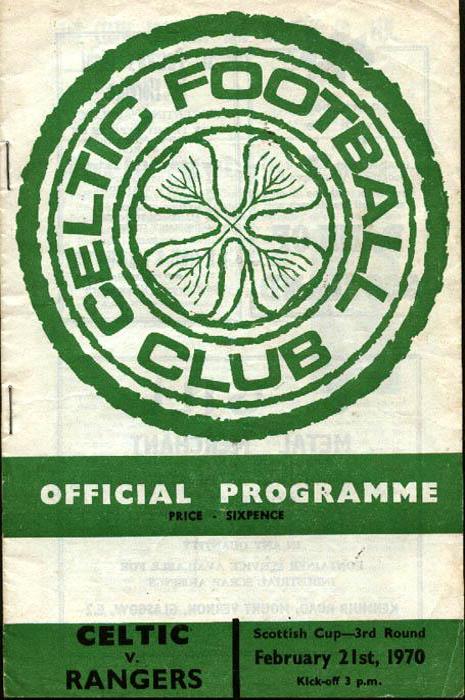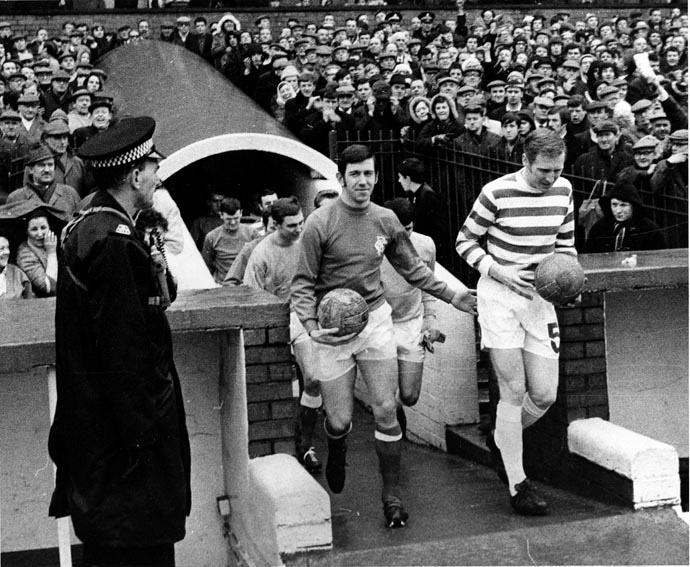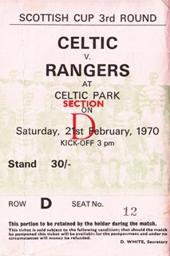 The teams came out together as normal in Old Firm games (in other games at that time, they came out separately) and it was immediately obvious that the pitch was going to cut up very badly from the stud marks on the turf as they walked out. Stein had decide to play John Hughes (always a good player on heavy ground), and he also included young Davie Hay who normally played at right back, albeit an attacking full back, but today he played Jim Craig in that position and included Hay in the midfield. This would be a sensible and even inspirational move.
Within five minutes, controversy was in the air. First Celtic, attacking the Rangers end goal, had a Lennox shot cleared off the line by Willie Mathieson, but it looked to some journalists and neutrals that the ball may have been over the line. However given the muddy conditions, it was difficult to say, but then immediately after that, the game erupted and bad feeling would now persist throughout the whole game. Jim Craig had the misfortune to score an own goal as the wet ball spun off his foot. That was bad enough but then he was "congratulated" by Willie Johnston and Colin Stein for so doing. Not unnaturally, he reacted to that. McNeill complained bitterly and lengthily to the referee about it, and was given a long talking to.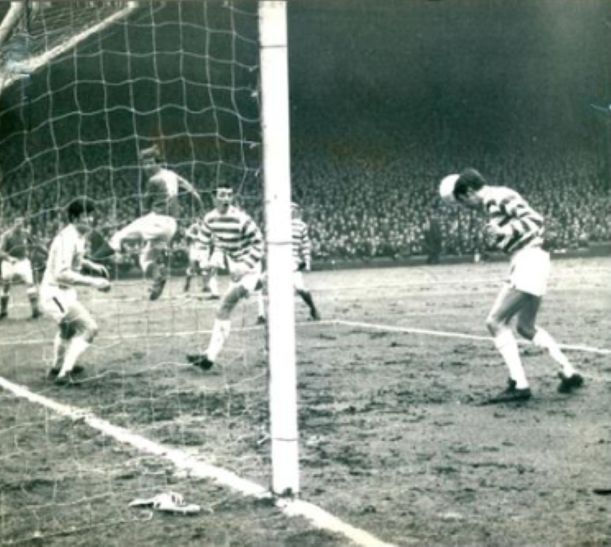 So Rangers were 1-0 up, the crowd was in a ferment, and the players were all angry. Only five minutes gone, and the next 85 would show some of the worst of Scottish football in terms of tackles and elbowing, but it would be a game from which Celtic emerge triumphant. Mr Wharton was a key figure in all this. He possibly made a rod for his own back by not taking stronger action against the two Rangers players who "congratulated" Jim Craig, but he then went on to have a good game, not being afraid on several occasions to use his considerable bulk to break up potential clashes between players.
One would have imagined that Mr Wharton, with his middle class background, would have been a Queen's Park supporter. He was certainly not pro-Celtic, nor pro-Rangers that day, and with a weaker referee, this game might have seen real serious trouble. But say what you want about "Tiny", he was tough.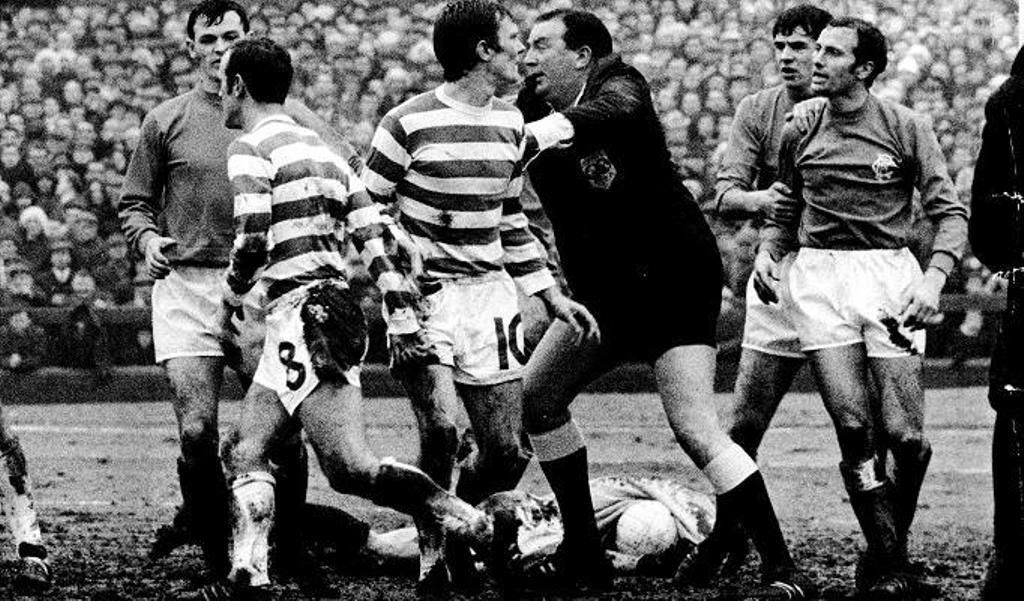 Celtic equalised just before half-time. Jimmy Johnstone and Davie Hay teamed up to send over a long ball looking for John Hughes. Hughes missed it but the ball came to Bobby Lennox who managed to squeeze the ball past Neef from the tightest of angles, and to make the score 1-1. Half time brought some relief to the exhausted players and indeed spectators, but it was seen as the players made their way down the tunnel that vendettas were continuing.
Soon after the interval, we had a major "handbags" moment after Neef saved from Lennox. A melee developed, caused to a certain extent by players being unable to stop themselves on the wet turf, everyone started pushing each other around, a few fists were seen, but Mr Wharton managed to impose some sort of order, and wisely took no action other than stern words to all concerned. A case could, nevertheless, have been made for several on both sides to get "the long walk".
The football then resumed for a spell, but then just on the hour mark, the game erupted once again. The referee had to take action when Alex MacDonald went in hard on goalkeeper Evan Williams and was then confronted by Jim Brogan. MacDonald was rightly sent off, but some of the Rangers supporters felt that Brogan should go as well. A few illegal bottles and cans appeared on the track and some pathetic specimens of humanity appeared on the track as well, presumably fancying a riot, or perhaps trying to avoid the bottles and coins thrown by their own supporters.
Order having been restored, Celtic now had the extra man. There was now a welcome concentration on trying to score goals, as Jock Stein was clearly seen telling his men to calm down, and all would be well. 11 v 10 men should be significant on a day and a pitch like this. But the bookings continued. Willie Mathieson tripped up Jimmy Johnstone, and both captains ended up in the book as well – Billy McNeill for arguing excessively.
But as the game approached its closing stages, it was clear that Celtic were gaining the ascendancy. Rangers would have been very happy with a draw and an Ibrox replay, but Celtic who feared fixture congestion given their European commitments, went for a win, and with five minutes to go, those who thought that David Hay was a class player were proved correct as he hammered the heavy ball home from 25 yards to give Neef no chance.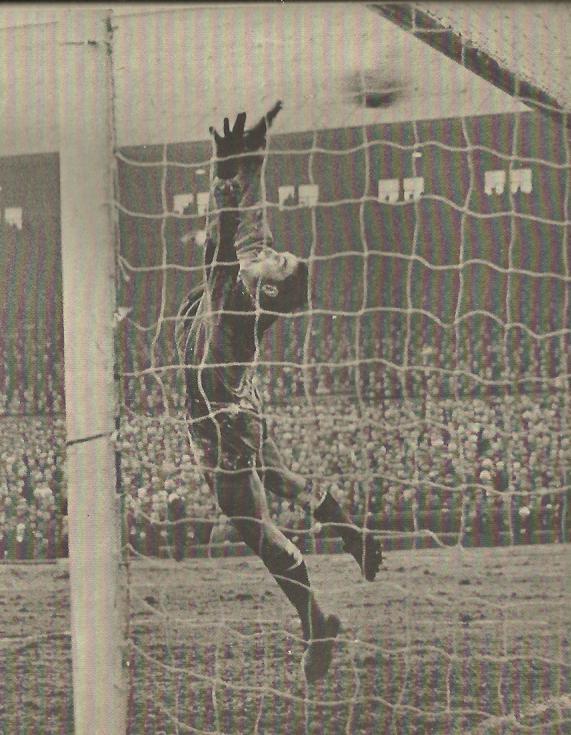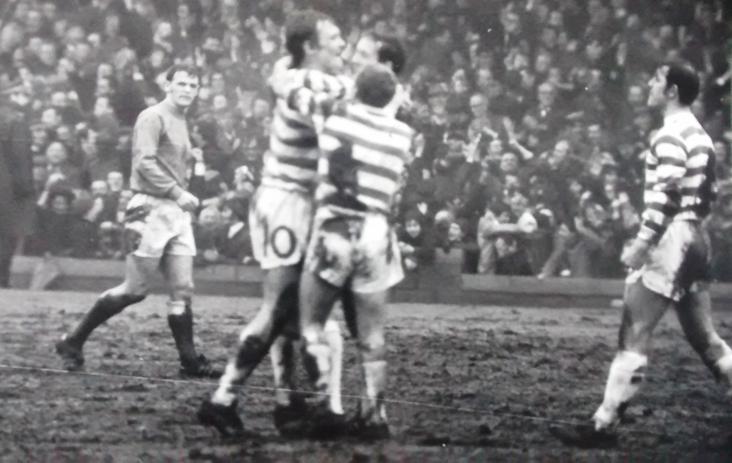 Parkhead erupted at all this, and one sensed that Rangers knew they were beaten. Apart from anything else, they were exhausted and had indeed been outplayed by Celtic for whom Bobby Murdoch had been outstanding in midfield. Bobby was not a man to be pushed about, but he also had enough sense not to get involved in anything silly and he concentrated on the football.
Another man who was targeted was Jimmy Johnstone. In his younger days, Jimmy might have retaliated (as he did famously on New Year's Day 1965), but today he ignored it all, and it was somehow fitting that with the Rangers now reeling and their supporters disappearing, it was Jimmy Johnstone who ran through and scored the third goal to remove any possible doubt about the outcome.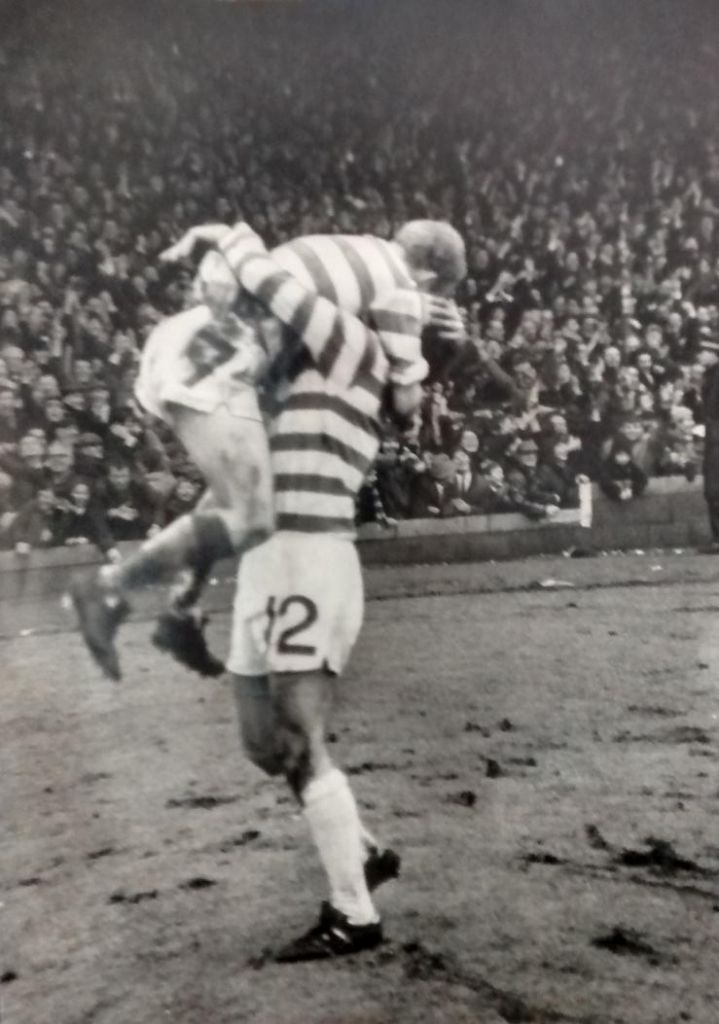 And so Celtic were into the semi-final of the Scottish Cup, while Rangers' season more or less ended there and then. The match however had some repercussions with some players being summoned to SFA headquarters, Glasgow Police headquarters and even Glasgow Corporation to be told that their behaviour was a disgrace.
Politicians got involved as well – there was, after all, a General Election coming in the summer! – but the general reprimand was about as successful as past or future attempts to stop trouble at Old Firm games! Celtic now moved on, duly won the Scottish League about a month later to no-one's surprise, but their Cup adventures at Hampden and Milan in 1970 were a lot less successful. The season did not end well for Celtic.
David Potter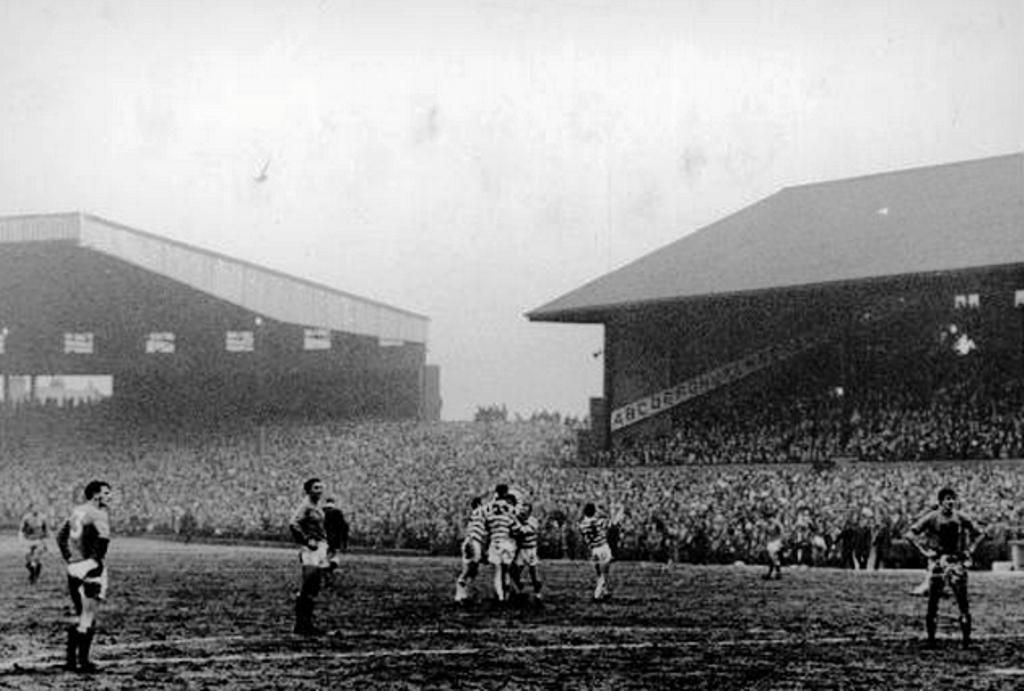 Scottish Cup quarter-final, Celtic Park – 21 February 1970

Celtic : Williams, Craig and Gemmell; Murdoch, McNeill and Brogan; Johnstone, Lennox, Wallace, Hay and Hughes (Hood)

Rangers : Neef, Johansen and Mathieson; Greig, McKinnon and Smith; Conn (Henderson), Penman, Stein, MacDonald and Johnston

Referee; Mr T Wharton, Newton Mearns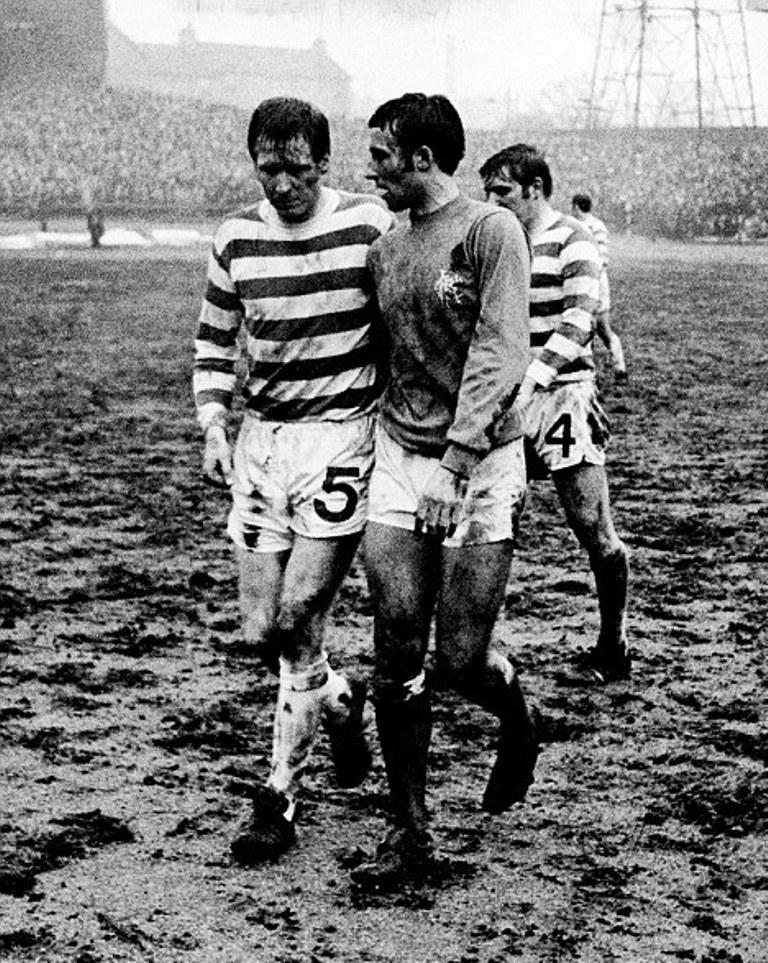 Coming soon on Celtic Star Books…