When football managers make a strange tactical substitution or choose a formation that doesn't quite work, or when a moment of genius leads to an in-game switch that leads directly to a winning goal, the paying punter within moments of the game ending gets to hear just why those decisions were made.
Sadly, when a referee's judgement impacts on the outcome of a result, we hear nothing but the sound of silence. Why is that? Why are match officials afforded protected species status but players and managers expected to explain themselves?
When it comes to transparency and accountability in plain view it would be progressive to hear the thought processes of match officials after games. Much like television contractual requirements ask for a manager to be available to give his post-match views on how his ream has played, it would be illuminating to hear just why an official did or didn't give a particular decision and the road travelled that led to that final call.
Sadly, where there is such transparency when it comes to the managers of football teams there is no such insight offered to the watching public when it comes to officials. It is very much a closed shop. A bit like financial fair play in Scottish football, the inner workings of accountability appear hidden from view.
As with so many things in life when you get nothing but silence rumour and conjecture, all the way to full blown conspiracy theories, fill the gaps.
The SFA appointment of referees and other match officials are made public in advance, but that is about as much insight into that match day official as any supporter gets. Are they chosen geographically, based on a league table of performance or are the names pulled from a hat?
How are they assessed? I mean we know they are, but by what criteria? If they hit a purple patch are they fast tracked from Alloa to Aberdeen? If their performance hits the skids is there a level of promotion and relegation between the grades that sees them drop from Celtic to Stranraer? If they make a series of howlers in the Scottish premiership do they drop down the grades or are they offered the opportunity to play through a bad spell of form?
Some knowledge of the inner workings would be beneficial, however even in the absence of it, it would be good to hear, after a period of reflection and calm to pass, just why a referee made certain decisions in any given match.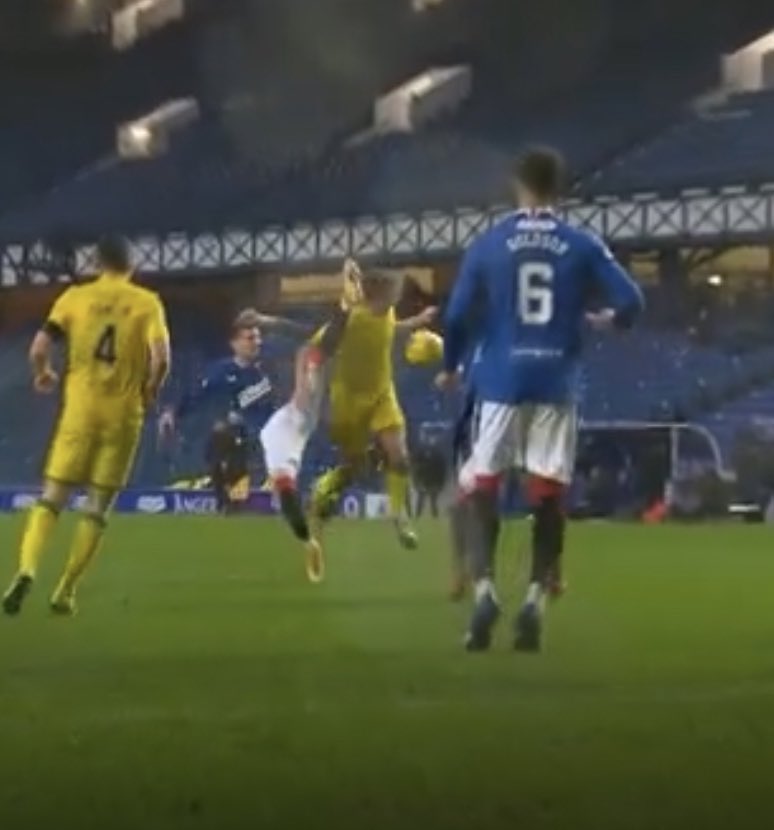 Could it be he was unsighted, did he take a lead from a better placed assistant, did he choose to make the call himself as he felt the decision was marginal and wanted to ensure he took full responsibility, did he perhaps just get it wrong?
Take Willie Collum's performance at Ibrox yesterday. It would be interesting indeed, when pictures show an unobstructed view, why Ianis Hagi's foot moving at head height towards Joe Newell and connecting is not deemed a penalty, or why James Tavernier's click of Ryan Porteous heels inside the box was missed later on.
There must have been a thought process for both and there are many, many paying supporters – you know the ones that keep the sport alive and pay the wages of all the players, managers and officials be it via the gate or by television subscriptions – who would like to know how and why decisions that impacted a game as much as their managers' tactical and personnel decisions were arrived at.
Yesterday Jack Ross at Hibs set out his team that lost by a single goal at Ibrox. Despite leaving with nothing the Edinburgh club appear to the layman to have been denied two opportunities from 12 yards to beat Alan McGregor in theRangers goal.
Those decisions at that particular moment could have been the difference in Hibs going second or fourth in the league race by the time the final whistles sounded in the rest of the Premiership games.
At next week's board meeting, instead of Ross being lauded for his performance he'll be asked what he'd do differently to avoid defeat in Glasgow in the future, when had the game been refereed correctly or the officials had explained their decision-making process, it would be public knowledge that perhaps Ross had done enough to draw, even win the match and that his key performance indicators had perhaps been exceeded rather than being off target.
Those decisions yesterday also had an impact in the title race. Celtic are playing catch up and were due to play straight after the game at Ibrox. Celtic started that game with a nineteen-point deficit. Should it have been sixteen? Should Celtic today be thirteen points behind and with three games in hand just prior to their own visit to face theRangers. It's a big deal isn't it?
And as we said earlier, without decisions being explained the rumour and conspiracies fill the gaps, and understandably so. In the absence of an explanation, it looks like a referee with the perfect view of two penalty decisions, and with another three officials there to support him, chose to ignore clear infringements that impacted positively on the home team and negatively on two other sides, both of whom happen to be involved in the title race.
As a club Celtic can and could do more to question such incidents, and we'll touch on that in another article, but perhaps the whole of Scottish football would benefit if the professionals making the decisions were able to explain themselves after a game. Who knows they themselves might even want to do just that. Perhaps.
Niall J