THE CLUE is staring them in the face every single time they play at home. It's there in big letters on these gates at their Govan ground. All that they have to do it take a note of what it says on the Ibrox Gates and go onto Companies House and check what it says.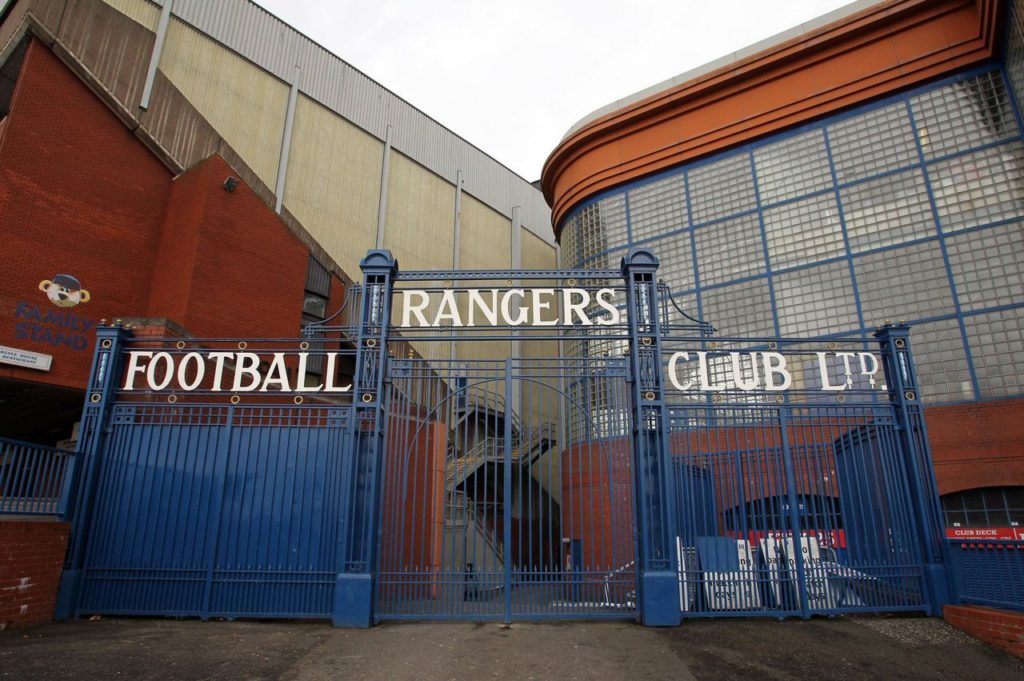 Status is active. Date of Incorporation is 29/05/2012 and the name is actually THE RANGERS FOOTBALL CLUB LIMITED. (Thus the reason that The Celtic Star always refers to them as The Rangers).
The old club that went into liquidation had its name changed – the link from the official Rangers website is below – after the club's attempt at achieving a CVA failed in June 2012; thus consigning the club formed in 1872 to liquidation.
In Si Ferry's lengthy but enjoyable interview with former Celtic Star Peter Grant, the two former players discussed various topics that have already been featured extensively in the papers. We've had stories about Di Canio, stuff about Souness and a funny story about the night Tommy Burns, who didn't really touch alcohol, got himself drunk within half an hour of leaving the house and was sent back home in a taxi.
You can watch Si's interview below or maybe you've already read some of the various articles.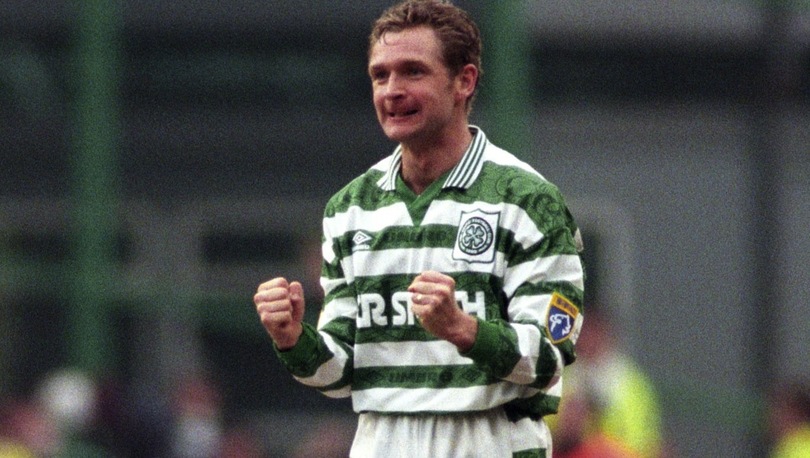 Si Ferry Meets Peter Grant – Love Street 86, Centenary season, 'The 90s', Coaching with Celtic and Scotland…watch HERE.
However one other subject that was discussed and is worthy of our observations, was when Peter Grant, a Celtic player at the time, talked about Fergus McCann's Revolution at Celtic and all the events that surrounded the club at that time, before, during and after the removal of the old board and the beginning of the Fergus McCann period in control of our football club.
The Evening Times, rather surprisingly, picked up on this aspect of Si Ferry's interview, while the rest of the papers busiest themselves with the rest of the content but stayed well clear of this most troublesome subject for the Scottish media. Their Big Lie…
The ET headline reads as follows: "Celtic hero Peter Grant claims Hoops fans would never 'let their club die' as he hails Fergus McCann" and some of what the former Celtic player, now manager at Alloa, is worth outlining.
"Fergus was a quiet man who liked his own company but true to his word he said 'in five years we'll have this, this and this'. Every one of them came true.
"The supporters would never have let that club die, never in a million years. Celtic is their life, it's why the son and the father go their holidays together to watch the team in pre-season and the mother and daughter go to Spain. That's their life.
"Celtic would never have died and been in the situation that other clubs have been in. The supporters would not have allowed that to happen.
"I'm delighted Fergus came in, he had a fantastic vision and he stood by it. Within five years everything he said came to fruition."
These quotes from Peter Grant from the Si Ferry interview were all used in the Evening Times article, which is fair enough. However the way the Glasgow evening newspaper introduced the story is worth mentioning – and bear in mind Peter Grant was speaking about Celtic, with just one reference to an unnamed other club.
"Peter Grant believes Hoops fans would never have allowed their club to get themselves into the same fiasco Rangers found themselves in 2012.
Gers fell into Scottish football's Third Division after financial mismanagement and were plunged into administration.
The club were led by Craig Whyte but fell foul of poor management." the Evening Times journalist wrote.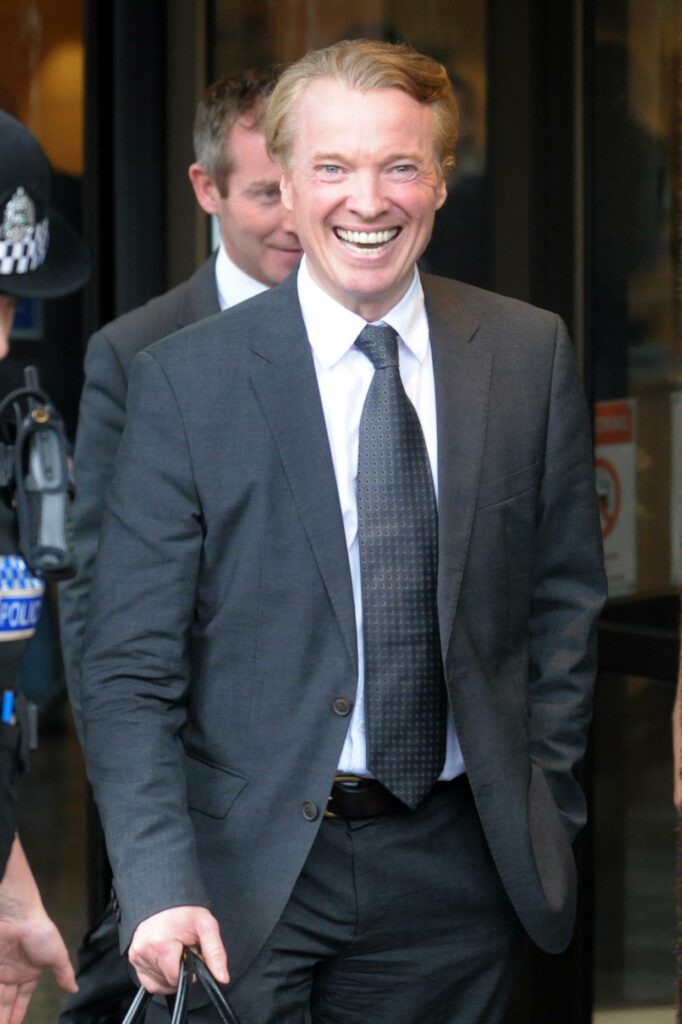 Where is the mention that after Administration there was a failed CVA and the club was thereafter placed into liquidation? Where is the mention of the unlawful tax scam which was finally determined at the Supreme Court in London – the highest court in the land – that is in the news today for other reasons?
You are starting to see why the other papers all stayed well clear of this, when the uncomfortable truth has to be avoided at all costs. But even this sanitised, euphemistic prose isn't enough for the Rangers support who simply refuse to believe the events we all witnessed in 2012, actually happened.
One of their fans took exception to the Evening Times article, tweeting this reply.
"The Rangers fans never let their club die the fact are we are second in the league our second season in a row in the Europa league got one of the highest profile managers in charge selling out ibrox every home game even when we where illegally demoted that's not a club that died," Andy Lacey wrote.
The Rangers fans never let their club die the fact are we are second in the league our second season in a row in the Europa league got one of the highest profile managers in charge selling out ibrox every home game even when we where illegally demoted that's not s club that died https://t.co/NW3a9GT0Ve

— ANDY LACEY???????? (@knighthawk1970) September 17, 2019
Some of responses he received to report on, the first from Auldheid.
"If "illegally demoted" why are your club not suing the SPFL? There was nothing to demote, illegal or otherwise. Rangers 18?? ceased to be, like the Norwegian Blue parrot. It's your parrot. Keep it. Dont try to flog it to others," Auldheid stated.
"Ha ha ha, ye's walked away and let chucklesaplenty (Charles Green) buy a carcass that he renamed "The" rANGERs.. Ya gullibilly haufwit," Only2Togo added.
"Why were you demoted?" CelticQuote asked.
On the same point, Ped Bolingoli asked, "Demoted? Why did they have to apply to get into the league structure?"
"Absolutely deluded," added Tommy Bhoy.
"Celtic would never be allowed to pretend that liquidation didn't happen. We all know the facts," 45% Stood Tall wrote.
"You are quite right, Andy. Rangers fans didn't let their club die. It was already too late for Rangers fans to do anything about it because the media didn't tell you how bad it was. They died with a whimper," Scottsman78.
Martin O'Donnell told the Rangers fan that he could easily win this argument. "Andy show us one of these.. let's face facts here, you are a new club and your fans did let their club die".
Andy show us one of these.. lets face facts here, you are a new club and your fans did let their club die pic.twitter.com/LCbv2HbjM5

— Martin ODonnell (@martin_od1888) September 17, 2019
— Glasgows Bolingoli's ???? (@McKinnz88) September 17, 2019
"Even Hearts saved their club!" Geo Thomson Art noted.
"Yer club's deid mate, beat it," Mike Ashley added.
"Your club was liquidated and you stood idly by and let it happen. Even Hearts saved their club. But that's Rangers fans for you, all mouth," CaptainDandy stated.
"Why show liquidation the red card? If it didn't mean anything, why don't all clubs liquidate and avoid their debts and continue as if feck all happened. Rangers got liquidated like Gretna, a new phoenix club doesn't change that." Balloondooringoli-Mbombo wrote. "Ignored them, sank them, started a newco. Yet nothing happened at their peril. Rangers fans did nothing they said they would.
"The UK governments companies house says The Rangers were formed in 2012 and Rangers fc formed in 1872 are currently in liquidation."
Ignored them, sank them, started a newco. Yet nothing happened at their peril. Rangers fans done nothing they said they would ???????? pic.twitter.com/8zHvsyCPc6

— Balloondooringoli-Mbombo (@Balloondoor1) September 17, 2019
""Illegally demoted". You should definitely start a class action. Point of order though Andy. When BoS was about to call in Celtic's debt a Celtic fan deposited £1m into Celtic's account unconditionally. When Rangers went into administration your fans held a sponsored walk," James Finnell noted.
"Don't be an idiot Andy. INSOLVENCY MEANS DEAD!!! What is it about that fact that you can't actually accept? Get a grip man," Stuart Murdoch added.
"Easy tiger. you're way off track with the illegal demotion bit, liquidated, then Sevco bought the assets and changed the name of the club, the undeniable fact is Charles Green is the founding father of your 7 year old club," Frank Gallagher wrote.
"Deluded bell-end with head in the sand. They died," Stevie Ferguson noted.
"Plenty of irrelevant stats. Rangers were liquidated and forced to change name. So a new club. End of story," Mick Glasgow contributed.
"Rangers cheated their own fans, football and HMRC and they are being liquidated. You couldn't even be arsed to save your club. Rangers died and the Pars survived," Ernie McVey posted.
Demoted ???? pic.twitter.com/CMKtCgtXxQ

— Bolingoli (@greenwhitehoops) September 17, 2019
And on it goes…Didn't die? Liquidation? Demotion? Started again!…Bit of self soothing there bro. Watch that show Chernobyl and see how destructive lies can be….Answer this one question, the likes of McGregor, Naismith, Whittaker etc were able to walk away and sign for new clubs. Why was this? If the club was still going surely these players belonged to them?…A lie, no matter how often it's repeated, is always a lie, it can never be the truth. You should erect a statue to Charles Green at Ibrox because he's the one who sold the fans and the media on "the basket of goods" theory, and gave you hope, but it's still a lie…"Eh but you did? Whyte, Green and co ripped it apart. You're now a basket of assets owned by a South African criminal, being bled dry by a Geordie retail magnate…Illegally demoted! Surely a quick call to UEFA and or The Court of Arbitration for Sport, would have sorted this wrongdoing in jig time???
Andy your old team died and your new team is going the sane way. Another jelly and ice cream day coming soon

— John O'Donnell (@Johnny18882016) September 17, 2019
https://rangers.co.uk/news/headlines/name-change-meeting/
Why was the Kelty Hearts game cancelled?

1" Kelty Hearts shat it and ran away to their maws?

2″ Yer new club never had a licence/permission to play?

3″ Same club Timmy. No surrender WATP?

— AKA Cloggy (@AkaCloggybhoy) September 17, 2019
This you? https://t.co/YpGDu1XHSy

— Clare bolingoli (@ScotlandClare) September 17, 2019
Here's the Statement from Celtic Supporters that was published in the Sunday Herald on 25 January 2015, a week before Celtic played the new Ibrox club for the first time ever in the League Cup semi-final (they even brought out a t-shirt to commemorate reaching their first ever semi-final)…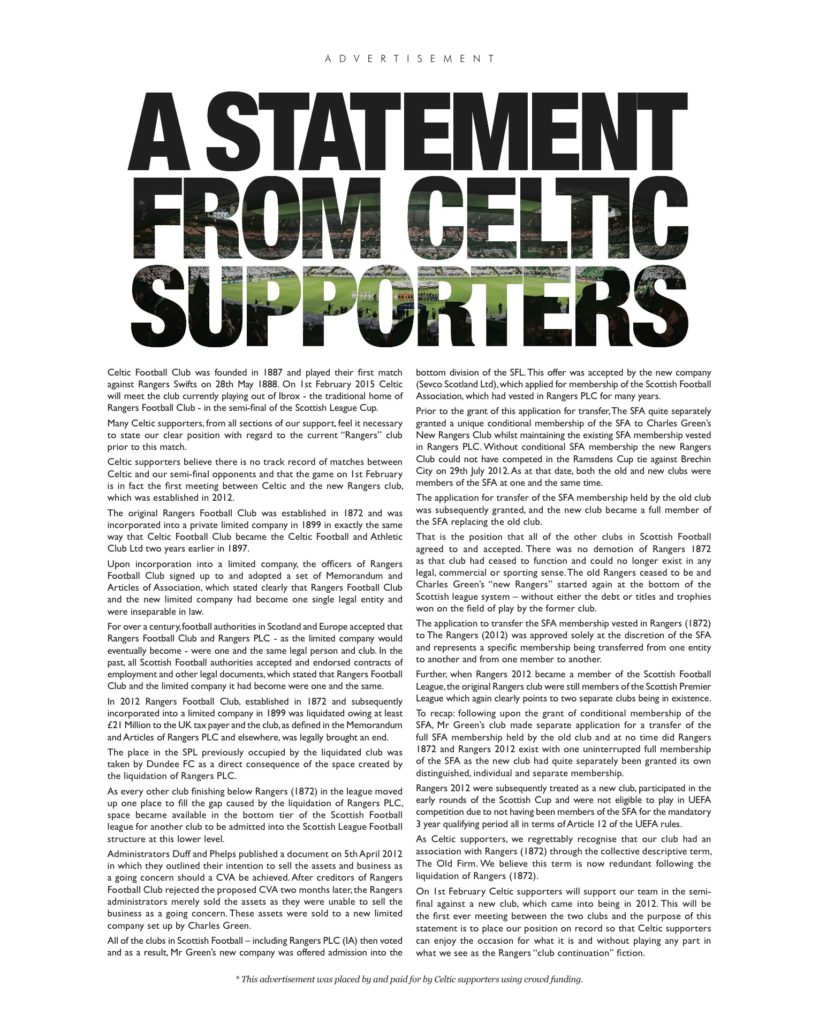 Been informed by publisher that the reason for media's lack of interest in Tangled up in Blue is that too many journos in Scotland are worried about upsetting Rangers. Doesn't come as a huge shock tbh ???? More info here https://t.co/s0YUdsKpHP @alextomo @JimSpenceSport @apmcfadyen

— Stephen O'Donnell (@StephenODauthor) September 17, 2019