When Celtic head for Spain to face our first group stage Europa League opponents there will be some links between the clubs to consider, albeit rather loose connections.
A bit of background
In 2017 Betis produced a Hooped kit in their traditional green and white colours to mark Andalusia Day, and it was chosen as one of their founders and Captain Manuel Ramos Asensio had contacted Celtic, having studied in Scotland, to request details as to where the club could get the material Celtic used and because green and white colours matched the Andalusian regional flag.
Until then Betis were rather unfortunately using a blue shirt as their home kit and although they still do for the occasional away kit the home kit has remained green and white stripes, rather than Hoops, to this day. I'm sure we can all agree the correct decision was made by Senor Asensio on that one!
There is also a strong Irish connection to Real Betis as their only title gained in 1935 came under the guidance of Irish coach Patrick O'Connell who in his playing career represented Ireland and Belfast Celtic as well as playing for Sheffield Wednesday, Hull City and Manchester United, indeed he was the first Republic of Ireland international to play for United.
There is also a further Scottish connection in that O'Connell also played 31 times for Dumbarton. Okay we'll leave it there I did say the links were somewhat tenuous!
So, what of the Betis team of today and what can Celtic expect to face when any historical and loose friendships are put to one side and Celtic kick off in the Estadio Benito Villamarín in Seville's southside?
The Season so far
In short, Celtic will face a fine side but one not without their early season troubles under Manuel Pellegrini. Los Verdiblancos defeated near neighbours Granada just last night by two goals to one, in a game the timing of which put Pellegrini's nose out of joint, goodness knows what he'd make of the SFA and SPFL if ever coached in Scotland. However, the start to the season has been far from ideal.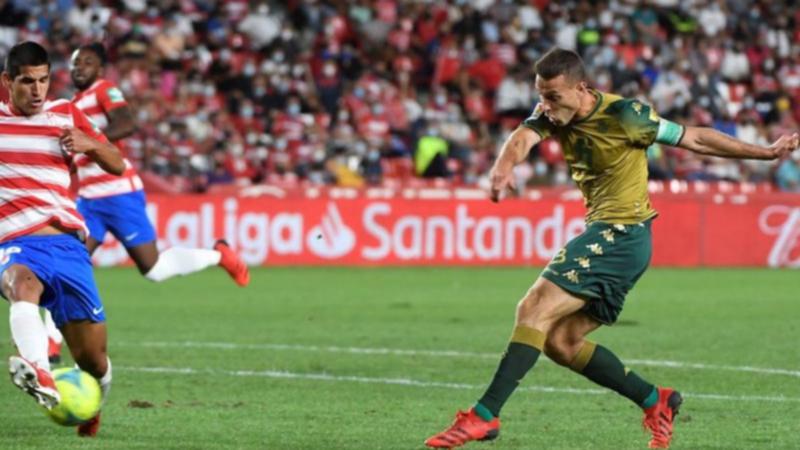 The win against Granada was the first of the season following two 1-1 draws against Mallorca and Cadiz before losing 1-0 to Real Madrid at home. As such the Granada win will have been welcome, yet the manner of it may not have been entirely convincing, and despite a defensive horror show of a first half in particular from Granada it took a late goal from Sergio Canales to grab the points after Betis had surrendered a 1-0 lead given to them by Rodri Sanchez.
There is enough to suggest in early season form that Celtic may be getting a talented team but not one particularly outstanding at a good time, however it must be said some blogger in Seville is probably writing Celtic's away form means this game is winnable for them!
How they play and who to watch
In terms of formation so far this season Pellegrini has operated a 4-2-3-1 with the standout performer Nabil Fekir playing the number 10 role, however he is also a talented wide player when called upon.
And any hope the playmaker may be rested come Thursday night, after Pellegrini hinted at squad rotation prior to the Granada game, can probably be put to bed after the manager hooked Fekir with around half an hour to go, you'd assume to save his legs.
Given that Betis then had a serious wobble in a game they should have been comfortable in, it's a fair assumption Celtic will be coming up against the 28-year-old 25 times capped French International on Matchday one.
There are other players of note that may well be known to Hoops fans, Goalkeeper Rui Silva is keeping Claudio Brava out the team and 68 times Portugal capped central midfielder William Carvalho will be the player in and around the feet of David Turnbull and Tom Rogic disrupting Celtic's forward advances and he can certainly play a bit. And as an attacking threat last night's goal scorer Sergio Canales is a direct runner who likes to get off an early shot.
Are we winning this?
Winning this game may not be such a reasonable expectation indeed I'd bite your hand off for the draw (that one's for you David Potter). Betis are a capable side but their press is nowhere near the standard we faced from AZ Alkmaar, yet with a ground that holds in excess of 60,000 of what is a passionate support – I know this as I shared a flight back to London with a load of them a few years back – then Celtic are entering a tough arena and facing an opponent who like to get the ball down and play attacking football.
Betis will come at Celtic but they have been wasteful when chances have been created this season and defensively, they certainly lack discipline when they lose possession. Indeed, much like Celtic their full backs as an attacking threat are a big part of their gameplan as such in transition and with Celtic playing with such width there will certainly be opportunities to score if we're sharp enough to take advantage of players caught up the park.
That's not to say Celtic can't win this, we're not playing world-beaters and Betis have had patchy form this season, but despite all that they've only lost once in La Liga and that was to Real Madrid and even then, it was by a single goal. Much will depend on whether Pellegrini, facing the early wrath of an expectant support, will consider Sunday's league encounter at home to Espanyol as more important than a Europa League group game. However, with city rivals Sevilla's recent record in this tournament towering over Betis you can bet their fans will expect a strong performance on Thursday and to qualify from this group.
Betis will see Celtic as their rivals for second spot and all will expect Leverkusen to run away with this group, as such a point for Celtic and with a home crowd advantage reversed in Glasgow still to come, a draw could go a long way to seeing Celtic qualify from this group and I think we're more than capable of doing just that. In fact, I'd bite off my own hand for that!
Niall J