JAMES FORREST ran towards the supporters at the corner of the North Stand and Jock Stein Stand after netting the winning goal in the second period of extra time against Dunfermline yesterday. He wasn't really joined in celebrating that goal by too many of his teammates. Indeed Mikey Johnstone barely celebrated his opening goal either.
Maybe the players were too knackered to celebrate with Jamesy.
Maybe Mikey Johnston's wonder strike was a cross that fluked its way into the postage stamp corner of the Dunfermline net.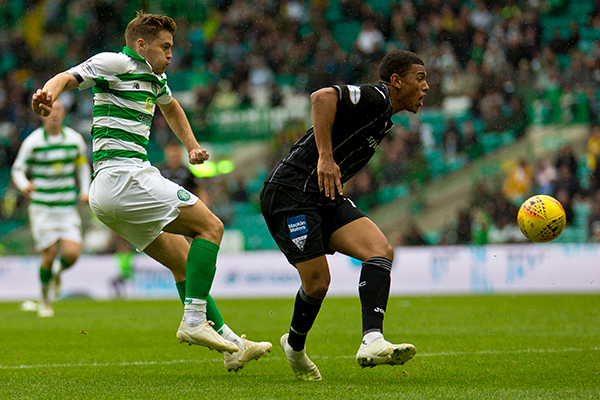 But it was a strange old freezing cold day in Paradise, made even less enjoyable by the obscene and bigoted chanting from the Dunfermline support. It was like a mini-Ibrox over in that corner.
James Forrest enjoyed his goal though.
"There was relief when my goal hit the back of the net," The Celtic Star's Player of the Year said to media afterwards, as reported by Scottish Sun.
"Fair play to Dunfermline, when we got in front they did really well to get back in it, and they made it hard for us for 120 minutes.
"So whenever we got that winner, just getting into the next round was the most important thing. We created a lot of chances, but they were maybe only half-chances. We needed one to go in during the first half to get us going.
"But we have to take the positives because we've got the job done. We didn't want extra time, but cup-ties are hard. We're just delighted to get through.
"I wasn't thinking about penalties because that's a lottery. I'm pleased it didn't come to that."
Celtic were denied a stonewall penalty by referee John Beaton and that's just thinking about the old rules, rather than the new directives, both were ignored by yesterday's referee.
It was good to read that Tom Boyd called him out on Celtic TV, yet the papers find two or three Celtic opinions criticising The Celtic Ambassador and turn the story to criticism of Boyd. Not Beaton, because that would put the spotlight on his as either a dreadful referee, a biased referee (supporter of Rangers etc) or both.
There are plenty of Celtic comments supporting Tom Boyd, they are NOT included or considered in this article. Strange that.
Bobby Madden said the change to the handball rule "will result in more penalties being given" failed to mention

Not in SCOTLAND pic.twitter.com/vhMmKjGFkk

— Derek Crothers (@deaks1ey) August 17, 2019
This is what Tom Boyd said in commentary, as widely reported today. I was at the game so am relying on these reports, including Scottish Sun.
"That's a penalty. It's a penalty kick.
"His arms are up in an unnatural position and it's a stonewall penalty.
"And once again, Celtic denied by decisions by the referee, and the referee has bottled that.
"That's an absolutely scandalous decision by John Beaton. We've seen that before on many occasions.
"It's unquestionably a penalty. It probably should have been a handball but that was a stonewall penalty kick.
"It's clear it's a penalty kick. In the light of day, he's putting his hand towards the ball, heading towards goal.
"What does John Beaton not know about the new rules? If he doesn't know that's a penalty he should not be in the middle of the park refereeing a football game.
"He'll probably be welcome down his pub tonight again."
We all know what the former Celtic captain is referring to with the pub reference.
Well said Tom Boyd.
Also on The Celtic Star…
Sandman's Definitive Ratings – Celtic v Fife Golf Club, 'The Pars'…see HERE.
Emilio Izaguirre Hurt in Terrifying Attack as 3 Die and 7 are Shot or Stabbed…see HERE.
Ibrox Looms – The Celtic Defence and Peter Lawwell's Crucial Two Weeks…see HERE.
'The club ignores the wishes of its support at its peril,' David Potter…see HERE.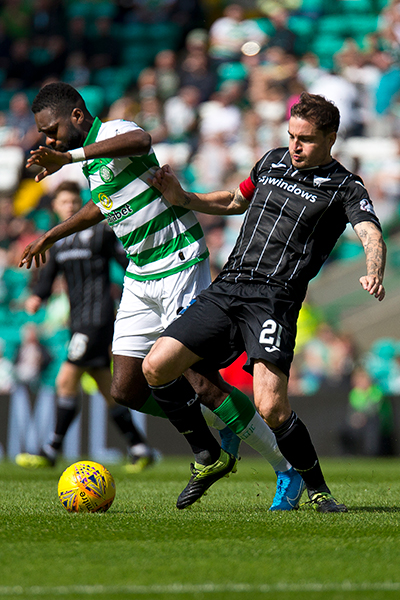 'Ajer popped his shoulder but we think he'll be fine,' Lenny's post match update…see HERE.
Celtic 2 Dunfermline – Forrest Spares Blushes in Extra Time…see HERE.