I was looking through some family pictures for my daughter's birthday recently and during the search I found a photo from the first Celtic match I took her to, it was a league match at Celtic Park against Motherwell.
The 2007/2008 season was coming to close and the result the previous week suggested it was going to be a difficult end to the season for us. A 1-0 defeat at Ibrox had left Celtic trailing in the title race and our rivals had games in hand. The match against Motherwell was a must win if we were to mount any challenge.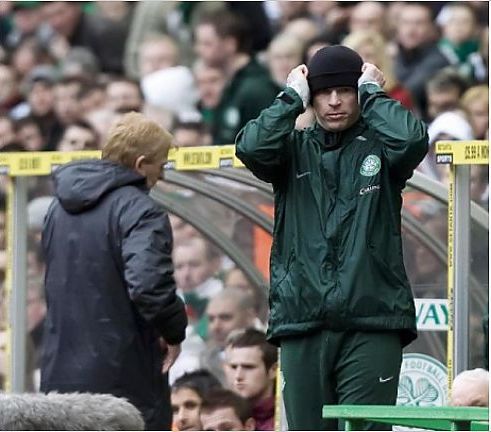 My daughter and I left the house early so we could make our way to Paradise before it got too busy. As it was the first match we had to make a trip to the superstore to pick up a new scarf that almost smothered her as I draped it round her neck & shoulders. We made our way to the Lisbon Lions stand and took our seats ready for the players warm up. The stadium slowly filled up before kick-off.
As far as first games go, it wasn't a classic, it wasn't even a victory. Another 1-0 defeat looked to have ended our season. We walked back to car, I drove home and tried to convince my daughter we were better than that and myself we still had a chance to win the league.
The league campaign moved on to another match against Motherwell a week later and a 4-1 win kept us involved in the fight for the title and with two games coming up against the league leaders at Celtic Park, we could still hope.
My brother and I made our way along to the midweek match at Celtic Park against our city rivals. A must win game. As usual the atmosphere was electric, the Celtic players were energised by the backing from the home support and put in a blistering first half performance, but only had a spectacular Nakamura goal to show for it.
During half time the cheers from the home fans grew as a huge banner was unveiled in the north east corner, Scotland's Shame pointed towards the visiting fans from Ibrox.
Into the second half the match flowed from end to end, an equaliser came for the visitors and the nerves in the home support began to show. There was still plenty of time for a winner and when Cuellar was shown a red card for his one handed save on the line from a netbound shot from Nakamura, we had a penalty to take the lead.
Scott MacDonald stepped up only to have his penalty saved and perhaps our chance of a winner gone.
With time running out, I hate to admit, my brother left his seat and made his way to the exit and I followed him out.
We were two of only about 20 people on Janefield Street as a roar came from behind us, Celtic had scored a late late winner thanks to Jan Vennegoor of Hesselink. A late winner, a crucial last minute winner against our title rivals and we had missed it.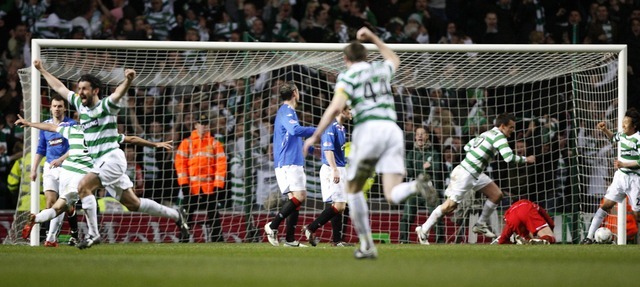 Joined by some other early leavers we celebrated in Janefield Street and quickly made our way to the pub for a few beers and to see the winning goal
I was raging we missed the goal, but to be back in with a shout for the title I was willing to let my brother off.
Up next were Aberdeen, another below par performance, but we managed to get a much needed win thanks to goal from Samaras.
All roads led to Celtic Park for the final Glasgow derby of the season the following week.
I picked up the keys to our new family house on the Friday, got settled in and then made my way to the match on the Sunday, bumped in to my new neighbours on Springfield Road not exactly hiding my colours much to their delight.
Another pulsating match had everyone in the stadium on the edge of their seats. Celtic ahead early and then behind just as quick. A second goal from MacDonald levelled it before half-time. Thankfully the second half slowed down. We were awarded a penalty and with MacDonald on course for a hat-trick he passed the ball to Barry Robson to score and give us the victory.
Now it was time to believe, in a short space of time we had turned the league around, it wasn't quite in our hands but we had momentum.
A 2-0 victory away to Hibs kept the pressure on at the top, but we still needed a favour from another team if we were to win the league.
Four days after the Hibs match a true hero of Celtic lost his battle with cancer. The front entrance to Celtic Park became a shrine to Tommy Burns as Celtic fans and fans of other clubs came to lay tributes to a player and manager who had served Celtic for so long.
Fans, players, directors and club officials took time together together to remember the great Tommy Burns in the days to come as he was laid to rest on 20 May.
By the time the last league match was to be played the destiny of the title was pretty much in our own hands.
Win and we should be champions. With no chance of a ticket for the trip to Tannadice, I decided the next best thing would be to watch it with family and friends at the Kerrydale Suite at Celtic Park.
There with my heavily pregnant wife and daughter we watched on, nervous as to how the night would play out.
The atmosphere was fantastic, but the longer the match went at 0-0 the more nervous we became. Then, with about 20 minutes to go Celtic win a corner, Hartley crossed it into the box for Jan Vennegoor of Hesselink
to power a header into the net.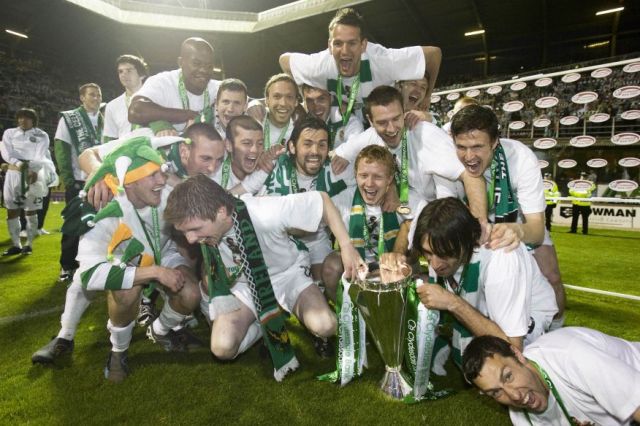 Celebrations kicked off at Tannadice and with us at the Kerrydale. With the result also going our way in the other match at Pittodrie, Celtic were champions of Scotland when only 8 matches previously they had been written off.
For my daughter it was a quickfire baptism into life as a Celtic supporter, the lows of the loss to Motherwell to the incredible highs of the celebrations in the Kerrydale 7 weeks later.
Nights like that stay long in the memory and 10 years later that feeling continues as my daughter and I make our way to see Celtic home and away along with my 10 year old son.
Martin Donaldson