With Celtic sitting nine points ahead of theRangers in the Scottish premiership, having already scudded them to lift the league Cup Final, and with a Scottish Cup semi-final on the horizon, where a win for Celtic could well lead to a domestic treble, it is perhaps understandable the more pliable members of the Scottish mainstream sporting press may wish to create a narrative that Celtic are getting favourable decisions from Scottish referees.
It's a tired old tactic, but it's also one that needs to be challenged. Because let's be honest here the origins of this story may have begun with the views a former referee with a podcast to plug, but the there is a significant push from somewhere in the city with a large PR presence that has ensured this 'story' is making the headlines today .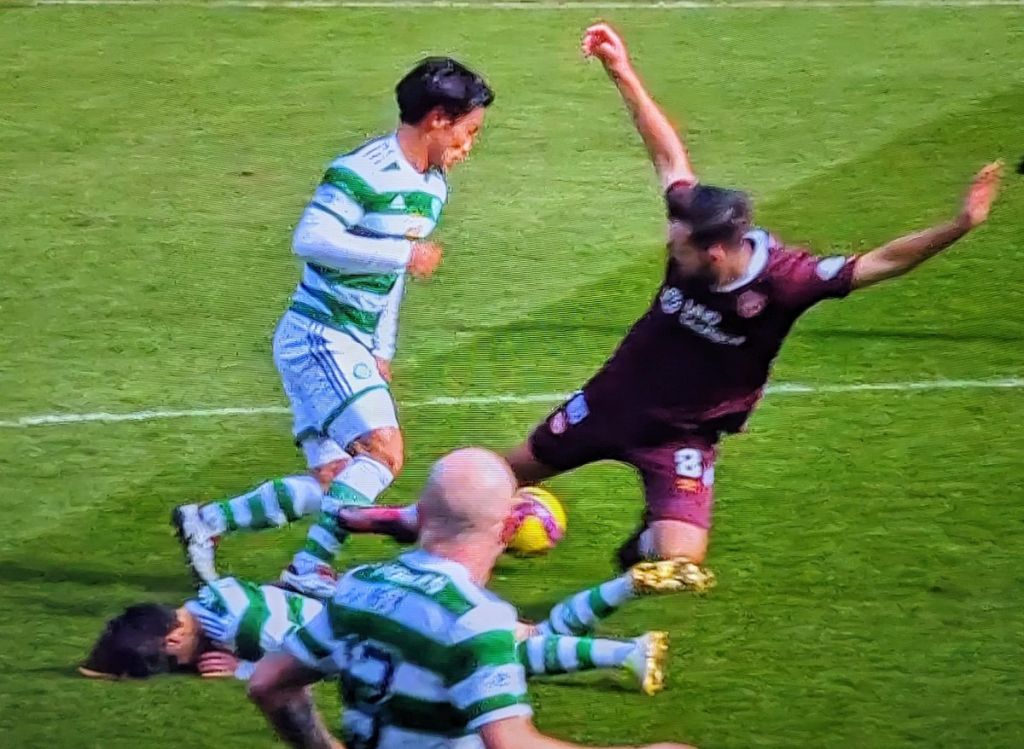 What is surprising and disappointing is that some of the Celtic fan media sites jumped on this particular bandwagon by simply reporting what the former referee had to say about Reo Hatate at Tynecastle at the weekend rather than examining the facts and pointing out that not for the first time or indeed the last the refereeing brotherhood seem to come up with the most bizarre decisions when it comes to players in the green and white hoops.
Today Reo Hatate will have woken up to some desperate headlines this morning, not about his omission from the Japan national squad,  but about his cheating and being banned from the Scottish Cup semi-final based upon the opinion of former referee Steve Conroy.
'Reo Hatate should be banned from Rangers Scottish Cup semi-final as Celtic star cheated says former referee' cried the headline in the Scottish Daily Express in an article penned by Ibrox cheerleader Lindsay Herron, not only apparently a journalist but also a published theRangers author.
Meanwhile 'Ex-ref calls for Celtic star Reo Hatate to MISS Rangers semi-final with retrospective red after 'dive' was the one Football Scotland chose to go with. Both titles, like the Daily Record, are owned by Reach.
Steve Conroy has followed in the footsteps of his podcast pal Des Roache, who also called for a retrospective red card for Liel Abada after the Scottish League Cup semi-final. So this pair have form in the book for highlighting apparent simulation, but also for ensuring the direction of their ire flows in the direction of Glasgow's east end, whilst ignoring entirely any semblance of balance by highlighting similar offences that may occur on a matchday at Ibrox.
Over on Video Celts this morning this morning, Joe McHugh has already pointed out that Steve Conroy called time on his refereeing career soon after a disastrous Glasgow Derby showing of his own.
The same referee pic.twitter.com/5hSnN1gpJZ

— Tam sellic son (@TamseIIicsonIII) March 14, 2023
In short, following his refereeing performance in January 2010 Conroy disallowed a perfectly good goal from former Celtic striker Marc-Antoine Fortune, and chose to ignore a Kyle Lafferty foul on Andreas Hinkel that may have got Lafferty the jail had it been carried out off the pitch.
So, whilst simulation seems to be an issue Conroy and his pals seem keen to raise as, protecting players on the field of play seemed a secondary consideration.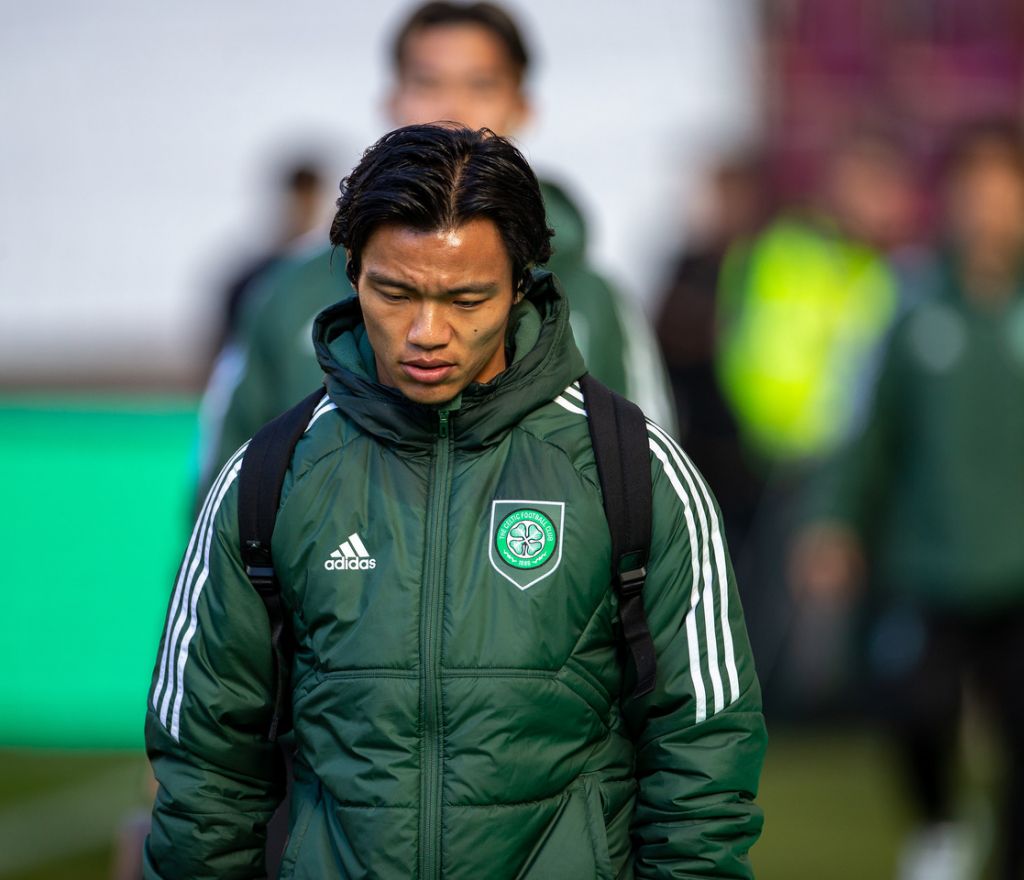 Perhaps that explains why by the time Conroy called time on his refereeing career at the age of 45, he was due to referee in the boon docks of Scottish football, rather than the Scottish top flight. it may also explain the chip on this fella's shoulder.
In the case of Reo Hatate, Steve Conroy has complained that Celtic midfielder should be banned from appearing in the Scottish Cup Semi Final against Celtic for allegedly diving.
Hatate didn't dive. Instead, he was taking evasive action from a challenge that was so out of control it could have seen our Japanese playmaker spend an extended spell on the sidelines.
This one on the other hand from Ryan Kent, is certainly one you would call simulation, one without mitigating factors, and one Steve Conroy and the agenda driven mainstream press chose to ignore entirely. Perhaps they just missed that one, eh? Or perhaps the Conroy is savvy enough to realise that having a go at Kent, or Sakala wouldn't merit the same headlines that an unjustified dig at a Celtic player will achieve, this maximising his podcast's awareness.
One of two outrageous dives at the weekend from rangers. Nothing to say about that? pic.twitter.com/tkU3Sa2HbX

— Crackerman (@mostlyceltic81) March 14, 2023
Or how about this one at Ibrox from Fashion Sakala, who when he isn't playing to the gallery regarding 'the other mob' he's getting in some practice for the World of Aquatics Championship where at least he would have a fighting chance of a medal!
3 match ban. Only way to cut this shit down. Cheating cnuts.

— ush (@haksabanoviccsc) March 12, 2023
So even if we ignore the fact simulation is punishable by a yellow card and not a red card, it appears Conroy is somewhat selective on the instances he chooses to highlight as he strives to eradicate simulation from our game.
Now whether, on the back of his colleague Roache's calls for a similar punishment for Liel Abada, Conroy has just attempted to appear consistent is hard to decide, but one thing is certain, the mainstream press and even the some of the Celtic fan media have picked up on this and come out with all guns blazing after Reo Hatate today.
The "dive"

If Hatate doesn't move out the way, then it's a potential leg break and season over pic.twitter.com/6LjrK65SAz

— Hakuna Hatate 🇯🇵 レンジャーズスケルパー (@quadtreblechamp) March 14, 2023
It's an obvious attempt to plant a seed in the minds of referees for future Celtic games – and no doubt theRangers last chance to lift silverware in the Scottish Cup Semi-final at the end of April, and it needs calling out.
Thankfully the days of the mainstream press controlling the narrative are long gone, and there are enough Celtic Fan media sites willing to fight our corner, but this sort of reporting is very much for the watching and it's simply an exaggerated reaction to a nothing incident, and a comment from a forgotten referee with a podcast to plug.
One of two outrageous dives at the weekend from rangers. Nothing to say about that? pic.twitter.com/tkU3Sa2HbX

— Crackerman (@mostlyceltic81) March 14, 2023
We may be very used to all of this as Celtic supporters, but is also something we need to be wary of and call out at every turn.
We also know where the driving force behind all of this lies, and it's not some long forgotten referee keen or a few pliable hacks in the mainstream press. It's desperate times over the other side of the city and it appears that calls for some desperate measure too.
And the entire point of the Celtic fan media is to counter balance the anti-Celtic bias in the Scottish mainstream media where guys like Ibrox cheerleader Lindsay Herron are paid to put the boot into Celtic whenever possible.  At the weekend two of the Rangers players clearly dived while Reo Hatate tried his best to avoid the reckless contract coming his way. He failed though.
Hes no sakala…. pic.twitter.com/A5ohugoYA4

— James Dunsmuir (@JamesDunsmuir3) March 15, 2023
And why would Hatate dive in the centre-circle rather than break through on goal. We all know Kent and Sakala's motivation, so where are the calls to ban them? Indeed why were these incidents not even mentioned by the former referee or the many media outlets reporting on his words. That incidentally did NOT include The Celtic Star. Here are some of the headlines…
'Celtic's Reo Hatate should be banned from Rangers semi-final after 'blatant cheating', says ex-referee,' The Scotsman
'Reo Hatate Celtic dive earns furious former SFA ref verdict as Rangers semi final ban demanded for 'blatant cheating',' Daily Record (Reach owned)
'Ex-ref calls for Celtic star Reo Hatate to MISS Rangers semi-final with retrospective red after 'dive',' Football Scotland (Reach owned)
'Another former SFA ref calls for retrospective Celtic red card,' Video Celts
"Blantant Cheating '- Ex-Ref Wants Reo Hatate Suspended for the Rangers Semi-Final,'  Celts Are Here
'Reo Hatate should be banned from Rangers Scottish Cup semi-final as Celtic Star cheated says former referee,' Scottish Daily Express (Reach owned) 
'Celtic star accused of 'blatant cheating' by ex-ref and should miss Rangers Scottish Cup semi final clash,' Glasgow World
Niall J
3 match ban. Only way to cut this shit down. Cheating cnuts.

— ush (@haksabanoviccsc) March 12, 2023
𝓑𝓪𝓵𝓵𝓮𝓻 😮‍💨 Reo Hatate of @CelticFC is the #cinchPrem February POTM 🏆@spfl | #cinchit #cinchSPFL #POTM pic.twitter.com/jP1p6tsdUr

— cinch (@cinchuk) March 15, 2023