The Green Brigade today paid their respects to their friend and comrade Salah Ajarma who you will remember visited Celtic Park in 2017 to receive the cheque from Celtic Ultras who led a worldwide campaign in support of the Palestinian people after Celtic were threatened with a UEFA fine due to Celtic solidarity with the suppressed Palestinian people.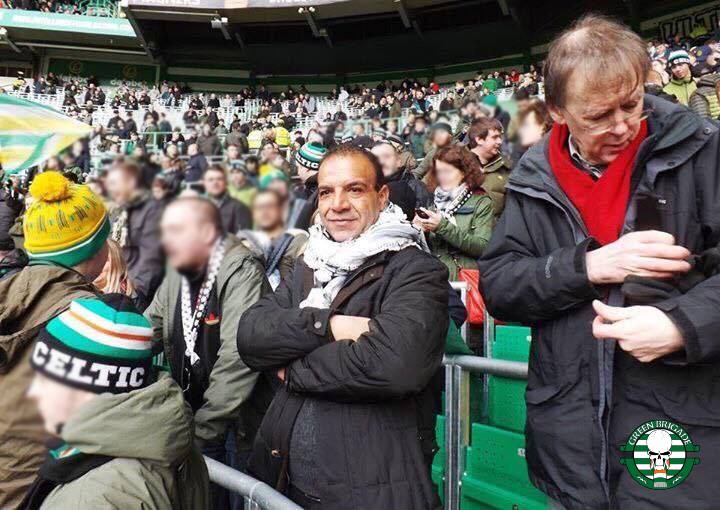 The sad news of Salah's passing was broken yesterday by Aida Celtic…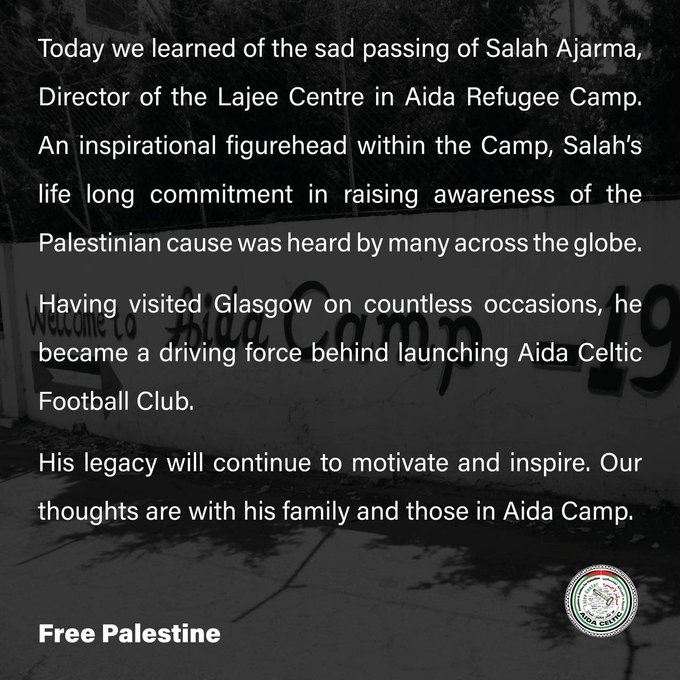 "Salah was one of the best people I've ever known. The Director of the Lajee Centre in Aida Refugee Camp in Bethlehem he was an inspiration to the youth of the camp and to everyone who met him. His loss will be felt deeply. Thoughts are with his young family at this time.
"Salah travelled all over the world with the youth from the Aida. In 2017 he visited Celtic Park to collect the cheque that Celtic fans raised for the Lajee centre. He was a fine advocate for the people of Aida and Palestinian refugees and the legacy of his work will live on," Liam O'Hare wrote.
Salah travelled all over the world with the youth from the Aida. In 2017 he visited Celtic Park to collect the cheque that Celtic fans raised for the Lajee centre. He was a fine advocate for the people of Aida and Palestinian refugees and the legacy of his work will live on. pic.twitter.com/osK7sSdtnM

— Liam O'Hare (@Liam_O_Hare) April 14, 2021
Rest in Power Salah pic.twitter.com/WwBe6JgtSK

— Aida Celtic (@aida_celtic) April 14, 2021
Rest In Peace Salah pic.twitter.com/5SvwwfArMJ

— North Curve Celtic (@NCCeltic) April 15, 2021
— North Curve Celtic (@NCCeltic) April 15, 2021
The Green Brigade's respects were paid outside of the front doors at Celtic Park today and these photographs will be seen around the world