Martin O'Neill has told Rangers to reverse their stance regarding the Celtic allocation at Ibrox ahead of the  new season. There is hope that the new campaign will see a return to stadia for supporters with away games returning over the course of the year and former Celtic boss O'Neill believes that the time is right to reverse the 2018 decision.
Speaking to Graham Spiers' Press Box podcast, the legendary Celtic boss said that the supporters are required to make sure that the fixture fulfils it's billing as one of the biggest in world football.
Rangers cut Celtic's allocation in 2018 following 4 wins out of 4 since Rangers were promoted. Celtic decided to reciprocate the Ibrox decision by cutting the allocation of Rangers supporters after Dave King decided to cut Celtic's from 8000 to just under 800.
"When the crowds are in, when the away fans fill up their particular end and when the place is absolutely electric there's no question about that", said O'Neill when asked if it's the best Derby in the world.
"I feel when the fans do come back, I'm hopeful along the way they can have their quota of fans back again.
"When you went to Ibrox, you felt like you had some company with you, that you weren't alone when you saw the Celtic fans, I'm quite sure Rangers felt exactly the same.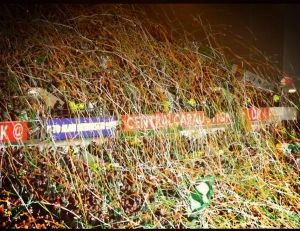 "You can use all sorts of adjectives about the games but they're something so magical about them. Of course, there's an intensity that doesn't exist anywhere else, the build up to the matches is like nothing else and the game itself is frenetic."
The atmosphere is diluted as the away fans struggle to be heard amidst the huge home support and the home support are more passive as a result. A great fixture has been reduced to a game on the TV for so many that were previously willing to shell out £50 twice a year.The Board at Rangers no doubt had become embarrassed at Celtic winning and celebrating at Ibrox. They also believed that they would be able to gain an advantage by locking out over 7000 Celtic fans whilst leaving those that are fortunate enough to get a ticket in a corner between the baying masses.
Rangers' victory in the league this season may soften their stance as they look to get more of their own fans into  Celtic Park. It is certainly something worth considering; however, the clubs may feel the need to reward the supporters that stuck with them during the pandemic and bought season tickets.