THE GREEN BRIGADE have had their tickets for ALL forthcoming fixtures including the League Cup Final against the Rangers and the League match on 29 December against the same opposition withheld by Celtic. The Ultras Group this evening released a long defiant statement in response to the Celtic Statement from last night which confirmed that the club had decided to partially close a section of the standing area for Thursday night's Europa League clash with Rennes.
The Green Brigade accuse Celtic of not telling the wider support the full story in their official statement.
And the Ultras Group, who as we reported earlier have now raised over a quarter of a million pounds for charity, also revealed that relations with the club have broken down after some early season criticism directed at the board for under-investment in the team.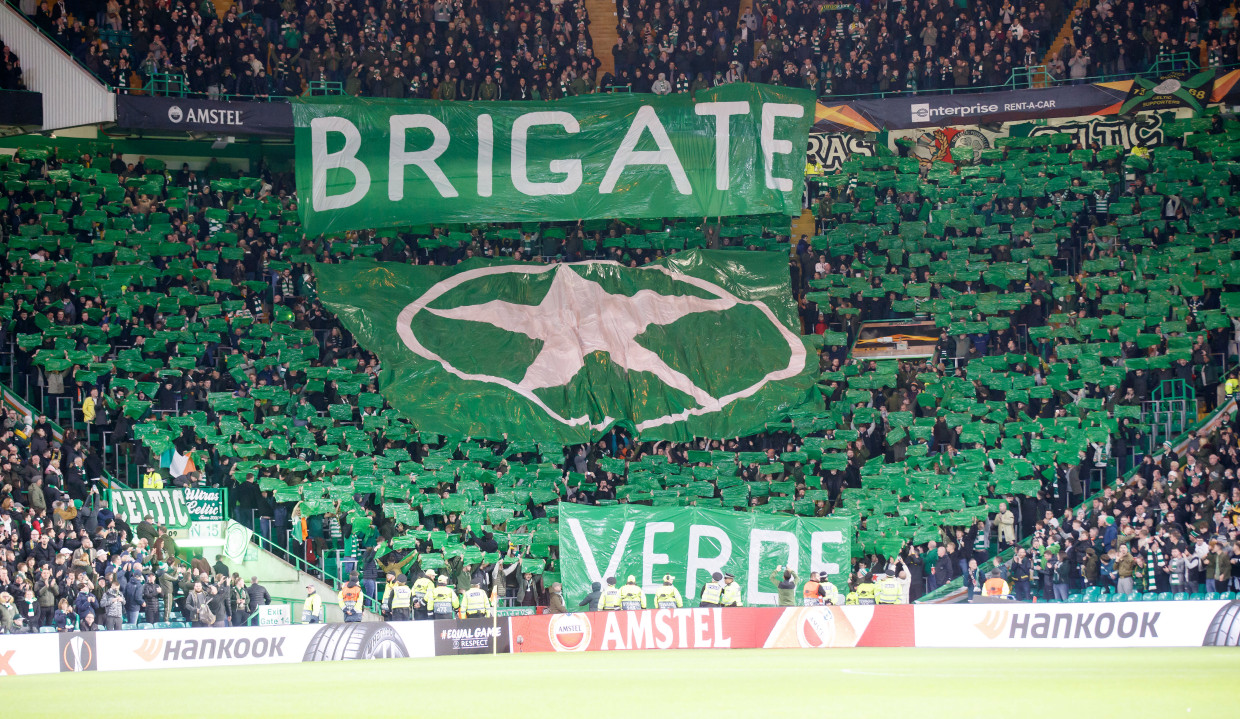 They also reference the fact that last night's statement came just two days before the club's AGM where the board are expecting to be grilled over their failure of leadership on Resolution 12, an issue which clearly cost Celtic many millions of pounds due to unchallenged rule breaking.
Celtic seem hardcore in enforcing the UEFA rules on Pyros that cost them around £10k every time they are fined but much more relaxed about the rules breaking back in 2011 that allowed Rangers to play in European football when the rules if enforced properly would have prevented this and instead given the Champions League slot to Celtic. That run breaking cost Celtic £10-15million but what that was a matter between old and firm friends.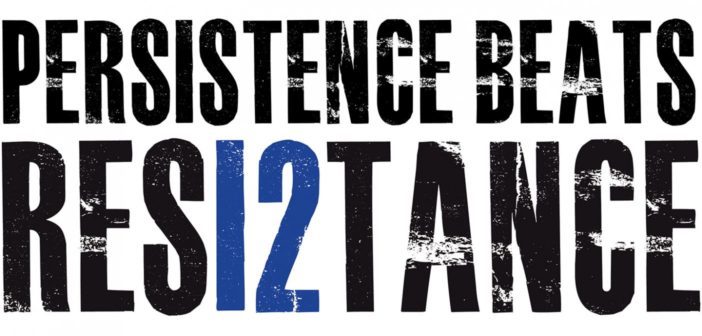 The Green Brigade point to the need to resume dialogue with the club but are not yet at the stage where they are ready to give up entirely on their ultra culture and the desire to use pyrotechnics at Celtic games. This seems like a real crisis for Celtic and the Green Brigade and while Celtic Park will suffer from the lack of atmosphere that the Green Brigade inevitably brings to just about every game, the fact remains that this group of supporters are heading for a permanent ban unless they are ready to abandon their conviction that flares are part and parcel of the footballing experience.
There is no sign in tonight's Green Brigade statement that they are ready to accept the rules that Celtic are now set on enforcing vigorously.
The Green Brigade also point to overcrowding issues within the North Curve area and accuse Celtic of failing to properly manage this on match-days. That also is a legitimate complaint that deserves to be addressed but it still is of secondary importance to the core issue.
Celtic are now saying no flares as a final decision and unless that is accepted by the Green Brigade it could be the end of their story at Celtic Park. Here is tonight's Statement from Green Brigade…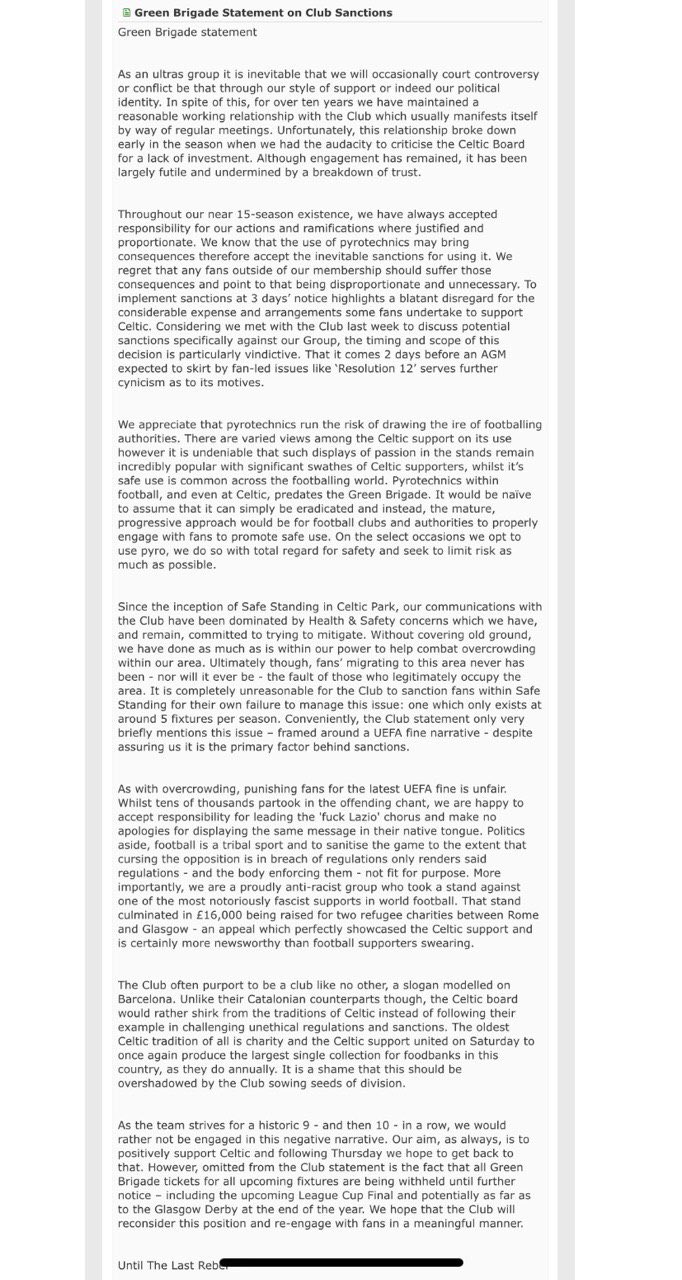 Green Brigade Statement pic.twitter.com/LrZbn2adPq

— North Curve Celtic (@NCCeltic) November 26, 2019
GREEN BRIGADE'S STATEMENT IN FULL
"As an ultras group, it is inevitable that we will occasionally court controversy or conflict be that through our style of support or indeed our political identity. In spite of this, for over ten years we have maintained a reasonable working relationship with the Club which usually manifests itself by way of regular meetings.
"Unfortunately, this relationship broke down early in the season when we had the audacity to criticise the Celtic Board for a lack of investment. Although engagement has remained, it has been largely futile and undermined by a breakdown of trust.
"Throughout our near 15-season existence, we have always accepted responsibility for our actions and ramifications where justified and proportionate. We know that the use of pyrotechnics may bring consequences therefore accept the inevitable sanctions for using it.
"We regret that any fans outside of our membership should suffer those consequences and point to that being disproportionate and unnecessary.
"To implement sanctions at 3 days' notice highlights a blatant disregard for the considerable expense and arrangements some fans undertake to support Celtic.
"Considering we met with the Club last week to discuss potential sanctions specifically against our Group, the timing and scope of this decision is particularly vindictive. That it comes 2 days before an AGM expected to skirt by fan-led issues like 'Resolution 12' serves further cynicism as to its motives.
"We appreciate that pyrotechnics run the risk of drawing the ire of footballing authorities. There are varied views among the Celtic support on its use however it is undeniable that such displays of passion in the stands remain incredibly popular with significant swathes of Celtic supporters, whilst it's safe use is common across the footballing world.
"Pyrotechnics within football, and even at Celtic, predates the Green Brigade. It would be naive to assume that it can simply be eradicated and instead, the mature, progressive approach would be for football clubs and authorities to properly engage with fans to promote safe use.
"On the select occasions we opt to use pyro, we do so with total regard for safety and seek to limit risk as much as possible.
"Since the inception of Safe Standing in Celtic Park, our communications with the Club have been dominated by Health & Safety concerns which we have, and remain, committed to trying to mitigate.
"Without covering old ground, we have done as much as is within our power to help combat overcrowding within our area. Ultimately though, fans' migrating to this area never has been – nor will it ever be – the fault of those who legitimately occupy the area.
"It is completely unreasonable for the Club to sanction fans within Safe Standing for their own failure to manage this issue: one which only exists at around 5 fixtures per season. Conveniently, the Club statement only very briefly mentions this issue – framed around a UEFA fine narrative – despite assuring us it is the primary factor behind sanctions.
"As with overcrowding, punishing fans for the latest UEFA fine is unfair. Whilst tens of thousands partook in the offending chant, we are happy to accept responsibility for leading the 'f*** Lazio' chorus and make no apologies for displaying the same message in their native tongue.
"Politics aside, football is a tribal sport and to sanitise the game to the extent that cursing the opposition is in breach of regulations only renders said regulations – and the body enforcing them – not fit for purpose.
"More importantly, we are a proudly anti-racist group who took a stand against one of the most notoriously fascist supports in world football. That stand culminated in £16,000 being raised for two refugee charities between Rome and Glasgow – an appeal which perfectly showcased the Celtic support and is certainly more newsworthy than football supporters swearing.
"The Club often purport to be a club like no other, a slogan modelled on Barcelona. Unlike their Catalonian counterparts though, the Celtic board would rather shirk from the traditions of Celtic instead of following their example in challenging unethical regulations and sanctions.
"The oldest Celtic tradition of all is charity and the Celtic support united on Saturday to once again produce the largest single collection for foodbanks in this country, as they do annually. It is a shame that this should be overshadowed by the Club sowing seeds of division.
"As the team strives for a historic 9 – and then 10 – in a row, we would rather not be engaged in this negative narrative.
"Our aim, as always, is to positively support Celtic and following Thursday we hope to get back to that.
"However, omitted from the Club statement is the fact that all Green Brigade tickets for all upcoming fixtures are being withheld until further notice – including the upcoming League Cup Final and potentially as far as to the Glasgow Derby at the end of the year.
"We hope that the Club will reconsider this position and re-engage with fans in a meaningful manner.
"Until The Last Rebel."
Some supporter feedback…"Excellent statement. I would hope that someone will raise this at tomorrow's AGM. Especially the fact that GB tickets for the Cup Final & Glasgow Derby are being withheld. Absolute disgrace & no justification for this…absolutely none!"…
"Pyros are against law so basically saying they'll continue to use is crazy"…"If the board dont take action UEFA will and shut the ground. Too many fines mounting up. Dont bring pyros into the games"…"Uefa don't close sections or stadiums for pyro….only for racism & racist chants"…
"Shocking to be banned indefinitely. I don't agree with the pyro, just stop using it if it's getting the club into bother but I think Celtic choose when to use the GB for their own benefit and throw them under the bus when it doesn't"…"Celtic are playing some of the best football I have seen for quite a while. Our form is top drawer and a right spark about the team. Looking forward to Thursday night."…
"They aren't just effecting the GB here it's gonna effect the whole stadiums experience"…"On the select occasions we opt to use pyro, we do so with total regard for safety and seek to limit risk as much as possible." As if. Show us your Risk Assessment statement."…
"That's very underhanded and sneaky not releasing the full facts in their statement about withholding your tickets for future games aswell. Someone or more than one person on the board has a serious agenda against the group."