Robert Austin Thomson (Bertie o' the Celtic)
I have just read a lovely recap on the 1931 Scottish Cup games against Motherwell on The Celtic Star. Bertie was My great Grandfather , who as you know passed tragically at the young age of 29.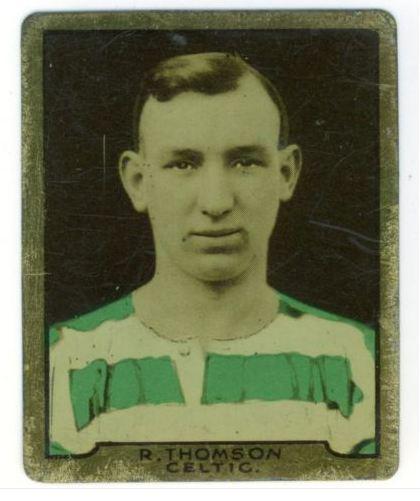 I had noticed you state that David Potter is also a historian and got to wondering if he or The Celtic Star could be of any help in my search. Admittedly it is a rather unusual ask, but my options are so limited at present I thought I'd give it a shot.
Now My great granda passed on when my nan was just 3 and times being what they were, his untimely death led to a downward spiral for the life of my grandma. Sadly Bertie's wife Susan also passed away a few years later and my Granny was moved around a bit…she didn't like to talk about it.
My Gran died a few years back and we have been putting the family history together and would like eventually to build a dedicated Bertie Thomson Ancestry page. However We know where Bertie and his mum and brother and relatives are buried at Elderslie , but We have no trace of his father John Thomson snr and the rest of the Thomson family. I can say that Bertie's father out-lived his mother Catherine who died in 1951 and is buried with her sons, because he signed his wife's death certificate as present… but after that we lose him…
So the long shot was this: Is there any other historical information on Bertie, regarding his parents or their deaths or anything…may there still be a slim chance that someone is still alive who knew where or when John Thomson Snr May have ended his days?..
He had a son named John Thomson who was apparently fairly well known also. We met him in 1989 but we didn't ask the relevant questions then and we lost contact after and as far as we are aware he passed away.
I have joined Scotland's People and Ancestry and My Heritage and spent a fortune trying to find him but John Thomson is Scotland's version of Paul Smith (lol) and I am at a loss ….a long shot I know but if there's any possible way you could help it would be more then greatly appreciated.
We have visited Great Granda Bertie's grave when we came to Scotland and was even given a personal tour of Celtic Park and shown actual footage of Bertie in action…but we would love to honour the rest of the Thomson family by visiting their resting place also as Bertie is laid to rest with his mothers side. We feel the Thomson ancestry page cannot be completed without Bertie's father and Thomson relatives…we know their names but not where they rest.
Sorry for going on. I hope this isn't too intrusive an ask. And I thank you for your time and patience, and eagerly look forward to your response.
Dionne Wellington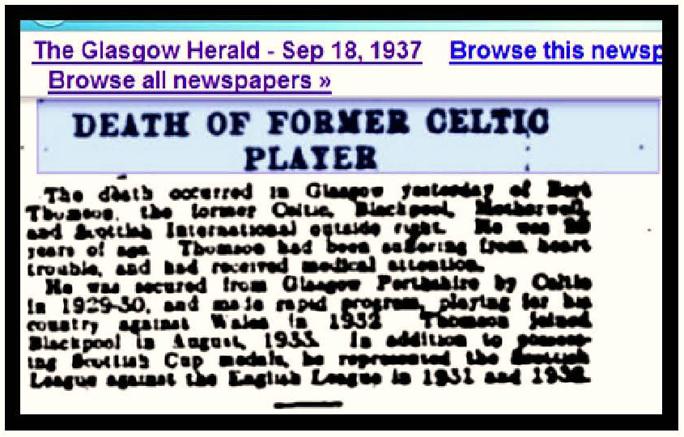 Here are some photographs of Bertie's grave…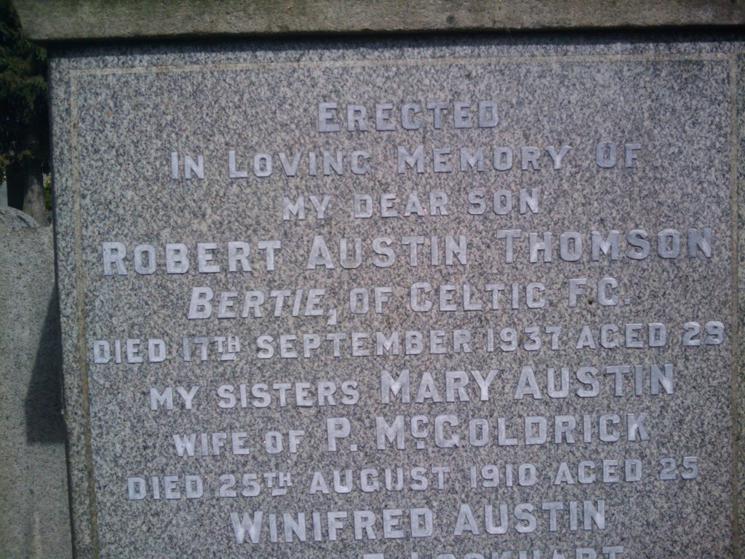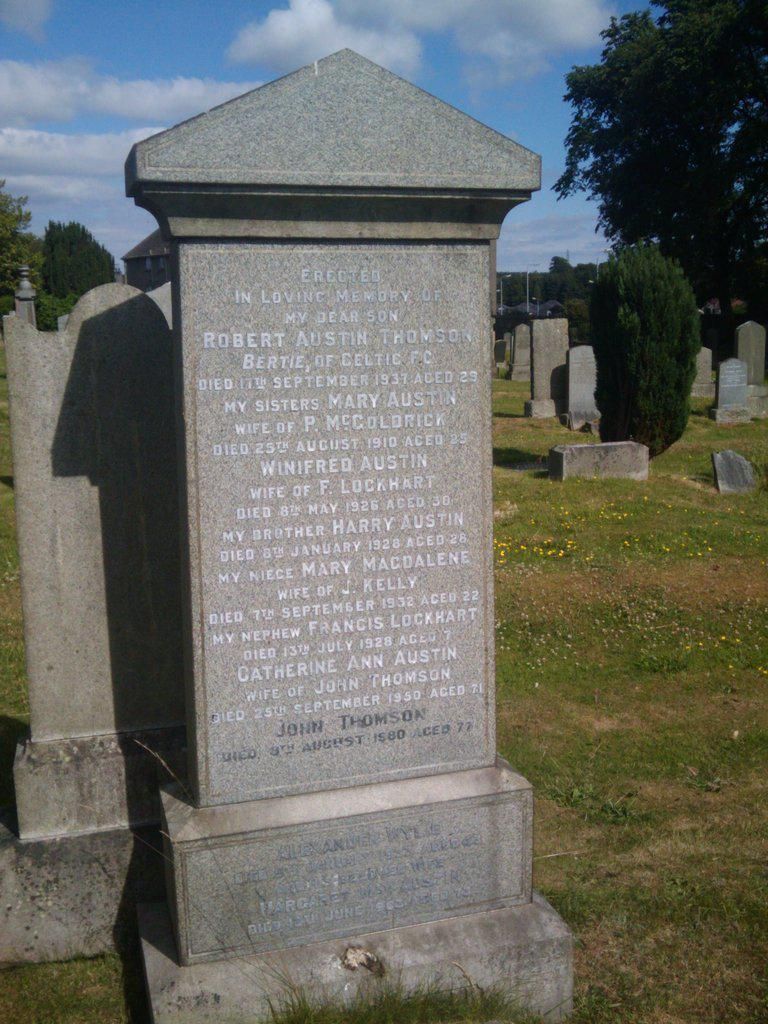 DAVID POTTER'S REPLY TO DIONNE…
I don't think I can help you very much in your quest for Bertie Thomson's dad, but I can assure you that Bertie was one of my father's favourites. When my children were born, he would take the tiny hand of each of them, and in the same way as other grandparents say "this little piggie went to market etc" he said "R Thomson, A Thomson, McGrory, Scarff and Napier" – a tradition that I have carried on with my grandchildren! That was how highly he rated Bertie Thomson!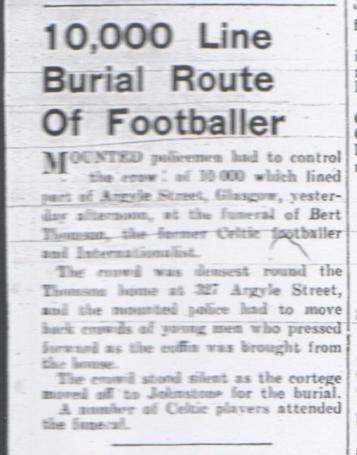 I'm sure that the Celtic Graves Society will be able to help you. They are very keen and very enthusiastic! The Celtic Wiki is also very helpful.
Eugene MacBride's book "An Alphabet of the Celts" tells us that "He died of heart trouble in his mother's arms on his daughter Roberta's third birthday" and that his gravestone in Elderslie says it all "Bertie of Celtic".
I wish you well in your quest, but sadly Thomson is a very common name!
The Celtic team of the three Thomsons in 1931 stands comparison with the best, but three of them did not even make it to the Second World War – John Thomson died in 1931, Peter Scarff died of tuberculosis in 1933 and Bertie of heart failure in 1937.
Sorry I can't be of any further help but maybe The Celtic Star can find out more for you?
David Potter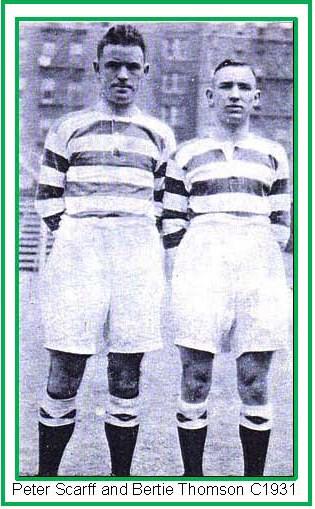 CAN YOU HELP?
Someone in the wider Celtic family is bound to know where Bertie's dad, John Thomson is buried. Maybe another distant relative of Dionne's or someone who has some other connection with the Thomson family.
Lets' do something for Robert Austin Thomson (Bertie o' the Celtic) by finding his dad's resting place.  
If you can offer any information that will assist Dionne in her search for John Thomson Snr resting place, please email editor@thecelticstar.co.uk and we'll pass it on straight away.
A club like no other.
Hail Hail