A surprising amount of Celtic goalkeepers are men who have come from a background which is not what one would call "Celtic minded" (whatever that may mean!)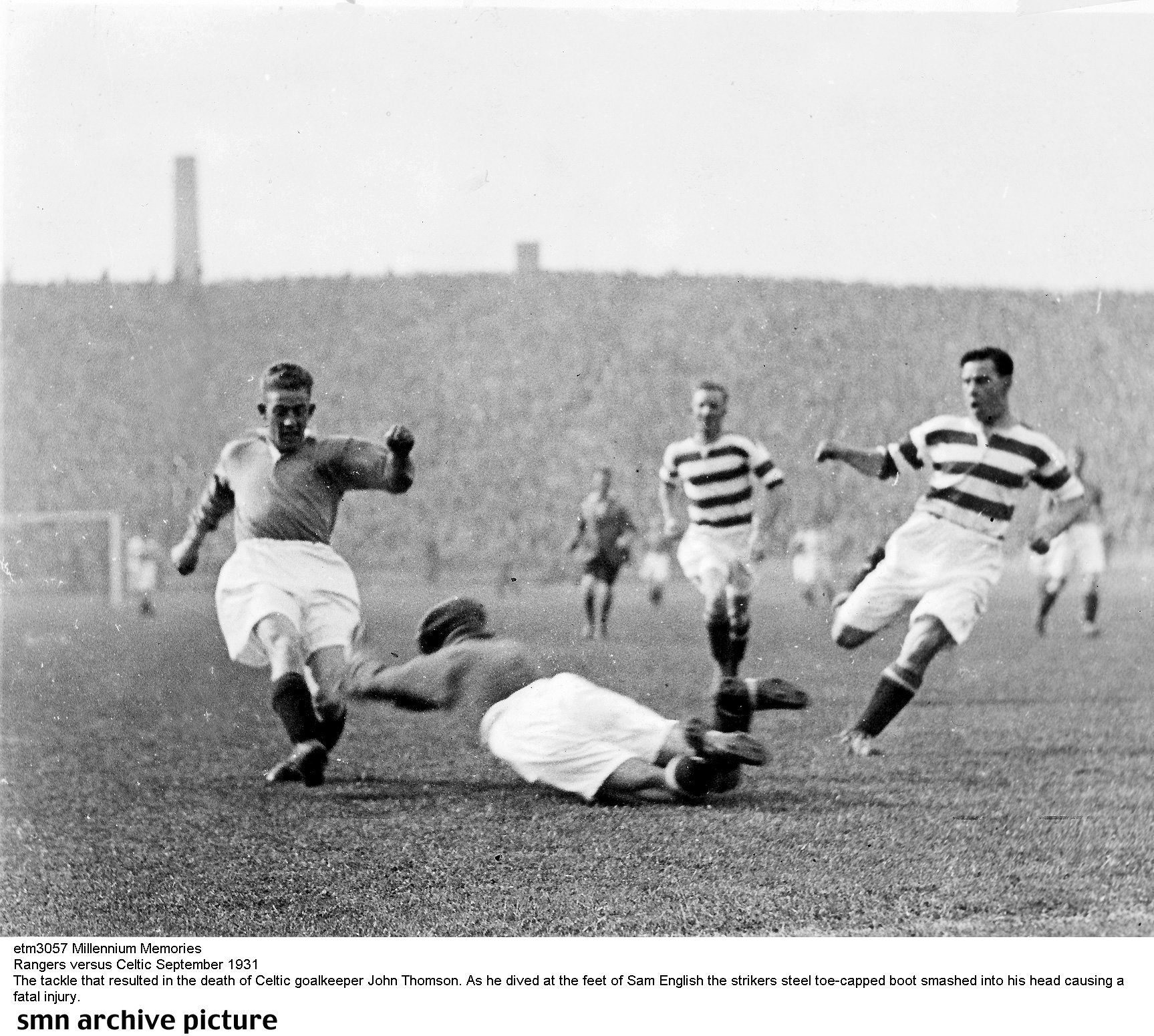 John Thomson, for example, belonged to an evangelical Church In Fife, Ronnie Simpson's father came from Rangers and so on, but there are a couple in the early days who are even less of the mould that the bigots would like them to be. They could both for example be described as coming from an anti-Celtic background. Or could they?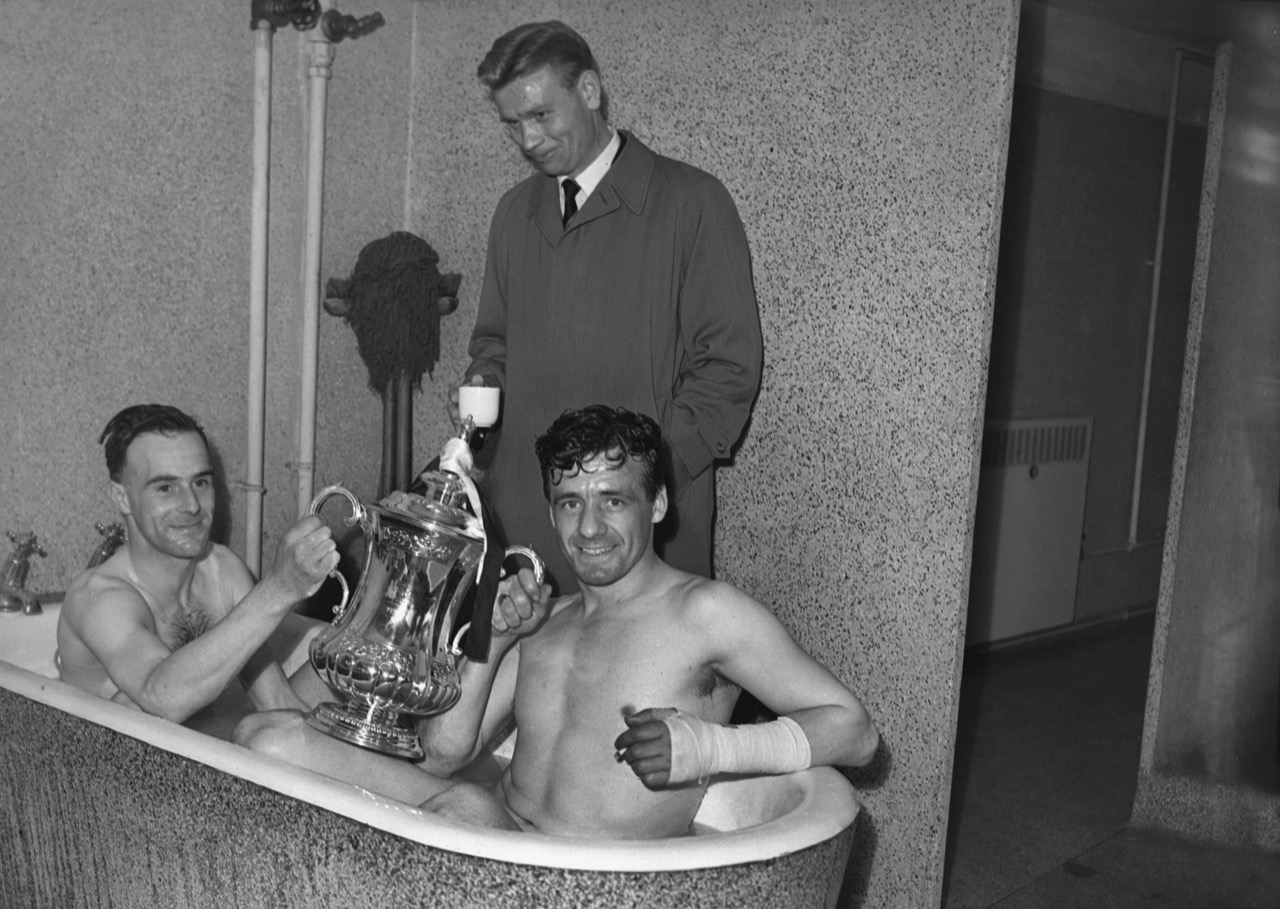 TOMMY DUFF
Tommy Duff, for example, was an Orangeman. So why in 1891 did Celtic sign him, the bigots may ask? The answer was that it didn't really matter. He was in fact not all that bad a goalkeeper, and he had played for Cowlairs in the first ever game at Old Celtic Park in May 1888.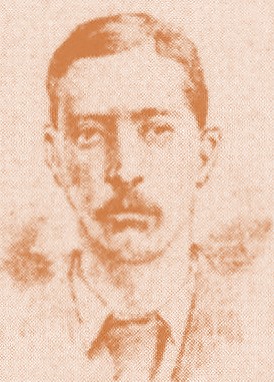 One wonders what that word "Orangeman" actually meant in 1891. One suspects that it may have been simply a home for those who enjoyed wearing funny clothes, singing songs, playing musical instruments and drinking alcohol. Certainly no-one ever questioned his right to play for Celtic … until, that is, New Year's Day 1892 when he proved himself unworthy of wearing a Celtic jersey, but for a totally different reason.
But Tommy Duff started off all right, sadly prone to rheumatics and out of the team sometimes for that reason. But he had his moment of Celtic glory on 12 December 1891 when he won the Glasgow Cup with the club as they beat Clyde 7-1 (yes, 7-1!) at a snowy Cathkin Park. He might have won more honours but for the unfortunate events of New Year's Day 1892 when Dumbarton came to Celtic Park to play a friendly.
It would appear that this game (attended by Buffalo Bill, no less) was taken more seriously by Dumbarton (this year's League Champions) than it was by Celtic, for Old Celtic Park saw a thrashing of monumental propositions as Dumbarton beat Celtic 8-0, and three more were chalked off by a compassionate referee! Tommy Duff did not have the best of games, to put it mildly, and it was said in fact that the Celtic team must have been out toasting the New Year festivities the night before. They had plenty to drink, but "ate nothing" (so to speak!)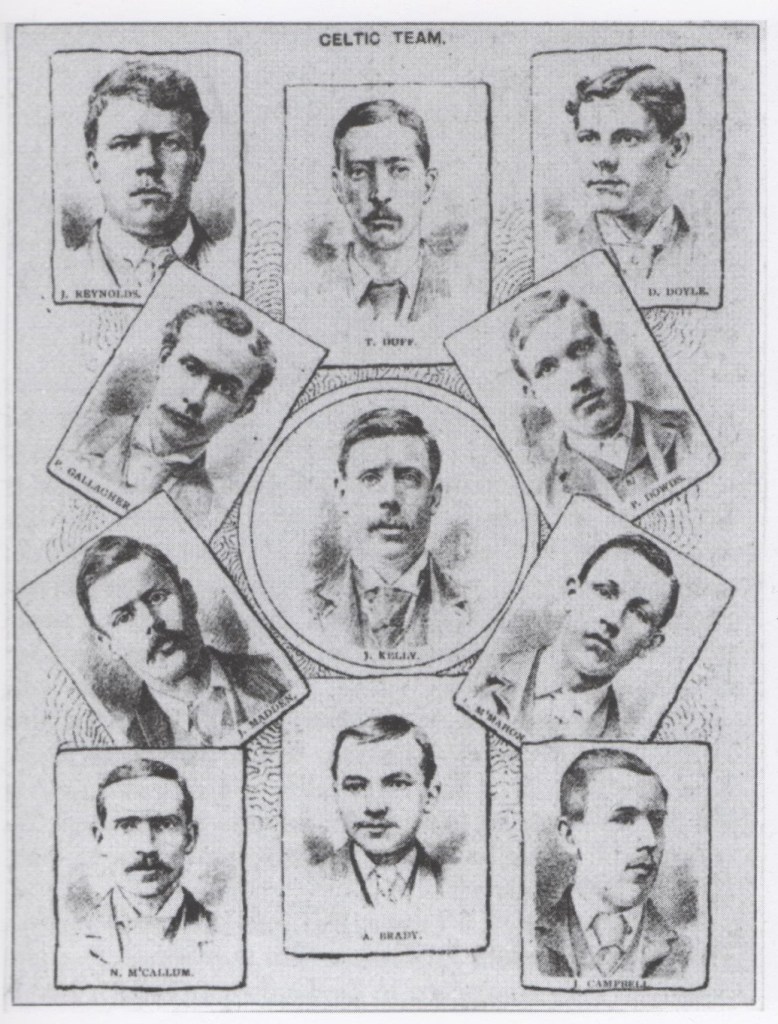 Possibly felt that a dram or two might have helped with his rheumatism, but he seems to have gone a little over the score. He never played for Celtic again and returned to Cowlairs, where he was sometimes referred to as the "Cowlairs Orangeman" more than once falling out with Hibs supporters in Edinburgh for that reason, but although he was a figure of fun in the early years of Celtic, it was never said that he lost eight goals for reasons of treachery.
Incompetence, hangover, still drunk, unfit, not really bothered, falling out with other defenders – all these things were said, but religious bigotry, no. And he did win a Glasgow Cup medal with Celtic!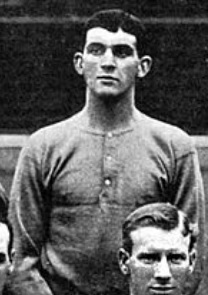 TOMMY SINCLAIR
Another goalkeeper called Tommy won a Glasgow Cup final for Celtic 15 years later. This chap was called Tommy Sinclair and he was actually a Rangers player!
In 1906, no-one ever went to Australia to play a friendly but Celtic were very happy to turn up to supply the opposition in benefit matches, in this case for Rangers player Finlay Speedie. In this game, Celtic goalkeeper the mighty (in every sense of the word) Davy Adams caught the palm of his hand on a nail sticking out of a goalpost.
Far from this being a dastardly Rangers plan to nobble Celtic's defence for the forthcoming season, Manager William Wilton sought out his friend Willie Maley and offered him his reserve goalkeeper Tommy Sinclair, a good goalkeeper but not quite able to command a place in the Rangers first XI.
Tommy gladly went to Parkhead and proceeded to have eight clean sheets in a row. Mind you if you have Alec McNair, Willie Loney and Sunny Jim in front of you, this is likely to happen. And Jimmy Quinn was banging them in at the other end, so Celtic saw out August and September with 100% record and without losing a goal!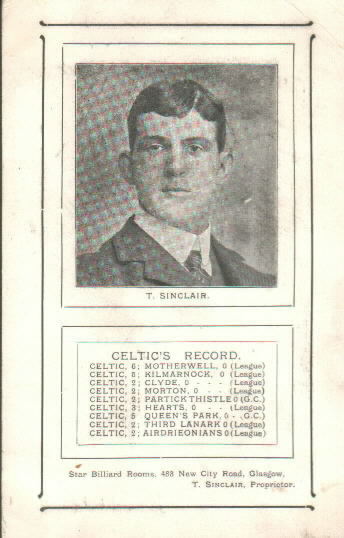 Tommy was much loved by the Celtic fans, but was also the first to admit that when Davy Adams returned, he would have to stand down and return to the other side of the city where he was less successful and less happy.
In fact it was at Ibrox that he played his last game for Celtic – in the Glasgow Cup final against Third Lanark on October 6 1906. He duly won a medal as Celtic won 3-2, but oh, was he not angry at himself for conceding two goals, even though neither could reasonably have been described as his fault. But Tommy had a medal, and no doubt had great pleasure in showing it off to his Rangers team mates, for medals and Rangers in 1906 did not naturally go together!
And then there was a postscript. Newcastle United's goalkeeper Jimmy Lawrence got injured in spring 1907 and the Geordies bought in Tommy Sinclair who played a few games for the team as they clinched the League title in 1907! So the Glasgow Cup and the English League in the one season! And he could not get a place for Rangers! Oh, and now playing for The Toon was no less a man than Finlay Speedie, the man who had indirectly caused Tommy's departure for Celtic!
Some player was Tommy Sinclair, who may also be the only Celtic player ever to have been born in the Perthshire village called Dunkeld. And how appropriate! The learned will tell us that "Dunkeld" in Gaelic (or as it is sometimes called "Keltic" or even "Celtic") means "the fort of the Celts".
The unusual comes at no extra price in the remarkable history of our club.
David Potter
David Potter's new book, Willie Fernie – Putting on the Style is out soon on Celtic Star Books and you can pre-order now using the link below this video….