SANDMAN'S DEFINITIVE RATINGS – CELTIC @ LIVING NIGHTMARES
"And the stadium here at Ibrox is empty as the final whistle sounds, fans departed like snow off a rocky lesbian…"
NO! there's ONE man left standing – Stevie G.
'Loyal and True' if you headline-writing comedians at the Sun/Record are actually to be believed! 'Loyal and True', lmao. Hacks. Now have a read of some creative, provocative prose that doesn't play to the dementors. 'Cos I know you do…
9-In-A-Row Champions-In-Waiting Ratings: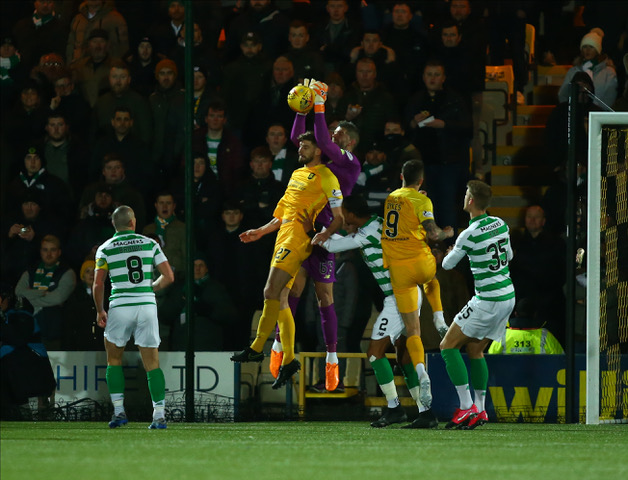 THE WALL – 4/10
Nope. King kong swatted planes, so punch the thing away. Clumsy handling shifted the entire evening into sclaff mode, boosted their belief with a gift goal. Made some smart reflex saves thereafter but the damage was done with his poor decision when we were most likely to trounce them. Bad Wall, bad! Won't happen again, we can be assured of that.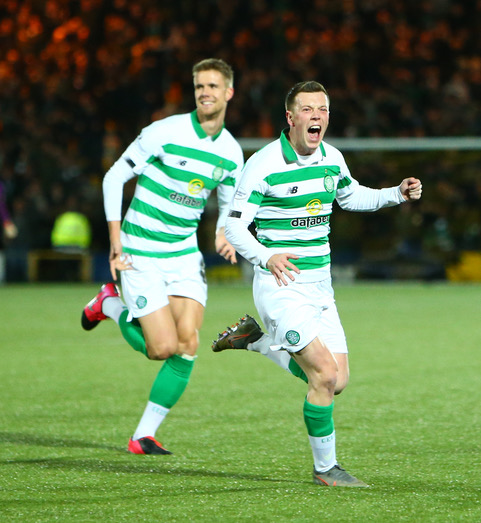 AJER – 6.5/10
This kid is relentless. Yes, he could do with a rest to refresh his game but he's made such an impact since forcing his way into selection last season that he's been impossible to drop. The season before that he was romping around on Killie's bouncy castle so thank Ghod he wasn't fazed tonight – still pushing at them and building with no fear even at the death as experienced heads melted…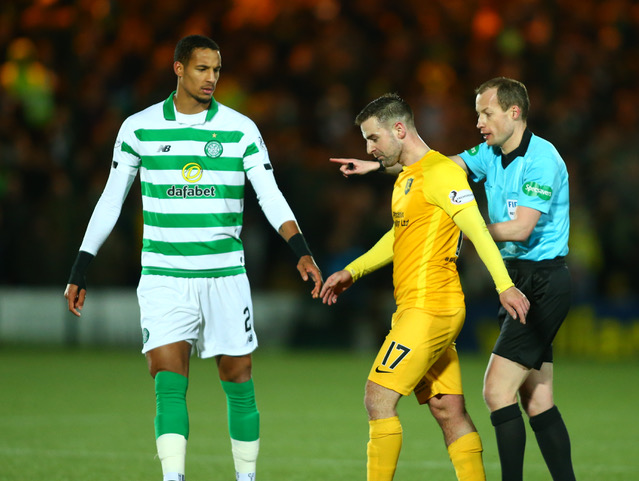 JULLIEN CLARY – 3/10
Emotionally difficult return to where he was previously molested by a big angry carpet-muncher. But he came through that one well; resilient, in fact. Tonight? PTSD. Comical Joan Collins Fan Club (look it up) flaffing around, sold the jerseys, furthermore almost buried the jerseys but presumably couldn't get a spade into that stickle-brick surface.
Le farce was played out thoroughly. His worst game in the Hoops by far. But you could tell by the grande homme's face he knew it, so calm the hell down, avengers. Hell, peace man, you were due a bad one.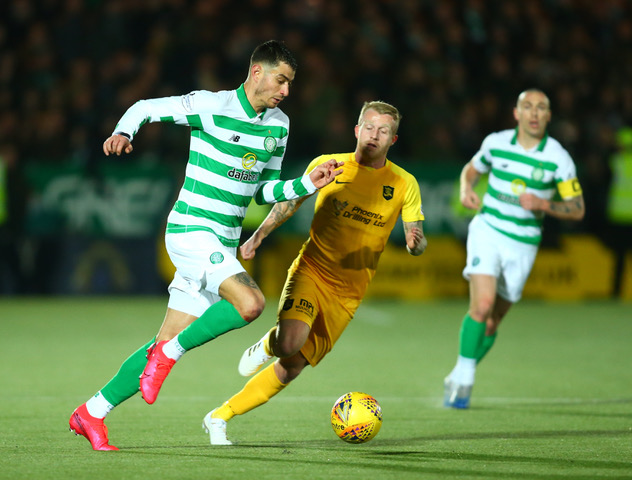 BITTON – 6.5/10
Big Mossad Undercover was at the races from the start – got the touch and soccer brain to cope with their alien-tech-jinx-carpet. Made a couple of heart-stopping interventions to deny them further; pint-draining moments where a sip becomes a gulp and shuddering breaths make you more thirsty than ever. But better than the down-side which is the after-conceding foul-tasting swallow. Right BEARS? Lulz.
Big Nir supported our ailing midfield very well – might have escaped a lot of notice as the coruscating desire for an equaliser consumed many, but he was the one calmly collecting and picking passes; where our midfield were absent.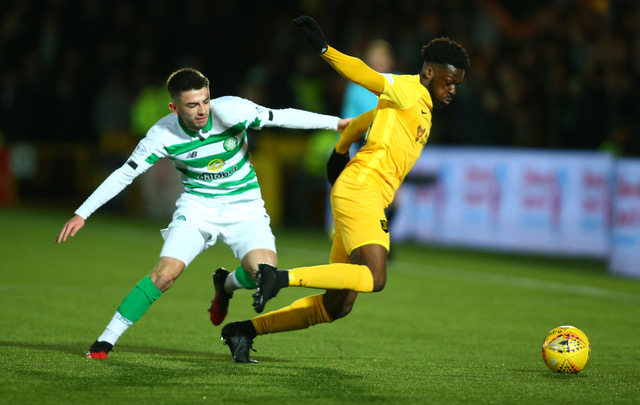 GREGGS THE BAKER – 4/10
Another duff batch of produce. Seagull fodder as he overbaked everything; one touch too many, one thought too late. Looked ill at ease when pressured and delivered only one telling ball all night. Place in jeopardy? Knife-edge, I'd say. Maybe needs a seat come Saturday.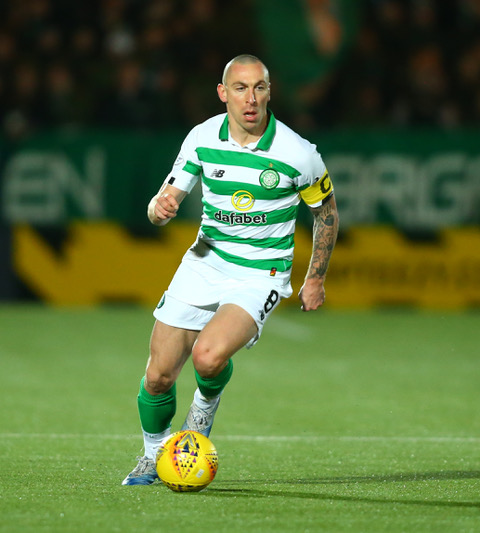 BROON – 7/10
He was wary in his presser, flagging up our aberration here last October. Rope-a-dope? Nope. He knew they were a threat. Yet he will NOT be beaten.
Kept a calm head after Gollum played the jackoff card when Broon was fouled and dragged. Refused to be drawn into a brawl, constantly forcing the issue as we looked like we'd run out of energy and wit. He'll be celebrating a hard-fought draw; unusual, but deserved for our indomitable skipper.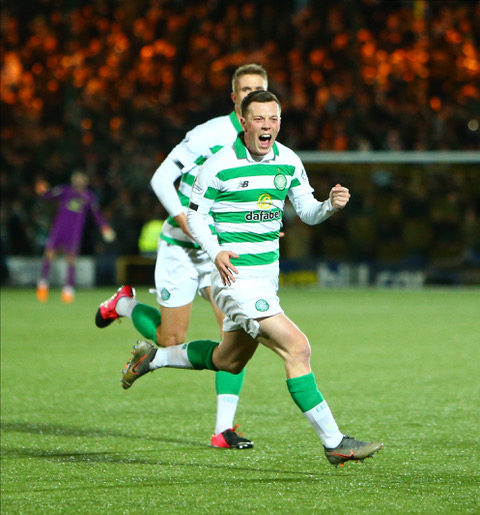 CALMAC – 7/10
The antidote to the playing surface. Prodded and prompted, scored a fizzer…Then fell away as per his usual this year. Keep expecting him to run the show yet to date he's been the walk-on relief; ever-present
to play a telling pass but no longer the gyre of our storm. I suspect it will come pretty soon, but for now a 75% effective Calmac is 100% better than some impostors…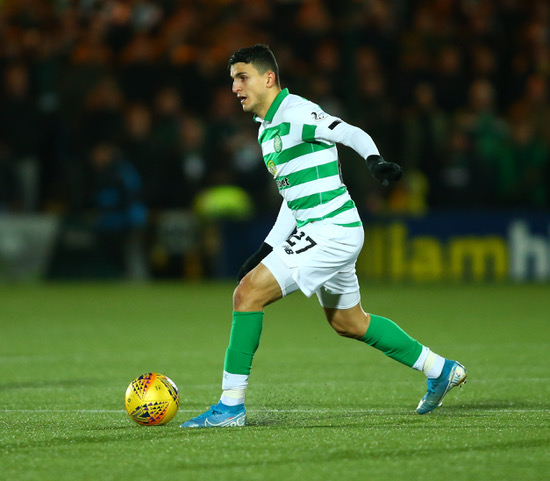 ELSHAGYONLASSIE – 3/10
Nah, not 8 million worth for this lounge-lizard's opinion. He's smooth and silken at times but not when the going gets tough and not when he's pressed continually. Too easily harangued into receiving with his back to goal when basic threat-level dictates the forwards who can take a pass half-turned towards you are the real dangerous ones. Evident after they equalised and started throwing their weight about that he didn't fancy it much. How he lasted 70 minutes or whatever is only one man's answer…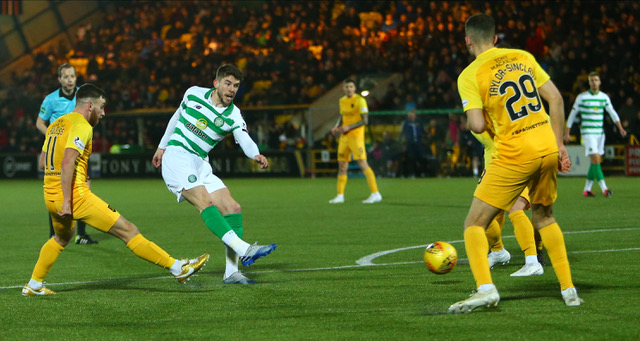 CHRISTIE – 4/10
Return to Golgotha. Crucified himself here last year, and us. Looked like he might evaporate the bad dream but fell into the same struggling futility as Elshag. Deliveries went from match-winning to hair-pulling. Runs ineffective, passing obtuse bar one defence-splitter. He won't want to visit this recycled condom-factory again soon.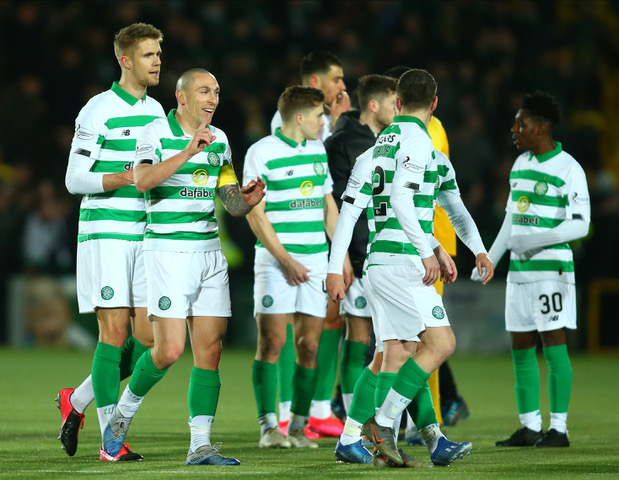 FORREST – 6.5/10
Jamesy can't see what all the fuss is about – everywhere uses plastic nowadays. Indeed, he'll be the first to tell you how comfortable a plastic tumbler is when you want to loll out the old tadger and require
some support…
He harried and buzzed and attempted to force his way and ours into things while we toiled to give him any service. He was still at it in injury-time, sides switched looking to create so kudos to the new-found indefatigability of the Flying flasher; another, like Broon, who'll find new wonder in gaining a draw.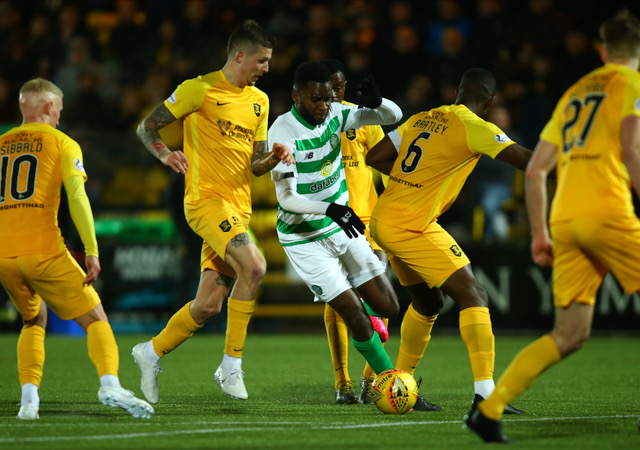 FRENCH EDDY – 7.5/10 MOTM
He's almost unstoppable. They surrounded him with twenty-three convicted-rapist defenders tonight and he still turned Joker to lay on the glorious equaliser with a groin-stimulating bit of sharpness at the very death.
Before that, the night was never his friend with a treacherously mis-shapen post denying him a beauty, and an amazing late miss from a free-kick-Eddy-penalty-certainty somehow smacking a wall-mutant in
the face. But give this lightning-in-a-bottle rattlesnake of ours a few yards space and watch the fucking sky burn. We love you, French Eddy. Don't go. Stay and laugh at the Rangers with us another year.
SUBS: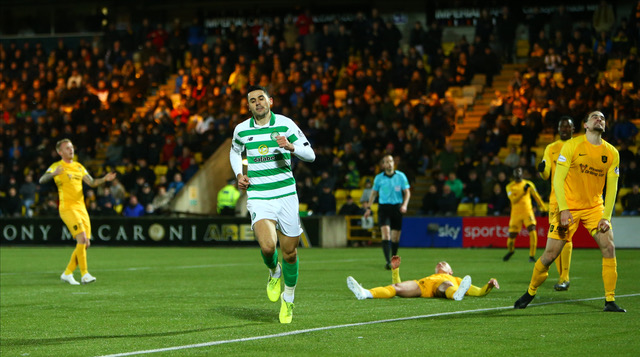 ROGIC – 7/10
Ah, Big Oz does what I thought he'd do after Sunday – roll up into Livi (He loves the lazy-named teams) and make an impact. Not satisfied with finally turning up at the match with only fifteen to go after a night on the tinnies with the Australian national team assistant coach – seen pished in the stand late-on – Oz can't understand what all the furious anxiety is about as he ambles on and amuses himself by nutmegging
the last defender from Eddy's cutback to nail a priceless equaliser. With his standing peg, for extra yuks, mayte…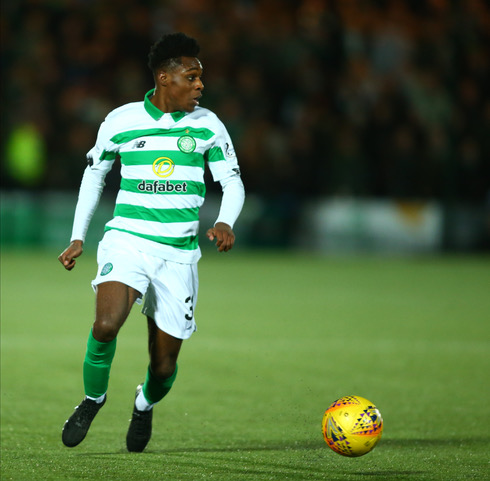 PINGPONG – 7/10
FIRE! sang Arthur Brown, and Pingpong is catapulted off the bench to bring some to proceedings. Big responsibility, team struggling, historic title quivering at the edge of everyone's mental abyss, but the kid got
at it like a wee champ and played a big part in pinning them in and stopping that deadly-breakaway nonsense they plagued us with. Some thrilling wing-play could have produced results too.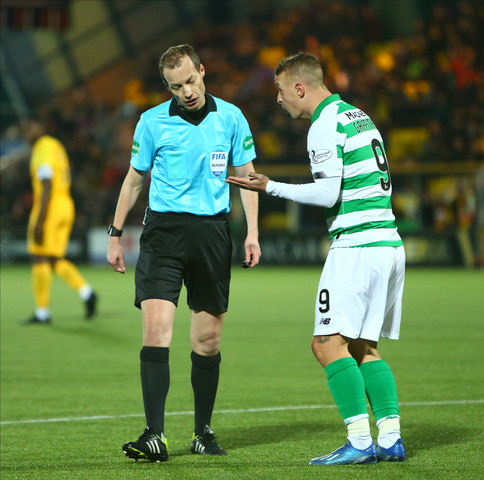 GRIFF – 5/10
Griff used to score a lot in Livi during his Hibs days, but he can't remember any of their names… Tonight was too little Griff, too late; a sea-change from the far too much Griff too early some of the local young Mums wrote to Jeremy Kyle about. That was a lucky show cancellation…Play him from the start, Lennony. You know it's been making sense.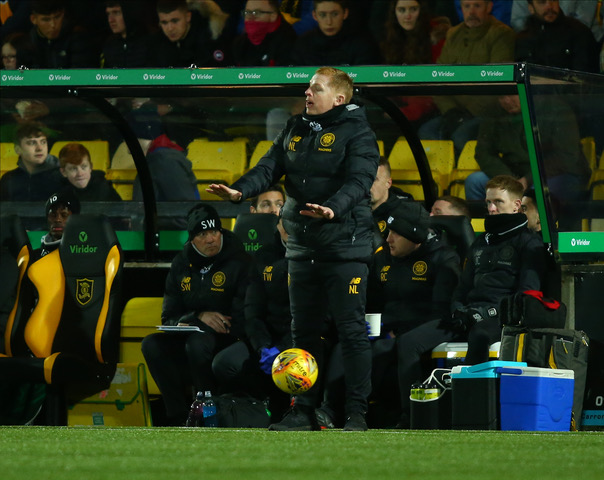 LENNONY – 6/10
The bromance with his captain was subject to a lovers' tiff last time here. Tonight, contrarily, they'll be hugging in the showers. In a manly, non-biblical sort of way, you understand…THREE times this year, this DECADE, he's reverted to starting with ONE up front, and THREE times we've FAILED to win. Two draws and a pumping off Lego enthusiasts. Three's a charm, Lennony, or in this case a
FLAMING PORTENT.
STOP with the lone Celt carrying the heavy burden and play to blitz domestic opponents from the start – give us back the TWO up front and the joyous freewheeling free-scoring Celtic who are romping to the NINE
like resurrected mythological warrior sprites from the pits of Hades. Enough. Let this scare be enough. Let these wracked nerves divest tension. Be certain. Be 3-5-2 until the end. Until the NINE. And beyond.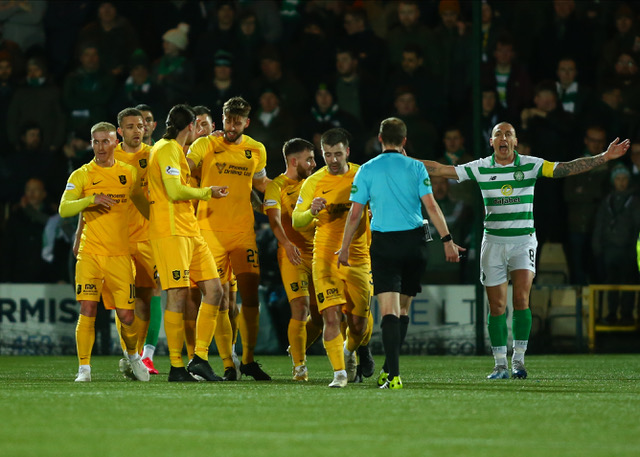 OVERALL – 6/10
Well, that was magnificently pish. The tribulations of plastic pitches. Jinx blown at Killie, toxic ju-ju smashed in our faces again at Livi. Last time was a fluke, they said. Lightning doesn't strike twice, they said. Only because our own lightning struck last.
We got away with one. After appearing to be casually humping them into their place, one goalkeeping blunder wreaked havoc with our composure and a further lack of French resistance had us scrambling like strangers to thwart a disciplined purposeful side who proved their league position is no anomaly. They know how to play that surface, and us on it. They, principally, maximise their attributes, regardless of aethetics.
It's why they've defied odds and predictions all season and are top-six. So nothing but respect for that.
We never lose after taking the lead, though. And the Celts, for all the fruitless indecision and poor continuity we witnessed tonight, are still THE team to beat.
IF you can. Because our Bhoys are relentless; they WILL go to the final whistle no matter how mournful and bitter the support has become. No matter how incomparably poor the performance has been compared to the delights of the season to date.
That's why they managed to pull a remarkable, significant draw out of the ashes. That's why they are, and will be soon, CHAMPIONS.
Go Away Victorious Now.
Sandman. Only hours from the Quadrofenain Rebel Treble, yet years from sobriety in its aftermath.
Watch the Highlights from Livingston 2 Celtic 2 below…
Oh and don't dare miss this…
Possibly THE best 140 seconds you will ever see on Twitter pic.twitter.com/sjAOodlRHg

— Tam sellics son III (@TamsellicsonIII) March 5, 2020
Highlights from the Rangers 0 Hamilton 1 below…
Support Celtic Youth Development
Help raise money for Celtic Youth Development by joining the £1 weekly lottery and you could win up to £25,000 – just click on any one of the photographs below to join. Lots of our readers have already done so and they're now doing their bit to help fund Celtic Youth Development that can deliver the stars of tomorrow and beyond. And you might even win a few bob too! And a special thank you to all The Celtic Star readers who have already signed up and are now supporting youth development to give us the Celtic Stars of the future…