SANDMAN'S DEFINITIVE RATINGS: CELTIC v SCHUTZSTAFFEL NAZIO
"Each and every man under my command owes me one hundred Nazi scalps. And I want my scalps. And all y'all will git me one hundred Nazi scalps, taken from the heads of one hundred dead Nazis. Or you will die tryin'"
Scott Brown. aka Lt. Aldo 'The Apache' Raine.
"It is a little-known fact that Benito Mussolini, 'Il Duce', liked to be hog-tied wearing nothing but a ballet tutu and get mounted by his favourite show-pony."
Sandman Book Of Alternative Universe Probably True FACTs.
Translations for the benefit of the Nazio Ultras:
'È un FATTO poco noto che a Benito MUSSOLINI, 'Il Duce', piaceva essere legato con il maialenient'altro che un TUTU di balletto e fatti montare dal suo SHOW-PONY preferito.'
Brigate verdi = Green Brigade
Laziale parto anale = Lazio fan – anal birth…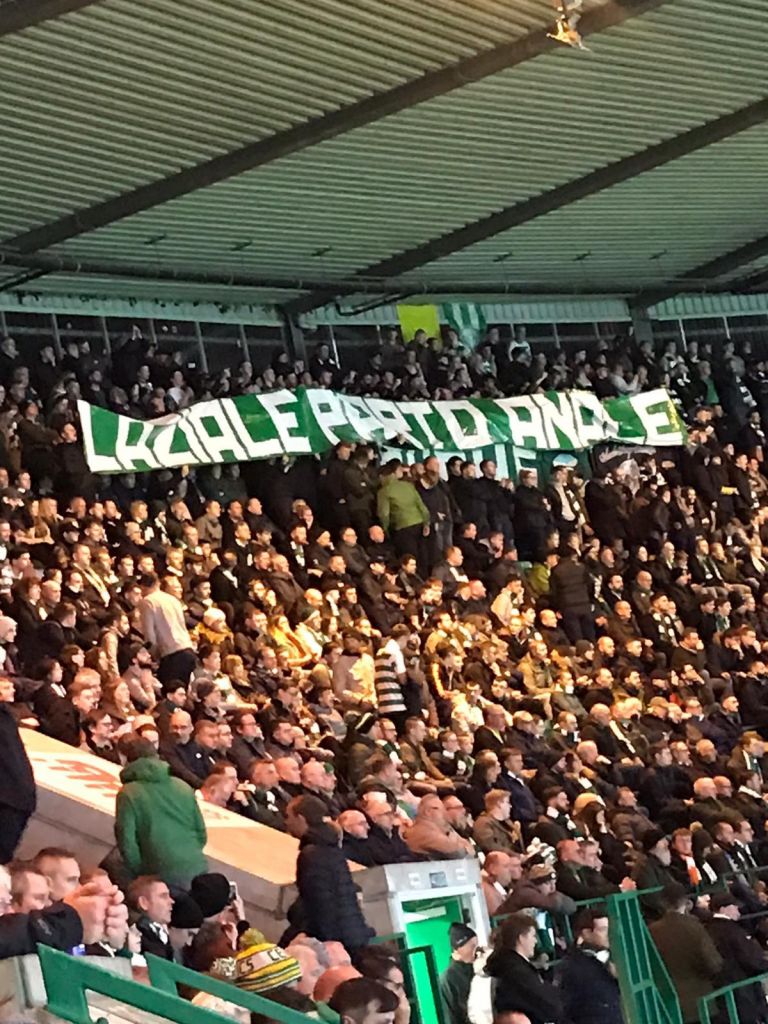 THE WALL – 8.5/10
"The Wall, the Wall, the Wall saves the ball!" And the big mhan delivered on his work-in-progress lyrics with that STUNNER at the death – a save anticipated as the ball broke into the air at the edge of the box. Previously, an equally special, if less spectacular stop with his left leg to delete any culpability at their first. Magnificent besterd.
Without embellishment one of the greatest saves you'll ever witness, truly. Cataldi's stunning volley was goal bound for sure till our number 67 somehow palmed it away. 'He's got no right to save that' @chris_sutton73 #FraserForster Mama Mia are you watching @GarethSouthgate https://t.co/gUpdt9a59P

— Tony Curran (@TonyCurran69) October 24, 2019
HAT ATTACK – 7/10
The Bear Jew (actually he's an Israeli Arab – Ed)! Coshed a few of their Nazi collaborators and took no prisoners. Very competent first half especially – he's an all-round quality pro who can handle many levels of quality with an air of cool. Involved in most skirmishes – including the regular collapse of their huge bruising five-year-old girl Cameo lookalike who excelled in greetin' his big fecking face off every time Hat got within five yards.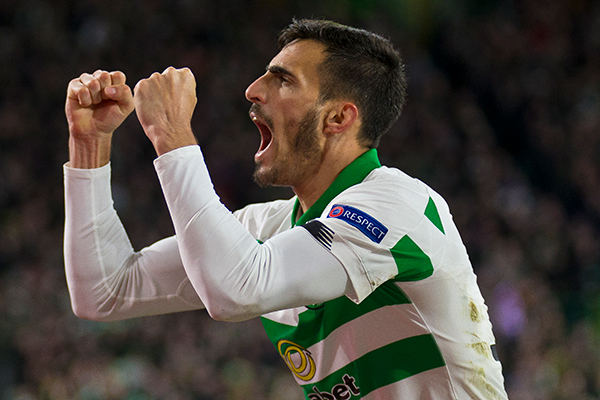 AJER – 7.5/10
The Vikings could never understand why the fascists ran away, and big Ironside got his own first-hand experience this evening as Nazio's finest snowflakes were blown asunder by the Norse Ghod. Tamed his own habitual lunging to act as stalwart to Big Jullien's ball-winning exploits. Focussed, sharp and not a little demented. Born winner.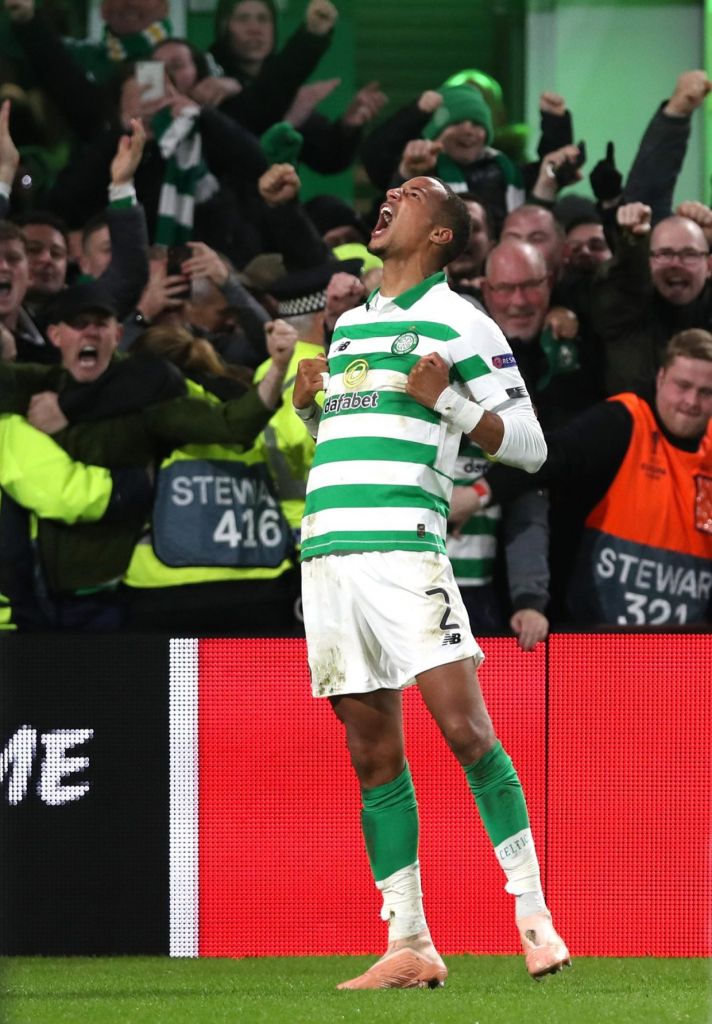 JULLIEN CLARY – 8.5/10
Big beautiful agonising besterd. Please refer to Saturday ratings where I expressed a regular betting fetish for backing a headed goal by the big mincer. I avoided that bet again tonight and the footballing Gohds had me on my knees in a moment of exqusite jhoy and anguish as he delivered. Say no to betting kids… No don't – Say no to changing your wager, kids.
The big guy in his best Virgil van Dijk impersonation to date. Won everything. As Nazio impressed with their defensive layers, anything they threw at us was absorbed and rejected by his dominating presence. And some of his distribution – top-drawer long balls switching play. He's Quality.
BOLIWOOD – 6/10
Was well on his side as he roved superbly most of the first half, finding space, providing excellent cover, then…
Well, then he failed to match his direct opponent's run from deep as Lazio broke. And Lazio scored. And that's the difference at this level – you got to be on it like a Beetle bonnet, bro. He was well astray and repeated the lapse a couple of times second-half but escaped. I'm always balancing out the positives and negatives in his favour, but this evening it must be acknowledged his negative was game-losing, and eclipsing.
BROON – 9/10 MOTM
Leading our Inglorious Besterds in their Nazi hunt. And WINNING. While Corpus hesitated, while Calmac laboured, there was ONE constant in our midfield to keep us ticking over and keep us in with a shout. His level of performance never faded in the face of a very competent Serie A engine room.
It was an extraordinary display by our often-maligned skipper who turned their surging wave of dominance as it approached tsunami proportions and led his team of stoical fighters to ultimate victory.
He hardly put a foot wrong or failed to get a crucial decision right. His experience, his 'ken', was the foundation and launchpad of the comeback. Against a club so mired in the concept of empire, the irony was that Broon was THE empirical force on the field. "No pasarán!"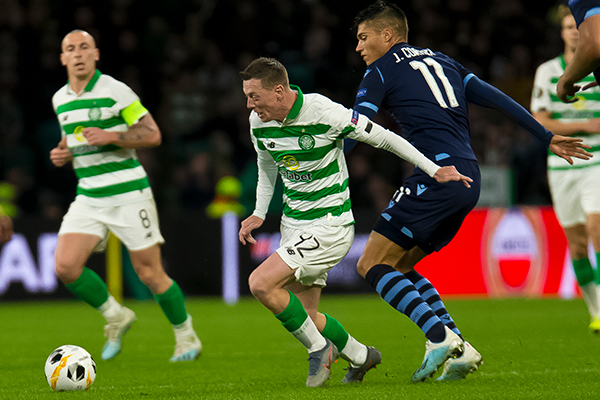 CALMAC – 7/10
They hated Pirlo, so we threw our Podgy Pirlo at them; The bamboozle worked! He found his space and after a first-half of struggle, eventually worked his quality into proceedings – it was enough to have their midfield on the back-foot and allow Corpus to get forward. An evening of crucial interventions for him, allied with his indefatigability meant he was a thorn in their side every time he found space and a pass.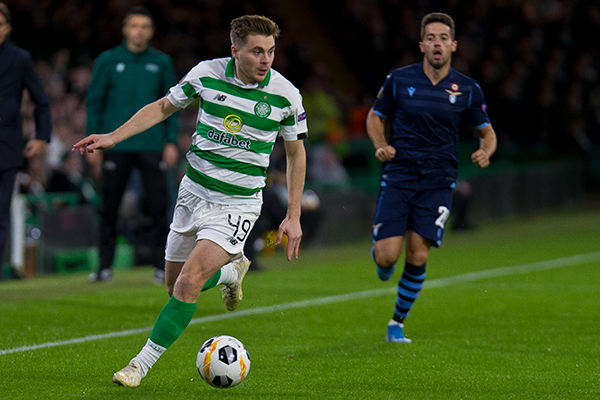 FORREST – 6.5/10
Jamesy Rome-d about. Yet his spark was quelled by constant attention. He attempted many distractions but they're mostly Italian so a quick boaby-flash was basically more to be admired than cause consternation; 'Damn those swarthy lotharios,' cursed Jamesy as he wished for the Scottish ease of shock an empty glass can proffer with its many possibilities.
We expected more but he got unlucky many a time with the break of the ball. However, still required them to double-up to quell his threat. Next time, Flash, next time.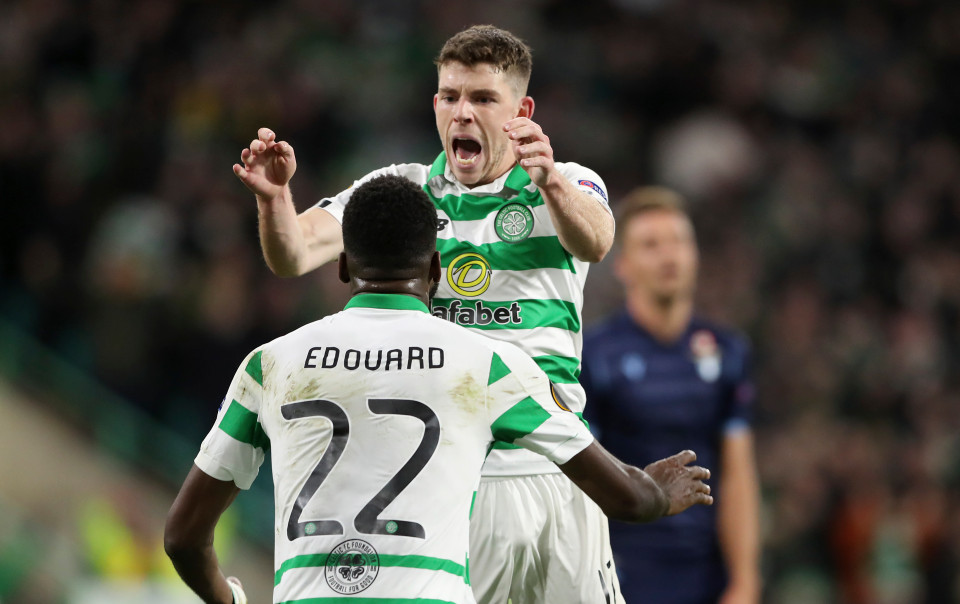 CHRISTIE – 8.5/10
Corpus has risen! After a first-half peppered with indecision – caught napping on the edge of their box twice, fouled without punishment once and hit the post with a cruise missile, the Son of Man was divinely rewarded as a weirdly-saveable clip shot found the back of the net just as we were all forming cliches of resignation, re-igniting the night.
We should have known – the Bhoy The Snake Forgot (and nearly punted for a steal) is our Six Million Dollar Man (see what I did there Steve Austin fans? Yeah- the removable arm and leg glassy bits and the eyes…). He's a force to be reckoned with and wore Nazio down with relentless bursts into dangerous areas – eventually leading to the space he had to score. And finally he nailed the delivery from the winning corner. We have a star. A bright Morning Star.
ELSHAGYONLASSIE – 5.5/10
Go Mo, go! And… Well, no. Looked the part early, attempted to slalom his way into Celtic history. And failed. Too often got his layoffs or final ball wrong and we stuttered to break them down. No doubt he's a player, but looked off the pace tonight when faced with cynical, aggressive defending.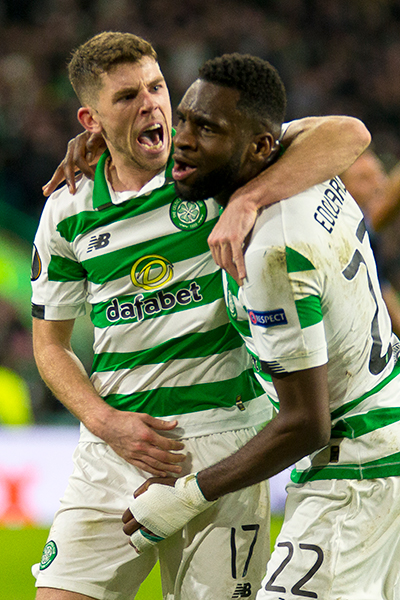 FRENCH EDDY – 7.5/10
French press have taken to calling him 'The Killer', 'Le Tueur'. Which means he's worth about half of the Colombian drug mule across the city they call 'Le petit gras chatte'. Undaunted, he ran a wonderful Han Solo game tonight, tireless in his pursuit along their drilled backline which resulted in much ado about nothing, mostly, yet ultimately bore fruit in a jaded defence failing to properly mark that final corner. Thwarted by insanely good defending but still emerged as a potent threat they will be very mindful of in a fortnight.
SUBSTUTUTES
BITTON – N/A
Ah, The Bear Jew 2 strode on with determined purpose to shut out their late rally; was a welcome sight. How's that working out for you, Nazis?
HAYES – N/A
Time-hopping wunderkind dropped in from WW2 to make sure the neos choked on their sieg-heils and won't be thinking of big Eva Braun while they jerk their way back to their Roman purist slums. No, they'll be visualising JONNY!
ROGIC – N/A
Eyyy, big Oz ambled on once again to try and have some impact. And to his credit he was on the park when we won it but he still looks a good few games off the pace for making any telling impact on contests like these. Yet class tells and would we be surprised if he's a big player come Sunday?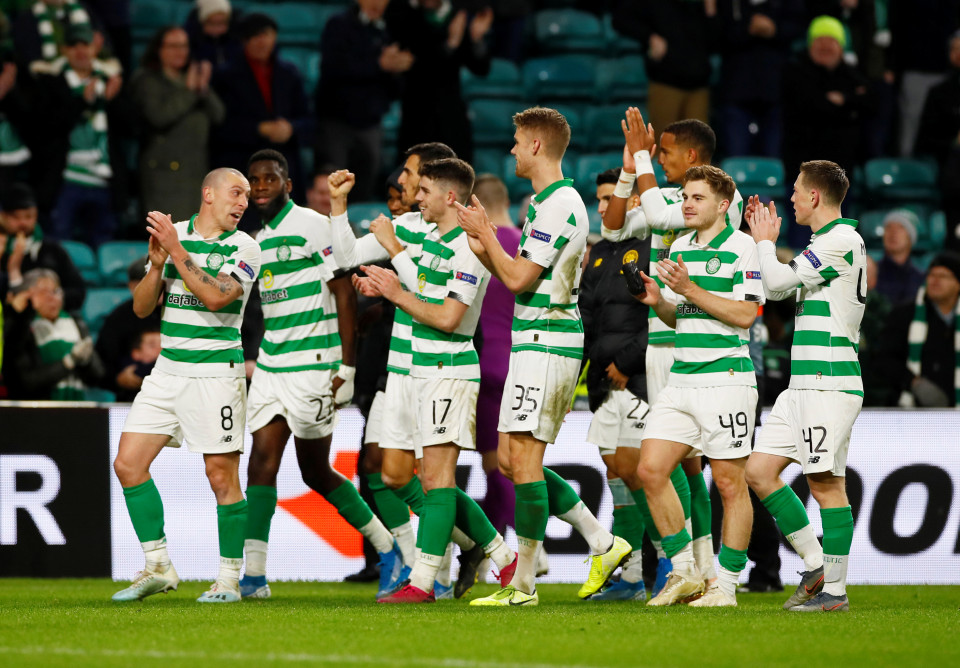 LENNONY – 9/10
He loves an Italian on a Thursday evening. He played Mastechef and cooked up a risotto of bewilderment for these visiting Sons of Mussolini. Down and frustrated at half-time, we MUST give credit to his mental fortitude as his side turned a tie on the-opponents-most-unlikely-to-have-a-tie-turned-upon-them.
Wonderful man-management can only be assumed to get a team over their self-doubt and back at their sophisticat opponents. He had us both direct and measured; the players will thrive on this relative freedom around the tactical framework. It looks like they are, and proving so in the most testing of environments.
Don't be fooled – that 'Lennony' so contentious in Scottish society, so derided by the chattering classes, has pulled off three fine results against three fine European opponents. Who's the boss, motherf***ers, who's the boss now?
OVERALL – 9/10
A comeback in Europe. Against Nazio of Serie A. How lightly will the SMSM try to take that? How indicative of our progress was it? No fecking idea right now (7 beers in…). But it WAS a glamorous memorable rollocking victory in the finest of senses against the vilest of opposing supports.
Oswald Mosely, Gazza, Hitler, Mussolini, Franco, daft wee Nazio Ultras, the Silly Boys, Onion Bears, Daleks, the Windsors, Baron Greenback, Darth Vader and the SS – your boys took a pumping at
Celtic Park, home of the free, club of the real people.
This Celtic side has developed a Euro-spine that gives us an air of menace whoever we play. The only lapse this season was, ironically, at home in a game we looked like going on to win handsomely. The group looked a testing draw but there's a sense of belief about the side that gives the impression of fortification beneath what we as fans witness – like the players can source another level to tough it out or pull off fantastic comebacks like tonight.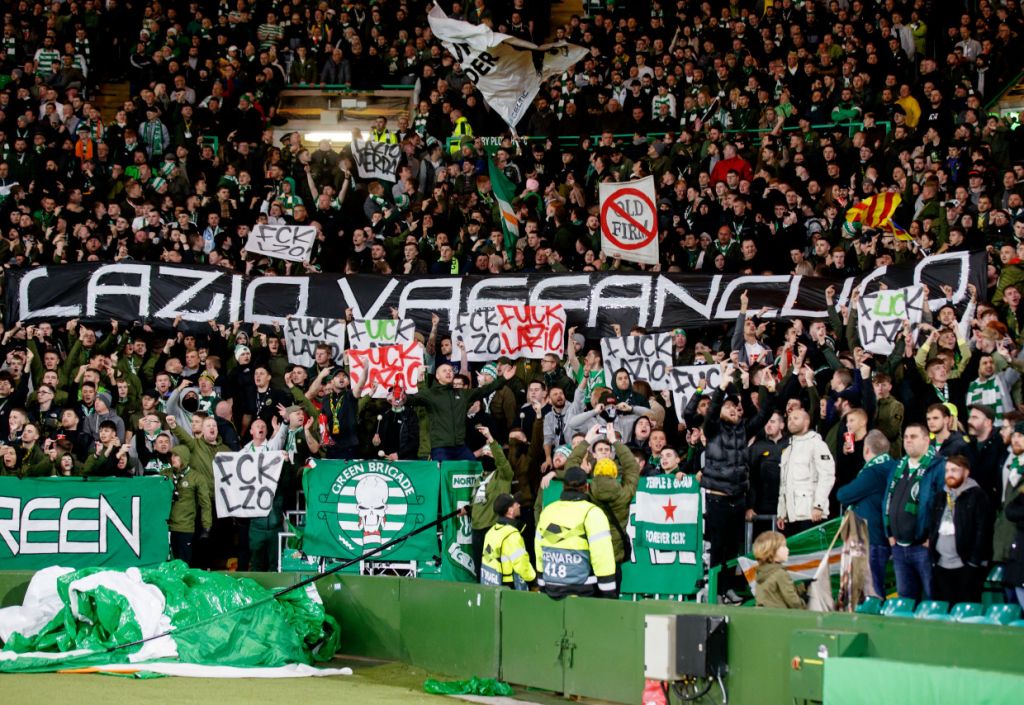 So… This Euro fun is but tinsel. The tree remains constituted of the solid NINE we pursue. That is the prize but games like tonight are a fine meter of Celtic's general health. We forgo that champion focus on certain occasions – Livingston, ffs – yet if we can apply it 95% of the time we'll have the title sorted and a Euro-run on the horizon by January.
Tonight the Roman Empire got their baws on a silver platter, come Sunday it's the big one – for us and the NINE – as we take on the Empire Of The Sheep. More of the same, please Bhoys.
Nazio management. Not. Fecking. Happy: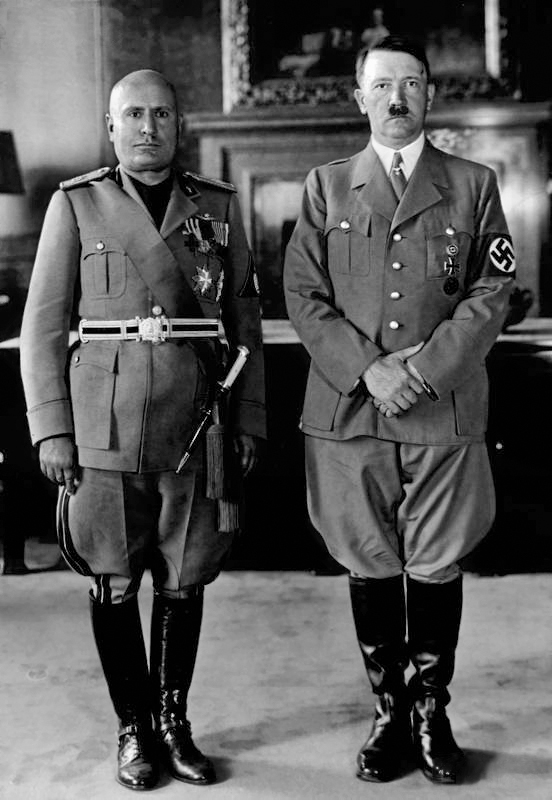 Hail Hail! Not heil, heil.
Sandman