SANDMAN'S DEFINITIVE RATINGS: CELTIC V West End Thespians
"There is a spirit in us that makes our brass to blare and our cymbals crash – all, of course, supported by the practicalities of trained lung power, throat, heart, guts. And The Broon, of the Celts, this he exemplifies."
Laurence Olivier, on Broony.
"It's the Thistle of the Pertick, the battling, rattling dandy old Jags, the Harold Wraggs, the Maryhill Margaritas… Oh the merry banter."
Gary and James.
5-0. Hey guys, did you play football or tennis today?????You almost knocked down the opponent's gate! Super @CelticFC????! You are wonderful! Good luck in the #LeagueCup semifinal! Once you're Celt you're always a Celt..Hail Hail???????? #CelticFC #celticfans #CELPAR #BetfredCup pic.twitter.com/uTpn4ZkWRj

— Ilir Meta (@ilirmetazyrtar) September 25, 2019
THE CAT – 6/10
Back in through the cat-flap and expecting a lazy evening, no doubt. Found himself with a little more marshalling and handling to do than anticipated as we fell into lethargy after half an hour. One got popped past him to upset his 2nd half nap but flagged for offside. Incorrectly? No doubt McCall's claiming it a game-changer as I write this in the back of a car with no radio working…
PINGPONG – 7/10
He's given up a lot to travel from his Thailand backstreet bar where he somehow managed to become local table-tennis champion without wielding a bat. But least said about that the better…Young Pingpong was asked to show the class Man City invested in. Lively lad with no fear was what we saw tonight. Terrorised their left flank from the start with the air of a kid out to make a name for himself. Appears all-round competent as you should expect but often don't get from highly-rated kids. No real test of weaknesses as mostly positive attributes on show. He definitely looks a player.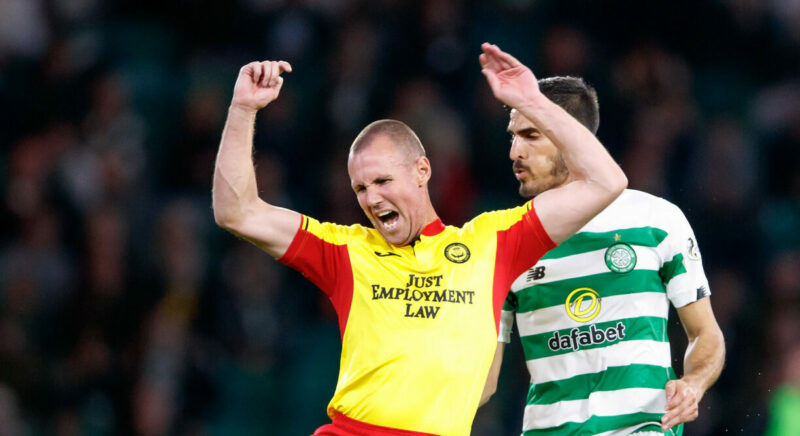 HAT ATTACK – 6/10
Our bonus signing continues to creep under the radar, and dealing with creeps – Kenny Miller tonight, returning to the atmosphere from Jozo's orbit-launching tackle, sporting the re-entry burns to prove it; Or a 'tan' as roasted-peanut-heid tells it. HAT found himself in the middle of a makeshift defence and occasionally in the thick of it first-half as we relaxed and Thistle grew balls. But he and Son Of Ragnar coped well enough, looked to be on the same frequency.
AJER – 6/10
Centre-back role for Bjorn Ironside, tasked with bouncing around the trans-sectarian, arabic-mumbling collapsing shaved Orangutang that is Miller. On a night like this, with comfortable-victory expectancy in the air, defenders
are on a hiding to nothing – minimilising mistakes is the priority to avoid upsets when players ahead of you are misfiring. Our big Techno Viking has the maturity of heid to comprehend this. After his abberation in France you know he's got the professional mentality to absorb that into his game but still tends to over-eagerly dive in. Nothing he can't sort in quick time.
HAYES – 6.5/10
Taking a rest in our timezone from battlefield-hopping, quantum-leaping Mordor Marauder Johnny H was let loose on the Jags as opposed to the Jagers across the Flanders fields. See what I did there, fans of historical 'skelping? And he didn't waste time, bombing (metaphorically) up the left, delivered his first kill of the night by swooping in a free-kick in the absence of Corpus for Cameo to nod in the opener. Did his job as well as ever. Keep him in the (time) loop, Lennony.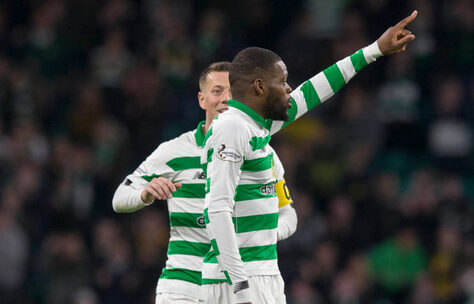 SAM JACKSON – 9/10 Man Of The Muthuf***in Match, Muthuf***as!
WHAT?! Muthuf***in' WHO? Did I hear you say WHAT? A God-DAMN flower?! With a first name? This Muthuf***a's seen some strange shit – Royales with cheese for one – but askin' a righteous brother to slay a goddamn prickly weed with a christian prefix ain't somethin' you see outside a muthuf***in' crackhouse…
So Patrick – that IS your name, Muthuf***a? – Thistle got the muthuf***in' Muthuf***a treatment. Dual-hitman role with Calmac, Muthuf***a looked in control. Got a bit bored towards half-time and let those Muthuf***as muthu***k around until Muthuf***a decided 2nd half it was DAYM time to turn the screw. Quality muthuf***u of a run to link up with the Son and get Oz in on the act. 2-0
And then…
MU-THU-F*-**A!
God-DAMN Muthuf***a hid his muthuf***in' hand-cannon in his muthuf***in' BOOT! Unleashed a muthuf***in' widow-maker from the Gallowgate that blew the muthuf***in' Jock Stein stand exit doors open. Five muthuf***in' minutes later time to nutmeg some Muthuf***a with nonchalant ease as he guided one in the other side. Celebrated with a God-damn muthuf***in shrug.
Who's your Daddy, Muthuf***as?
CALMAC – 6/10
Captain Calmac, if you please. With Sam Jackson in tandem, passes were pinged and zipped and play flipped; all very tidy to begin with but exuding Rodgers-esque tikki-takkiness. Second half he sat and let the Muthuf***a dominate. Tonight almost what qualifies as a rest for Calmac as he was replaced by the other captain after an hour.
MORGAN FREEMAN JR. – 4/10
The ubiquitous one returns. Manager's favourite again ousts former player of the year and video game cartoon superhero. Yet, an obvious choice tonight to face a team of thespians as his dad is one of their heroes. Still, however, he flatters to deceive in a sand-dancer manner, scurrying more in hope than with purpose. Games like this should bring his devastating moments, a chance to shine and make his name the one on your lips. We're still awaiting delivery of the end-product of the natural ability that got him here in the first place.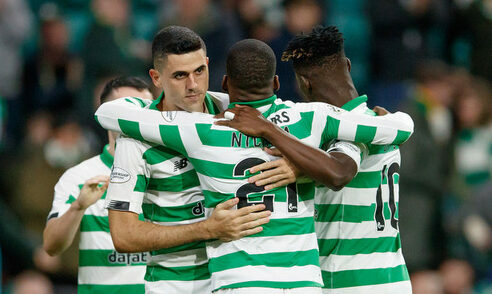 OZ – 6.5/10
Ring-rusty? Only is you've been moelsted by C-3PO. Big Oz ALWAYS looks ring-rusty – it's part of his deceptive ability; false sense of security and all that, then he motors into match-winning mode. Ask Aberdeen, Hampden 2017.
So all hail the Wizard. Back for… Unquantifiable periods of time, hopefully the NINE and TEN uninterrupted. Although I wouldn't put money on it…Tonight he drifted around like a Bentley in neutral. Showing some class,
needing a driver. But soon after half-time, slipped into 'drive' and nicely stroked in the second from a tight space. Good outing.
ELSHAGYONLASSIE – 5/10
More game-time for this promising Viking loanee. Yet another we expected much more from in such a fixture. He seemed to miss the connections he'd formed with Eddy and Corpus in France, looked a bit Rogic-esque in his first-half wandering. But unlike Oz, never rose to the occasion.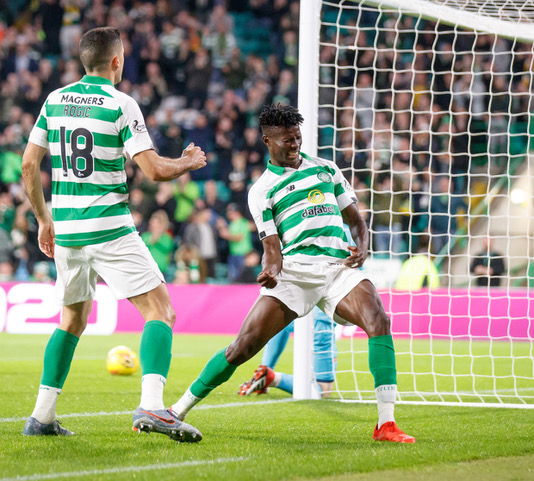 SON OF A GUN – 7.5/10
He's out! After being imprisoned last Thursday for attempted murder of Rennes' mortally-wounded goalkeeper our swashbuckling descendant of 80s hip-hop legend Cameo – Word-Up! – escaped the penal colony on Devil's Island in French Guiana with the aid of his buddy Papillon.
Washing up the Clyde in his tattered coconut raft he was amazingly in good enough condition to start. And what a start! Fifteen in he's planting the first down and in with his blacksmith's anvil foreheid. Precedent set, we used him as a target man, Oz and Johnny H seeking him out.
Unselfish play to tee-up Oz for the second, involved in the 5th. Big fella may be another surprise of the season – after being written-off by many he's shown attitude, commitment to the cause and there's quality beginning to
come through. He smacks of dedicated lad trying to make the most of his opportunity after overcoming the odds. Also smacks of good man and player management by Lennony, for the doubters out there…
SUBS:
62 goals and 34 assists in 165 games. pic.twitter.com/p0EUpCPNje

— CelticBible (@celticbible) September 25, 2019
SONIC – 6.5/10
Is he better than Morgan Freeman Jr? No laughing at the back there… The mystery of Lennony's tenure became a little de-mystified tonight as Sonic came on and showed his quality. Slotted one in cooly, celebrated to the approval of Charlie Witless.
Boliwood nicked his hair but nobody's off with his class. Get Sincy back on the scene. Memo to Lennony; Enough fannying around with impostors. Mon. Tae. Feck.
BROON – 6/10
WTF are you doing on here, Broony? look, keep the heid, keep the ball, don't kick anybody, don't get sent off and don't get injured. Mission acomplished.
HENDRY – N/A
Jack's back. For how long? Well he'll get some confidence from involvement at least.
LENNONY – 7/10
A few changes. And in this competition we've suffered/struggled for that in seasons past. Cough; Morton…;Cough…Alloa; Cough…etc And Lennony shook the squad-tree again to see what fell out.
Unluckily for him, it seemed a few passengers jumped in early. Certainly in that first 45 , Oz to an extent, El and Morgan F. Jr wandered around with the air of absentee Rainmen. However, things took shape as he shuffled formation and demanded our quality prevailed. He will have learned a little, taken a lot from some successes and be happy everytihng went to plan.
OVERALL – 7.5/10
A night removed from the Palace of the Gallus for the Firhill Fornicators as they trembled into the Collosseum of Champions with their newly poached ex-Ayr manager looking for favours from the Gods of the theatrical. But Paradise favours only the righteous. No room for pretenders. Tonight, Celtic made room for the ambitious among our own ranks and gave them the stage to perform.some did, some had an ignominious outing. But ultimately, the real stars shone and we got what we expected – another step towards the Quadrophenia Treble.
Go Away Now.
Sandman – on it quicker than you expected, Muthuf***as!
ALSO ON THE CELTIC STAR…
'Tom Rogic was simply breath-taking.Take a bow Olivier Ntcham. A masterclass,' Niall J…see HERE.
Celtic's five goal thrashing sets up semifinal against Hibs…see HERE.
'Hail Hail, les Celts sont ici' – Matt Corr's Rennes Diary…see HERE.