SANDMAN'S DEFINITIVE RANTINGS: CELTIC @ ARKHAM ASYLUM
BANE – 6/10
'What the feck was that?!' It was the fecking ball, Scott. Zipping past you into the net. Two minutes in. A moment of incredible bewilderment that encapsulated the entire Celtic performance.
And so, despite the energising vilification upon which he thrives assaulting his ears, his day was taken up thwarting the enemy. After he woke up, he did well, arse-felt goal aside.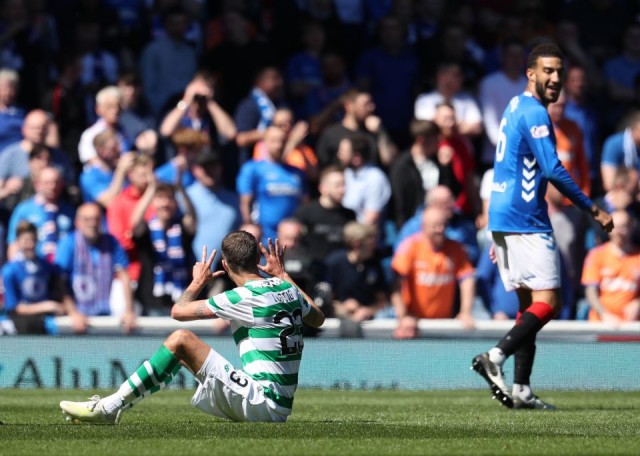 LUSTIG – 3/10
He's Micka. And he's mad. And if he doesn't tune-in in time, he gifts them a free-kick from which they score and we're on the back-foot with a team that has downed tools. Uh-oh. Wise to escape the crime scene at half-tme. YOU should have been there shoulder to shoulder with Broon, Mick, demanding a fight.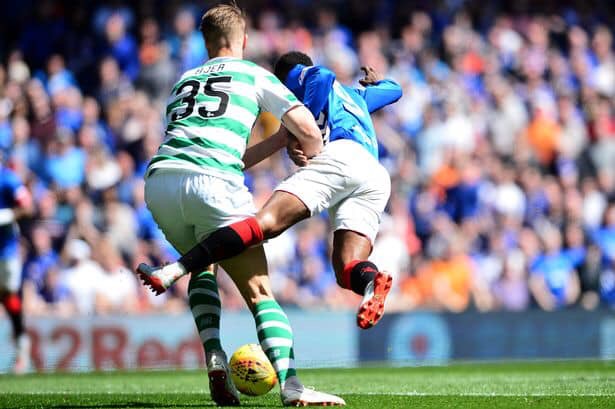 AJER – 5/10
He's big and he's frustrated – he was a half-yard slow to every ball and with every thought, culminating in their second goal. Would have bet on big Kris to sniff it and cut it out any day. Not this one.
JOZO – 6/10
In fairness, he won every ball he needed to. Sadly, there was nobody capable of taking a pass from him as our midfield engine broke down.
HAYES – 6/10
Honest trier. Honestly woeful with his final ball. The Celtic malaise gripped Johnny early and he fought it well. But there was no final ball to trouble and no real sense he could cause them problems. Still, he at least looked like he wanted to be there.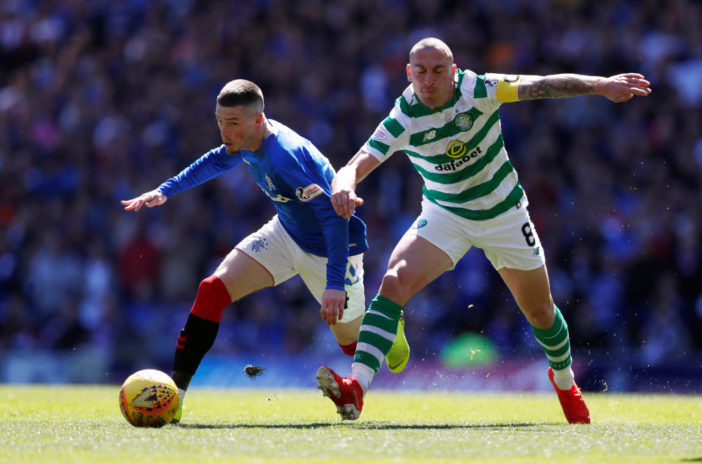 BROON – 8/10 MOTM
The skipper does what the skipper does. He turns up for the battle, regardless. Well? Can you argue against the ONLY true Celt on the field? I've never felt more for him than watching him play his heart out  and watch those around him HIDE.
Even when Fannygan mistook Broon for his missus, the captain took an elbow to the face and got up for more. HE was the one you look to when the chips are down and HE provided the perfect example of how to handle an adverse situation like today.
Betrayed by some bottle-merchant teammates.
CALMAC – 3/10
Sorry, wee mhan, but that was COLIN NISH. You either want to compete at Mordor, or you stay home. Half-hearted application. The metronome became the big bass drum with ridiculous long-balls – forged a lasting friendship with Fuderingham who fielded more passes from Calmac than his back four. LAZY midfield play. Nonsense, and you know it.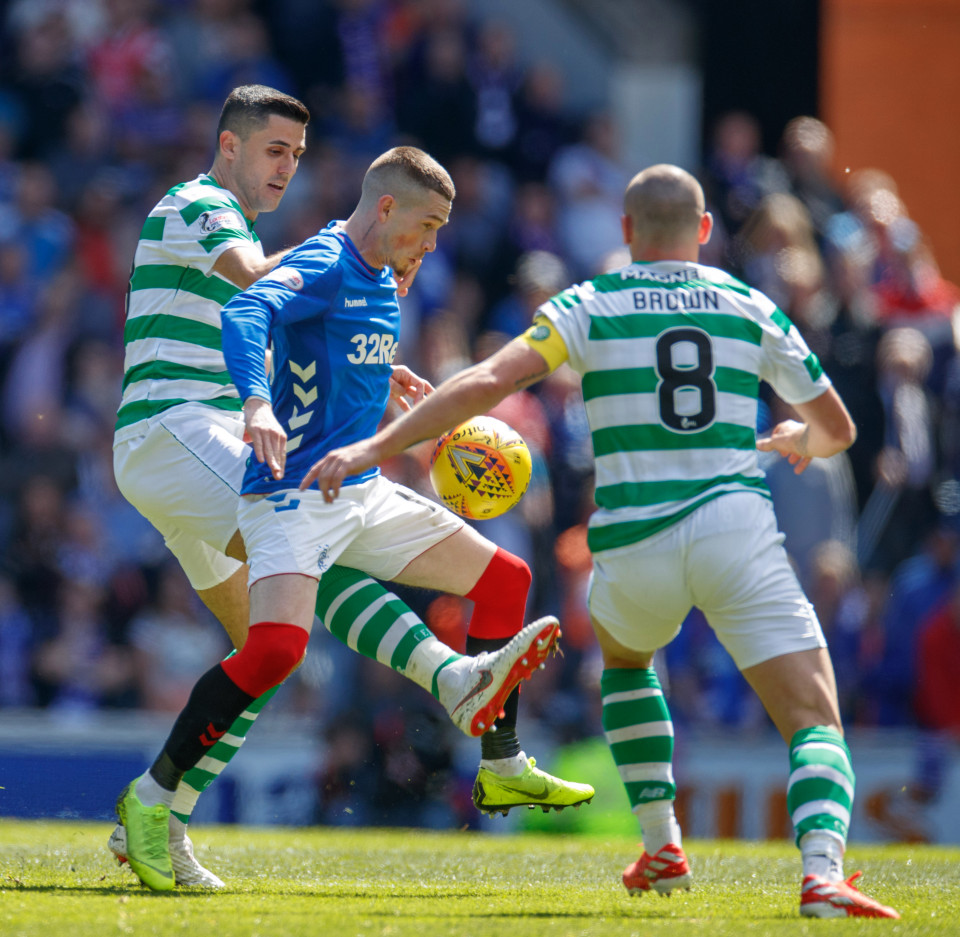 ROGIC – 0/10
You got to be kidding us? THE Tom Rogic? THE Aussie magician? Bodysnatchers inc. did the business on him today. Barely a touch, hardly a mention, totally ineffectual. Disgrace of a show. The Antipodean Bushmaster (ladies…) wandered around like a dehydrated tourist on walkabout.
If there's more to it and he's protecting himself for a summer move down south take some advice from the Sandman, Tom – feck. off.
MIKEY J – 4/10
And he looked so sharp early with flashes of skill. And he looked…eventually so much like December's Mikey J. Disappointing, BUT – let down by those senior pros around him to whom he might have looked for service/help; nah, they didn't give a feck, Mikey – hung you out to dry.
BURKE – 3/10
Right yopu are. £14 million? Right you are. Open net? Sclaffed it. Hustle them? Hardly a challenge. Roved and roamed and resembled Mongo form Blazing Saddles. Return to sender.
FRENCH EDDY – 6/10
At least he battled and persisted in being a threat. Touch was out but support was non-existent. One of the loneliest shifts he'll endure – casting a glance back for a Hooped shirt must have felt like Rick Grimes trying to spot Carl in a Zombie herd. Chasing his own knocked-on header mid second-half summed up our continuity.
SUBS:
TOEJAM – 4/10
Not interested. Thinking of life back in Germany. Why he got the replacement gig ahead of Ralston is anyone's guess. And only one man's reasoning.
SAM JACKSON – N/A
Just what a muthafecka needs- meaningless muthufeckin' gametime against a
bunch of hyped-up, deluded zombies. Muthu-fecka.
SINCY – N/A
Did Sonic get a touch? Can barely recall seeing him.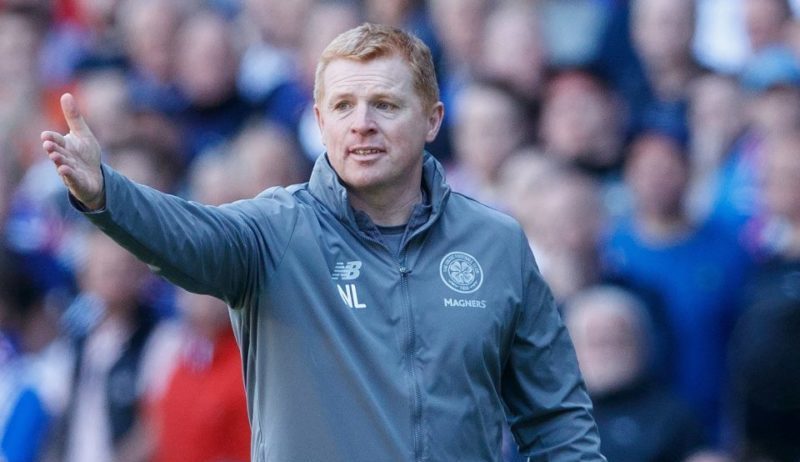 LENNY – 3/10
Taking the game in isolation – Nope. Piss-poor in many aspects however heavy your bias. There's obviously dialogue with the team we will never be privvy to, BUT any Celtic performance of that mediocrity against them begs a few questions. Most worryingly – only ONE player looked prepared to fight for the jersey – and for Lenny.
And even in writing that, it dawns by logic that Broon has too much professional pride to lie down in a similar vein to his comrades, and that his own battling performance was for selfish purposes.
What a tragic position you managed yourself into, Lenny. Mikey J sacrificed at the altar of 'Well, maybe this time…', Burke thrown in for theoretical physical effect – when in reality, he failed to shake up anyone bar a linesman with his wayward careering play.
There was no hint of the Lennon winning way – that great high-press and tempo utilised to win our most famous Euro games under him.
Instead, Lenny blots his copybook in the worst way, a first defeat to them. Midfield surrendered, Rodgersesque, formation altered with wildcards, lack of motivation… Just… utterly ineffectual.
Lenny delivered a Celtic performance the equivalent of mooching around a half-empty shopping mall. Which might have been preferable to watching it.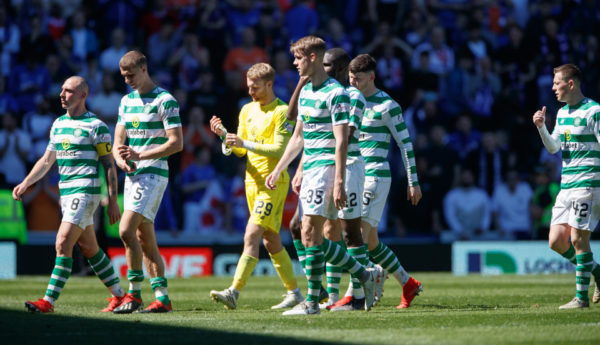 OVERALL – 2/10
'Welcome to the Stevie G testimonial event, soccer fans. Today's Monkey-fodder will be the Celts of Glasgow who phoned in their performance sometime around breakfast…'
Schadenfreude Sunday reprised? No. Shameless Celtic regurgitated.
Two out of ten at a struggle. Burke's open-goal miss was our only shot on target. Think about that – one shot on target for Celtic against the Sevco project.
It's all very well going into the match as champions seeking motivation, up against a side of excited trophyless Zombies. When you let them dictate play then decide you cannot be bothered retaliating, you have problems.
From the start they were at us with an unhealthy intensity, uncannily similar to the frenzied Zombies of 28 Days later or World War Z. Like the victims of those movies we were swarmed and all life quickly extinguished.
We had no tempo, no attitude, no guile, nor customary fleet-footedness. Hardly put more than half-a-dozen passes together at any time.
We were a shambles. A disgrage to the Hoops. The players – bar Broony – looked like they couldn't care less. They went through the motions, the support went through dark emotions.
Clancy could have lightened the load if he had applied the rules properly, but he revealed himself as another Gollum – spineless in the face of the Hordes. Only a yellow to Fannygan for practicing his marital conflict-resolution on Broon. A refereeing decision born of utter sh*tebaggery.
On the other hand…
The contention is that with the title won the game was meaningless. In the bigger picture, yes. In the microcosm of Mordor, no; They'll get a few thousand more committed to season tickets on the back of their 'triumph'. More hope to finance King's mendacity.
Celtic have donated kindly to their cause twice now. Two ignominious defeats. We can forgive the players nearly everything for achieving their superb EIGHT, but that effort left nagging doubts about capabilities going forward.
I'd hoped they'd go to Arkham Asylum and dazzle the inmates with gallus football – make it a Champions showcase. But they went through the motions, couldn't get the game done quick enough, sent the already Deluded into a Champions League-winning rapture.
Left the Celtic support with a post-title depression, badly let down the brave 800 who had poured through the Hot Gates of Hades.
The Treble Rebel Treble in now a must. We need the elixer of triumph to detox that Filthy Sunday hangover.
Fingers OOT, Celtic!
Sandman