SANDMAN'S DEFINITIVE RATINGS: CELTIC @ RIGAN IN THE RIGGIN'…
B.A BARKIS – 6/10
Got me on a plane, fools! Duck tape and rohypnol (supplied by Griff) got our reluctant stoner keeper across the Baltic to freeze his baltics off in Latvia, the home of the Cafe Latvie; though it's probably not. Nothing much to do except scare the bejesus out of us with some gallus passing across his own empty six yard box. From the wing.
GREGGS THE BAKER – 5/10
They don't have a Greggs in Latvia, making it truly a 3rd world commie sympathiser hovel. Pity, because Greggs was in a stock-checkmood. Check. Check. Check. Cross. The. Flaming. Ball. Early. Occasionally. He's our conservative candidate for the Left Side.
BITTON – 7.5/10
What a waste. Cleaned their nippy Brazilian out with a perfectly-timed industrial tackle after 4 minutes, Mossad eye-blink-comical-blindside-reverse-face-smack when shielding at the byline after 5 minutes, utterly CRUCIAL goal-saving block when isolated in a 3 v 1 break (nowhere near enough credit given to his sense of timing to intercept the killer pass), and smashed another to the turf winning a header soon after. Big Nir was on it, and Big Nir was required to be in the thick of it as we struggled. But he remained at the left side of the defence when he might have been instrumental if switched into the middle. Still, great solid game.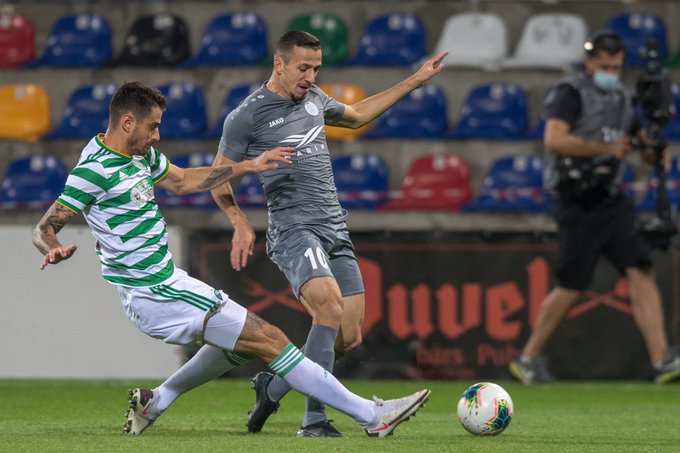 ALAN LADD – 5.5/10
Big Shane wrestles coos to warm up. And he likes a wrestle on the pitch. But… he's not designed to play the refined role Lennony asked of him last night – the Jullien Clary VVD impersonation does not suit Shane's all-out ball-winning approach; he's a centre-back in need of a sweeper alongside, or in the case of a 3-5-2, a deeper-lying midfielder. Asking him to be the focal point of build-up play from the back slows us down; someone from the midfield needed to take responsibility and inject pace.
AJER – 5.5/10
Confused? He looked it. Should he stay or should he go, asked Mick Jones, and Kris didn't know either. A- he thought his ancestors ransacked this place centuries ago, and B – is used to a suave Frenchman showboating beside him, he now has a savage Irish monolith rocking around. He lacked the direct push from the back he's been refining well, and became another pawn in the side-to-side retention. We need commitment, Ironside, on and off the park.
BROON – 6/10
Well Broon does his captain's job – comfortably retaining possession, sorting out their upstarts, taking a booking and… He awaits others fulfilling their roles. He waited a long time. He'll hopefully have something to say about that in the dressing room.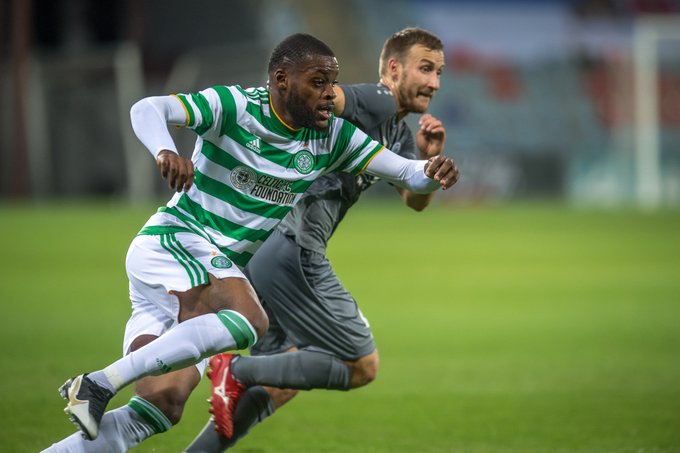 SAM JACKSON – 5.5/10
Muthutucka too cautious in that daym Reds hellhole – rocked up to take the game to them, got muthutuckin' caught up in the midfield jam and subdued as the rest despite unleashing a muthutuckin' hand-cannon on them on the half hour which the keeper tipped over. Thought that might be the muthutuckin' start of it but he, and we, failed to exert any righteous judgement.
Olivier Ntcham tests the Riga keeper with a strong effort from distance! 💥

Celtic on top so far but still searching for the breakthrough 🍀 pic.twitter.com/c2Etwl6oar

— Premier Sports 📺 (@PremierSportsTV) September 24, 2020
CALMAC – 6.5/10
Where was the influencer of previous wins? For some reason, despite his usual tidiness, Calmac was plagued by the apprehensive approach of his teammates, drifting too wide when we could have done with him sparking things off centrally. It looked a coach's problem – i.e define the roles: Corpus and Calmac looked like they were deferring to each other when one of them should have been bursting central to link with Eddy. We ended up with Calmac left, Corpus spinning wide right and Eddy versus five defenders in the middle.