SANDMAN'S DEFINITIVE RATINGS: CELTIC @ SHAKA ZULU…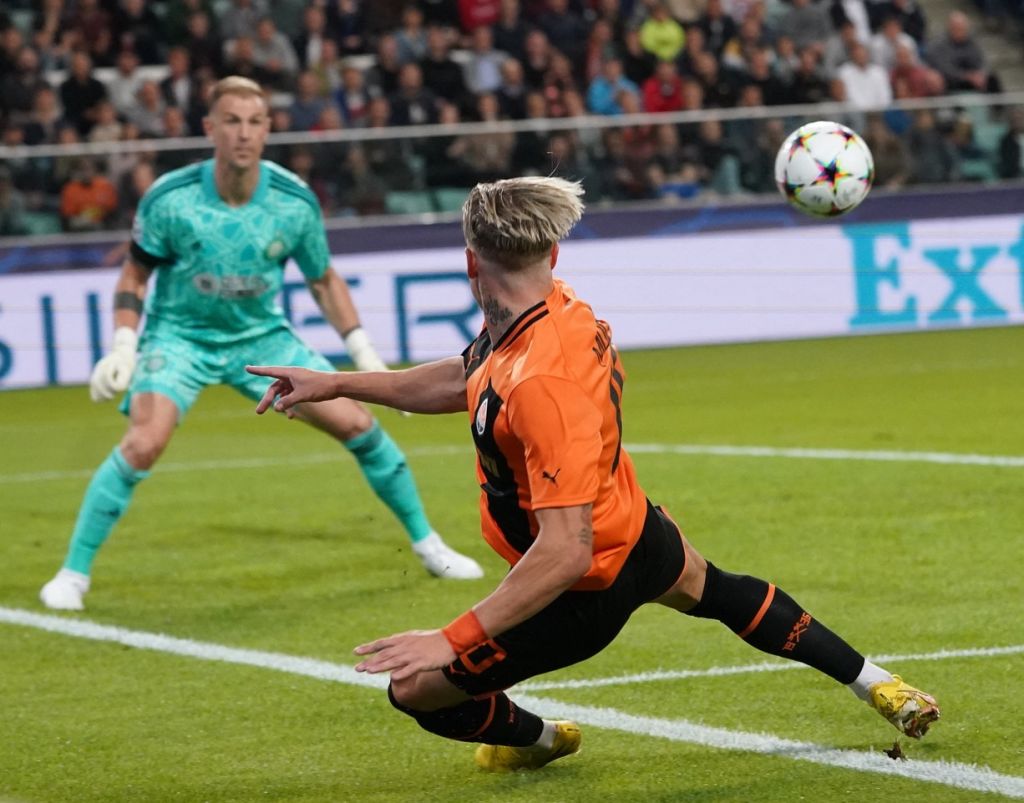 ROXIE – 6.5/10 – Bam! Big Joe caught out by a swishing finish that had him in mental no-man's land, anticipating both a cutback, and a strike. Actually indicative of our overall luck as the rampaging Jesus freak swiped it at pace up between Joe's shoulder and hand; probably the only and perfectly sweet spot for getting it in. Any culpability was redeemed with subsequent safe handling, command, and a 'keeper's save' speciality as he got the extra dig in to scoop away a fortunate sclaff by John Wayne's spare shed.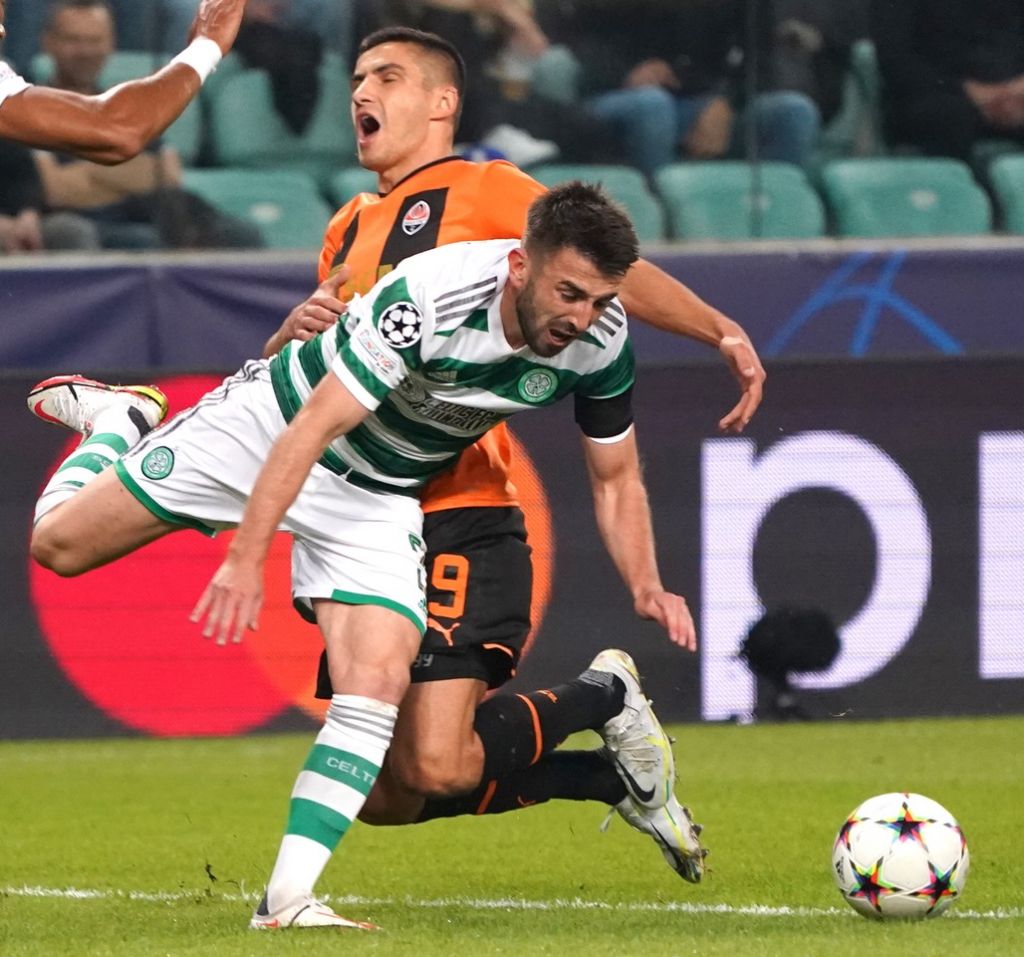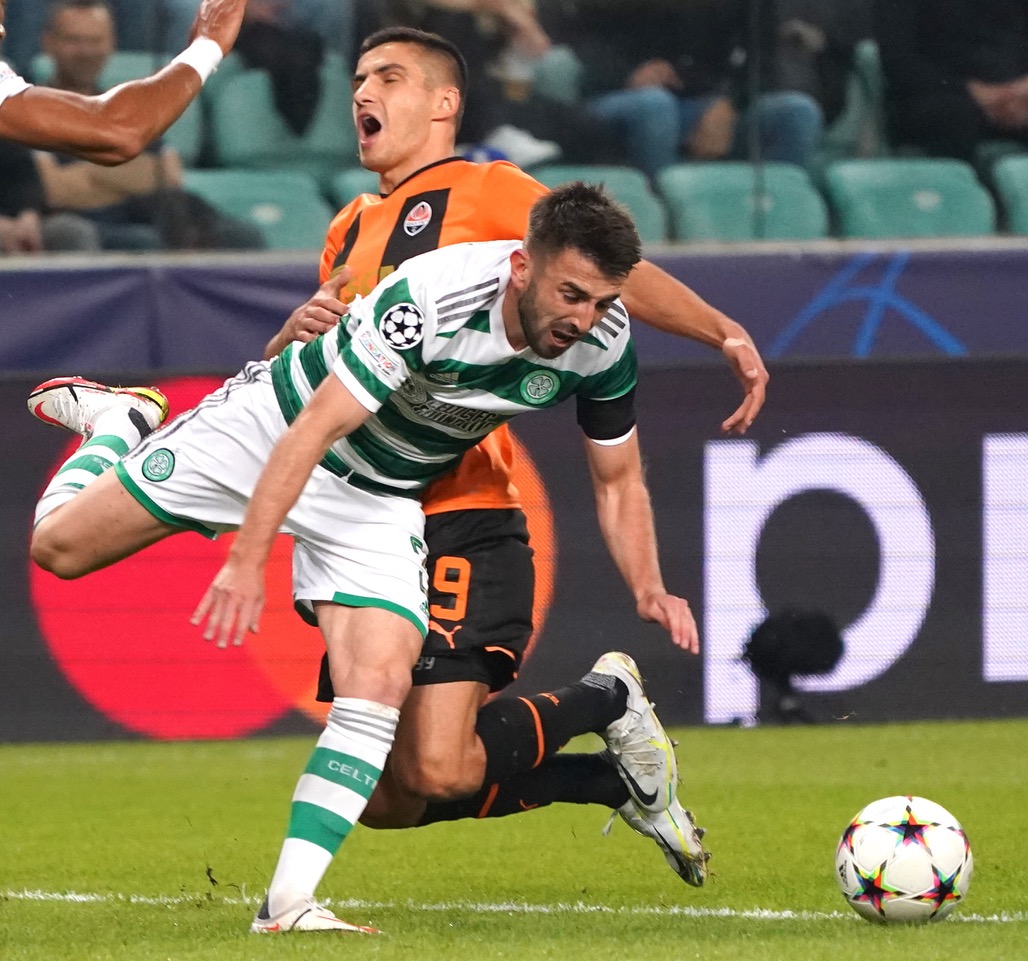 GREGGS THE BAKER – 8/10 MOTM – "Madreed? Pah! Sheektar? Pah!" Fantastically solid and industrious – as we've come to expect. Add in tenacity, with extra quality and positional nous gleaned from playing under Ange, and this former wee Scottish journeyman is standing tall on the biggest domestic stage there is. Again.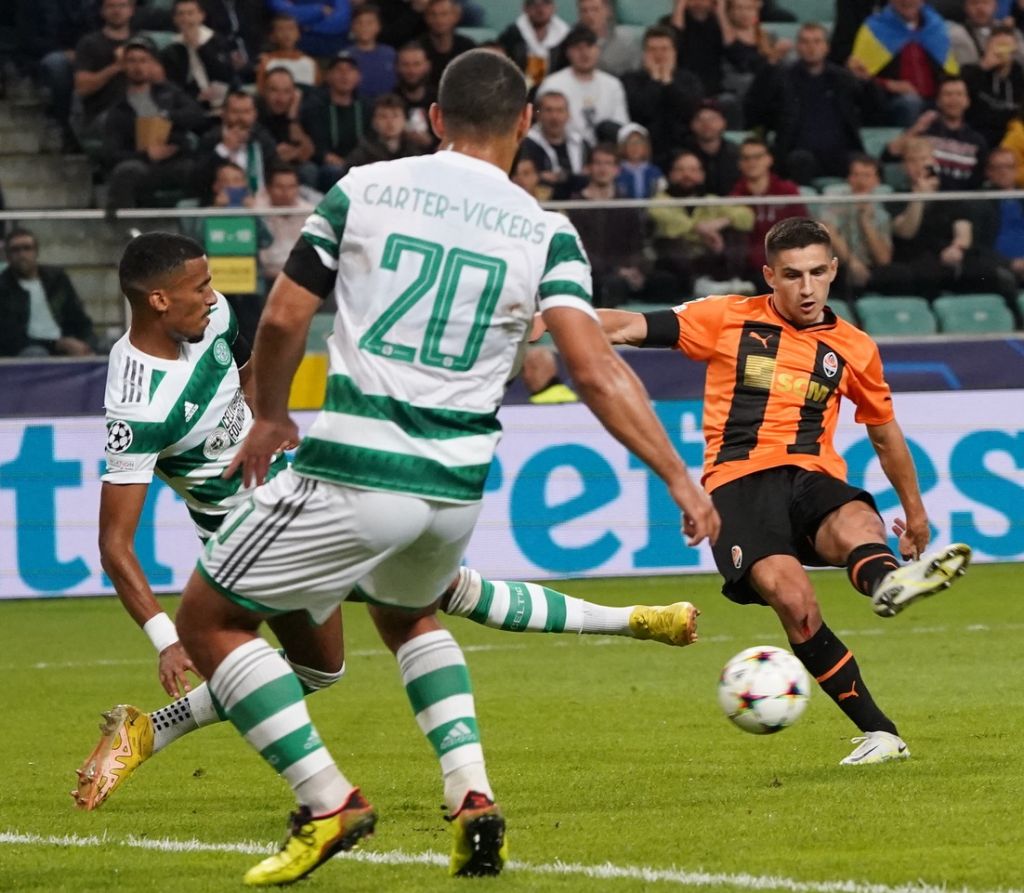 BIG MERCEDES – 7/10 – So close to glory. Useful as a CB who can step into mid and not waste a pass, also has a goal in him. Segued well with CCV as a formidable twosome who had to handle their physical threats and nullify. Pass completion was exemplary – vorsprung dur, etc, but other badge… – and but for a laspse in injury time that stuck hearts in throats he was again worthy of a CL spot.
GET CARTER – 7/10 – Stomin' Norman attitude as he pranged their lumbering Eastern Block O' Wid time and again, winning every necessary battle with aplomb. Sharp to intercept and sharp to distribute with intelligence. CCV enjoyed his romp in Europe as much as the 17th Airborne in the Paris whorehouses back in '45. Though that was all the action they saw…
JURAN JURAN – 6/10 – As volatile as the Bitcoin price. Lashed a cultivated clearance that became a spectacular pass to set up the opener. Then got skinned by Bible John Haaland for their equaliser. Then wasted great attacking options with heavy touches late-on, whilst providing electrifying support that had them pinned.He's our eccentric footballing conundrum, much as buffet-destroying Alfie is to them across the city; Except JJ's not a James Hunt.
CALMAC – 7/10 – The Neverending Story; an irritating bleated 80s tune by mulleted Zombie icon Limahl, but remixed for the 21st Century by Calmac, whose boots play out a finer rendition with an incessant rhythmic quality by which Angeball functions. Only when Calmac's engine idles do the opposition get a foothold. That they did as our midfield failed to cover his hiatus. But once he was back calling the shots, the platform was built for a victory that sadly never came.
THE BUILDER – 6.5/10 – More CL moments of great quality from the viking kid. Played very high all first-half, as high as I've seen him all season, forcing the press that should have facilitated the goals that killed them off before half-time. Has a sublime quality to him that will evolve into something special and matchwinning. And the chicks love him too. Get the Matty merch out, Celtic.
HAKUNA HATATE – 7/10 – They stole the goal! Dishonoured and flaming raging, the wee mhan will feel robbed by the 'O.G' decision; Despite the fact he was trying to tee up Kyogo…Give him space and feed him the ball early and he'll pick a peach or two. Seemingly heavy pitch took its toll on him tonight but not before he'd shown he can cut it at this level.
MR.KOBAYASHI – 6/10 – Ah, nae luck Kyogo San; denied by a boot in the opening minute, too generous to pinch his buddy's goal with a tap-in, then stifled in the Land Of Giants as we failed to open up their bottleneck central defence and he departed without another clear sniff of goal.
NOTEBOOK – 6.5/10 – He shares your frustration. After looking set to jig them off their feet in the first fifteen, he switched wings and faded. Then got himself back on the left second 45 and resumed the dance-off, blowing his big moment with a stumble after a Jinky meander across their box. Next game, kid; it'll come.
HACKY SACK 6/10 – Well, started a real liverwire and his weighted slip was perfect for Reo to score. But the wing switch with Jota backfired for both, with Hacky Sack suffering most and fading from the action. Still, give him some more game-time and familiarity with the system and hope for fireworks. Like on Monday. We won't be playing, but expect fireworks…
SUBS –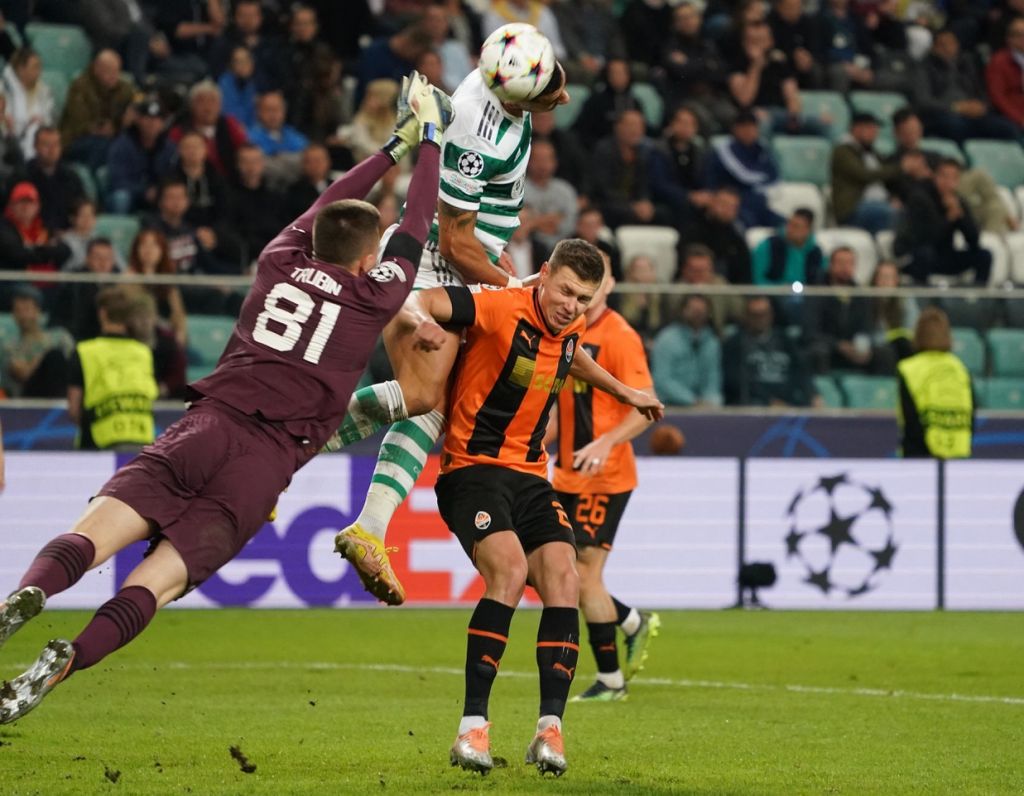 SON OF JACKIE – 5.5/10 – Ooohhh, the big barbarian unit had this made for him. Possessing the physique to bring down the twin towers at the centre of their backline without hijacking anything, he both succeeded and failed in equal measure; created the precious chances for himself and then squandered them. The big miss in particular – a stick-on as he swivelled on it. Damn. Then the last second slap on the heid by the keeper; shot of luck as the ball came off his shoulder rather than his majestic Greek bonce which would have delivered the energy to propel it in. Damn, once more.
ABADASS – N/A – Good to see the kid on to rustle them with his pace, but never given enough time and they were off the hook.
MOOEY – 6/10 – Another cameo worthy of note. Strode around well at ease, letting Calmac loose higher up to pin them in, and was efficient and purposeful on the ball.
EDDIE TURNBULL – N/A – Good grief, old bar steward back in Poland for the first time since he helped liberate Auschwitz and he pays tribute by launching the ball over the bar to freedom like he was flipping an inmate over a fence. Get yer eye in, Eddie T.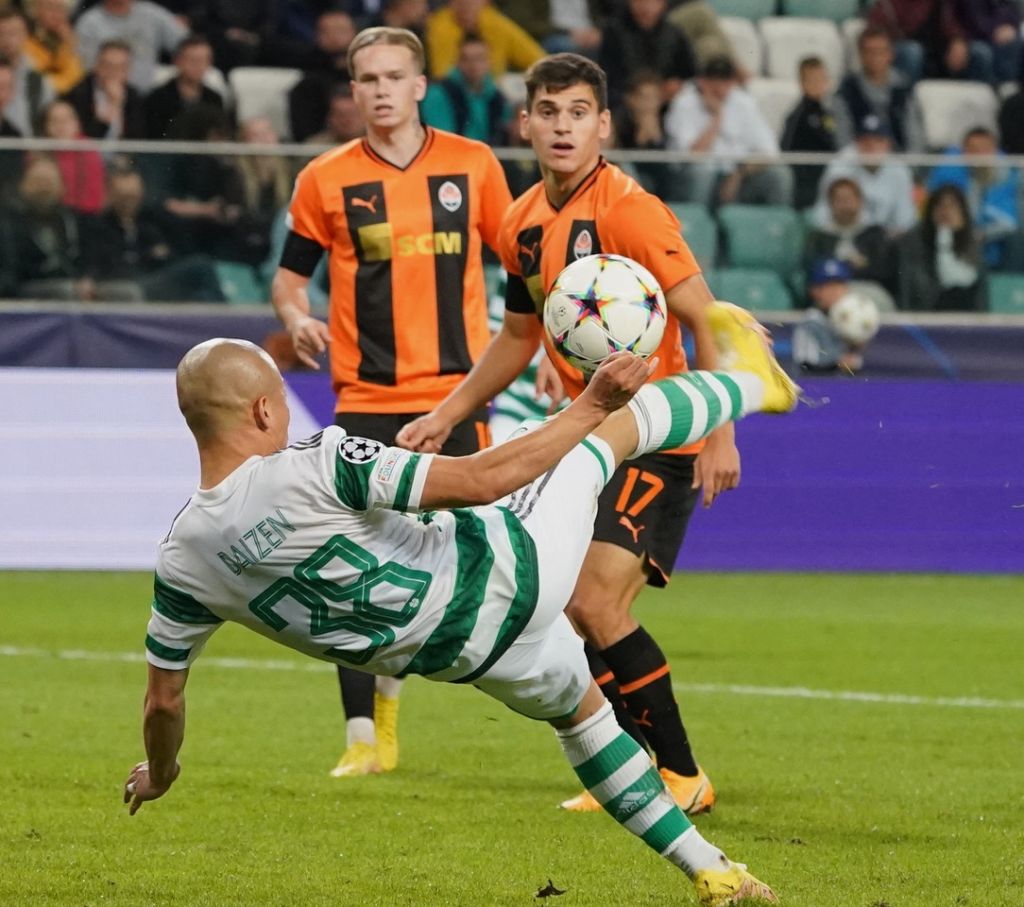 LORD KATSUMOTO – 6.5/10 – Ooft, a baw hair from glory. Not that he's got any (manscaping, ladies…) going by his napper, but inches from winning connection with his standing left peg after a sliding attempt. Steamed around the joint getting tight in their faces and nearly attained honourable glory with a nicely executed overhead bang on target; though also straight in the face of a fortunate defender who saved the day for Shaktar.
ANITA DOBSON – 7.5/10 – "Stuff it, go get 'em" seemed to be the team-talk and the Bhoys did as asked. Could Shagbag take it like Madrid? No, they couldn't… But we couldn't pocket the golden tickets either, and passed up more chances than Ange would get in a Nunnery. Only quibble is that he waited a tad longer than usual to deploy his subs, giving them enough respite from our relentless pace to consolidate their defensive strategy. But Ange still spent the latter stages of the game slicking his hair back in disbelief with the hands that were never off his head. Tomorrow's training sorted then: Ball; Goals; kick it in.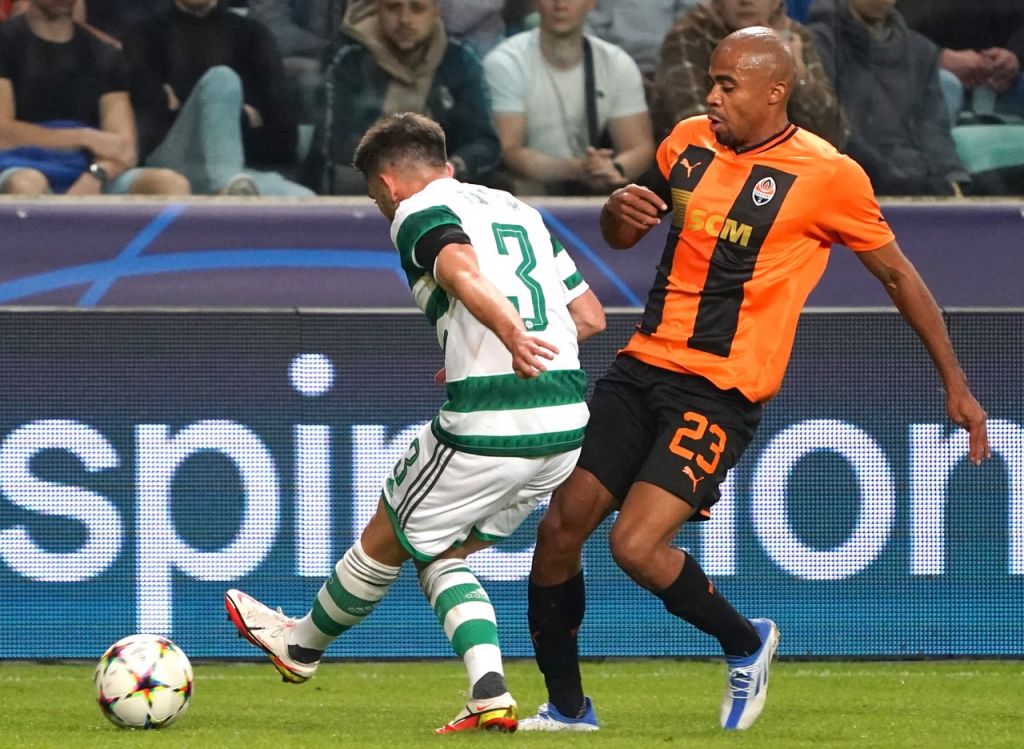 OVERALL – 7.5/10 – Left anguished by only a CL draw against a team who just shredded Leipzig away last week; how far we've come in such a short time. Yet, the order of the night was indeed frustration. Both at letting a convincing opening period slip, and not capitalising on later dominance to wrangle a deserved win out of a stubborn opponent. Unlike the boot-licking supplicants across Glasgow, this representative in the CL is winning Scottish football praise for our aggressive attacking poise. Results going our way, a couple of wins out of our next three games might set up a second-place triumph. Given what we've seen that's more than hope for this squad; you could go as far as to call it a distinct probability, never mind a possibility. Keep it going Bhoys, this is certainly no time for mourning…
Go Away Now
Sandman