SANDMAN'S DEFINITIVE RATINGS: CELTIC @ SKI SUNDAY CL 1st Qualifier 1st Leg…
"Eey, St.Trinians were quite tricky, really. The lads got distracted by their gym-slips and nearly blew it ferst half. But we winned in the end and we're Euro champeens again. Ain't we?"
Slippy G, *ock of Gibraltar.
"I'm singin' in the rain. Just singin' in the rain, What a glorious feeling, And I'm happy again.  I'm laughing at clouds. So dark, up above."
N.Lennon
BANE – 7/10
Villainous brilliance and villainous villainy in the first half – superb life-saving stop when he narrowed the angles on their clean break through, BUT shocking communication failure to gift them the corner from which they scored. Keepr's fault – roar at Jozo to leave it. Second-half he still appeared a little uneasy. A shaky evening in the rain.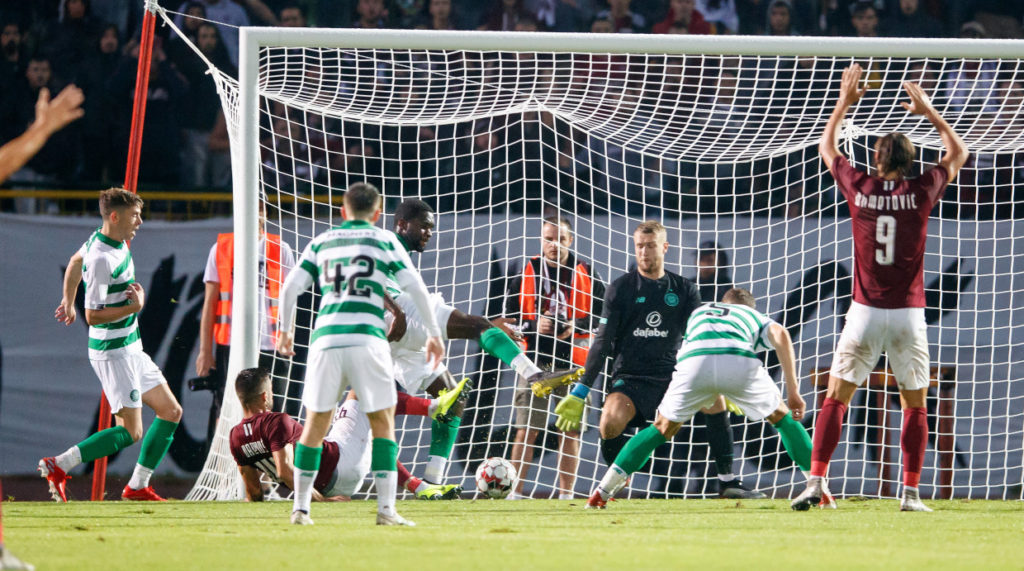 BITTON – 7/10
Competent, safe impression always given – fits in well on the backline with his footballing knowledge, can tackle and always good with the ball at his feet looking up for a break. Only ocassional casualness.
AJER – 8/10
Techno Viking revelled in the conditions, missing only his longship as the clouds emptied. He's all about strength and fortitude – rarely loses a tackle or takes a risk; building towards being the perfect defensive stalwart with a real attacking threat. We won a BIG prize when Ronny Deila hooked this young Norse warrior. Skol!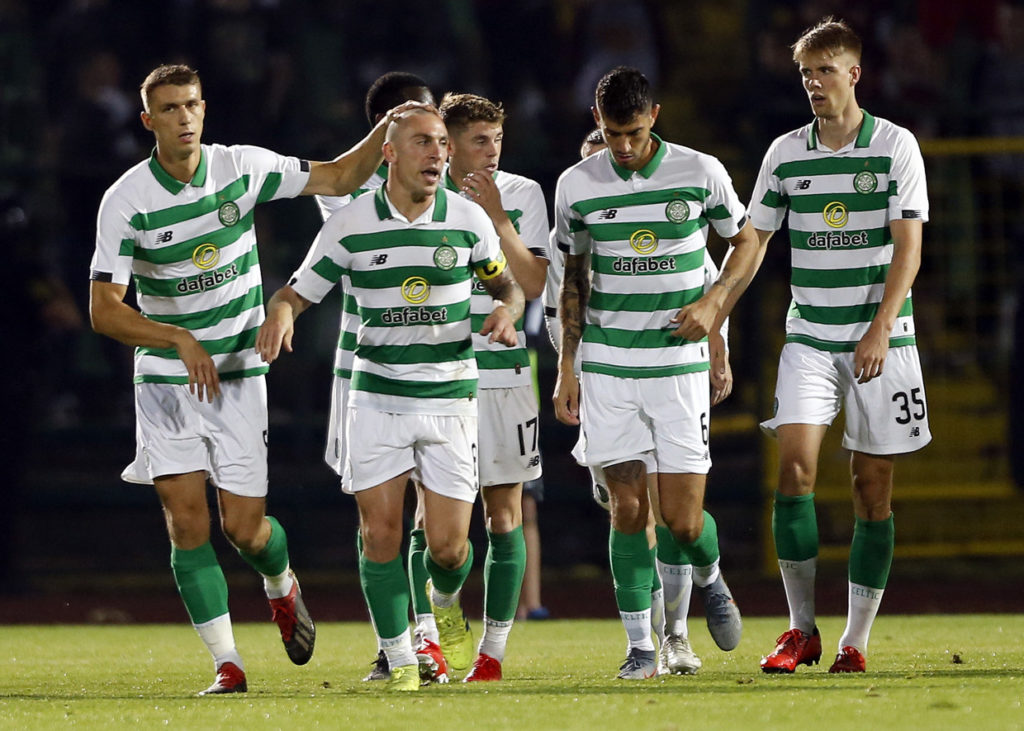 JOZO – 7.5/10
Two great interceptions from their right-wing cut-backs first half. Terrific positional sense and timing. Did what he had to do at the corner mess-up; defender's mantra, people – 'Better out the park than in the net'. Bane failed to call properly so Jozo HAD to get a head on the ball as it came down from the laden skies.
Continued to exact the best from his defensive line in very testing conditions. His game was all about positioning himself and his team-mates and getting things as near-clockwork as possible. Great controlling performance.
BOLI – 7/10
'Triple B' as he shall be henceforth known by all thanks to Leigh Griffiths – 'Big Boli Boli'. Plenty of power and energy and awareness – great sliding interception to stop a long ball finding their winger near half time. Caught wrongside only once early on, looks like he's got the nous to fit in well. Stole Sincy's hairstyle so was susbstituted early for poor etiquette and a barber's visit.
BROON – 8/10
Calmness and quiet rage personified. Old heid kept the heid when we went one down. He rallied the bhoys and maintained focus. Enjoyed himself in the mid battlefield as they tried to stick the boot in. Was crucial in the second goal as he picked up a loose ball twenty yards out. But it's what he does and he did it all with that captain's strut.
CALMAC – 7.5/10
Sarajevo may feel they've been victims of alien abduction. Calmac probed their erses so much that their backline was visited by Will Smith and Tommy Lee Jones in the changing rooms. The ferry magnate played a great pivotal role in beside Broon, constantly taking the ball, turning and picking the pass. The only mystery was why we never profited directly from his cultured feet.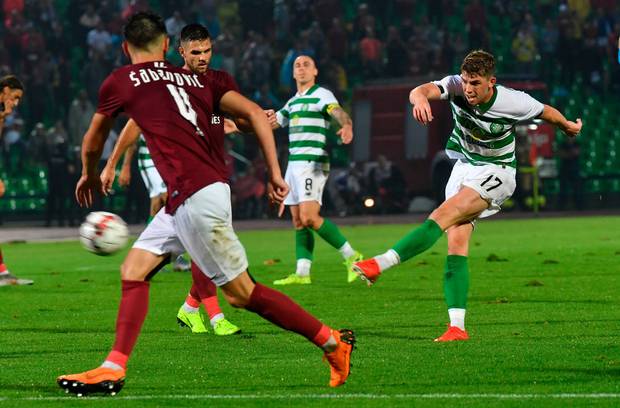 CORPUS CHRISTIE – 8.5/10 MOTM
Relentless darting around the lines, a total nightmare for the defensive block to deal with. He's robust too, so the physical aspect took its toll on his markers. Could have got on the scoresheet late on, but was instrumental in the third with a flicked header. When his energy and timing are in sync we have a true star. Like the Christmas one…
FORREST – 5/10
Jesus, Jamesy. Frustrating lack of involvement first half, bar gifting them the ball to break early when Bane bailed us out. Then should have scored after a delightful link-up with Eddy but sclaffed wide with his right instead of clipping in with his left. Second half got no better. Yes, they tried to double-team him but he's faced better opponents and prevailed. Ultimately, touch and choice and final ball were more unkempt-gash than boaby-flash.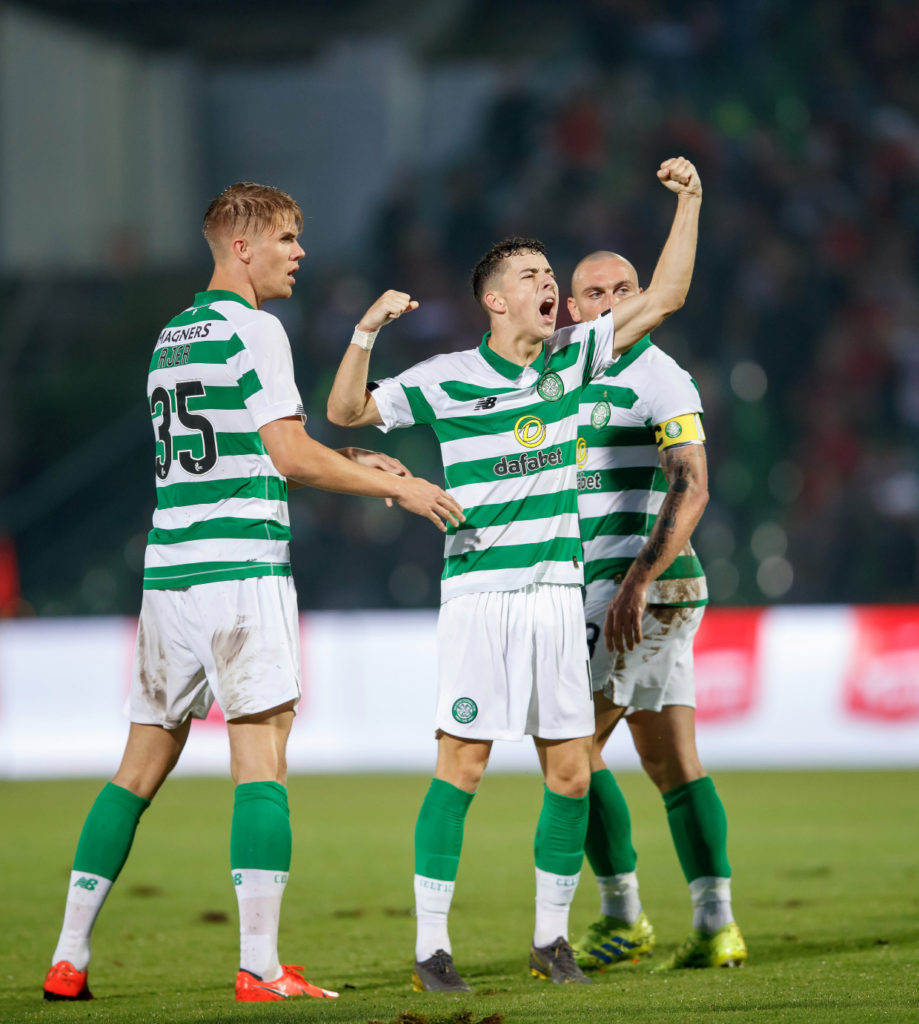 MIKEY J – 7/10
Pure RAGIN' as the rains completely RUINED his New Romantic bouffant. So angry he could barely see through the tears, he vented his fashionistas disappointment firstly by penning lyrics full of teenage goth angst, but then more importantly – on the ball; screaming in a vital belter of an equaliser.
Lively and a real handful for Sarajevo. Sadly, his involvement was curtailed as his hair disaster proved too much emotionally – taken off mid-second half for an emergency hair appointment. Fingers crossed for a successful salon session. #PrayForMikeysMullet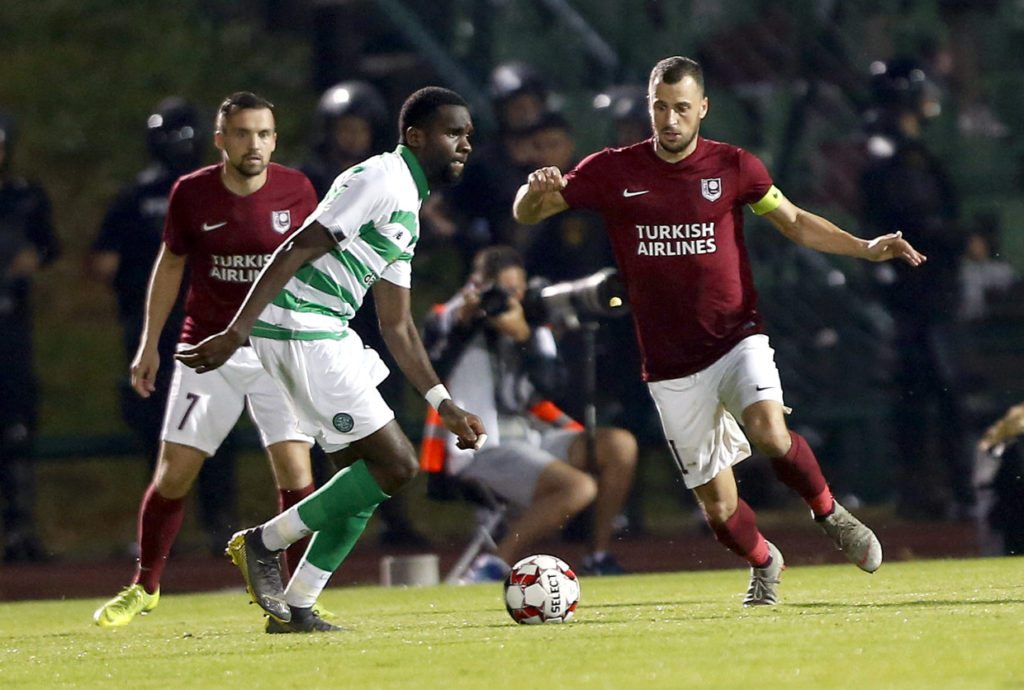 FRENCH EDDY – 7/10
'Why's he worth 9 mullyin?' THAT'S why – periods of frowning gallic indifference eclipsed by flashes of mercurial magic. BAM! Tie-killing strike full of composure and class. Almost got another. Really enjoys scoring against Hearts, so nobody had the command of French to explain otherwise; just kept nodding and pointing at the
Sarajevo tops saying, 'Le Maroons bestardos? Oui…'
SUBSTITUTES
HAYES – 6.5/10
Luckily as Triple B fell, time-hopping mercenary Johnny quantum-leaped in from the Balkan War battlegrounds to cover. Another flawless shift from our favourite Victor comic character.
MORGAN – 6/10
His famous dad, Morgan Freeman, would be proud of young Morgan's return after a season in the Sunderland shipyards. Trying hardto be our Mackem now (see what I did there fans of Tyne and Wear nomenclature?) and fired in a few decent crosses.
SONIC – 7/10
A cameo Pacino would be proud of. Scintillating ten minutes to frazzle a tired Sarajevo. The back-heel a school playground special and surely worth two points if  UEFA would apply the rules properly for 'fancies'.
MANAGER – 8/10
Brave selection. Brave tactics and formation. Got it spot-on. Evidently had done his due diligence to a tee despite a setback. But that was down to individual errors. Never let the players falter; had the discipline maintained. I suspect the game-plan went almost perfectly, vindicating his decisions and giving Lenny and the backroom staff a tremendous confidence boost.
Moreover, the special ingredient so many of his critics overlook in Neil Lennon played a big part – that character which saw him excel as a player above his own presumed abilities, and that saw him through dark days of intimidation and bigotry as a manager. On nights like these, it's more than an existential concept; it permeates from the touchline into the mindset of the men in the moment.
Last night, every aspect of Lennon's footballing qualities was exemplified. On and off-field. A great start.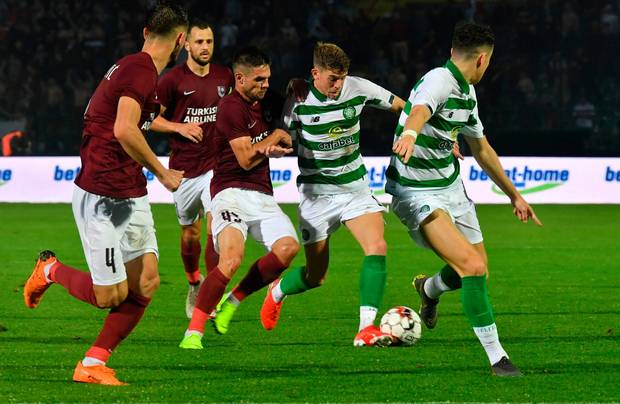 OVERALL: 8.5/10
And so it begins… With a tricky draw and a trip to Sarajevo, a former battle-torn city, made infamous decades ago when Franz Klammer fell out with the Ski Sunday production team and bloody conflict ensued between both factions; carnage on the slalom and a capital beseiged. They called it the 'Bollocks War' because it was essentially over utter bollocks.
Or something like that. I'm not a historian; I just googled it while pouring Jack Daniels over my Weetabix this morning. Do your own flaming research.
Anyway, the Celts rolled in to bring emerald green to the wintry midsummer bleakness. Surprised by the cunning Sarajevo Ultras' Mary Poppins tifo – those waves of brollies took the breath away – the team were hesitant as the bleakness gave it back.
Plenty of possession amounted to the princely sum of f**k-all as Ski Sunday Select scored a typically scrappy Euro-opener in the monsoon conditions.
BUT, under this 'new' manager, this team has that aforementioned CHARACTER. I've seen plenty of scripts
play out the way this one considered after that opener – a mystifying capitulation and a dreadful two or
three goal loss as heads went down and players hid.
Not so this assembly of avengers going for the NINE and TEN. There's no fake-and-bake manager on the touchline too worried about his image or buddy-buddy reputation with the squad. There's a guy who'll encourage but DEMAND. A guy who knows the Hoops and what it takes in Europe.
We got a taste of that tonight. A comeback win in darkest Balkans in the pissing rain on a cutting pitch
against an energised and organised competent side. It wasn't just a great win – it was the perfect win to
tune-up the Celts for the stressful rigours of the Yellow Brick Road ahead.
More please.
Sandman Out…