SANDMAN'S DEFINITIVE RATINGS: CELTIC v ANDY RITCHIE
"The idle idol pokes one home for The Ton after one heck of a stramash…"
– Arthur Montford (hat tipped).
ROXIE – 6.5/10 – What can a girl do? First twenty minutes of agitated housekeeping, then the rest of the game was merely fluffing the defence's egos, preserving the clean sheet as Morton gave it a go.
DIEGO ARMANDO MARADONA – 6.5/10 – Like the wee D10S's style – continually foraging for attacking space despite the low blocks ahead. That positive outlook will get him far in these environs; missing today was a final ball/finish, but expecting great things as he progresses in the Hoops.
STAR LORD – 6.5/10 – Guess who were the only two players wearing gloves at kick-off? Star Lord, our Swedish hardcore… And…Big Effe. Brothers across the Celtic generations… And I waited, and waited. And you pernickerty Star Lord lovers waited and waited. And then… About 50 minutes plus came the Effe tribute, scaffing maniacally around the halfway, beautifully pitched considering the other big fella's first-half match-winning gaffs. But Star Lord also has the ability to redresses the balance, regaining composure to keep the door firmly closed. The perfect contrast in his game was between that bedlamite tribal fit and moments later when he plucked a high ball out of the sky like he was channelling Ronaldinho. You gotta love this (seemingly) scatterbrained lunatic. Until he blows a game…
MR.KOBAYASHI – 6.5/10 – 'Again? you wish me to play beside him again? I thought that was one of your comical western initiation ceremonies on Wednesday…' But there's no denying the will of Mr.Soze, and his emmisary
performed to the previous standard he'd set; no fuss, no risk. In fact, he seemed to be taking it a lot more seriously than others. 'Chill, big man, it's just Morton,' didn't translate very well.
WAYNE GRETZKY – 6.5/10 – Smashed about and crashed about by a rumbustious tank of a Morton left back wearing the demeanour of a ragin' Zombie. But nothing big Wayne hasn't experienced since age two on the ice
rink. Recovered, contained, and in his later forays forward was so unlucky to flunk the end of a great move that would have seen his first goal for the club.
CALMAC – 6.5/10 – You only need a half out of the skipper on days like these. Wrestled control of the game and pinged a few shots before forfeiting his dominance for a deserved rest.
EDDIE TURNBULL – 7/10 – Okay, cold, old, but bold. Yet you'd think January had sunk its bitter and blunt teeth into him when he let a ball roll under his foot mid first-half; I thought he'd frozen up, but the wintergreen (that's 'lube' sex-obsessed modern kids) did the trick and his subsequent liniment-fuelled performance paved the way for some silky football overall.
MOOEY – 8/10 MOTM (Joint with Big Effe…) – Bald, brawny and brave – Aussie summer meets Scottish winter
and our Sean Thornton gives us a special, powerful Quiet Man performance (see what I did there, fans of The Duke?). A double, could have been five. Not only are we getting goals, but effective, potent midfield quality from someone you thought would be a bit-part player, if at all. Yes you did. Admit it. Ange's laughing at you…
LORD KATSUMOTO – 7/10 – I will not stop. I cannot stop. The entire stadium stopped. The TV audience worldwide stopped; Eddie Turnbull had just mis-controlled a straightforward pass and it was going out of
play. Oh no it wasn't. "Daizen will get that," I quipped. "Not." And he flaming did. Like The Baldy Flash, zipping across the turf while the physical world around him was on pause; as if he quantum leaped here from feudal Japan just in time to ignite a rebellion. Only thing missing today was a goal, bringing to an end his fantastic run of starting form since lighting up Quatar. Now rest him a little, Ange. If ye can…
KILLER MUSHROOM – 7/10 – Okay, who had the Kyogo hat-trick at 11/1? Heaven"s sake, Ange; incredible lack of consideration for the betting public resulted in a hitherto unknown half-time substitution of the dynamic Asian goalscoring machine right on the cusp of Lunar New Year.  First cute finish had been followed by the sort of goal
that let's the defenders know they're on a different level – a natural sharpness to pounce on a mishit and have it in
the roof of the net before the keeper could finish the first word of the eternal Scottish expression of surprise, "Heaven's sake!". The third was inevitable. Because Ange always waits until the hour before ringing changes. No. No, it wasn't…
ABADASS – 6.5/10 – Sunbed before kick-off is the secret; Allegedly. But the sprightly sprite was more on it this afternoon and a constant torment to their beleaguered defence. If he had a left foot on him he'd have enhanced his phenomenal scoring record.
SUBS –
PISTOL PETE – N/A Outrageous. Not only back as chairman, in he comes brass-necking  it, pitching himself on as a sub. Looked surprisingly fit and agile from the fat corporate Zombie-courting slug of a previous incarnation. Remains to be seen if this was a one-off drunken bet winner, or whether Ange will be 'persuaded' to give him further game-time….
THE BUILDER – N/A – Slinked on, slinked about a bit, testing those shuffling skills.
TONIO IWATAO – 6.5/10 – Look, we know the Slayer Of Barca is fond of movies, but this is ridiculous; Taking method acting to a dimension beyond, here he is after cosmetic surgery and a gym programme stalking around
the Celtic midfield, speaking Japanese! The things people will do to wear the Hoops… And he looks to have the midfield enforcer down pat – confident and aggressive, taking the deeper role from Calmac and spending a half efficiently maintaining the dominance. God knows what Dundee United will say about this. Although, he was listed as sub today to allow him time to get up the road.
JAMESY – N/A – You persuade Jamesy to participate in games like today by telling him he's going in against Samantha Morton, the actress. And, well, she might not be the hottest but she's got loads of talent. Yet Jamesy unusually failed to get a notch on his bedpost, despite having plenty opportunity. Quizzed in post-match interview, he mumbled, "Standards, man…" before skulking off like a poor knocked-back loser.
HACKY SACK – 6.5/10 – A day of 6.5s and he exemplified the two-thirds of potential we mostly saw across the board. 'Where ye been?' was the cry as a player we'd put a lot of hope in finally surfaced after a couple of months of injury-prone obscurity. His set-up for Mooey's second was the ideal example of his ability – slalomed into a cul-de-sac, fluffed two attempts to inject danger, yet retains the awareness to swiftly pick out his player on the edge
of the six yard box at the third attempt. Get fit, get in there.
ANITA DOBSON – 7.5/10 – Bothered, Ange? Nah. Maybe irritated with the slow start but knew he had the players out there to carry the day with the correct implementation of Angeball. Got his new Bhoys some precious game-time and will be happy for the squad confidence-builder the event transpired to be.
MIBBERY – 0/10 – You've got to be kidding? So that's the one they'll refer to? – Whining Celtic got a gift, so shut it. And that's right – the worst penalty I've ever witnessed awarded to us; almost so transparent a ploy as to be
laughable. Give me a flaming break – never in an epoch of dinosaur evolution was that a penalty; there's bemused velociraptor skeletons all over the Patagonian plains after that clip came in. We should have refused it on the basis of insult. Poor big Effe; canon-fodder for the MIBs' agenda.
Did you get a message from the same referee after the Bernabei and O'Riley incidents? No didn't think so. https://t.co/1DlMHuJgQ2

— JustAnOrdinaryBhoy (@ordinarybhoy) January 21, 2023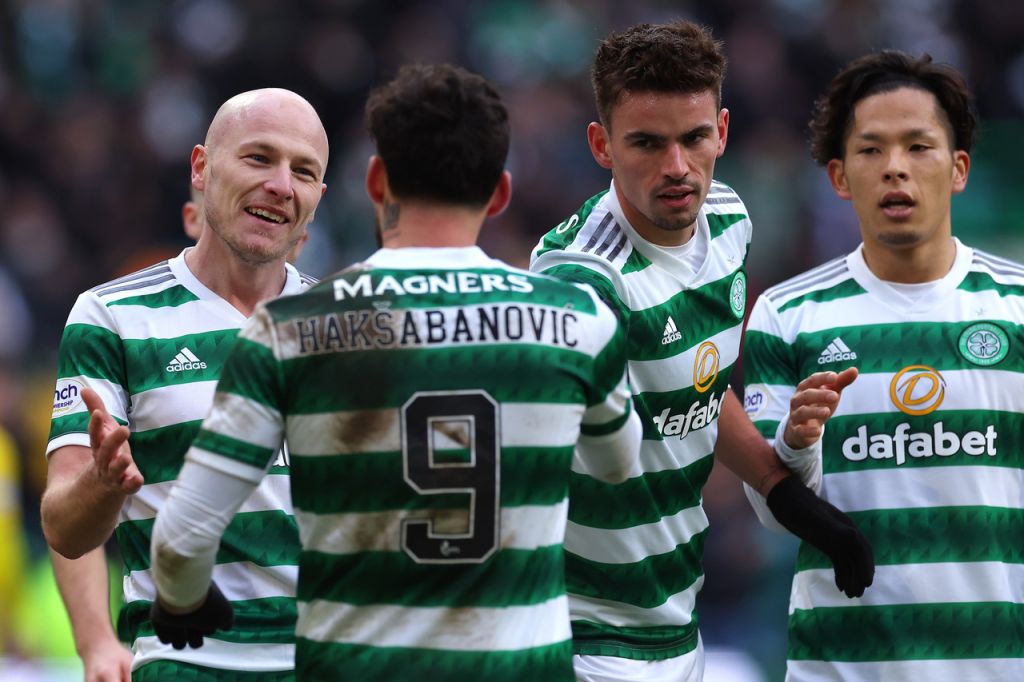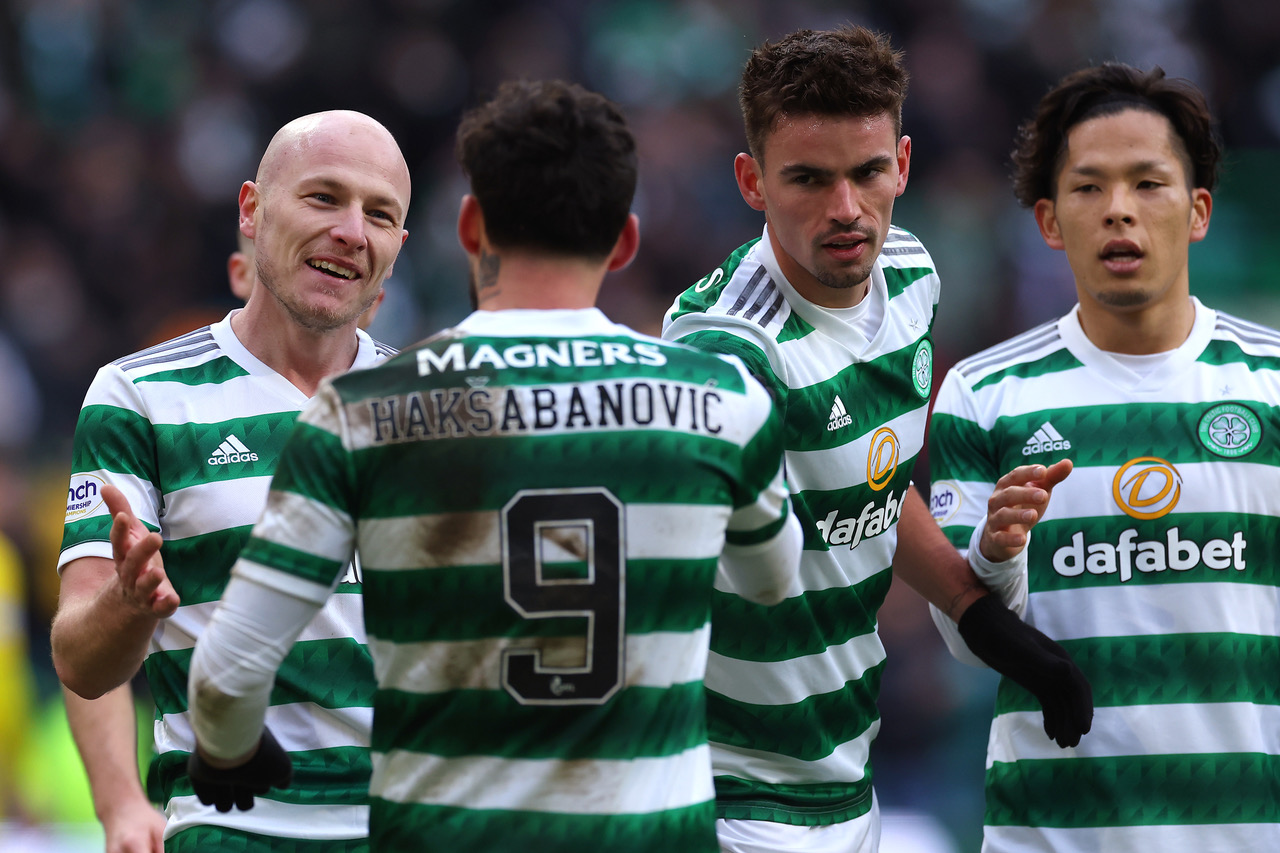 OVERALL – 7/10 – Well, I've said what I said about that stupid non-penalty penalty – but the positive I take from it is that it, incredibly, further soured the fizzog of sleekit Gers-fanboy Dougie Imrie, who was fouling the sacred touchline in the image of a shuffling jakey who's just rolled out of Tesco at dawn with a skinny shopping bag and half a bottle of Buckie hangin' out his manky trackies' back pocket. That alone brought rueful joy. So did the partial tanking that followed, ensuring a bitterly fruitless lunchtime for those with historical and generational bigotry flowing in their veins; number 3, Jesus is watching you, 'Arab' Strapp…
So on we go after a tidy and restrained stuffing of turkeys a month late. Just in time for Chinese New Year, the Tigers now eye up the coming year of rabbits. Quarter Final, League Cup Final, top of the tree and whispering
of 'trebles' begins. Now things get lively. XînNián KuáLè!
Go Away Now
Sandman