SANDMAN'S DEFINITIVE RATINGS: CELTIC v FRENCH WATER LILLIES
"What's this? What's this?
There's something very wrong
What's this?
There's people singing songs

What's this? What's this?
There's color everywhere
What's this?
There's a white thing in the air
What's this?
I can't believe my eyes
I must be dreaming
Must be going insane
The Celts have won a game."

'What's This' from The Nightmare Before Christmas.
DUKES OF HAZARD – 6/10
Welcome to the nae-touch-but-oot-the-net goalkeeping Twilight Zone. At least he LOOKS more like a keeper than others we've got but unbelievably struck with the same affliction; only save of note was smart foot from slapstick striker mis-kick.
JULLIEN CLARY – 7/10
That's how you do it – NBA training to the fore as he found air-time to direct in a sweet downward header. Looked more like himself as his intuition and alertness improved.
ALAN LADD – 5.5/10
Teeth-grinding anxiety when he's on the ball at the back, opponents bearing down on him. Managed to get a yellow for non-tackle and generally hoofed his way around disturbing teammates with a few wayward moments.
AJER – 7/10
Biggest right-back in Western Europe. Shackled Traitorous Timothy the former Hero Of Perth quite well and felt his way into the game. Tremendous ball to Eddie Turnbull almost had us 3-1 up but it squirmed agonisingly wide. Repeated the movement with added footwork – call me Kristiano – to set up the winner.
DREXL – 6.5/10
You get consistency with the dreads. The sort of reliable first-name-on-the-teamsheet sort of player with a relentless approach to his game we need in spades. Saldy, he's not ours.
EDDIE TURNBULL – 7.5/10
For a man of his vintage out on a December night he managed to look mobile and enterprising, often lacking an end product though, until… Found his moment and didn't he take it sweetly? Deliveries also a league above Corpus' mystifying perversions; he's another player who Lennony cannot ignore and may be his salvation.
CALMAC – 6.5/10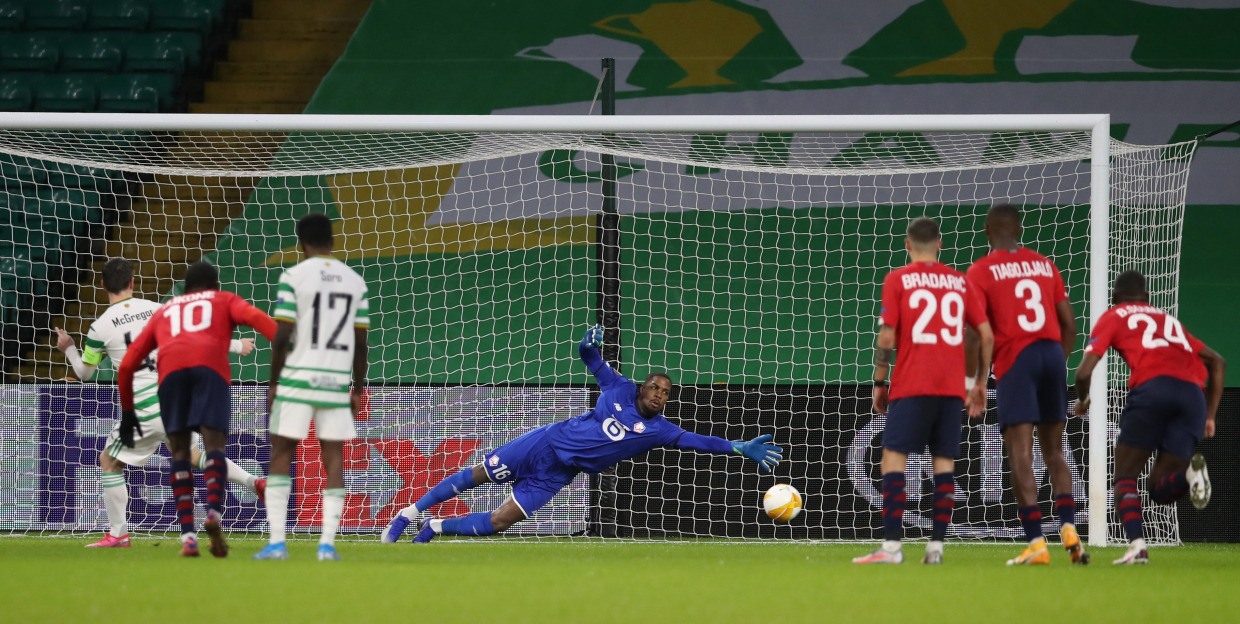 I've said all season he should be more dangerous in the final third and that was borne out tonight as he swivelled blindly and played in a lovely through ball for the equaliser…But the Bhoy's got the captain's armband and with that comes BALLS ; struck in his penalty moments later with a non-messaboutery attitude. Still remained Lille's most dangerous player all night, hitting the post as well and getting pickpocketed in dodgy areas; calm doon, wee mhan, ye do too much…
MAN OF – 8/10 MOTM
Unleashed at last, and not for the last time, we… Demand! Impressive, tough and sharp – like a Broon on cocaine, and looks to carry the same in-match-grudge-bearing, scrap-seeking demeanour as Broon that we've needed from others for a long time. Can play and doesn't take nonsense; my only question is – does he play in the same team as Broon? My only shrugged answer is, this isn't a McStay-Collins argument, so why not? Physical domination is something we're lacking.
First player ever to be carded for taking cramp by camp referee, did you see the Bhoy's endeavour as he forced himself back on and battled in about it during injury time? Rhetorical question – course you did and right there is what we need to take the TEN. Outstanding!
PINGPONG – 6/10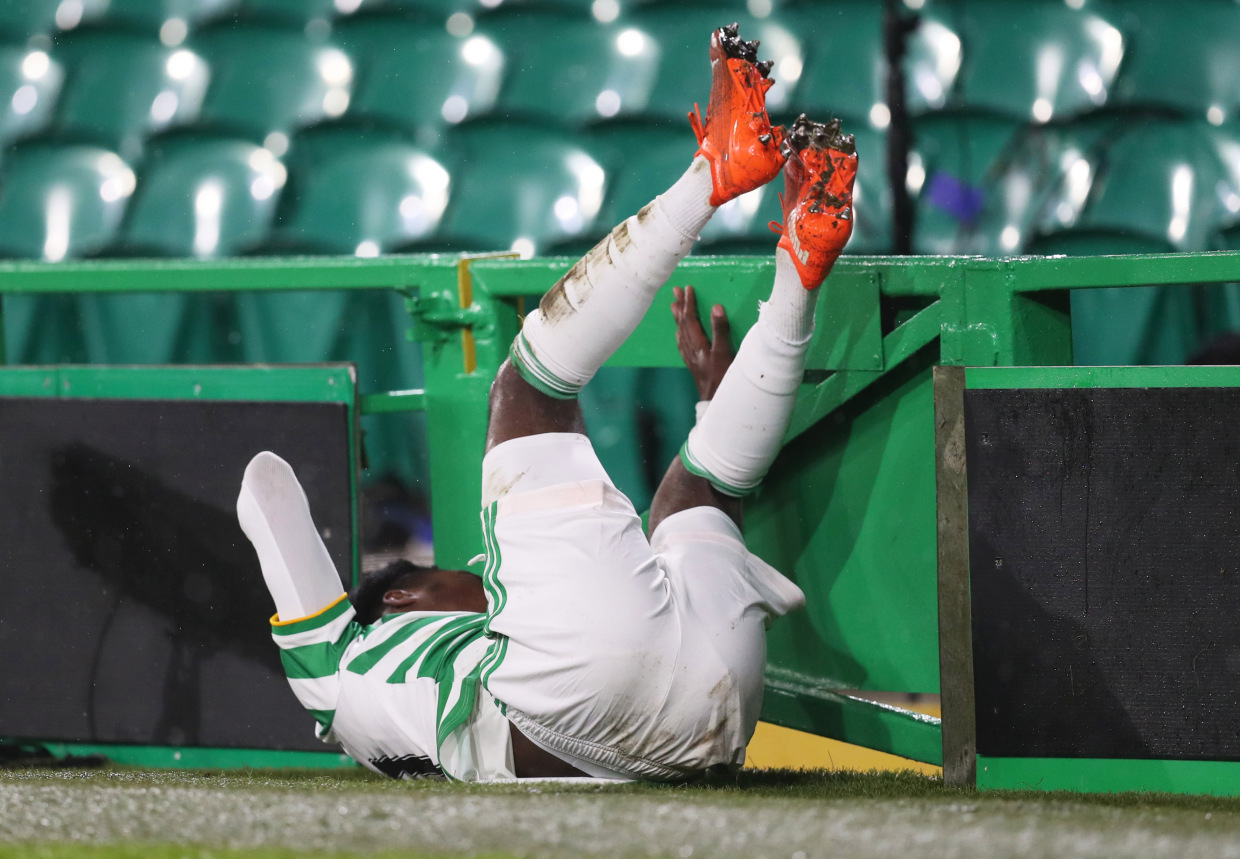 Victim of two vicious assaults, firstly by a disgruntled billboard, then a defender conceded a pen by delivering a horrendous injury that forced him out of the game with – in medical speak – a 'sare-fit'.
ELSHAGYONLASSIE – 3/10
Caused confusion in the Lille ranks as he disappeared into thin air as soon as he was out the tunnel. I saw him sometime in the second-half so I claim the Paradise Windfall Spot The Ghost Of Christmas Present Ghostbuster prize.
KLIMALA KLIMAX – 6/10
Suspiciously fashion-conscious, young suave ref made him bandage up his socks early on. A haute couture way of saying pull yer hosiery up. It worked – rifled in a beauty of a strike that worked their keeper soon after. Gave his energetic best. Needs a partner. Who he can see in our visual spectrum…
SUBS:
HENDERSON – 6.5/10
As research goes on into accusations of cloning at Lennoxtown, Henderson 'triplets' provide a third attempt at securing a hooped jersey. This one chased about be-mopped like a boyband backup dancer but displayed the feet to match. Tormented them second-half. A proper little handful.
THE YETI – N/A – Barged about, uncompromising. Useful yet? Maybe…
ROGIC – N/A – The French think they know culture…On he came to glide about like a Parisien ball debutante and draw oohs and aahs from their bench…
WELSH – N/A – 'Not Duffy?' He mouthed as he came on for Kristiano, adding a 'fleck me…' under his breath as he trotted towards his defensive partner.
LENNONY – 7/10
You don't often get meaningless games as Celtic manager, so what a luxury this was for him…That's sardonic, frowners. But at least the boss did the boss-like thing we've all pleaded for and threw in the 'fringe' players to see what they were made of.
NOW he's got a headache. NOW he's got a dilemma. NOW, surely, he sees the future path alter from trusted but inconsistent old guard to hungry new blood. Players, notably, who BELONG to Celtic; that is the way Lennony knew. This IS the way.
OVERALL – 8/10
The most enjoyable game of the season in a tragically existential manner. What could have been… but enough of pathos – the fear was gone. No denying one of France's finest turned up looking for a result to win the group, so plenty of sofas were shielding tonight. But the bhoys produced. Well, the NEW Bhoys produced. For this was a heartwarming Xmas tale of Soro and Turmoil…Turnbull…For Heaven's sake…
Anyway, A New Hope was born, just as it looked like the Empire Strikes Back, giving us anticipation of Return Of The Jedi and letting our Star Wars commence as rebels seek their places…
But the prequels and sequels were Colin Nish so I'll cut that short and wish that this Celtic reboot is worth watching.
Go Away now.
Sandman.
One thing that we learned from tonight is Timothy Weah loves the Celtic🍀 pic.twitter.com/8novZgNCHL

— 🍀The Retro Celtic🍀 (@RetroCeltic) December 10, 2020