SANDMAN'S DEFINITIVE RATINGS: CELTIC v MR. BROWN'S BOYS…
Countdown conundrum: Who's this cringey, plump fan of Monster Munch crisps who fancies himself as a Porky Blinder and gets off on 'daring' jibes at Bhoys on the telly? – Risky Dobson
Ahead of kick off at Celtic Park, our captain Scott Brown laid a wreath in memory of Bertie Auld. pic.twitter.com/0dJnzTwFzK

— Aberdeen FC (@AberdeenFC) November 28, 2021
Truly honoured beyond belief to have our version of Auld Lang Syne played for the Bertie Auld tribute today at Celtic Park. One of the proudest moment of my life! 🙏

The biggest character in the Celtic family. That's who he was, and that's who he will remain. 💚🍀 pic.twitter.com/O2SPVmYoNU

— KEVIN MCGUIRE (@kevmcguiremusic) November 28, 2021
ROXIE – 7.5/10 – Pole-axed before kick-off by Mexican drug cartel enforcer. Thought she was deid, then recovers to ping admirable passes and makes a miraculous save to further enhance growing legendary status. Almost a musical in there somewhere…
TONY THE TIGER – 7/10 – A tigerous beast. Recovering from his German roasting, pinged some lovely balls cross-field and fired in about the Sheep as if he was tributing Broony in the actual moments of his return to Paradise; existential wizardry.
JURAN JURAN – 6.5/10 – Bright opening then, as on a few occasions, seemed to disappear among the bodies, only to resurface like a porpoise to save the jerseys late in the game with a perfectly-anticipated defensive header off the line.
RAQUEL – 7/10 – Three dazzling performances in a row from the silver screen sex symbol. Confident and deliberate in challenges, doing all the simple things correctly; eliminating the mistakes that curse a defender's game. She's been a rock.
GET CARTER – 7/10 – Never wasted a ball. Got his right leg strapped up like the original Terminator T-800 model – but is a lot more robust – and now appears composed stepping forward as opposed to uncertain – probably getting used to the system and the movement ahead.
McCARTHYISM – 6/10 – Angeball leaves him a bit wanting. He's not yet up to speed and of presence of mind enough to atune to the shifts up the gears required at times. Safety first is his mantra which, to be fair, served us well enough today. But the DM difference between his footballing ability and the extra dimension big Blockchain brings was evident at times as opportunities to play in runners were squandered in favour of conservative side-to-side balls.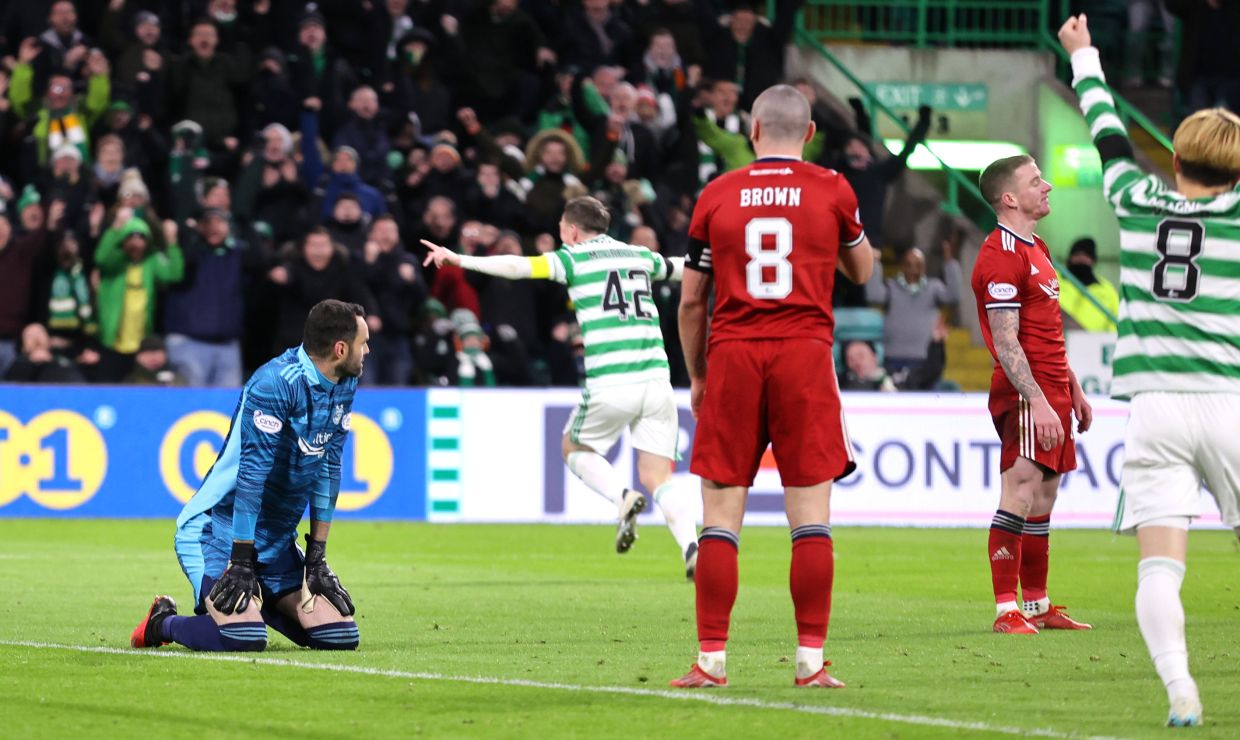 CALMAC – 7.5/10 – What a return to form! Absent in Germany, subdued most of the first-half today but for the glimpse of quality to set up Notebook, the skipper came alive again after half-time and was everywhere when we needed him most. His resurgence was capped off by a retrospective link-up with time-travelling Great War hero Jonny Hayes who provided the delivery for Captain Fantastic to win the game with a stunning mid-air backheeled volley. Goal Of The Season, right there.
EDDIE TURNBULL – 6.5/10 – Added intensity to his performances – probably due to some sort of exo-skeleton enhancing his aged frame (deid) – is getting him through the tough contests now. Today, faced by legend Broon and leg-ned genetic aberration Fergushun – spawn of a 'dynasty' surpassed only by the Adams – Eddie eventually found the power to wrap the steel in silk and make an impression on the match. Only big critique from this madman is that he could have been a bit more adventurous at times, more speculative with
early passes and offered better service to the wee man up the middle.
ABADASS – 4.5/10 – Aye, the balance of duff games v good games is becoming tilted the wrong way. Feet looked great early on but he lapsed into confusion and fell out of the proceedings too quickly. Now getting into 'owes us a game' territory and risks losing goodwill and patience.
MR.KOBAYASHI – 7/10 – Workrate, jeez-us, this Japanese Bhoy puts it in. Frustration, jeez-us, he must feel like Tom Cruise's missus; (touch side of nose) Say no more, say no more…Constant motion, beguiling backlines with his drift and bursts, finding space only to see the ball shuttled laterally. Really, there's less than half the probing balls played that his movement deserves. We need to compliment his honourable endeavour with a samurai sword of a cutting pass or two. Also, lots made of Koyogo's attentiveness when an opponent
is down injured. Aw, isn't he a caring wee fella? No, no, I'm afraid not – if you can lip-read Japansese as
he whispers to the fallen : "I learn your weaknesses…"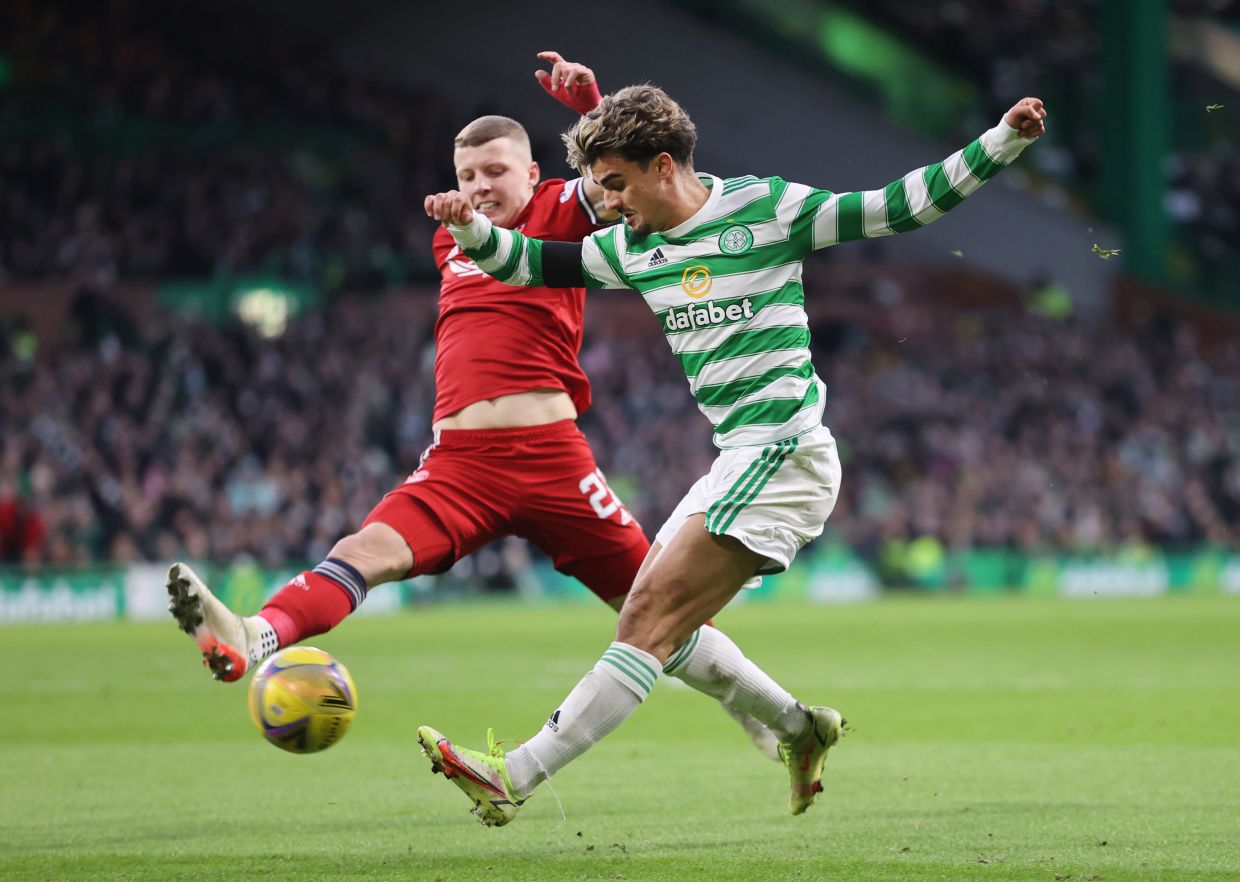 🗳️ Who's been your @Dafabet MOTM today?

#CELABE | #COYBIG | #DafabetMOTM 🌟

— Celtic Football Club (@CelticFC) November 28, 2021
NOTEBOOK – 8/10 MOTM – Yet again, young Michael-Ridgeley proves he operates at a velocity most players cannot cope with. Opponents see a flurry of limbs and then fresh air. As his confidence in the Hoops grows and stardom envelops him, he's discovering the word 'gallus' and we're discovering a new lever for lifting backsides off cold plastic. Now when he's on the ball, Celtic Park expects. And most of the time, he fulfils. A bhoy from Lisbon with a special performance on the day Bertie is honoured; perfect.
SUBS:
JAMESY – 6/10 – On with a smile that only lasted until he'd jogged over to the flank and realised the linesman wasn't the burd from Leverkusen; talk about crestfallen. So he applied himself to his football with a frown and
was more direct and troublesome in minutes than the kid had been for an hour. Now deserves an extended run in the jersey to find a groove.
MIKEY J – N/A – On for minutes but more impressive than his recent duff cameos.
The YETI – N/A – Arguably one of his finest perfromances of the season.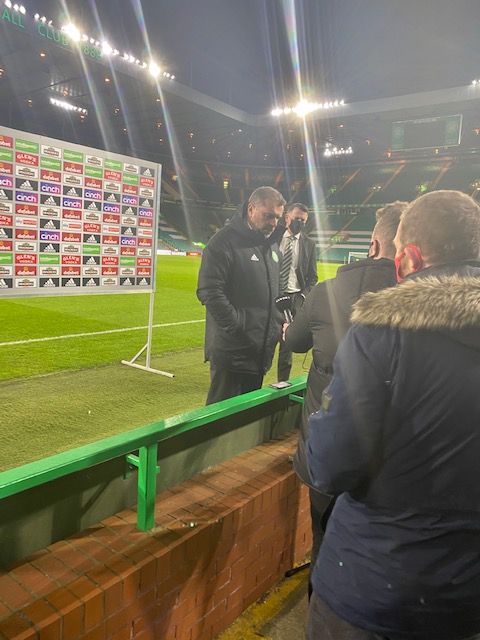 ANITA DOBSON – 7.5/10 – Big game, big man, big selection problems. But Ange stuck to his guns and had McCarthyism in where many hoped the Man Of Soro would be. It did slow down the Angeball rhythm but
in the end bravery prevailed as the demands required, and a potential banana skin was stepped over. Good to see the bulk of the starting eleven go into injury time as Ange realised the importance of keeping momentum
with us.
MIBERRY – 6.5/10 – Ooft, a close one for Kevin. Must feel aggrieved at losing to a wonder-goal after beautiful simping to give a not-penalty at Paradise; one of the four pillars of their skullduggery directly channelled to the high priest of the Shrike temple of reptilian dystopia on the planet Hyperion. According to David Icke. But poor Clancy Drew had to watch the Bhoys roll to acrucial victory despite his best efforts, even managing to find an extra minute at the end of an added five before forcing the whistle between clenched teeth to end his torture.
Ange postecoglou ole 🍀💚🇮🇪 pic.twitter.com/dAipaEwKfE

— Costy (@Costy79_2) November 28, 2021
Fans have refused to leave Celtic Park in protest against the imminent appointment of Bernard Higgins pic.twitter.com/hV1muxbtvS

— North Curve Celtic (@NCCeltic) November 28, 2021
OVERALL – 8/10 – Major win for the Bhoys after a draining epic in Deutschland. Robust opponents schooled by the Great Broon in the dark arts, keen to make a contest of it in the same way Conor McGregor likes civilised discord in a bar after 12 pints. A fitting 2-1 victory on the day a Lisbon Lion was honoured and serenaded into the halls of Valhalla. The Bhoys approached the challenge in the right way – intense and with as much tempo
as we could muster given the re-jigged middle. Not punishing the Sheep more at 1-0 left it open to a grind if they drew level, and so it transpired. But we won the day and sickened the Zombies; incidentally, whose discarded cousins turn up at Paradise on Thursday looking to do their monstrous overlords a favour after Hibs Hibs it the night before. But we'll have that extra day's rest and the Bhoys will be ready to go again. Xmas is coming, and so are we.
Steady, Jamesy.
Go Away Now.
Sandman