SANDMAN'S DEFINITIVE RATINGS: CELTIC v RUSTIC GIMPY
"You cannot swim for new horizons until you have courage to lose sight of the shore. So, Neil, play two up front." – William Faulkner
HAZARD – 6/10
Sunday's superhero kid keeper. Little did he know the penalty saves were the last touches of a ball he'd get until he opens his Mitre Ultimax Pro Ball on Christmas morning. Had his ability to stay awake severely tested but he passed.
AJER – 6/10
Sunday's superhero kid scorer. Back in central defence but not victim of another calamitous County cuffing. Made his usual rampage as we dominated them second 45 and generally appeared fit and ready for the festive period.
JULLIEN CLARY – 7/10
Looking relaxed. Well, he always does. But, also, more assured. No panic stations, well-placed to read and win through balls and, crucially, set-piece headers. His street cred is 'Skelping level, and I hope he's tuning it up just in time.
DREXL – 5.5/10
Too agitated at times as his keenness overwhelmed his experience. Maybe the grim watch from Sunday's bench unsettled him. Not quite the roaming gangster we've seen but always there or thereabouts as is his remit. Never hides, no matter the performance. I like that sort of player. Ryan…
PINGPONG – 6.5/10
And we get the complete coming together of the pace, skill and final ball we've hoped for as Pingpong pirouettes, hits the by-line and swishes it to Eddie – Resurrected Eddie, not the French one – for a crisp opener. Almost replicated that 2nd half but reverted to type with a poor cut. When he gets frustrated, we do too as he dinks inside instead of jinking wide and taking on his man. I'd put his Mum on the bench so she can echo childhood memories and get through to him by screaming "Outside, Pingpong!"
EDDIE TURNBULL – 7/10
Sunday's promise becomes Wednesday's dig and craft and a welcome placement to swipe in the first. Looks like he'll fit well if that aged frame can contend with heavy pitches, thugs and a busy schedule. Gives us a useful gyre in between the lines to play through.
2 goals from tonight's victory over Ross County 🍀 pic.twitter.com/K2GiUezwnZ

— Highland__Paddy (@Highland__paddy) December 23, 2020
CORPUS CHRISTIE – 6/10
Playing for his place. In Newcastle/Everton/Crystal Palace/Nice's first eleven. Let's hope they've already got a boy to take the corners because Corpus' baffling inconsistency continues to ail and spread Christmas woe at heightened moments of anticipation. Matched that with his shooting and groans were rising, until….a plucked RIGHT FOOT ball for Griff's header. Go figure, man, as they say in 'Murca. Anyway, happy birthday Friday, Corpus.
MAN OF -8/10 – 
The Ivorian Broon. He's for keeps, this bhoy. Sharp in the tackle, sharp to cover and at times scintillatingly sharp forward balls, capable of turning tides and switching momentum right up. His acid test will be in a fortnight. Tonight, certainly, he showed he'll have the claws out and teeth bared and seek control of the middle; it's what he does and what we absolutely need.
CALMAC – 7/10
Ahoy, skipper. The ubiquitous Calmac plays again. For all that he's had a quiet season by his own lush standards, his reliability is top notch. With a little more time and space and adventure about him we got solid class and some telling balls.
GRIFF – 7/10
Get in there and warm up for the 2nd. But the heralded return of the mythical twin Celtic strikers was a slow build. Christmas is tough for Griff as he's got 500 presents to buy and 50 weans to allocate them to. Not only is that confusing but also absorbs all his beer money. It took unitl after the interval until we saw the benefit of his added presence and it paid off. Eventually. Screwing two sitters for Griff usually involves coming home early, alone, with the kids well asleep, but tonight it was on the pitch and nobody was shelling out a score and taxi money. Then, as we despaired…YAS, the perfectly-snapped header, reminiscent of the Perth points-winner, and again another vital notch out with his bedpost.
FRENCH EDDY – 6.5/10
Le partener? Mon dieu. But this proved disconcerting for a time, as Eddy calculated his chances of getting pregnant like 90% of Sparky's other partners. It didn't help that he was attacked by the ref with 2nd in mind. Once over that, into the second half you may – or may not – have noticed an increase in his participation as more space opened up and he was denied by a great block to deny a third.
SUBS:
ROGIC – 6/10
"It's summer, Oz, so get out there and PLAY!" You can only fool him for the few minutes it takes for his googlies to freeze but we got a couple of moments of class to savour. I'd have a heat-lamp on the Mordor bench then give him half an hour in his flip-flops.
SAM JACKSON – 5.5/10
Muthutucka still hangin' muthutuckin' around. And he strolled on for the last 20 wearing white spats. Kind of strolled arund too, making a pass or three, at least getting involved.
MIKEY J – 5.5/10
It's an 80s Christmas remix as Mikey's rehab continues. Over-elaborated in on goal, looking for the "Wembley, beat three men and head it in on the line on yer knees" finish.
THE YETI – N/A
Is he alright or is he Craigy Whyte? No idea. Like folklore, he only appeared briefly, with no solid evidence of his presence.
LENNONY – 7/10
Play twin spearheads, we asked, so he did. But there were little in the way of service providers for a long time until flashes of individual ingenuity and a second-half press brought chances and rewards. Now we must petition Lennony to persevere with the double-threat in the same way Jordan (boobs-Jordan, not Michael…) kept going for enhancements and though not as pretty a set-up, certainly became more potent. Plenty of time to knock the ball about like Euro-winks after your lethal double-strikers (Jordan nod again…) have spanked in a few, Neil; let's keep that as the mantra for the season.
OVERALL – 7/10
So not only did we take the Scottish Cup and QuadroTreble from Hampden, we also nicked their pitch too. Get it right roon ye, SFA. On a night when it was mostly stick, it required a subtle twist by the wee hauns-free-table tennis mhan to open up space and get us off and running. Fluidity looked a vague option on that surface but credit to the Bhoys for managing an enlivening spell of shifting it quick early 2nd half which set the tone and the prison rules down and had County pinned and us looking comfortable but never totally convincing.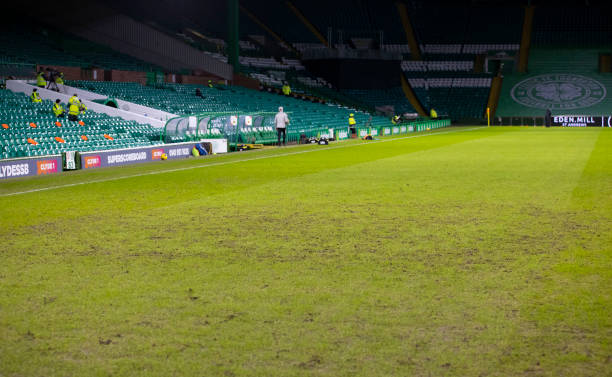 Still, compared to what went down a few weeks ago, the fences will be spared for Christmas and we can be encouraged by a Celtic side who appear to have recovered some semblance of a winning mentality. Now we might look forward to a festive passage of games with some optimism rather than dread. Have a good one, you Celts!
Go Away For A Fine Christmas Now.
Sandman