"Maybe my hair is far too colour-consistent and lacking any grey for a man of my vintage. And maybe my face does put one in mind of a scowling woodsman from a Grimm's fairytale about to attack a wolf with his axe, but that's all down to staunch Ulster Protestant genes, I'll have ye know. Wig, my feckin' erse!"
Tommy Wright, St.Johnstone Growler.
"I need a way out of this ugliness. Everybody hates me. Me family hates me, me dogs too. An' all the supporters of me favourite team, Celtic. Only people that like me are Ra Peepul. Ders irony far ye. An ye know what Nelson Mandela said about them. So I'm kind of 'opin me album of Cilla Black covers goes mega, like, an' me werld tour means I 'ave to quit these sh*tbags."
Slippy G.
"The People are angry, always angry. They are starving. They are rabid. There is no law and order in their townships. They steal, kill and eat one another. There is such rage, and it is permanent."
N.Mandela.
Aaaaand one…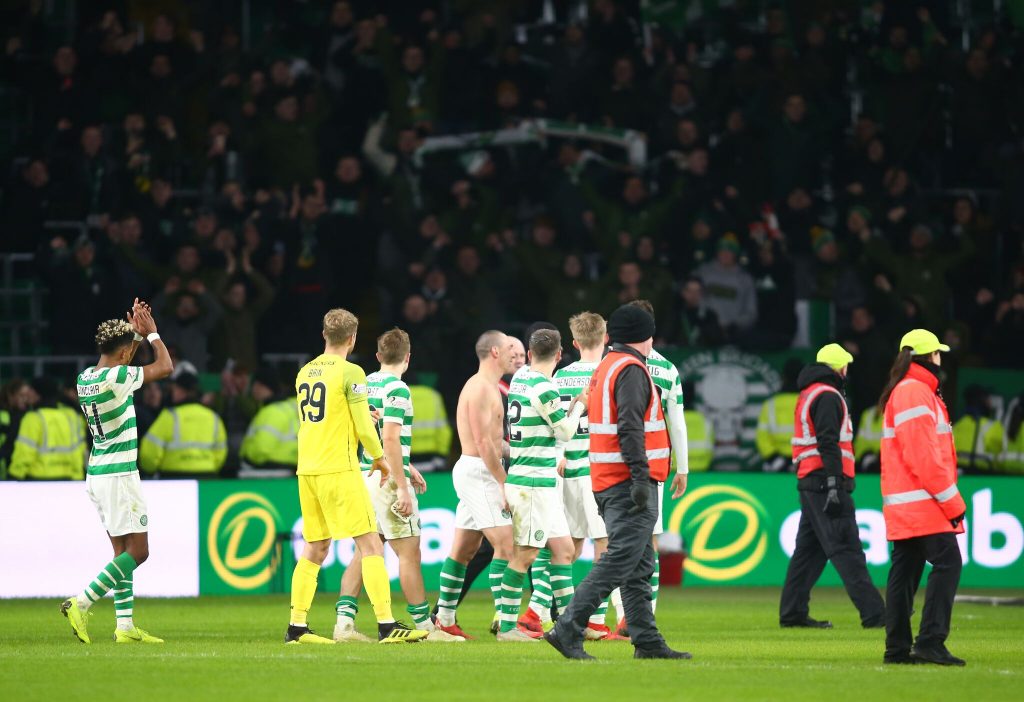 BANE – 8/10
No, it is 'Bane', don't misjudge the 'Bain' he uses to interact in everyday life as the Celtic keepr – this is a cunning super-villain who learned his identity trickery in the hellhole of Peña Duro prison, fluent in English, Spanish, Portuguese and Latin, as tutored by an elderly Jesuit priest.
But he's our cunning supervillain so that's working out fine – and so's his goalkeeping. Not that it was needed tonight, but his admirable ability to ping a pass puts him at number six on our top midfielders chart.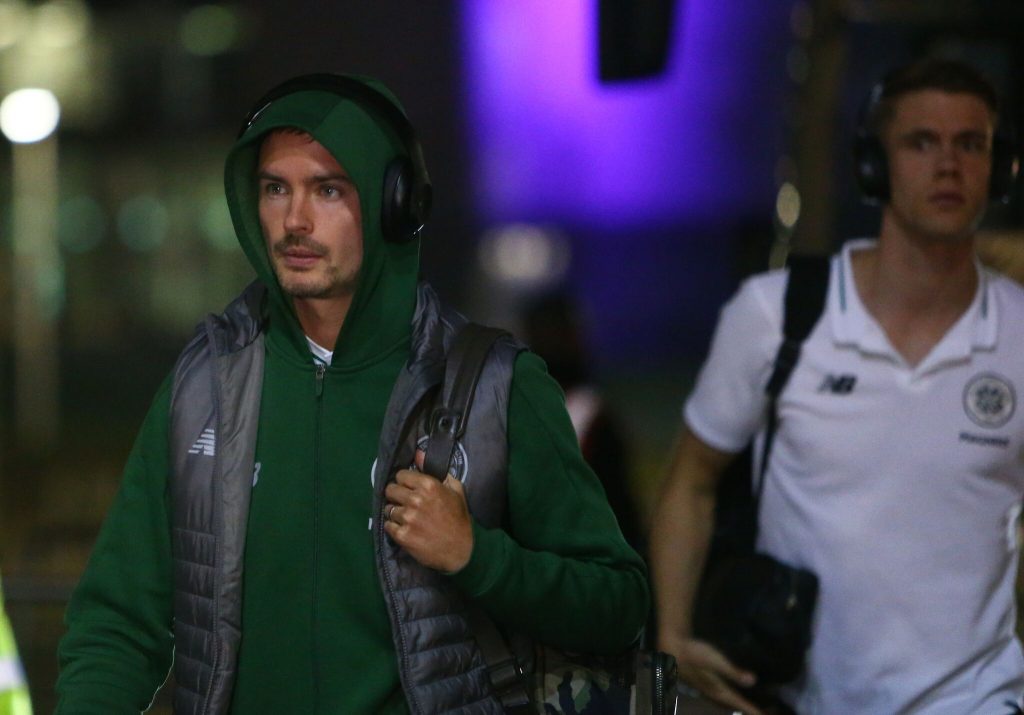 LUSTIG – 8.5/10
Haters gonna hate. Boo bhoys blinded to the part-time polis's outstanding contribution, and the trend victims can't get over their group-think… Threw in some superb crosses, kept the tempo high, linking constantly with Jamesy all first-half, roving up and down the right; didn't put a foot wrong. Radar between him and the Prestwick Flyer malfunctioned second half later on but mostly due to Jamesy out of sync.
Even survived a second-half career-ending attempt by a stubbly husk of double-surname infamy called Murray Davidson – a dirty bar-steward, as they say in rural Perthshire – who filled his time between first and full-time whistles galloping about the sacred turf like a demonic wraith, sporting the sartorial elegance of an apocalytpic hobo.
from Mad Max Beyond Thunderdome, slashing at anyone in Hoops. He actually gets paid for that, handsomely (which is ironic…) ; no, seriously…
Micka about MOTM for me. Solid as Ashford and Simpson.
IZZY – 8/10
Donde esta la biblioteca? Senor Izzy buzzed around the left wing, seemingly determined to interact with Sonic and continue the scintillating dynamism on the left we've seen the past few matches.
But there was a log-jam tonight as the Ambulance fellas doubled up down that side. Yet he maintained his energy and focus for the ninety, without succumbing to his usual momentary flake-outs; not easy to do on a cold January night when you're loaded with peyote and can't shake the Doors' 'Waiting for The Sun' out yer head.
JOZO – 8/10
Handed his comeback opportunity due to the injury/wounding of Benny Kovic in a shootout in the 1970s whilst helping Starksy and Hutch out of a sticky situation involving Huggy Bear, Kojak and a friendly hooker with a heart of gold. Consumate perfrormance. Tight on runners, read everytihng, occupied territory like a stubborn militia.
Jozo – confirmed now as a Croatian – formerly known as Ivan Denesovich, whose mettle was forged through early years in a Bosnian Gulag, has a natural defensive ability when he's fit and focussed. He fills the spaces that the opposition creatives look up to find. It's an art. That split-second of decision-making can kill you off if the pass is on. Jozo's job is to make the pass look off. It's something he excelled at in his best Celtic performances. Anderlecht away srpings to mind; closing down the openings, clearing up the scraps.
Injury and preference have hampered him in recent times, but let's not forget he was almost the hero of Athens when that last-ditch effort in the CL qualifier clipped off him and almost spun into the Athens net to put us through. Fine margins – and his career has been fine margins, marred by injury when he's looked almost a world-beater. But here he is again, another chance to stay in the team and establish himself. Defenders don't get as much leeway from the fans as attacking players do – less time to find their feet and form. I hope Jozo gets the game-time and avoids calamity, because he's a better natural defender than Boyata by a mile. In my less than humble opinion…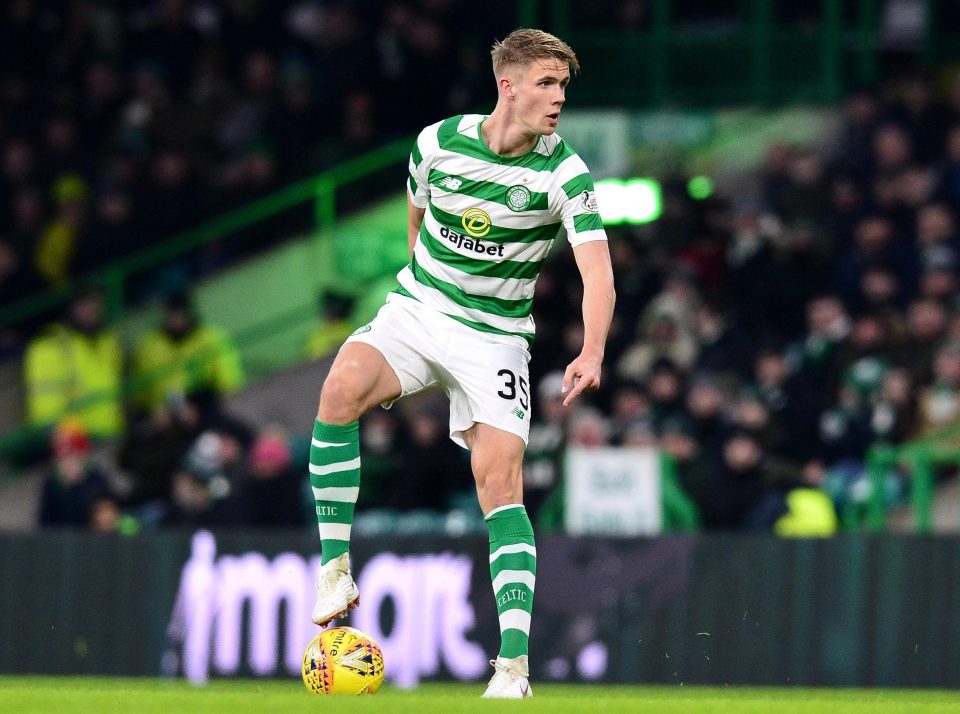 AJER – 8/10
This bhoy is the future. Our requirement is finding the perfect defensive partner upon which to build a new spine of Celtic 2019/20 onwards. Confidence mounting, as he himself mounts most opoponents, ravishing them into submission before marauding towards the opposition penalty box.
On form, coming up against big Kris is like a hot date with a horny polar Bear; He looks a warm cuddly fella but he's got a bite and if you let him get on top of you, you'll be unable to sit down for a week.
BROON – 8.5/10
The captain does what the captain does best – steadies the ship, lays down the law. Takes control. Brought the steely determination to the team tonight and refused to let anyone slack off. Another immaculate performance, save for his shooting – as accurate as Hopalong Cassidy rolling up to the County fair pished on moonshine.
Had to have a chuckle to himself about his second-half effort. Aye, Broony, tell that amusing anecdote to the kid in the Jock Stein upper who'll never laugh again because yer shot took his face off!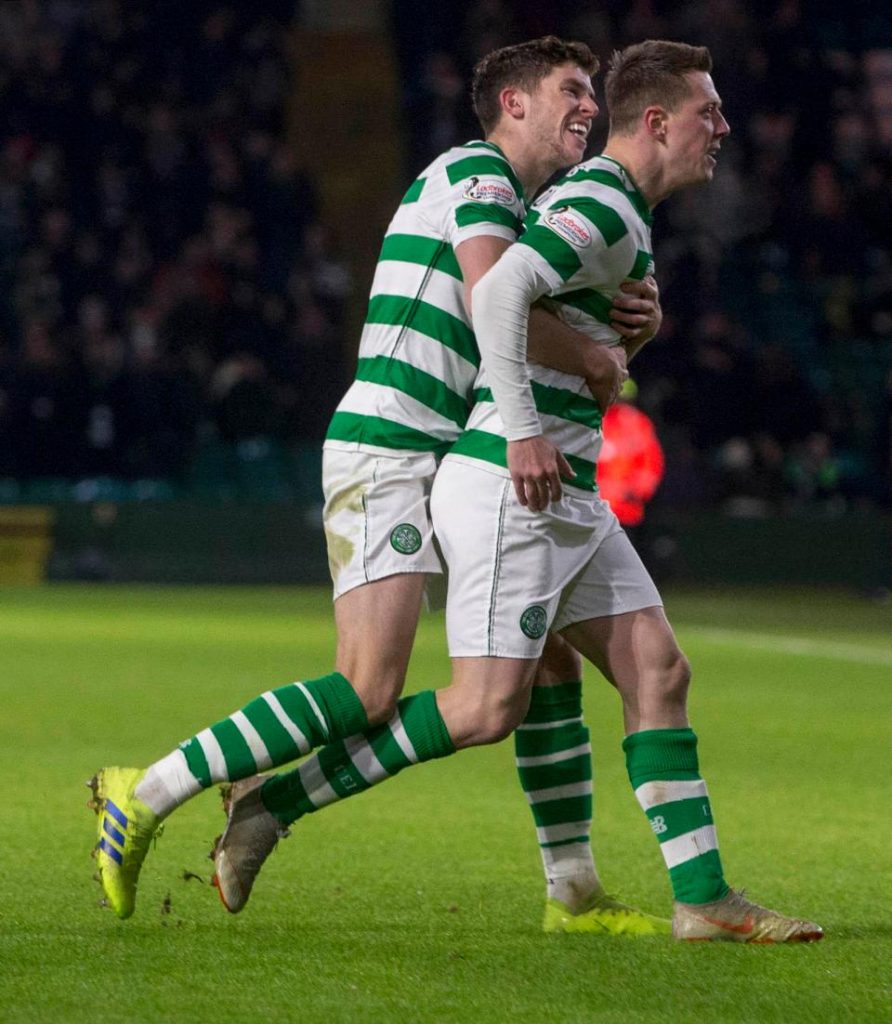 CALMAC – 8/10
He's like a magic wee leprechaun who pops up to grant yer wish just when you're thinking about sacrificing yer daughter's rabbit to Satan for the cause.
Anyway, the wee mhan scudded in a daisy-cutter to save the ratlting nerve-endings and also Bugs's short life. Remember kids- a rabbit's not just for Christmas; it'll do a neat stew near the end of January when the budget's tight and the Hoops need some voodoo.
Another astronomical metronomical performance from our midfield conductor. The only black spot on the night – the St.John's paramedic in nets keeping his second out with the edge of his hand. A great save. A bar-steward too; some of us had stuck £2.50 on a Calmac double at 28/1. Where's that fecking bunny…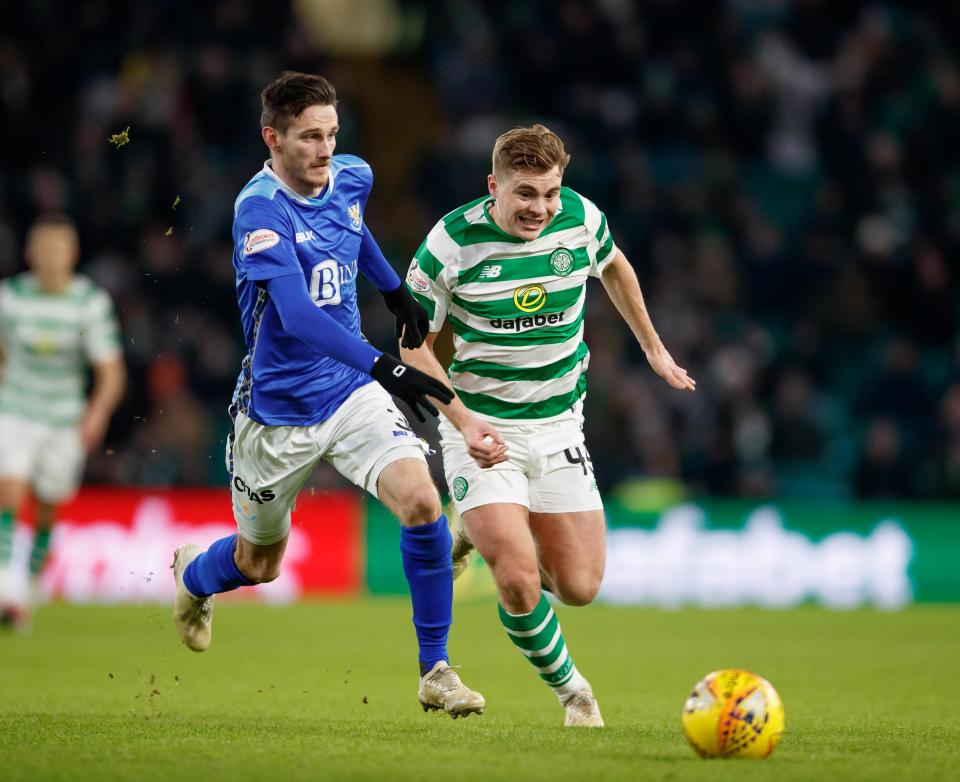 FORREST – 7/10
All busy, all effort, all running up cul-de-sacs; don't ask Jamesy to be your getaway driver. Diversion maybe, what with the boaby-waving fetish thing…
But I digress – our lethal all-action pistoneer is not getting the breaks or luck at the moment. He's more stop-start than fluid momentum. But he's working for it and it'll come again; I predict a late-season scoring rampage.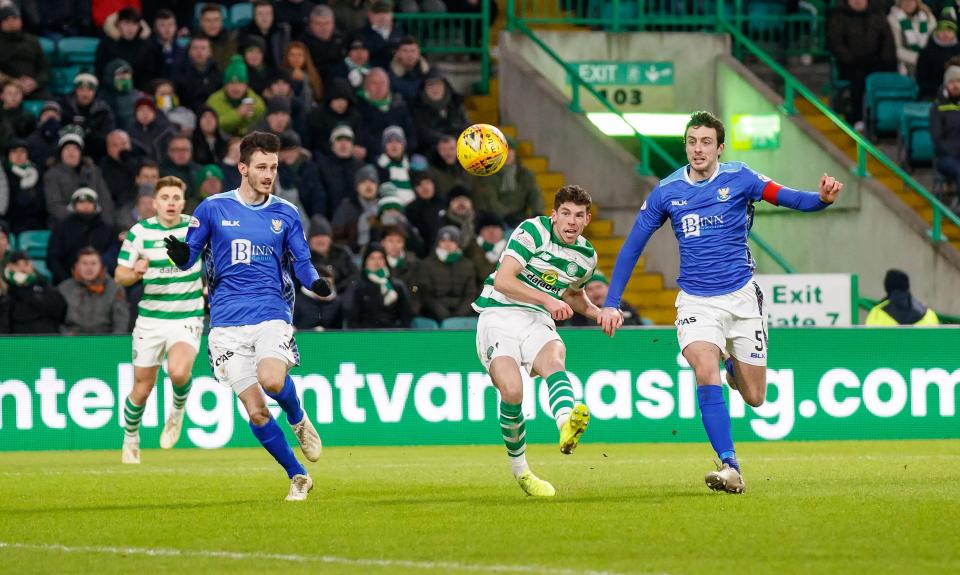 CHRISTIE – 7.5/10
A shambolic first-half; couldn't get a corner past the first man, daft wee flicks in the midfield not coming off, booke dfor an impromptu Morelos impersonation to alleviate the tension…. he had a narrow free-kick effort close enough but overall his performance was looking dire.
Then, after a half-time massage from Lola, the Celtic Park busty blonde, long-legged Swedish comedic sterotype masseuse who lubes up her hands while looking at you coyly with big needy eyes and a salacious smile, everything came together; fnarr-fnarr. He had the damaging runs spot-on, the passing incisive, the touch sublime; scored a beauty after a terrific bit of skill and turn.
Thank you, Lola. You may undo another button on your low-cut white tunic for young Ryan's 'Sunday Shuffle'…
SINCY – 6.5/10
Not on it, ultimately. Singled-out for close attention and we were unable to create enough space for him due to a slow-tempo first 20 minutes. Must say, his own grandad at right back for them marshalled Sincy really well, aided many a time by doubling-up and offering zero space.
But still Sonic buzzed at them, nearly scored a header but for a brilliant save. He's not quitting now; he's going at them, no hiding. We need to maximise his silky skills when he's in the mood, however, which probably means shifting the ball out there a hell of a lot quicker and giving him something to work with before he's closed down.
BURKE – 6/10
The big bodysnatcher worked his socks off but found no joy. Should have been less of a greedy bar-steward when he broke clear and used Sincy or Calmac but went for it himself. Put in a shift, though, so I'm not griping about a wasted jersey. Yet. He offers us a presence, but just how much use that will be given Eddy back and Timo's flying pace and Bayo who'll be sniffing for a place… Well, do we continue to train up WBA's player for them or go with our own?
SUBS:
FRENCH EDDY – 7/10
Ominous signs for the rest of the Premiership as he produced a Boxing-Day-Pittodrie-esque cameo, twisting and slaloming about the placee, almost scoring but for the frustrating acrobat between the sticks.
WEAH – 6/10
Reminds me of a firework that didn't go off, but you know there's going to be an explosion at some point. This Rapier Kid will tear it up when he gets his rhythm properly. His dad's the president of a library, dontcha know? Anyone want to borrow out Harry Potter? See Timo.
BITTON – 6/10
So Nir, so far… So far so good, as our Lanky-But-Not-Tom-Rogic Israeli continues his comeback. He's definitely got the class and guile to fit in across our mid, a very useful option for taking control in there. He excels in looking both at ease and sharp; a combination I spent years trying to master when hanging about bars and clubs.
BR – 8/10
Another one bites the dust. And the tricky extra game in hand is successfully negotiated against the side with the best away record in the league. To date. Not anymore. I don't think. I'm not a statistician for feck's sake, pedants – I just threw that in for emphasis and to make me look learned… Go ask someone who knows what they're doing. Go ask Celtic By Numbers; he'll expertly fill you in on the facts ;))
I'm just a rambling jester, here to amuse and annoy you like some sort of voice of your consciousness that upsets your concentration at the most in-opportune times with a quip or two you'll recall while trying to do something serious and worthwhile in your working/social lives and your noble train of thought will be totally derailed by the nagging 'Sandman' recall….
Anyway, after careful analysis over 4.5 pints, it was concluded that BR got everything right on the night – he tweaked the tempo just as our jaded opening wasn't producing results. He got the Hoops switching it, shifting feet and clipping passes with a verve that had St.johnstone frantically trying to hold their shape. They failed, retreated into a defensive block in their own box and we took advantage of the spaces that opened up – Christie's goal the example of how our movement and rotation pulled them open just enough.
Now the boss must learn a new card trick for the awkward second date on Sunday; unless he's already got one up his sleeve and we'll again be 'pumping in Perth'. (see what I did there, infrequent Tinder users; second dates. Whit's that eh?)
OVERALL – 8.5/10
Eventually got what a fine display merited. Still on the cards for us to finish off a few games in the run-in BEFORE half-time; enough of this slow-start nonsense – somebody's due an utter savaging when our chances created start to produce the right dividends in the returns column.
TEMPO is the key to modern footballing success. TEMPO – how good teams beat us in Europe, and how We will win TEN in a row. You cannot match top players zipping the ball about at high tempo. Nobody in the Premiership can match Celtic when the tempo is high. Our problem is we tend to get caught between a rock and a hard place – we seem to carry the illusion sometimes that controlling a game is knocking the ball about the back and having the opposition press. Like we thought we'd do at Mordor on Black 29th…
Nope. If we've learned anything from Barca and PSG it should be that controlling a game means slapping your opponents about early on and papping in a few goals. Then you can take your foot off the gas. You achieve that by starting at greater tempo than them., and seeing if they can live with you. Eventually their nervous energy dissipates and mistakes come.
Tonight we shook off some lethargy and applied the test from mid-first half onwards, and maintained the quality – they couldn't cope. It was the performance of Champions.
Easier written than done, but we have the ability in our squad to do just that consistently in the league. Here's hoping tempo becomes the by-word for our final 15 matches this season and we blitz our way to that TRIPLE REBEL TREBLE.
COYBIG
SANDMAN's slightly more controversial version of these ratings appear on the New Celtic Supporters forum Celtic Noise, where you are welcome to sign up (it's easy) and comment.
Also on The Celtic Star…
'Callum is a class act – St Johnstone? A side bankrupt of attacking ideas,' David Potter
Jim Craig – When the final whistle blew, the score was 4-2 to Celtic
Benkovic's out for 4 weeks, one coming in and several going out the door according to Brendan
Celtic 2 St Johnstone 0 – As it happened as Hoops go 6 points clear