SANDMAN'S DEFINITIVE RATINGS: CELTIC v THE UNDATEABLES…
"Life will knock us down, but we can choose whether or not to stand back up." Karate Kid
"Ha ha ha, Ah shut yer blue-nosed pubs fur the weekend…" Jimmy Krankie
B.A BARKAS – 6/10
From the beautiful and ancient vistas of Greece to the ugly and anachronistic royalist plague of Scotia – with no time to clear his saddened eyes his defence had exposed him like a burd on a Kos nudie beach, and we were one down and bared to oncoming defeat. No chance with the second pinball-winker one either, and didn't really get much else to do as our backline dominated possession and gave him a Wimbledon neck with monotonous side-to-side switches. Fed-up, he took it upon himself to run up to the halfway line with the ball in injury time and considered cracking off a shot; if he'd heard me he might have…
AJER – 6/10
Raw and angry and wearing a concerned expression for 90 minutes. No concealing the big lhad's reservations when there's something not right. Made the outstanding Celtic play of the day with a life/shame/ face/humiliation/goal-saving tackle on the Bear's Bear, the concentration camp collaborator kapo, when he was clean through. And no viking heroics could salvage anything, including a valiant surge forward to set up Griff late on. He must be anticipating the return of big Jullien Clary with some relief.
WELSH – 5/10
Well, kid, a strangely quiet day that ended in a depressing defeat and the notion that you've broken into a team of half-assed incompetents who might benefit from your own method of simply doing what is asked of you. Not overwhelmed, but must have been bemused by the flurry of vomitous blue around him and the lack of support from his elders.
ALAN LADD – 2/10
'Look out behind ye!'. Pantomine was never on the resume after his movie career, mainly because he never does look out behind him. He needed to be our battling ball-winner who we throw up as a big danger at set-pieces; unfortunately we've cast him as swaggering lynchpin and there's an air of big-sky country ranch-hand about him when he looks up and fires a fifty-yard pass into the non-crowd. And the joint failure to mark the biggest ugliest potato-heided competently twice, giving it the finest moments of its career, is troubling to say the least.
LAXALTIVE – 7/10 MOTM
Welcome to the party, Diego. Hair briaded in Benidorm, feet gilded in Milan. There's quality in the left boot as we saw with a whipped early cross and plenty forward endeavour thereafter. Railed against the norm by looking up for it, and threw himself about in that new-guy-looking-to-impress way we might have expected, but kudos to him for not hiding among his choking teammates.
PINGPONG – 2/10
Looked like a tourist wandering the Bangkok alleys in search of a batless table tennis tournament. Horror show afternoon for the wee mhan as everything went wrong. Isolated and bereft of any kinetic invention after a couple of early encouraging runs, he was ultimately a passenger who occasionally drifted inside and gave the ball away.
BROON – 5/10
Job carried out in Broon fashion – booked, induced bookings, battled, bullying… just nothing happening around him and unable to fire up his cohorts. Last forlorn hope of a miserable day is that he's in the dressing room growling at the inept. Curious incident with their cartoon gimp – had Broon clipped at his lumpen heid, would there have been a card?
CALMAC – 6/10
Jeez, even Calmac can misplace a simple pass when there's nothing but confusion in the patterns around him. In saying that, he still was our most industrious, always looking for the ball, despairing mostly at the outcome of his work. Once again out-numbered in the middle and forced to operate twenty yards deeper than his optimum effectiveness. I'll say it again… Broon and Sam jackson/A.N. Other in tandem, with Calmac ahead doing damage with his deft touch between their lines. Or.. Calmac and Broon with Rogic ahead. But we do need a creative spearheading the midfield trio.
SAM JACKSON – 3/10
Muthutuckin' meanderin' Muthutucka failed to impose or get righteous in any way whatsoever with those muthutuckin' Ringos or stand up to the tyranny of evil men; a failed muthutuckin' enterprise all-round.
ELSHAGYONLASSIE – 6/10
Started like a chump, gifting the ball away which led to their first goal, then missed a sitter three minutes later. But usual anonymity was eschewed as he played himself into the game and looked our man most likely to create some havoc when he got on the ball. Then he got subbed. Eh…
KLIMALA KLIMAX – 4/10
Meh. Was looking forward to him rumbling up their rearguard with pace and hustle. But forgot he may need some service – or a strike partner – to bring out his best.
SUBS:
THE YETI – N/A
We threw him on and didn't throw the ball anywhere near him.
GRIFF – 6/10
Now there's more like it – a Skelping veteran comes on with a mission in mind and if we'd had another ten mad bar stewards like Griff, keen to slaughter The Pigs Of Hate (© Sandman) we may have been a different proposition entirely. Unlucky when latching onto Ajer's direct ball and rounding the Usual Suspect for every sex crime in the Northern hemisphere, but the ball didn't break kindly.
ROGIC – N/A
Too late and too early for Big Oz – no time to impact and not fit enough, yet, to have an edge.
GREGGS THE BAKER – N/A
To be honest, soon as I saw him on the touchline, I knew we'd chucked it.
EDDIE TURNBULL – N/A
Appeared late on to find that they are still as smelly and aesthetically vulgar as they were the last time he played them 70 years ago.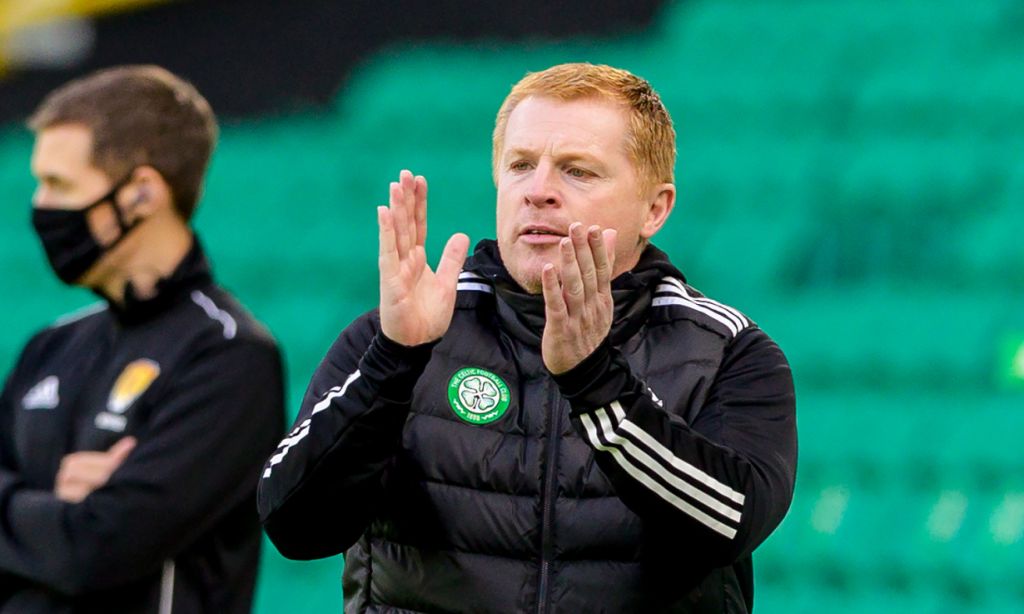 LENNONY – 2/10
Well, cunning plans don't always play out, Baldrick. Everyone's got a plan until they get punched in the face. This reshuffle gave Slippy G the finest stauner of his time in Glasgow as we filled one side with the playgroup's finest and took the pressure off their lumbering central defence by floating Elshag, isolating Paddy, and letting the midfield three get overrun in a pastiche of Black Xmas I & II. Lennony still can't decide to stick or twist on his formations and today was the apex of that bewildering rumination; a malfunctioning system in which the players clattered about unsure. Back to basics, please. Give the squad a framework, a consistent shape to operate from, or the TEN will run away from you, Lennony. Quickly.
And where's the thunder gone? Behind those gathering thunderclouds…
OVERALL – 3/10
A point for every time we threatened. So many adjectives, so few expansive enough to sum up the abject failure of that 90 minutes, but every one prefixed by swearing.  My personal choice for today would be the quaint Scottish colloquialism, 'pish'. One thing we appear fantastic at is casually knocking the ball about at the back then giving it away in an aimless forward movement that lacks any certainty or conviction. A test of the mettle like today, when faced with an organised horde of ugliness determined to rip the joy out the Hoops, needs approached with tempo and the mindset to combat their unhealthy excitement.
But this isn't currently a functioning Celtic team. It's a collective of individuals going through the motions and hoping something happens for them rather than dictating their own destiny. There was a worrying staleness about us today that reeks of late Strachan era or the teeth-grinding monotony of – dare I utter it – Lennony's final days first-time round. Verve is missing. We may need to call in Richard Ashcroft to tune us up… I'm here all weekend…
🗣️ 'It looked like what we were, a team put together the day before a game' – Neil Lennon speaking after Celtic's 2-0 defeat to Rangers.

More here ➡️ https://t.co/IbdgipgwLE pic.twitter.com/chjZura1sm

— BBC Sport Scotland (@BBCSportScot) October 17, 2020
Somewhere, we've mislaid our purpose and acquired a fatalistic resignation. With no spark there'll be no fireworks, with no appetite we won't feed on any silverware. It looks like we're going to be under pressure and on the tails of the half-season Champions as they go for three-in-a-row. Make sure that's all the titles they claim, Celtic.
Go Away Now
Sandman