SANDMAN'S DEFINITIVE RATINGS – CELTIC v UNITED ARAB DEGENERATES…
"Expectation is the mother of all frustration." – Antonio Banderas. Speaking on behalf of the Celtic support.
ROXIE – 7/10 – Captain, my Captain… She likes it dramatic so everyone stood on desks and benches when Ange handed over the armband. Dramatic indeed on the park too as orders were barked and risks taken and total calamity avoided with another great save. Oh, the irony – our most questioned signing being the one most reliable in this jittery, transitory period.
TONY THE TIGER – 5.5/10 – Serial-Killer intensity and medieval monk self-flagellation as he admonished himself for losing the tackle that led to their goal. He gave all-in 100% despite being rattled, and won't leave the pitch until beaten or dead. A draw means nothing to Tony – he's still out there, charging up and down, grinding his teeth to bloody stumps seeking a winner.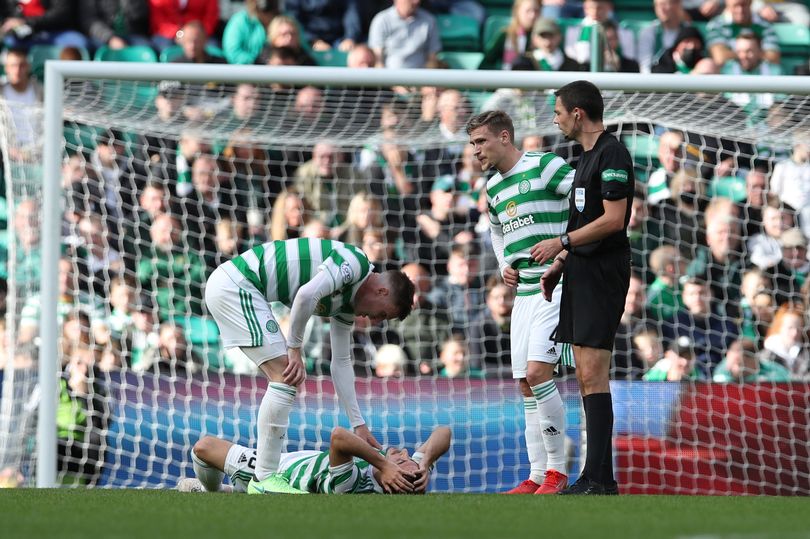 JURAN JURAN – N/A – Casting envious eyes across our box at the right-back position, he nevertheless got on with it. Then, appalled by our defensive frailties, collapsed to the turf with Soren Kierkegaard-level existential angst, never to be seen again.
STAR LORD – 5.5/10 – Spent half-time sat in the corner of the dressing room mumbling away with a crayon, changing 'Dafabet' on the front of his shirt to, 'Feck's sake don't pass to me'. Appeared to be the victim of a first-half prank by Oz and Roxie to see if they could make him soil himself. They came close. For all of us. Thankfully, Star Lord escaped with the aid of his invisible talking Racoon, though he might heed its advice to 'hoof it' occasionally, be less powder-puff and more thorough with the basics. Stood up well to their late breaks, timed interceptions and made one fine saving tackle. Needs, however, to sort out man-marking/picking up runners with Get Carter…
GET CARTER – 5.5/10 – Sloppy at times, and given a test of awareness when United broke with intent. Absent like Star Lord for their goal; doesn't sit comfortably with him when we're stretched because he prefers to be the
ball-winning beast of the central pairing. I'm thinking a fit Julien Clary may be a more suitable compliment to him.
McCARTHYISM – 5.5/10 – That's what we call a RED CARD. Remember, Clancy? Your wee effette Tory MP unionist politico pal likes to shout that when orgasming. Straight leg, studs up, right through McCarthyism's knee. Don't think the United fella meant it with malice but it was a bad one. And ended his game, effectively. He was decent enough for his time on the park, if not really the low-energy engine we require. Two-and-a-half games in a row before succumbing to injury, extended his personal best.
EDDIE TURNBULL – 6/10 – Looked deadly and sharp through the opening period, thumped a beauty off the frame, cut them open…Then after the break his age caught up with him and he dithered, doddered, wandered about forgetting where he was, powder-puffed his deliveries and we let them off the hook as our match winning ball-playing midfield duo remained out of synch.
ROGIC – 6.5/10 – And it's vice-versa time: Oz out of sorts first-half, delightfully fluid second-half, nearly the match winner, finding space, his touch, and influence. Lit up the place when he got on the ball running at them. Couldn't believe that header came back off the bar to him; like a flaming traitorous boomerang, mayte.
ABADASS – 6.5/10 – The wee mhan with the big heid… A third headed goal for the Israeli whippet as he executes that drift-in from the right to perfection. Sadly his effectiveness took a knock with his hip under a card-worthy challenge from their keeper, and we lost his mobility and threat for the final hair-pulling ten minutes.
NOTEBOOK – 7.5/10 MOTM – The mhan who can… Almost. Agonizing near things for the livewire Whamster who was our most potent force. They tried to stifle him second-half after a rip-roaring first, but he escaped the shackles late on, coming close to taking the points. On days like this he's definitely A Ray Of Sunshine.
THE YETI SEBO – 3/10 – You think you're in the Matrix? The glitch surrounding the Yeti will convince you – physics-defying feats to blow the win, and a cunning disappearing act for most of the second 45. Yet(i) to convince anyone he's got the class for that jersey, still looks cumbersome and blunt despite his increased effort. Abominable day.
SUBS:
FIELD MARSHALL – 5.5/10 – Well, the kid got on early and buzzed around, but aside from one exciting run late in the game he was affected by the inherent carelessness that plagued us.
MAN OF – 6/10 – Well, the contrast when he emerged for the second half was immediately evident in that there was more zip and dynamism about the middle. He's willing to shift the ball forward quicker, but gets too involved in stupid fouls. Habitually aggressive, and that can be good thing if controlled properly. But today it was more helpful to them running down the clock. Playing him beside Calmac and with one of Oz/EddieT may be an answer as less responsibility may refine his overall game.
ANITA DOBSON – 6/10 – Okay, so his luck has deserted him. No new manager wants to see a clutch of essential players injured for weeks on end. But there's still a creeping reluctance about Ange to make telling changes during games. Oz and Eddie T are one and the same, and if they're not firing in tandem then both of them on the park presents one liability. Better two engine-room workers and one ball-player to exploit space higher. Or even two strikers down the middle and one winger…
We could go on. And on… Facts are that his hands are tied and options limited currently. His tactics are reverting to stoicism out of fear as the fit squad shrinks and his dynamic ambitions are regulated out of necessity. Two new main strikers out, captain and midfield general out, proven Skelping centre-back out, full-backs out, and a couple of ballboys hobbling down the tunnel. Doubt Ange could have envisaged such misfortune in his most negative projections. Can't condemn the man until the playing field's level.
MIBBERY – 5/10 – Clancy. Detests the colour clash of red against tangerine so McCarthyism's assassin escaped the obvious. As did their Kung-Fu keeper. Yet he somehow rejected the goat-winning Penalty At Parkheid moment, but managed to break up our late momentum with some classic wtf-ery niggling non-fouls, aided and abetted by standside flag-gimp. All-in: Hmm…
OVERALL – 6/10 – Well, now you know what it's like to be married to Tom Cruise. Frustration levels hit heights of ragin' to shame a blue-nose janny in a seminary school as the ball hit the woodwork, and kept hitting it…If we're blaming anyone let's roast the ground staff for not raising the height of the crossbars, the shiftless bar stewards.
Often Celtic were slack with passing and there was a sloppiness around moves that foretold the inevitable breakdown at some point due to a poorly-weighted pass or miscommunication. We just couldn't put it all together at one time, exemplified by Oz and Eddie T playing well in a half each, at different times – one first half, the other second – when just one decent half with both of them on the same wavelength would have been enough to bury United.
Can they play together? Maybe the question is better framed as 'should' they play together? Can we afford the luxury of them misfiring? Not today, we couldn't.
Two points dropped against a capable United side leaves us drifting with tough away league games imminent. There's the small matter of a streamlined German outfit on Thursday to keep your nights sleepless, but at least we'll get to roast PingPong, the wee Richard..
Everyone's mind is now on the treatment table as we await the return of half a team. If only someone in a position of power and influence at Celtic could have, y'know, factored such a scenario into the season's business model and taken action in the transfer market accordingly, then we'd be speaking in awed terms of the excessive competence shown in the stewardship of the club.
But this is Celtic, and tradition harking back to the Keystone Kellys board of the pre-McCann era dictates that Celtic should always follow the contrarian model to the common sense one. Ergo, the business plan section dealing with Black Swan Events Hardship Possibilities simply reads four words: 'Ach, it'll be fine…'
Go Away Now.
Sandman