SANDMAN'S DEFINITIVE RATINGS: CELTIC v WALTER MITTY…
"Toto, I've feeling we're not in Kansas anymore," The Wizard Of Oz (1939). And Glasgow Airport, 2021…
B.A BARKAS – 3/10 – Oh, dear, as they say in highborn circles, this just won't flaming do. After teasing with a dolly earlier, the crowning aberration came with barely disguised Craigywhytebaggery. That was a keeper in self-preservation mode, senses more attuned to incoming forwards attacking the ball and himself. Ultimately, nobody made the runs across or into him, but he was too distracted by possibilities than to keep his focus on the flight of the ball.
Midtjylland equalise through a howler from Barkas! 😮

"It's a horrendous mistake from the goalkeeper, I'm sorry." 🗣️

Celtic's goalkeeping concerns continue 😬 pic.twitter.com/aFxbJTc4dL

— Premier Sports 📺 (@PremierSportsTV) July 20, 2021
He neither clutched or touched it, left gimping the air with two weak wrists like Liberace about to attack a piano. And our collective chins bumped our breastplates as yet again optimism got gut-punched by fatalism.
TONY THE TIGER – 5/10 – If he could find a final ball, he'd be Maldini. If he could rein-in the eagerness to assault he'd be solid as McGrain. There's promise and commitment but tonight showed there's also a great deal of refinement required.
RAQUEL – 6.5/10 – That season among chaos has battle-hardened her somewhat, and added a little nous. As the experienced lynchpin of our defence went postal, Raquel showed some class and composure to hold it together adequately, making well-timed interceptions and tasty tackles; the pick of which was a beauty cruelly punished by a goal from a pathetic refereeing decision born in the softest borough of Pussyville, by the way.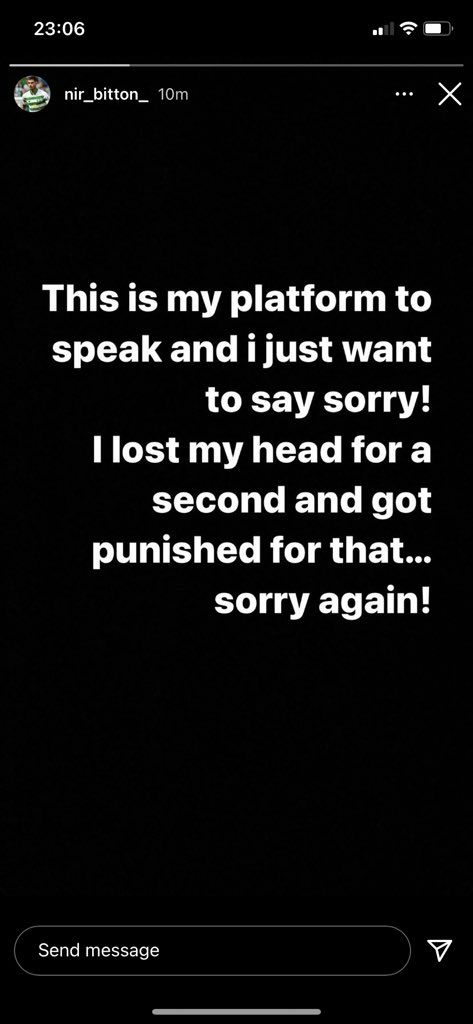 BITTON – 0/10 – The ice-cool assassin turns into Bruce Lee and tries to kill a cheating skank with the one-finger technique. Raging from being smashed in the pus by a deliberate elbow (straight red), he'd looked vengeful since returning onto the park. But, Nir, Nir, Nir… You know better than that. Or do you? Memories of early January haunted the summer as once again his misjudgement resulted in a costly red, deserved or not.
Daft from Bitton https://t.co/0tFzY6u87f

— Chris Sutton (@chris_sutton73) July 20, 2021
GREGGS THE BAKER – 6/10 – See Tony The Tiger for repeated flaws. Reliably industrious as always but still lacking the cultured moments of finesse that will separate the journeyman full-back from the Celtic wing-back.
CALMAC – 7/10 – Hail, Hail the skipper. And he burst onto a fine game after the opening 20 minute scrapathon, taking control of the middle. Looked more incisive in this one game than all last season as hesitation became thrusting darts into their backline. Could, maybe should have scored. But that would be a bonus. If the old Calmac's on the resurgence, we're in for a treat.
MAN OF – 7.5/10 MOTM – Well, we hoped he'd get a fair crack of the whip under the new boss, and we hoped we'd found a ready-made Broony replicant. Tonight he thrived and took charge just the way we've been used to seeing the legend do. Not fully fit, but proved he's fully capable at this level. Provided a bustling, hustling base from which Calmac and creatives could refuel and re-launch. Great start.
CORPUS CHRISTIE – 6/10 – The hell are you still doing here? Not yet sealed his Barca transfer after lighting up the Euros with a scintillating 45 minutes of running around like a.. Well, like a christian in the lion pit, we got to see Corpus attempt to disgrace the Hoops one more time. And has humility harnessed the ego any? He certainly applied himself more; no major international tourneys coming up for at least 16 months (and probably longer…).
So there he was contesting the ball, seeking the ball, taking some punishment, and generally getting involved again in that non-hiding manner we'd almost forgotten him capable of. And he cracked a few over the bar just for good measure. Is this a swansong, or a new dawn? I'd like to have tried using 'resurrection' but we've long realised he's not the Messiah.
EDDIE TURNBULL – 5.5/10 – We long for more. The touch and vision, the flicks and the anticipation as he moves onto the ball in the final third. There just wasn't quite enough of him among the action tonight, but when there was he made things happen. The mercury's certainly rising at the moment as Scotland boils like a Blue-Nose in a chapel, and if our near-centurion can find it in his old bones to stamp consistency on his performances, our midfield threat will be sizzling.
A BADASS – 7/10 – Drifting in and around the box, this new rapper we poached from the middle-east did himself proud with a lyrical waxing of their flustered defence, popping up in dangerous positions, looking intent on affecting the game, and doing so by pouncing like a King Of Kings on a parry to sweep home our first. And only, it transpired, though it shouldn't have been. Not the fault of this kid who exited prematurely, and ironically – cursed to a tactical sacrifice by his own fellow countryman's dumbfleckery. This badass will have much more to say in the season to come. Sike!
Liel Abada is already becoming a fan favourite at Celtic Park! 🙌

A massive goal from the new signing gives Celtic the lead to the joy of Ange Postecoglou on the sidelines 🍀 pic.twitter.com/N1sX77Q71r

— Premier Sports 📺 (@PremierSportsTV) July 20, 2021
FRENCH EDDY – 5/10 – Mon Dieu! The moment we'd awaited arrived. Eddy in on goal to kill them off, and have then seeking damage limitation as we pouned their beleaguered backline, looking to kill the tie as a whole. And he missed. A poor slap of a passed-finish, that never made it past the keeper (see what I did there, homonym fans?). Well, at least he looked interested enough for most tonight, and threatening – I'd predicted he'd score at least one after watching them try to cope with him and fret about it for the first half-hour; idiot. He faded, but fair play for rallying to the cause even if he's off imminently.
SUBS:
ANDY MURRAY – 6/10 – Thankfully gubbed out of Wimbers early, allowing him time to regain enough fitnessto make the bench tonight. I'll admit I was surprised to see him thrown in so early for the crestfallen Bitton, given
his backhand's not what it was. But he coped admirably, guided by the lovely Raquel in a youthful mixed-doubles pairing, and barely recorded any foot-faults (see what I did there, fans of the tennis bat?).
OZ – 5.5/10 – The old boss threw him in late hoping for a game-winning moment. Nearly, but Oz just wasn't warmed up enough to whip off a deadly shot from the couple of chances he carved, and not conniving enough to go down for a pen when he burst into the box and found a trailing defensive leg just asking to be tripped over. Damn your honesty, jolly swagman!
THE YETI – N/A –Thundered about, but created no late avalanches.
ANITA DOBSON – 8/10 – Here's your first competitive game – a CL qualifier against the Danish champions, and you've got half a team to work with. So a stand-up guy grits his teeth and sets about sculpting something of quality from the rubble of a collapsed season.
No complaints about the results of Ange's opening effort. There was a decently-drilled shape to the side, one which allowed us to gain control of a street-fight and assert some cultured authority. And just for a further test, he gets to cope with an early red and a tactical reshuffle. He did well; Malcontents and ingenues playing as one, showing a level of respect for the new boss. Deserved a better result.
OVERALL – 7/10 – As ever on a European night, we perused the squads wondering just who the hell were these unfamiliar, exotic names rolling up at Paradise to crush our hopes? Then we had a look at the opposition team as well. Over a pre-match pub pint, we took turns to read out a player and the rest of us tried to guess which team he played for. Get it wrong, take a swally. Everyone was pished by kick-off.
So the half-prepped, half-Celtic, half-familiar side took a step into the unknown watched by half-cut bemused faithful. A CL qualifier in midsummer. Murder. Even the least fiscally-aware fan (your dug, too) knows the importance of CL money to the Celtic machine. Shame the incumbent executives hadn't a flaming clue. The least-ready Celtic side in our history started the competitive season with the most important of contests.
A shambolic circus of negligence and incompetence rolls on. Known forever as LAWWELL'S LEGACY. Just capitalising that for you, Peter. Lest we forget.
On the park, the team nearly crested the first hill, only to be kicked (in the face) back down by abject individual calamity when the collective had surprised and encouraged with their focus and drive. We should have cleared this robust mob by two at least. Instead, they got a lifeline. But there's more than enough in the Celtic tank to go there and win. And I never thought I'd be saying that a day ago. So, where there's still life, there's hope.
Viva Celtic.
Sandman. Back on it.
Missed opportunity for Celtic? 🍀@chris_sutton73: "All in all, a disappointing night from a game that Celtic should have won." 🗣️@mstewart_23: "The thing that's quite clear to see is that the same issues still are there. And they have to be addressed." 👀 pic.twitter.com/4Eb8JLGpb4

— Premier Sports 📺 (@PremierSportsTV) July 20, 2021