SANDMAN'S DEFINITIVE RATINGS: CHAMPIONS @ TAM COURTS BAIRNS…
"The Rangers Football Club International Of Dignity, Simply The Second-Best, And Sectarianism takes a contrarianview to the events of the Scottish Football Writers Awards dinner. We stand behind the honourable masonic gentleman,Brother William Copeland. In fact we even have a stand after him… It's lovingly known as the…."

– TRFCI statement #1690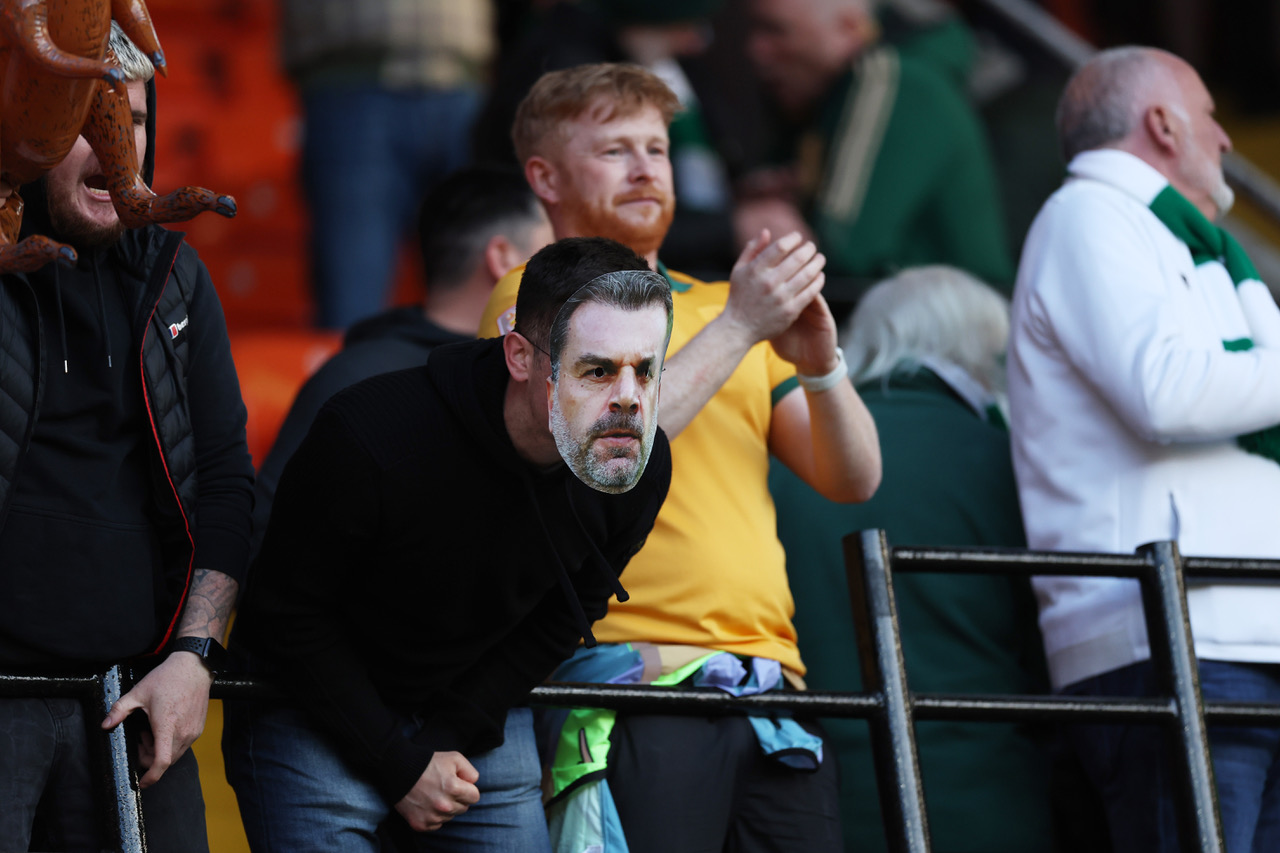 "Ange, I still love you, baby 

Everywhere I look, I see your eyes
There ain't a woman that comes close to you

Let me whisper in your ear
Ange, Ange
Where will it lead us from here?"

– 'Ange', The Rolling Stones' tribute to Celtic's
Athenian Aussie mean yin.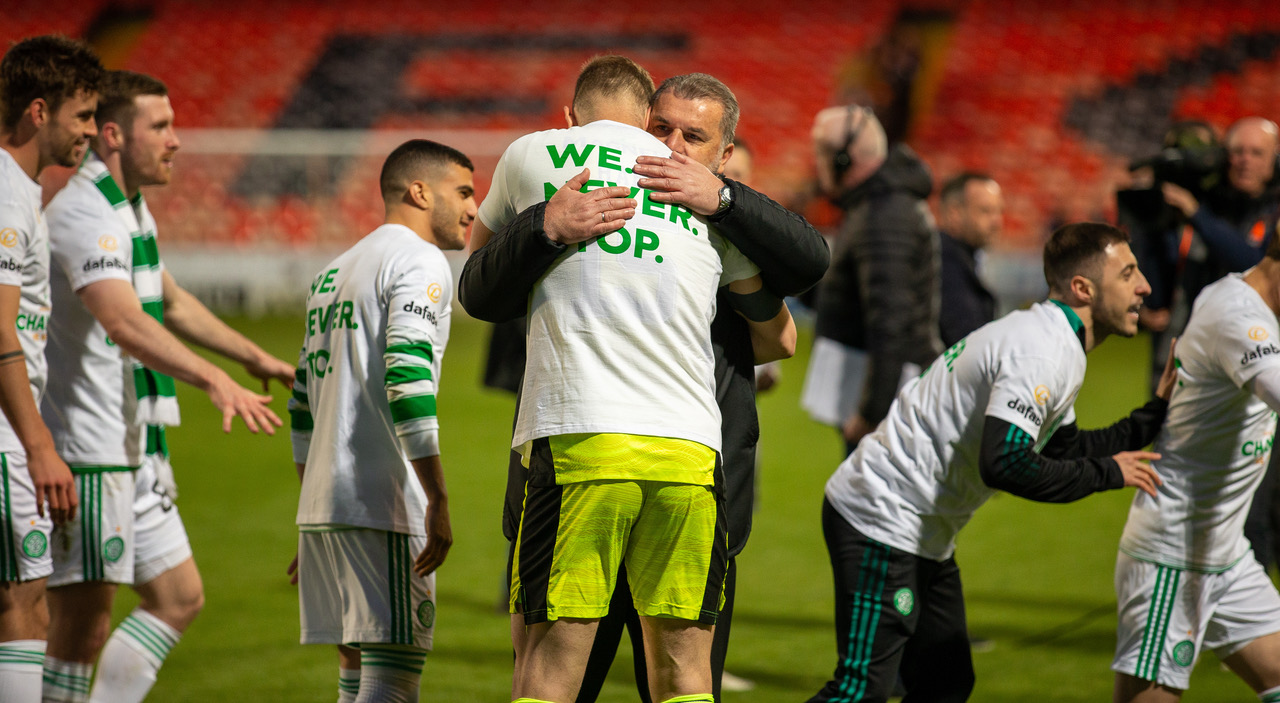 ROXIE – 6.5/10 – If only he could spray passes as well as he does Champagne he'd be the Beckenbauer sweeper he thinks he is. But what a keeper he's been – a presence of command and assurance; nothing to do until after the break, beaten by a worldie, then becomes world keepie-uppie champion, and finds the bottle to punch Tony in the chest. Brave as well as daft…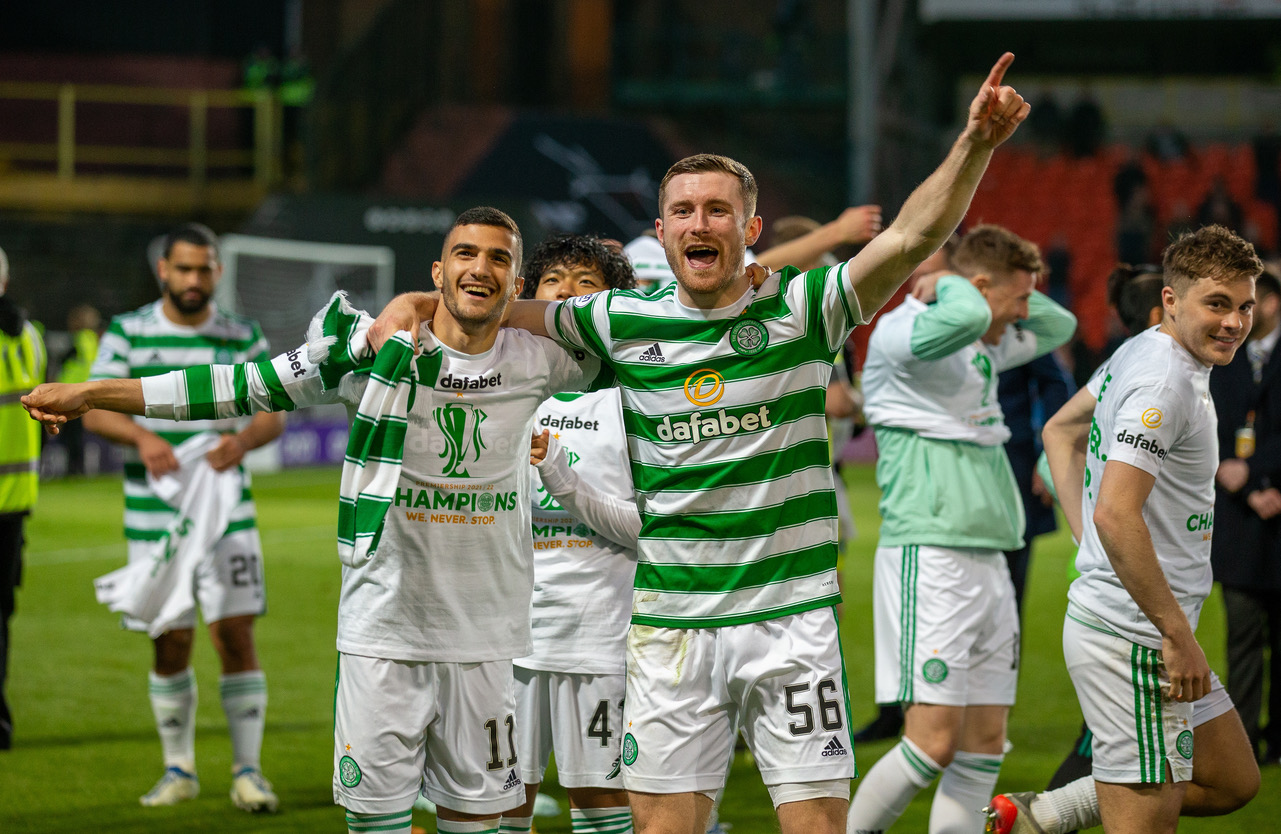 TONY THE TIGER – 8/10 MOTM – Almost did it all in the first ten minutes – Pirlo cross-field pass to Jamesy, Jinky wing-play, Broony combat mode, and a Morelos miss. Second-half he threw in a KT last-gasp stop with tackle of
the season, survived a Rocky v Ivan Drago sparring match with Big Joe, and set up the title-clinching goal with a peach of a cross. Next up: Iron Man Triathlon. And the actual Iron Man role in Marvel's next movie reboot…
GREGGS THE BAKER – 6.5/10 – Another industry award winner, for… Well, industry. Inverted full-back role suits his hustle to the ground; of which he covers a fair area. Impressed first-half in particular with incessant supporting runs before running low on reserves and toiling a bit as they gave it a go later on.
GET CARTER – 6.5/10 – Between a rock and a hard man… Is our rock. Never troubled with any aerial threat, efficient with distribution. This is his golden choice – revel in the thrill of being a Celtic Champion or return to
the banality of EPL fakery. Tonight, and what's to come, will test his ambition.
STAR LORD – 6.5/10 – Racoon aloft on his shoulders, he proudly took the plaudits through the celebrations. Cruised the 90 minutes and handled the troublesome moments with his usual perplexing style; does he or doesn't he know what he's doing? Mostly, he's proven that he does.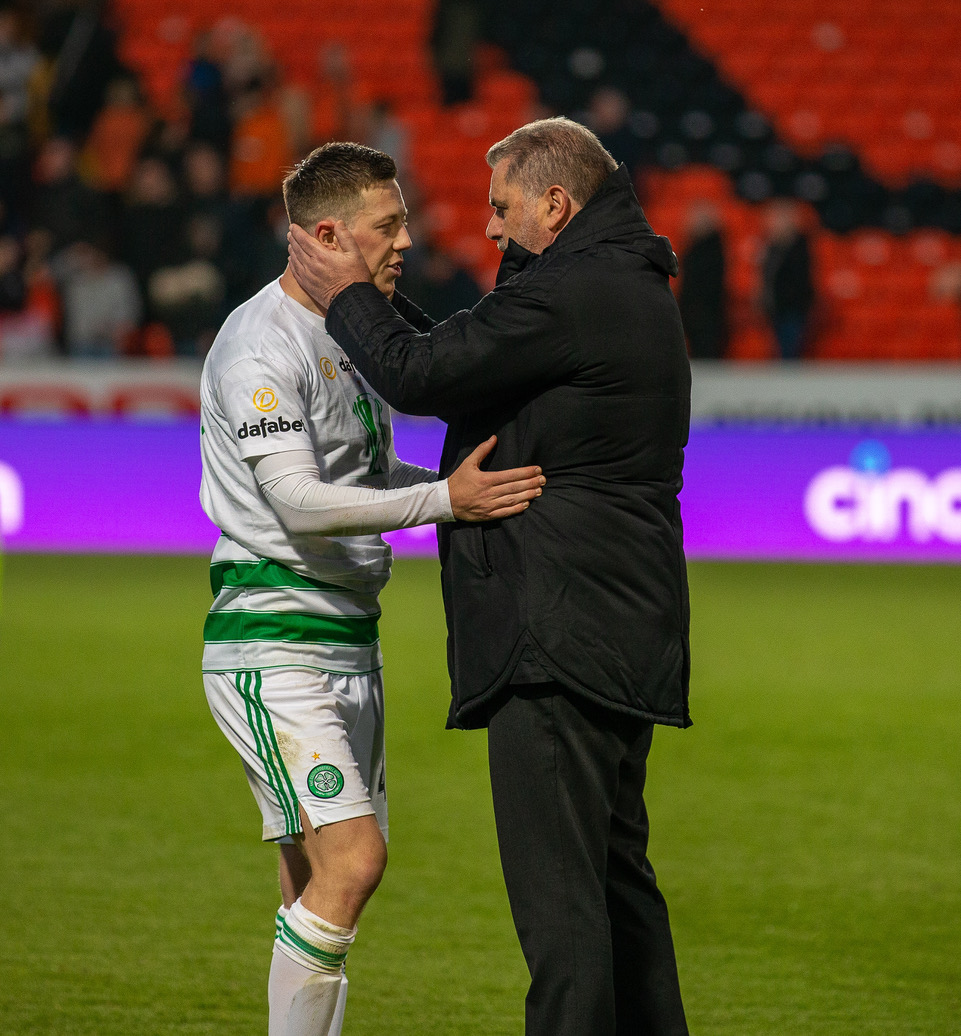 CALMAC – 5.5/10 – Probably one of the indefatigable skipper's most anonymous performances of a dazzling season. Little influence on the flow of the game. Appeared to be counting down to glory, couldn't really be bothered with the footy going on around him; and who can blame him for taking the night off? Been a titan, and that final whistle was the sweetest music to his ears; the only part of him not battered in his devoted service to the cause.
THE BUILDER – 7.5/10 – Nearly every game you say it – what a player this kid is; a baller of subtle guile with the deft hand of a Vegas hold 'em pro. Floated around the dangerous spaces, offering some mesmerising moments, lacking only in the finishing touches to his creative flourishes.
HAKUNA HATATE – 7/10 – I'll give the wee mhan this – for someone more knackered than Madonna's houseboy, he's more than enthusiastic about pulling on The Hoops and giving it all he's got. Passing was a joy to watch, incisive movement lifted expectations, finishing was a Sebo disaster-class.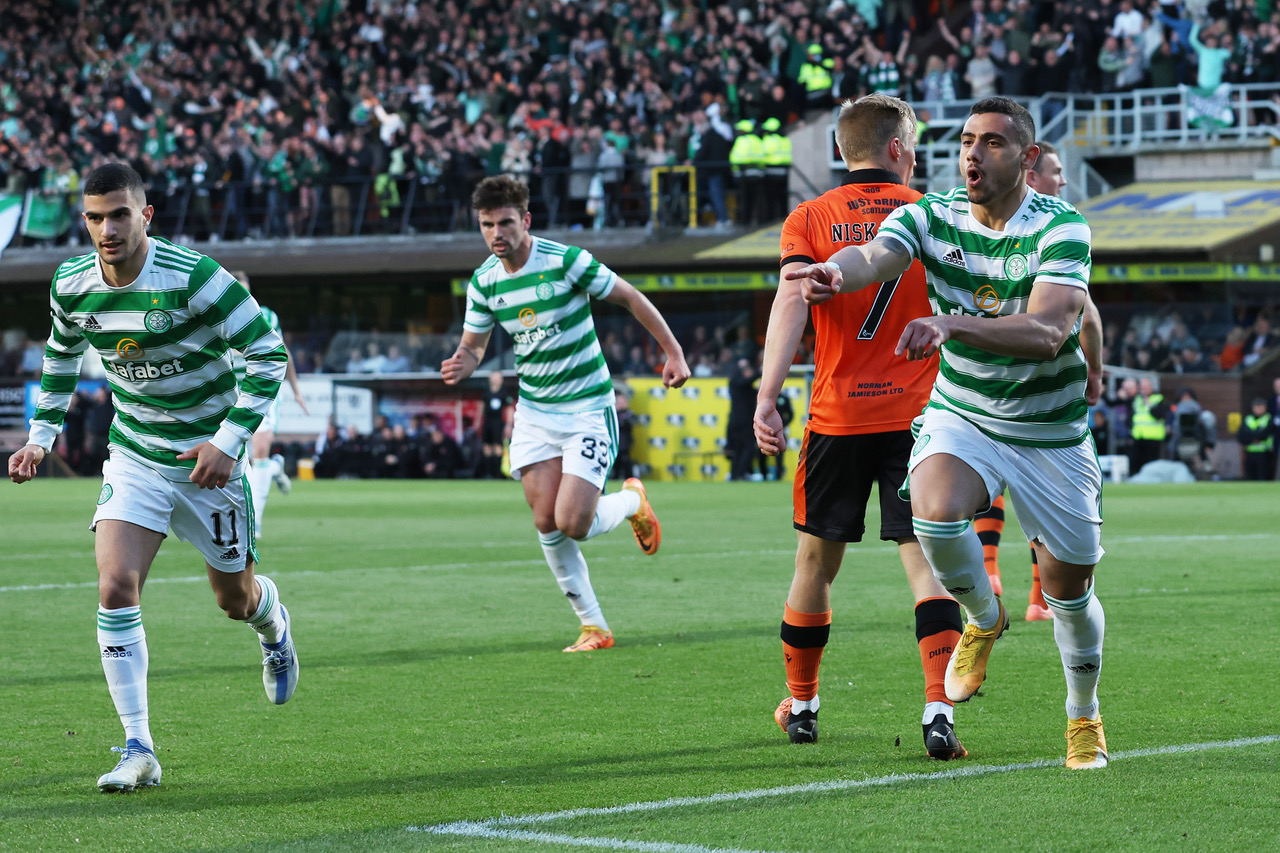 SON OF JACKIE – 7/10 – He'll mess you up, and he'll revel in it. Ryan Car-Jack bottled it from him at The Meth Star and tonight it was pre-pubescent referee Little Nick's turn. Big Gio (not the wee imitation who runs the Zomboids) was getting so hungry for service that Gavin Strachan was downloading the Just Eats app into his laptop before Tony got on the ball wide.
Then we saw the best of the big mhan as he managed in a matter of nanoseconds to shift his feet and
position, and get a burst at the high ball in the tightest of spaces. Whipped the neck like his spinal cord was implanted from a salmon and smashed home a Tannadice title-winning heider to evoke memories of our last big rampaging centre forward with an unpronounceable name, 14 years ago.
And God Bless Tommy Burns.
ABADASS – 6/10 – Lively but confused – so much orange around him he wondered why the home crowd was docile and generally civilised. Was a night of almost, as he burst into action intermittently, failing to find the final ball.
JAMESY – 6.5/10 – Another might-have-been as Jamesy started the game like the Jamesy of lore – troublesome and inventive. May have enhanced his legend even more, but missed getting on the end of a sweeping move to score by a matter of inches. Obviously going for the ball with the wrong part of his body…
SUBS: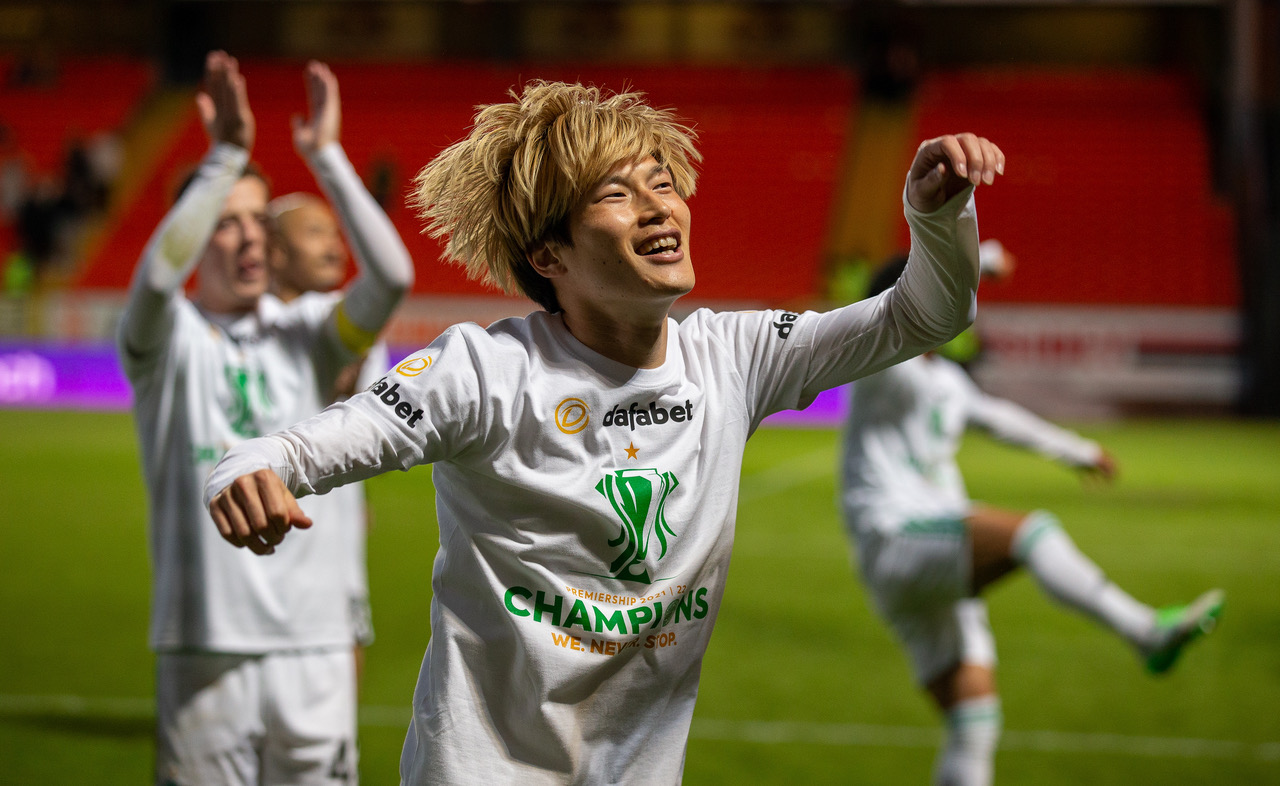 MR.KOBAYASHI – N/A – Get on and start the party, Kyogo-San.
OZ – 6/10 – Mostly smiling and joking around as he enjoyed the end of yet another legendary season finale at one of his favourite grounds for breathtaking trickery.
EDDIE TURNBULL – N/A – Likes an evening out of the care home to visit old stomping grounds, particularly
fond of the Dundee harbour sunset. Reminds him of his Dundonian whaling days… In the pubs and dancehalls…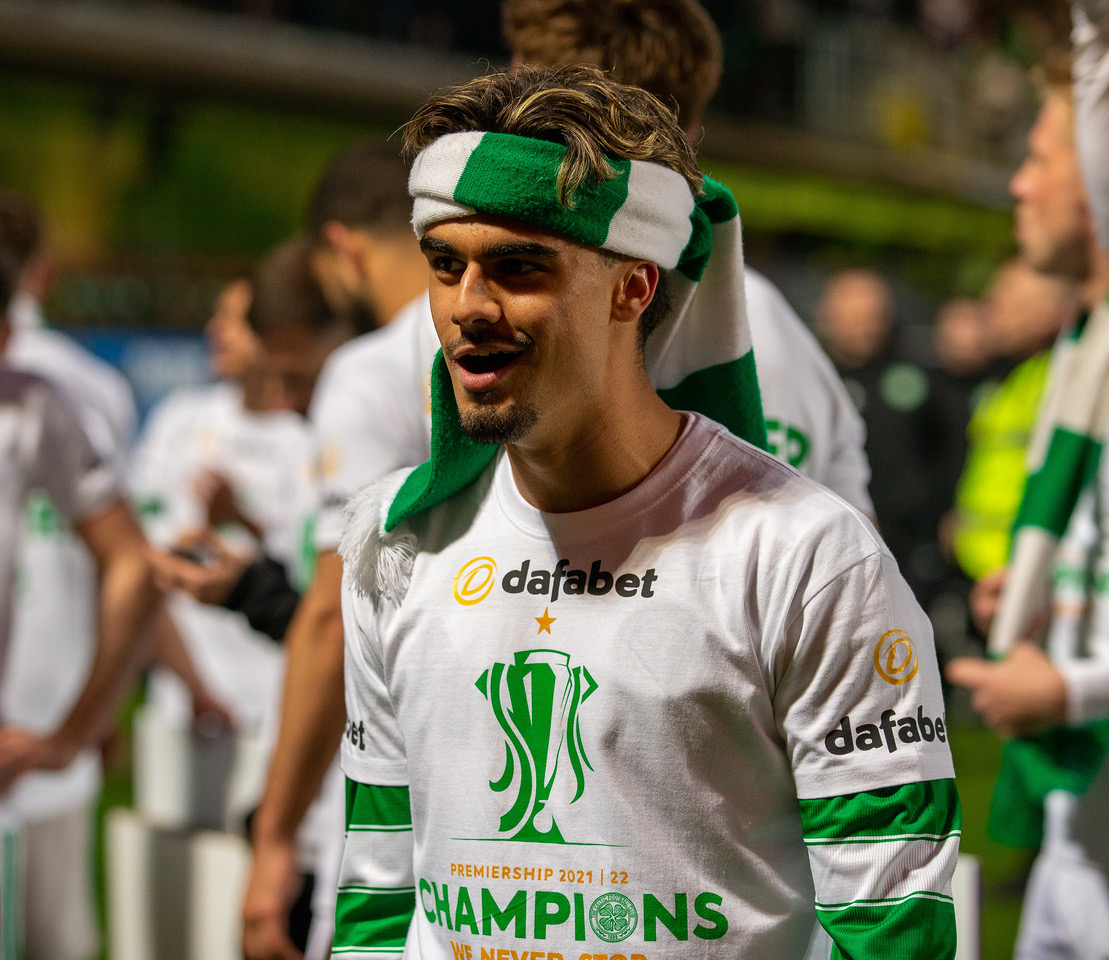 NOTEBOOK – 7/10 – Limelight is his thing; Young Gun almost provided one of the goals of the season with a stimulating burst of skill, only to be thwarted by a keeper with no musical taste.
LORD KATSUMOTO – 5.5/10 – After running all the way there from Saturday, he only went and blew his big moment by wildly slicing a last-gasp winner into the Green Brigade.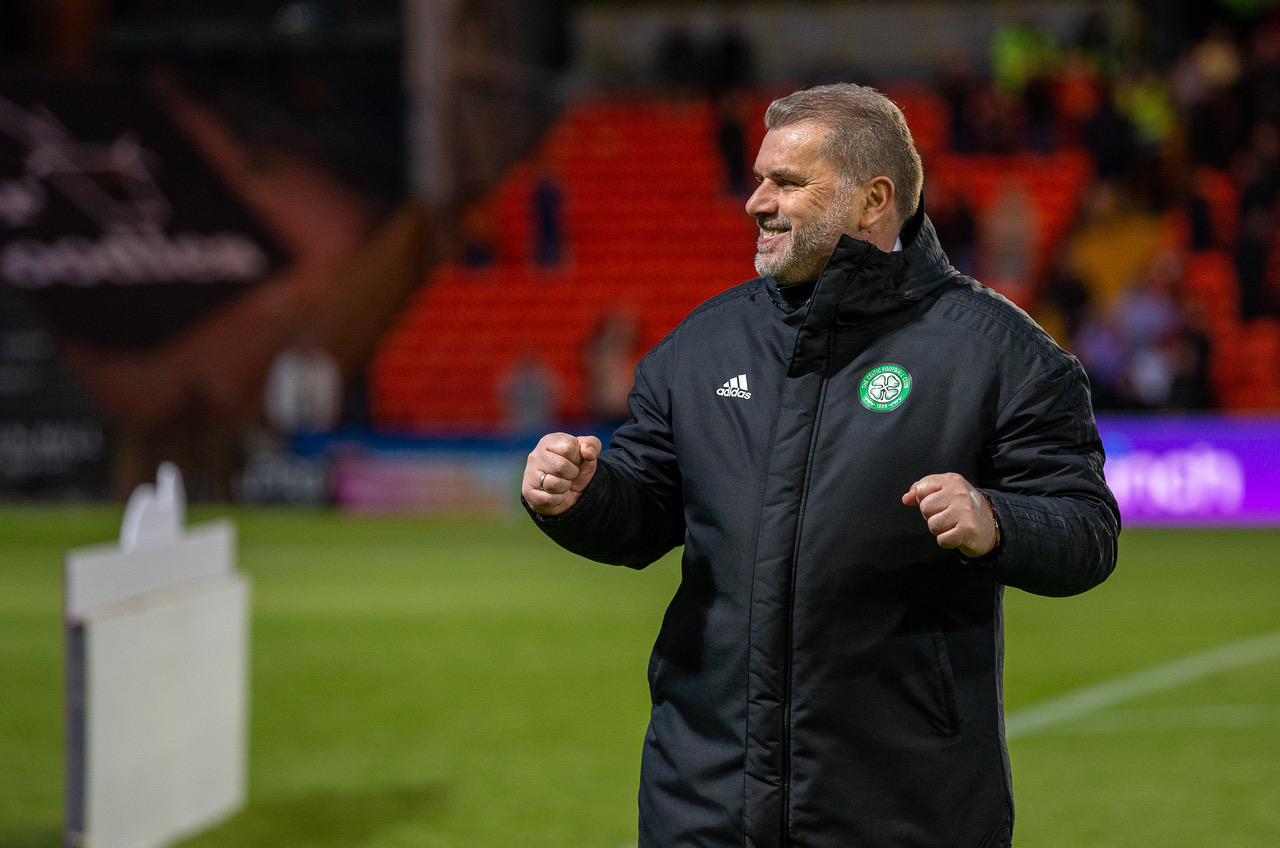 ANITA DOBSON – 8/10 – A curious tinkering of his mid-to-front had eyebrows raised, but Ange knows his personnel and where to place his trust. But for erroneous penalty-box choices he would have gotten the finish-line bursting win he spoke of. Yet, with a rare draw, a derided man with a committed plan has redressed the balance of power we thought lost with the 25-point surrender of the TEN, sealing the gloriously unexpected title comeback at the scene of that generational crime just one short, but bitterly long, year ago.
Much will be written of him in days, weeks, months, to come, but for tonight let the Big Mhan wallow
in the joy of that final whistle and the love and gratitude of the global Celtic Nation. Let him feel what it's like to step into the hall of legends and know there's a podium with his name on it and honours to be carved into it.
He did it. The man from 'nowhere' arrived all Han Solo and dragged the joke that was the 6th placed Hoops
back to become CHAMPIONS in the face of racism, bigotry and vomitous hubris from every corner of this spiteful
land. And did it with proper Celtic verve and style.
What's Australian/Greek for "Roon yeez all!"?
MIBBERY – 5/10 – So with the big-hitters on the goat-caravan to Seville and the shock of the title evading their grasp, the MIB hierarchy threw in Little Nicky for a go at spoiling the champions' event. A brief flurry of excitement saw him angle towards United snatching a winner with a few dubious calls, but he had to balance that out with the freezing terror of big Jackie's glare every time he glanced his way. In the end, he settled for the default MIB position this season: soiled it.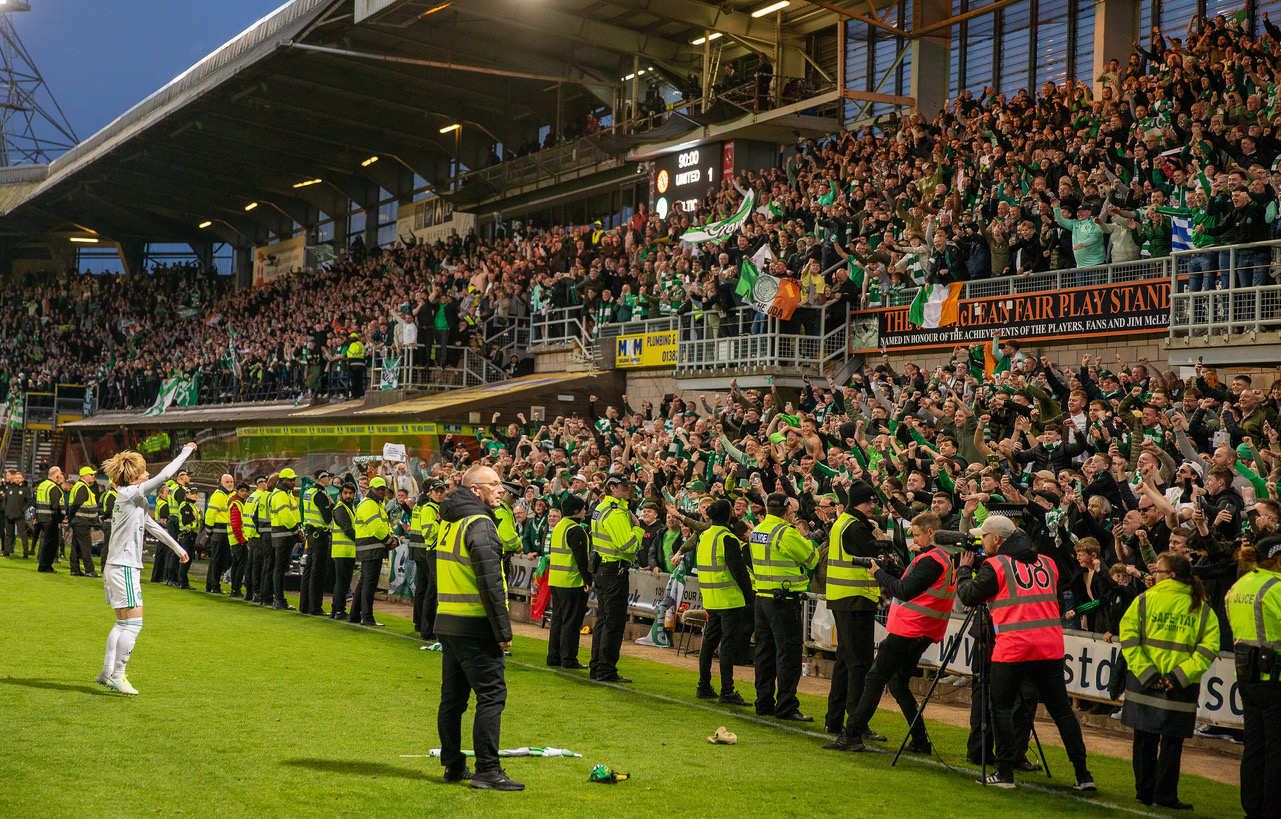 OVERALL – 8/10 – LOL, the result the Zombies hate the most – a draw delivering the title and Dundee Hibernians a European spot; a team they believe only tries against them, for…Reasons… (Be interesting to see what they make of Frankfurt papping 4 past them…)
The Hoops did it again – relentless adherence to the method, massive belief enhanced tenfold by the reward at that last choked blow of the MIB's flute tonight – CHAMPIONS! Getting it over the line was the task, with style we hoped; And they went at it in the engaging manner we've luxuriated in this season of renewed dynamism and optimism.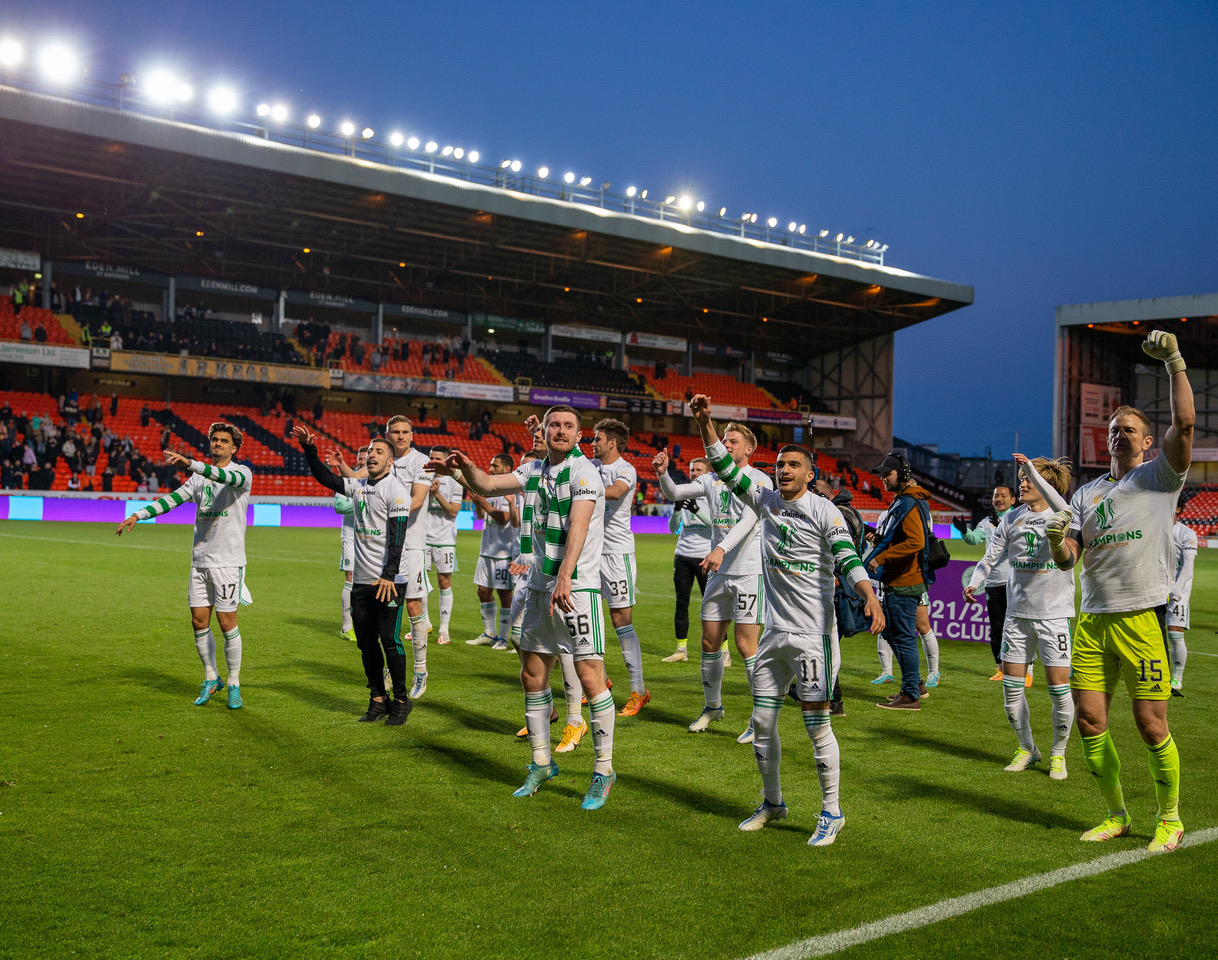 Was amusing and incongruous to watch us run the clock down, brought home what it meant to this collective to reach that prize moment, see their dream come true. Barely been a more deserving Celtic squad and manager in my lifetime than these dedicated and passionate pros truly playing for each other and the jersey, defying their detractors to a man, triumphing as one green and white machine.
Take a bow, Bhoys.
Go Away Now
Sandman
David Potter's new book, Putting on the Style, a biography of Celtic legend Willie Fernie is out this week, thanks to everyone who has pre-ordered and your copy will be posted out as soon as the lorry arrives. If you would like to order your copy please use the link provided below.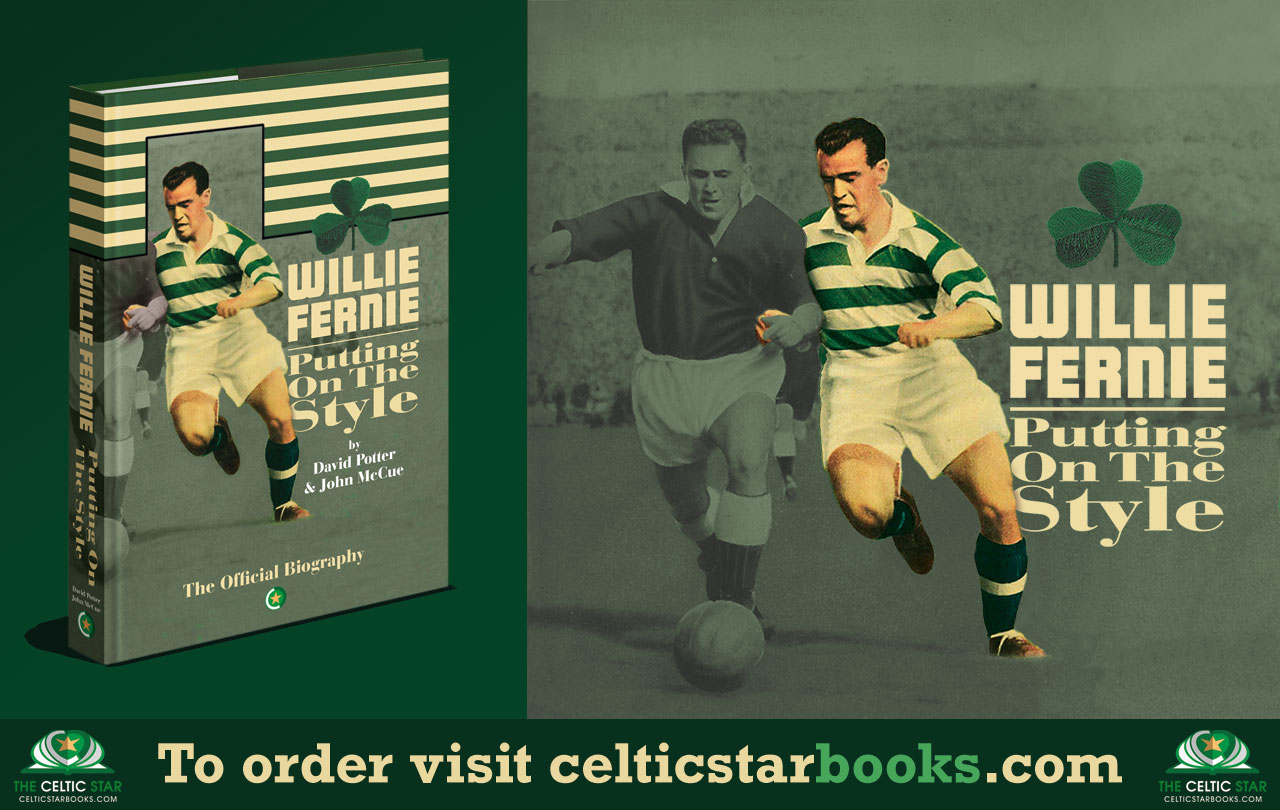 What a difference a year makes. No benches have been harmed in the winning of this league. pic.twitter.com/ZhU2fORDj8

— Colin Torley (@ctorley) May 11, 2022
The best manager on the planet, and a baldy guy pic.twitter.com/y1eJzG9BPI

— Tam sellic son (@TamsellicsonIII) May 11, 2022
CONGRATULATIONS to #CelticFC your Scottish Premiership CHAMPIONS!! 🤩🏆🍀 pic.twitter.com/VCF4YIQp4W

— Sky Sports Scotland (@ScotlandSky) May 11, 2022