SANDMAN'S DEFINITIVE RATINGS: CELTIC @ THE GLOBE
"I weel have just the one more pie, a wafffer-theeen one. What could possibly go wrong?"
Former Thistle Chairman, Mr.Creosote, minutes before he blew up. RIP.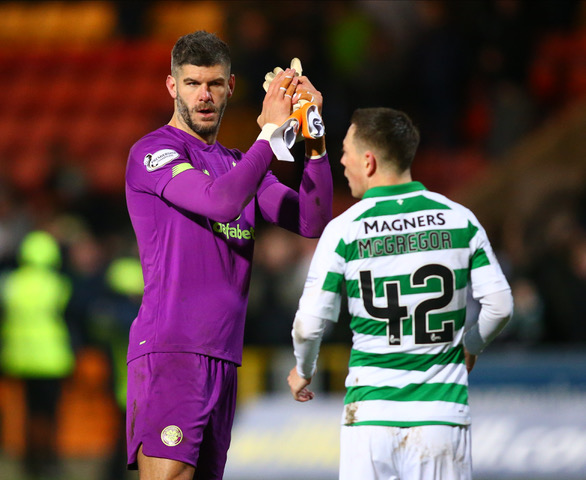 THE WALL – 7/10
Appropriately played the role of background scenery at thespians' favourite soccer amphitheatre. Little required to do but chuckle at Kenny Misser and face a last-gasp pen which he got close to. Ably coped with half-efforts and his footwork was in tune when required.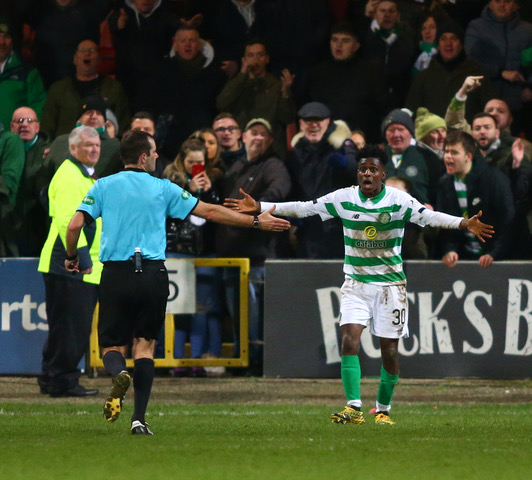 PINGPONG – 6/10
Drew the attentions of growling set-extras and stagehands who bullied him around. However, his energy is irresistible and he overcame the physical treatment to be a thorn in their jaggy sides (see what I did there, indigenous weed and pun fans?). Brilliant recovery to intervene on the non-penalty and cause the lad to miss the open goal; also a brilliant early warning for us all of the shenanigans we will face with dubious decisions this coming spring…
BITTON – N/A
Five minutes, he lasted, due to his own flaming sportsmanship; Zombie tactics used to take a quick shy and catch us on the hop for what turned out to be a phantom Pistle injury. Not so for the strident Israelite -superb recovery tackle cost him.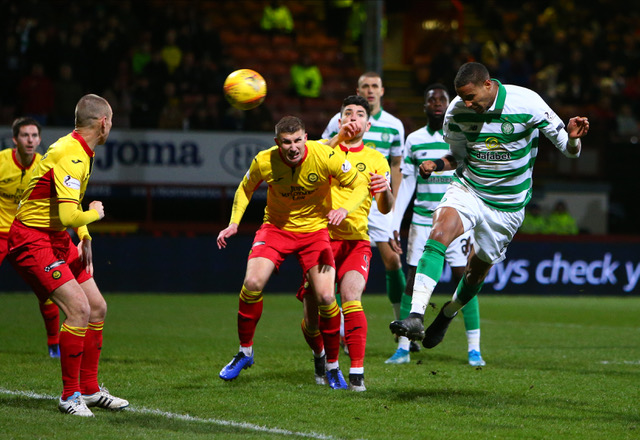 JULLIEN CLARY – 6/10
Was always going to be a match for him to virtually dictate pace of play from the backline. Did so with appropriate verve, with a seeming two-touch mantra to keep the tempo alive. Dangerous at every corner, probably should have nodded one in first 45, produced a great save later. Then blew up with his weakest trait- complacency; failed to get his shape right and connect with the back pass that let the forward in to…
well, Kenny Misser it. Until the idiot with the whistle intervened and penalised Pingpong. Focus for 90 minutes, ya big flamboyant sophisticat.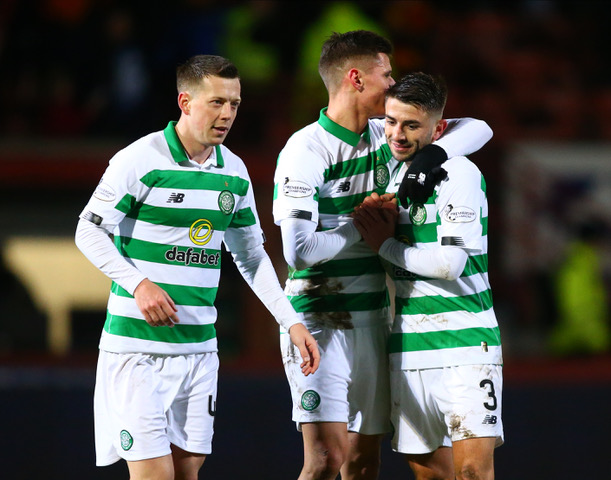 GREGGS THE BAKER – 6/10
Competent and busy as he tried to run off a couple of stones put on with his excellent Xmas slices/melt edibles; God knows they complimented seven pints, anyway…His final ball could do with some work, and his touch occasionally heavy but that may come with game-time.
BROON – 7/10
Chuck Norris and Broon do not sleep. They wait. And like a bear from hibernation, the Captain roared out of his cage and into the malestrom once more. Well, into a Saturday-evening tuning session. Great control of the middle to lay foundations, untroubled by random flailing assaults of no-mark grunts – they bounced off him, and he remained there or thereabouts to break-up and set-up with great regularity through the ninety.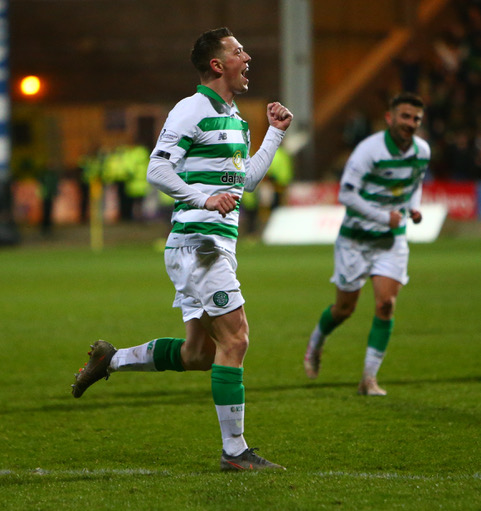 CALMAC – 6.5/10
Off to a fine start but seemed to fade then would pop up again looking dangerous. But rusty inconsistency dogged him. Wandered around their forty-man midfield probing and trying to create space. Sharpness will come and so will chances if we keep him as high up the pitch. Showed his attacking worth with the crisply-hit but deflected second; he's as quick-witted as many forwards at finding room and getting a shot off around the box.
🍀 Celtic scorers Leigh Griffiths and Callum McGregor give their verdict on their team's performance tonight

🗣 LG: "The only place I'm going to put it is the back of the net."

💬 CM: "It was good in spells. There's a wee bit of rustiness there from the winter break." pic.twitter.com/V3Npq8cOUt

— Premier Sports 📺 (@PremierSportsTV) January 18, 2020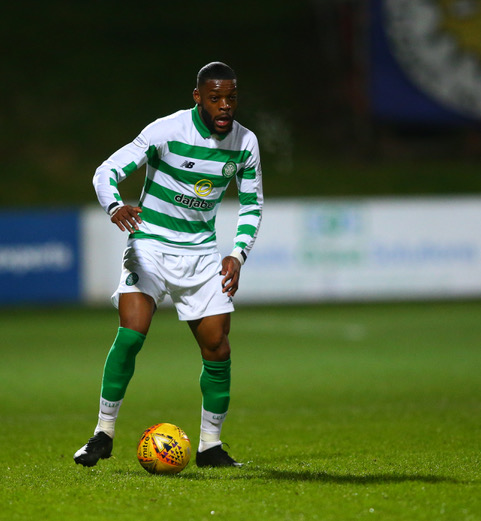 SAM JACKSON – 6.5/10
Gettin back in the muthu****in groove, muthu****as. Never saw no Lille-y-livered French bids for this Muthu****a, so the stage is set for him to eventually leave a muthu****in' legend of the NINE. Damn calm and controlled performance – discipline, muthu****as, discipline! – without the need to lay down the law; shepherded the Hoops through the valley of poshness and emerged unscathed, more pimped and ready to dish out muthu****in' righteousness when it really counts; starting Wednesday.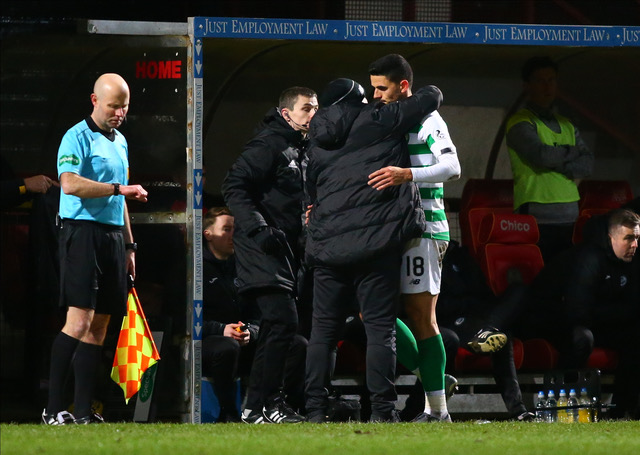 ROGIC – 8/10 MOTM
Did somebody shout FIRE!? For once, big ambling Oz may be happy to be in the midst of a Scottish winter while back home Midnight Oil's classic gets a revival as the beds ARE actually burning. Our very own fire-starter got a start to see if we're going to get the class back that will carry us through to a triumphant May. Signs were good – offers Calmac someone on the same wavelength and their combo resulted in the opener.
Would he fade? Well, not before injecting some true skill and guile into proceedings with pure craftmanship and his tinny-opening left paw. Played with a smile, made us smile, may it be the start of a long run of beguiling grace.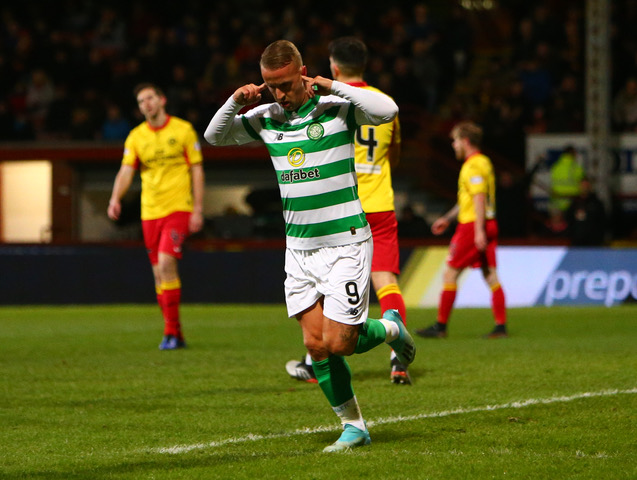 He gets some amount of stick at times but I will always love the Griff. Far from finished @Leighgriff09 pic.twitter.com/TIjJBkfHhQ

— Georgina (@Georgina87x) January 18, 2020
GRIFF – 6/10
"Two up front" said Lennony, and Griff immediately got excited. Calm returned when he realised the reference was nothing to do with boobs. But there was a starting place for him! So he stepepd into the last chance Saloon with his six-guns drawn. Appeared out of the ether to score the first Celtic goal of the new decade, and we hope it won't be his last. Quiet thereafter as we struggled to give him genuine chances. All about his attitude now; talk with yer feet, Sparky.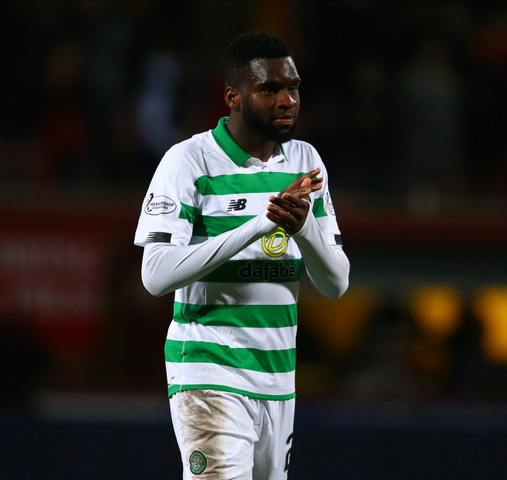 FRENCH EDDY – 6/10
Lively and sharp. Early header and half-hit shot set the table. Skimmed the post with free-kick; when? was the question. Not today was the Keystone Cops answer as Eddy challenged Misser to a comic-cuts, El Fluffalo stars-in-yer-eyes parody competition with a mis-kick to blow a sitter, followed by the flipside
of that coin as a magnificent effort was fingertipped onto the bar. Not today, mon ami.
SUBS:
JOZO – 5/10
Let's hope big Nir's injury is nothing, because it was almost worth it to see Kenny Misser burst into tears when Jozo galloped onto the park. And even though Jozo careered around like an ostrich chasing a balloon
in a tornado, his very presence brought the comedy highlight of the game when Kenny lived up to his monicker and hit the post from 1cm out.
By that point, of course, Pistle had a psycologist in the stand wired up to an earpiece in Kenny's peanut-heid to talk him through the game: "You're in a safe space, a safe space; Simunovic is five yards away, no, four… Um, Three… No, no, it's okay – he's tackling somebody else…Breathe, kenny, breathe… Six yards from you now… Do you need a change of incontinence pad at half-time?"
Thankfully, Jozo settled down to 'Gulag Overwatch' mode second-half and composure took him through unscathed.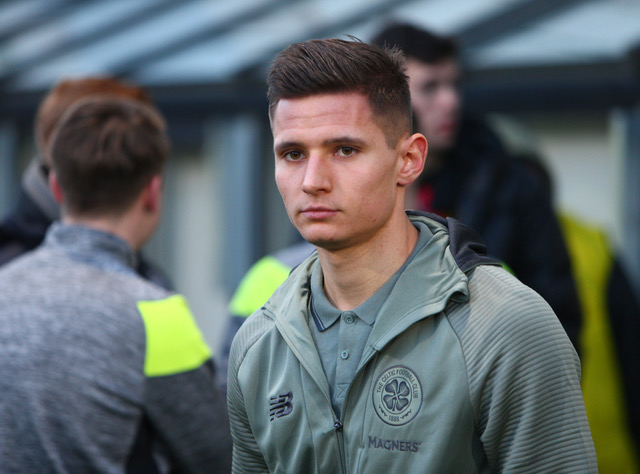 POLISH PADDY – N/A
Here comes the Wild Bhoy wo wipe them out. Well, one touch and a rap on the ankles. Reminds me of early-90s Last Great White Hope Stuart Slater, hope he's got the skill level but not the same finishing ability…
SHOWUSYER – N/A
…Arzani… Appearing form the mists of time – or possibly the Aussie smoke… – the cheap-gag, rhyming-slang wing-wizard gets his chance now that Morgan Freeman Jr has moved to the States to be closer to his Dad. The vacancy of manager's favourite son is open. Can the diminutive Australian reproduce the childhood skills he honed dancing away from the world's deadliest creatures in his own back garden and win Lennony's heart? Well, he'll need more than five minutes. And a kick of the ball might help, too.
🍀 Neil Lennon's side are in the draw for the next round, but the Celtic manager is still disappointed about the penalty against his team

🗣 "The referee was telling my staff that he clipped his heels. But it's quite clear that he didn't and we were all in agreement on that." pic.twitter.com/rDpkfOzDjG

— Premier Sports 📺 (@PremierSportsTV) January 18, 2020
LENNONY – 7/10
He'll be satisfied with that – plenty of pitfalls awaited as a ring-rusty side went in against hod-carrying battlers with nothing to lose. Played two up, fair enough – though we still might be better reverting to that if one isn't working instead of letting defensive opposition settle into combating two from the start. But what the HELL would I know? Nothing, Sandman. Exactamundo.
However, he got the result despite late nonsense – a warning enough to him he must have the players ready for all sorts of officialdom shenanigans in the name of their brothers in this most epic of five months to come.
SFA interpretation of a straight line…

When it concerns Celtic pic.twitter.com/hCZ8O2jS1i

— Celtic Nation – Bolingoli Chapter (@CelticNation67) January 18, 2020
OVERALL – 7/10
Partick Thistle's traditional local arch-rivals, The Kelvinside Kants (Immanuel, please, peasants…) who play out of Mrs Miggins' Great Western Road tearoom, 'Shivermetingles'in the 'La Thespiana West End Sunday League', refer to Thistle as the Hoi Polloi.
Coincidentally, this insult among arty-fannies was also the name of a late 1980s Glasgow designer (well, somebody ironed unpronouncable names onto snider gear) clothes emporium, where stalwart Ian McCall allegedly cut his teeth shoplifting after Rangers training on Fridays. Or so you heard, allegedly, on the interweb. Just there.
The gruff ex-jakey, ex-Zom who pulled a Rodgers on Ayr United last year certainly recalls his 80s conditioning fondly under the spell of The Beast, attemping here to summon the rancid spirit of Terry Hurlock and disrupt the Celtic playmakers with good old-fashioned Celt-maiming the directive of the day. Thankfully, some early rambunctious challenges came to nothing as the Hoops were fleet-footed enough to get their defensive block chasing shadows.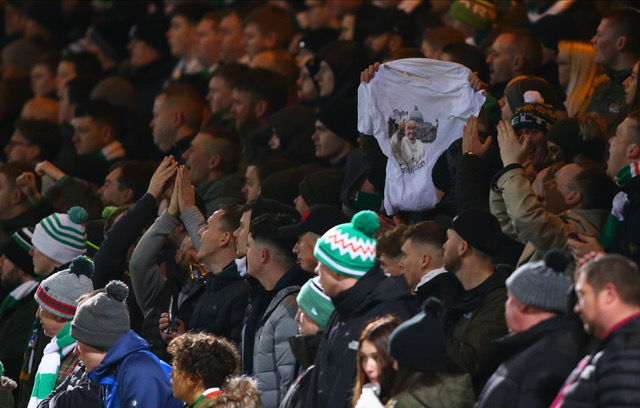 After that, it looked a matter of time before we killed the game off, and therein told the story of the last months of 2019 – fish off the hook, players who should have been cruising for 5-0, labouring at 1-0 through the seventy minute mark.
Perhaps the spark will come with Polish Paddy to compliment a misfiring French Eddy? Perhaps the chances will multiply as new energy is added to the midfield with the arrival of the promising Japanese galactic smuggler, Han Soro.
Perhaps an exciting run towards the NINE and schadenfreude overload as the Gers
eat their own heids with perma-ragin' angst. All perhaps. But here we go again, as the song says.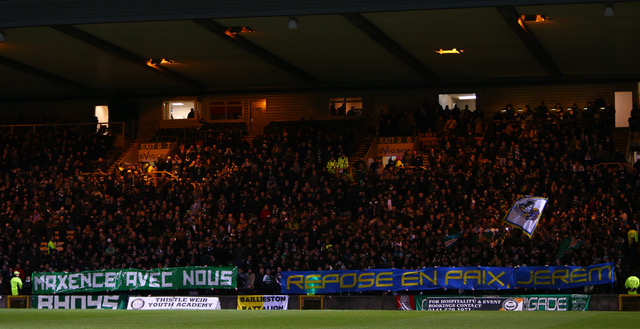 So as Groundhog Day approaches, we who front-ran it twice in a row with the Nightmare After Christmas get to hope Puxatawney Phil gives the nod to more deja-vu and Celts deliver the same finish to this season as last.
Quadrophenia Rebel Treble still on course.
Nice warm-up. Main business starts Wednesday. Strap in for death or glory. Get yer
shades on, here comes the lens flare.
Sandman. Back in the groove. Muthu****as.
ALSO ON THE CELTIC STAR…
'A low key return to action for Celtic at Firhill,' David Potter…see HERE.
Partick Thistle 1 Celtic 2 – Honest Mistakes, Diamonds aren't Forever…see HERE.
SUPPORT CELTIC, SUPPORT CELTIC POOLS
Help raise money for Celtic Youth Development by joining the £1 weekly lottery and you could win up to £25,000 – just click on the photograph below to join.