"Let's Go! To Dubai. Right after breakfast…"
The Celtic Team.
'The unspeakable in pursuit of the uneatable.'
Oscar Wilde
"I think, Matthew, I'll be Ronny Deila for today. Even though he actually drew with them over 90 minutes and played a fcking midfield and had about 33 shots at goal…"
Brendan Rodgers.
'The Give Sh*te Hope Xmas Drive has really hit top speed today…"
Astounded Charity worker.
"This won't be pretty reading. And moderators may twist their knickers. But I'll fcking well tell it like it is. So read it while you can before the Dry Ones get their delete buttons working…" (Authentic Sandman post in the days before his move to Celtic Noise/ The Celtic Star…)
Sandman, 6 pints into misery…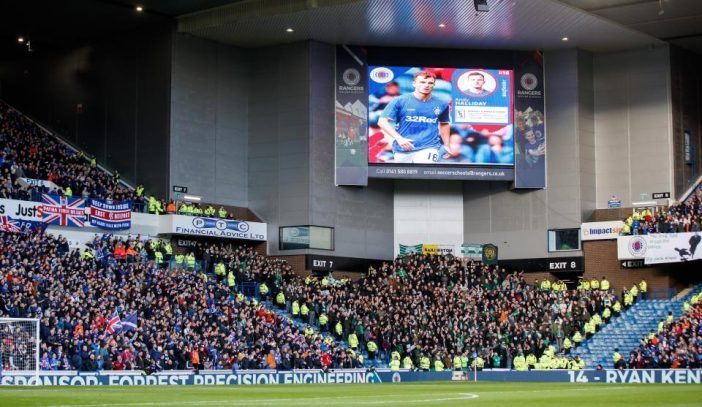 GORDON – 8/10
Blah, fcking blah, 'he can't play out properly'. Please see previous explanations of this goalkeeper's Catch 22 problem when detailed to play out to Boyata, etc.
Can't go long for fear of losing his position, bound into a ridiculous mantra of illogical gameplay.
Made NUMEROUS great saves to keep us in with a sniff (against THAT Rangers team, FFS Celtic!). But for him it could have been a 5-goal scudding. Think about that, FFS!
Looked permanently confused – NOT as fcking confused as I was – about the insistent need to play the ball out to non-footballing players at snail's pace. Keep your ire in reserve for the Big Mhan – if it wasn't for him you wouldn't even be reading this, curled up in angst-ridden embarrassment in the corner of your room.
LUSTIG – 4/10
Mad Mick looked uneasy with the pressure exerted from midfield – not used to us being less than dominant – and had done pretty well until turned inside-out by Kent who set up the winner. Yes, injured by thug, and offered no protection – but we knew that, didn't we? What part of the leaked script do our players miss?
BOYATA – 0/10
Naw, Dedryck. Just, naw. Can't be bothered re-hashing my previopusly stated concerns about your focus and ability under pressure. World Cup sophisticat, my erse. Hounded into error after error by Mordor Monkeys. Do the right thing and fck right off for a bundle of idiot's cash.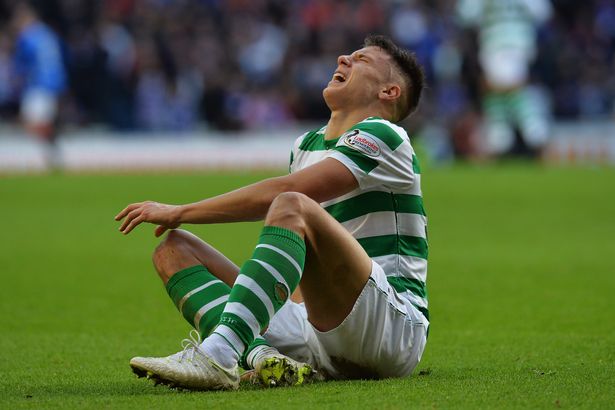 BENNY KOVIC – 5/10
Promising stability undone by disastrous hamsting (by the looks of it). Glad he's not ours/hope to hell he gets fit again for second-half of season.
CALMAC – 8/10
The Forgiven. Wee mhan best player we had. NEVER should have played at left-back. THE main reason we lost. THE unforgivable, INSANELY unaltered tactical fck-up by BR. Always THE footballer on the park, very unlucky to be called offside at his goal – OF COURSE a Rangers goal like that would have stood as a 'narrow mistake, but OF COURSE we knew it was going to happen anyway!
SHOULD have been midfield to start, SHOULD have been moved to midfield after the diabolical first-half, etc, etc. More further down…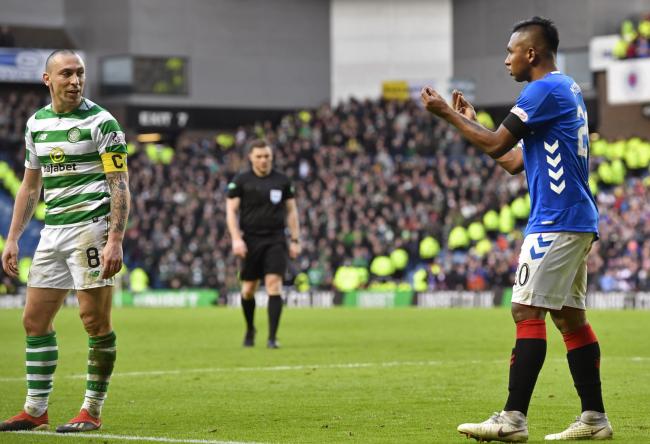 BROON – 6.5/10
Your scrapper, your captain – shut your whiny gubs, nouvea Bhoys/hipster fannies – HE turned up. HE scrapped. He felt the pain. A man as frustrated as we are. Cursed to have the goal deflected off him. Cursed to have floaters all around him not willing to dig and engage a cadre of excited Ones. Needed a footballer beside him in the trench, needed Calmac!
CORPUS CHRISTIE – 2/10
A 'ghost of Armstrong' performance – when Armstrong's running, timing and touch were out too. Said on Boxing Day ratings he wasn't at it, lost his guile and today garnished the dross. Couldn't get himself into the game, timing gone and penetration snuffed due to our inability to string a move together.
SAM JACKSON – 1/10
Muthufeckas, what the muthufeckin' feck was that? Couldn't give muthufecka by the looks of it, lost his muthufeckin' skelpin' powers, looked dazed and confused as a muthufecka on a trip. Muthufecka should have put the laces through his late chance and burst the net.
Will this muthufecka stay or go? On today's evidence, muthufecka will flit in January; seems detached. Will we miss him? Well, I'll miss the chance to squeeeze in a 'muthufecka' every three words…
FORREST – 2/10
Too much Xmas excitement still spilling over into Jamesy's big days. Did he have more touches than Sinky? What the hell am I even posing that question for? In his defence, as with the other frontmen, malfunctioning midfield deprived them of service and opportunity; difficult
to function when the engine room's completely missing.
SINCY – 2/10
Hero of the North. Missing person in Govan. Looking so much like a dangerous proposition, Celtic contrived to starve him of the ball. Like Jamesy, almost unfair to rate him as more than a spectator.
MIKEY J – 2/10
Young superstar-in-the-making asked to play the role of his dreams – centre forward for the hoops at Mordor, they there for the taking, title up for grabs…Didn't get a kick, hardly got a pass, dream was a jokey nightmare, kid, keep hoping; there's culpable senoir pros who hung you out to dry.
SUBS –
RALSTON – 6/10
Dug in with a thankless task of stemming the tide. Made a superb interception in our 6-yard box to stop their second. Seems another getting a place by default after BR didn't rate him. Always wondered why…
FRENCH EDDY – ?/10
Didn't get a sniff, again due to midfield absence. Boxing Day hero would have been as well on the bench for the duration.
AJER – 6/10
Thought the young Praetorian Guard made us look a little more solid. Christ knows, I'd put him right in at Centre-half when he's fully fit, and ask him to eradicate the memory of Boyata who'll be flouncin' about any EPL club dumb enuogh to spunk their cash on him.
BR – 0/10
FFs, Brendan, Schooled by your scouse ned nemesis.
EVERY Celtic supporter could see that with Rogic gone we needed Calmac in that middle to help us dominate. Instead, you go two v two – Broon and Ntcham versus their smelly duo, plus overload.
YOU gave them the chance. YOU gave them hope. YOU asked our team to play like they did at Pittodrie – slow, slow, sloooooowww… YOU got away with it on crazy Wednesday. Slippy G sussed you out totally. Fecking embarrassing ineptitude.
I shouldn't even be able to call that. YOU have a world of experience beyond anyone reading or commenting here. So WTF went on there? Why can we see a blindingly obvious malfunction in the middle and you and your team cannot?
Rogic unavailable, so you MUST play our other creative – Calmac – in the middle. Left-back? FFS. Gave them the midfield initiative. THEY played like their lives depended on it – which it probably did. YOU had NO counter – even though everyone and their ancestors could see we needed Calmac in the middle: THAT's how you've pumped them in the past – DOMINATE the mid with football players, zipping it around, deflate their enthusiasm, tire them out, pap them senseless.
Am I losing my mind? Can't you see the obvious? WTF went down today? Jesus wept, that was Deila-esque, with latent apologies to Ronny; I don't think any of his Celtic sides were as toothless as that.
Bad day at the office? Companies have folded for less…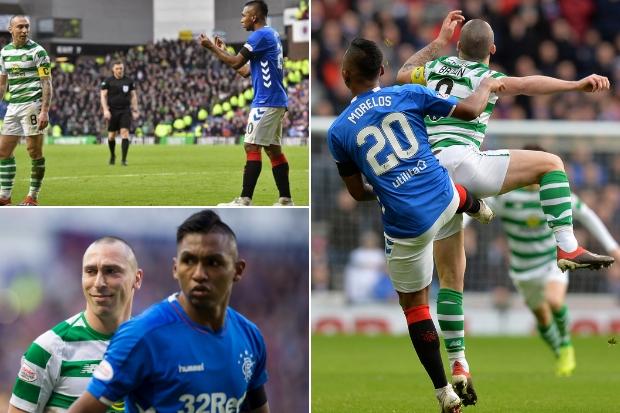 OVERALL – Feck Off/10
I really do find it difficult to write with optimism; something is fundamentally missing at the core of our performances. Attitude, committment and desire were all evidently bereft today.
Ability-wise we're head and shoulders above every other side in the Premiership, but to lose in such a pathetic manner to such mouthy, callus sh*te, in FULL knowledge of their months of hubris and bravado was ridiculously unprofessional.
Really good sides put sh*te like them in their box. They don't hide. TEMPO – good teams blow away sh*te like them with TEMPO – Sh*te like them can't keep up with football played at TEMPO. We played a grinding, monotonous game at THEIR pace – see my Aberdeen boxing day ratings for my take on that; same self-inflicted problem, no luck this time.
An utter, utter shambolic effort that disgraced the Hoops. There are ways to lose big games; not like that. No point in gilding Easter Lillies – those players and management KNEW the stakes: win and the 8IAR title's in our grasp.
Draw, like last year's dull festive effort, they are kept at bay and we give them hope; LOSE and they're suddenly re-invigorated and Champions Of Europe again. Well, now we know.
A squad whom I believed had the mental and physical where with all to dispose of a bunch of honest scrappers easily, capitlulated like pussies. Second to every ball, slow-witted and slow-footed. Today was THE chance to create a breather – to ease toward a 9-point advantage.
Can't even point the finger at the officials – though they did their best for their Blue Brothers. We really were lucky to get away with only a 0-1. Read that again – THIS Celtic side fortunate to lose by ONLY a goal at Mordor.
The fecking shame of it. You can only hope BR and the players feel it like the fanbase. If they don't care, we can all chuck it.
Lepers, Morlocks, Beelzeebub, Army of Darkness, The Hills Have Eyes, Werewolves, Vampires, Zombies (obviously), Planet of the Apes, Mesopotamian Dark Gods – your team produced the unimaginable result. They DESERVED it.
Celtic – Pish. P. I. S. H. Absolute undefendable pish. You never looked like you cared, for the first time I can recall in a long, looong time. May 2000, Mordor?
Welcome to the worst Celtic team/management performance in over a decade. At least. Sore one having to summarize that, but I'll stick to honest reaction.
Happy New Year. Enjoy your Dubai jolly, Celts.
We'll stay here and fend off the resurgent Zombie glee…
Sandman